Deciding which drawing Tablet to buy has been a part of every artist's struggle, hasn't it?
However, if you choose to buy Huion Kamvas 13, you can easily sideline any other drawing tablets.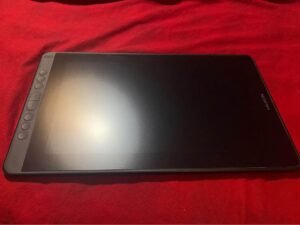 A drawing tablet is a one-time investment for an artist and yes, we want to feel that every penny spent was worth it!
Well with the numerous brands, models, and upgrades in the digital tablet market, taking this decision might feel a little overwhelming. Artists and graphic designers are increasing using tablets for doing their works, as indicated by many studies. You can also check out more about it in this Market Business News' article. 
Thus, one must refer to reviews and specifications of the products and then decide which fits the need in the best way possible. Here I will help you with understanding one such amazing tablet on the market, Kamvas 13 by Huion. 
A unique characteristic that makes you and I want to buy Huion graphic tablets is that they are made to encourage originality in the field of digital art. Their website lets you discover and purchase the newest LED light pads, pen displays, and pen tablets, and is quite cool.
Huion Kamvas 13 is a trustable choice as it came into existence On March 12, 2011, when Henry Xu established the Chinese company HUION. It is meant to manufacture drawing tablets. Although, along with providing drawing tablets it also has a wide range of light pads and pen displays for both beginners and specialists.
On systems including Android, Windows, macOS, and Linux, its products can be used to edit images and produce digital artwork. Hence I decided to try and experience it and well, here's the review.
Why Choose The Huion Kamvas 13?
The Huion pen tablet/display serves as the ideal gadget for remote work and online study purposes. Your handwritten documents can be correctly and quickly digitized on the computer using a pen tablet or display.
It is also compatible with other applications including Microsoft Word, PowerPoint, OneNote, and Evernote, making it worth having.
Its usability extends to teachers as well. They may swiftly write on, edit, and annotate their course materials in real-time using a pen tablet, or monitor. Both, the problem-solving process and instruction function well.
Thanks to the naturally occurring experiences. Users looking for a pen tablet have several viable options amongst which Huion provides some great pen tablets and displays. Huion tablets are affordable and fulfill the needs of its user.
And well, let's cut to the chase. Huion's latest iteration of the Kamvas 13 is the best. Having reviewed other tablets including the GT-156HD, GT-156HDV2, and Kamvas Pro 16 in the past, 
I must say that for the past 3 years, Huion's improvements and product development have been nothing short of amazing.
Unboxing Experience With Huion Kamvas 13
The aroma of brand-new technology as I unwrap and witness the gadgets makes the unboxing experience special for me. Huion has set a high standard for their products' boxes with thoughtful wrapping.
Today, we consider this to be part of the product experience and something to look forward to.
Opening the box, I saw the tablet covered in some type of thin protective plastic. Each item is individually packaged and sealed within its compartment inside the box, which holds them together from the top.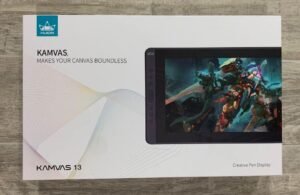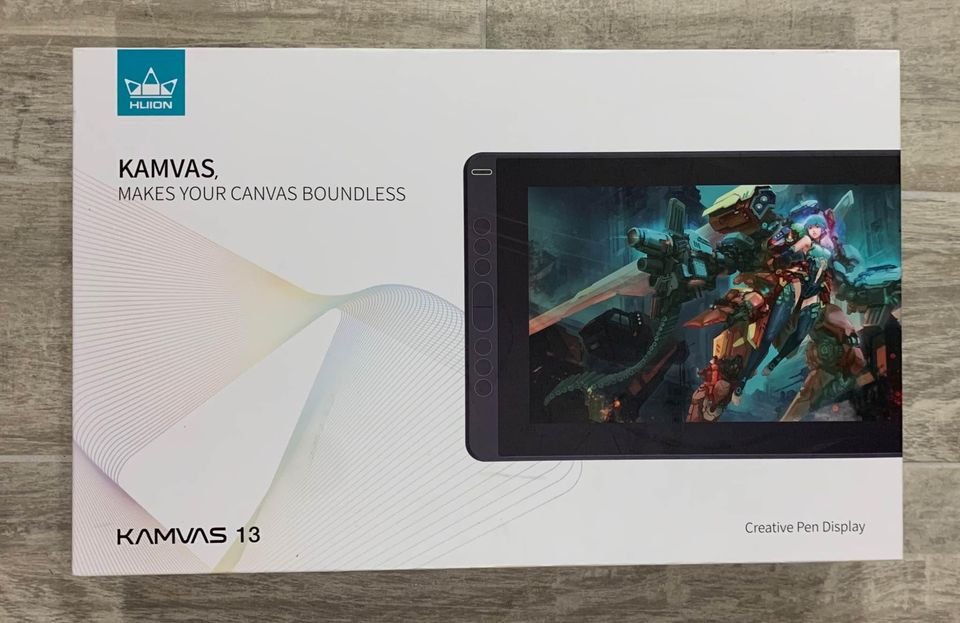 As if the material wasn't protective enough, the screen is likewise protected and sturdy. The body of the tablet shines and has an attractive appeal.
This time, they did not send a power adaptor because the item can be powered via USB. The Kamvas 13 comes with a USB-A power extension, a stylus and its stand, a 3-in-1 cable for connections, and instructions.
Due to the additional cost, a stand is also not included.
How To Set Up The Device?
You must first install its driver, just like with every other pen display from Huion. The Kamvas Pro 16 driver didn't work, contrary to my initial expectation.
After installing the driver, I connected the HDMI, Black USB-A, Red USB-A, and L-shaped connector to the pen display on my computer, and I was ready to begin.
The device doesn't come with an adapter in case you run out of USB ports, but when I looked up the Kamvas 13's power needs, I found that they were merely 5V/2 amps. I think the USB-a phone chargers we have will be able to power the pen display.
Additionally, there is a single USB-C port on this tablet. The existence of a Thunderbolt 3 or USB-C port in your computer is assumed.
Assuming your computer's USB-C port supports Thunderbolt 3 or can output electricity and a display. You'll also need to purchase a USB-C cable that can transmit both power and video, which will further complicate matters.
This cable is available from Huion on both their website and Amazon, however, it costs $40. The port on the pen display is not flush with the edge but rather in a narrow socket, port entry shaft, so the other challenge is that you have to find a cable with a somewhat thin USB-C connector part.
Anyway, I have one, and it functions. One of the best conveniences ever is having a pen display connected through a single wire. You can also check out the below-mentioned video to know more about it:
Its Major Specifications
In order to decide accurately if the HUION Kamvas 13 should be your choice or not, it's important to note the features that set it apart from its competitors. Thus the Huion Kamvas 13 has 
Panel size of 13.3 inches and a working area of 29.37 × 16.52 cm. Not only this, it has an excellent screen resolution of 1920 x 1080 (16:9).
It comes in two Modes: Pen Display and Pen Tablet.
What makes Huion Kamvas 13 a worthy choice is its PW517 battery-free pen with PenTech 3.0 technology which has a pressure sensitivity of 8192 levels.
As far as compatibility is concerned, it is compatible with Windows 7 or above, MacOS 10.12 or above and Android 6.0 or above.  As if that wasn't enough, you get 8 programmable press keys and an outstanding tablet for as light as 980 grams.
Understanding Its Components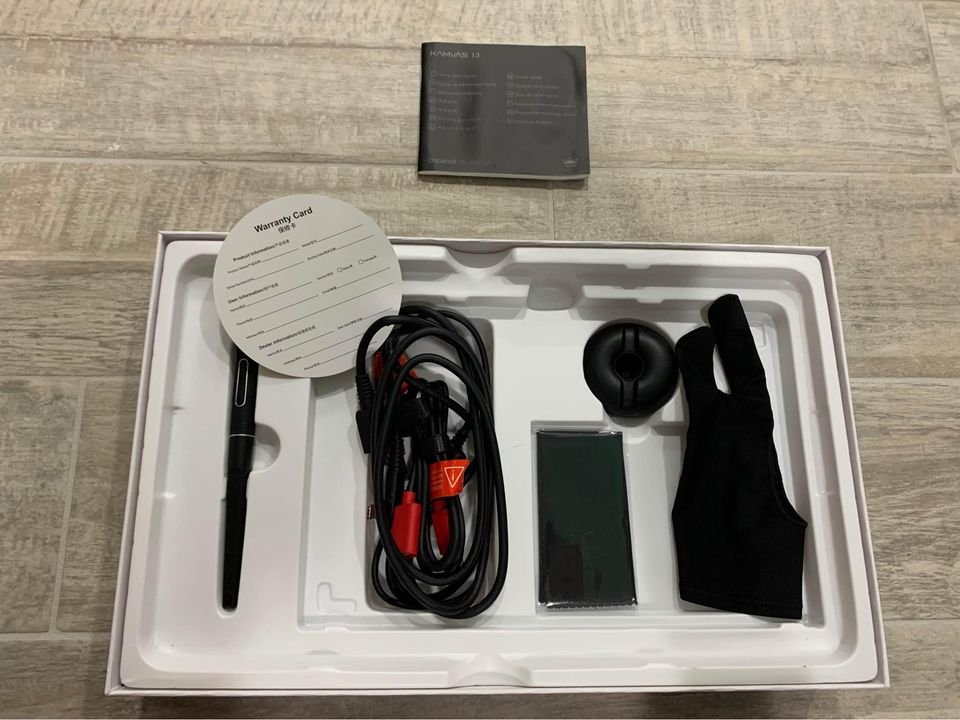 1. 3 in one cable: This can be connected to a computer in two different methods. The first method involves using the 3-in-1 Cable, which uses your computer's two USB ports and one HDMI port.
2. USB Extension Cable: The USB-C to USB-C cable is the second approach. Devices that implement USB3.1 Gen1, DP1.2, and higher standards are required for this technique. In their store, a separate USB-C to USB-C cable is available. The unusual size of the slot prevents the usage of third-party USB-C cables.
3. Battery-free pen: The pen is well-made and comfortable to hold. It features two side buttons that can be changed. Ten extra nibs and a nib removal clip are visible when the pen stand is opened.
This pen holder is one of my favorites because it is sturdy and makes it simple to insert a pen into the slot. The battery-free stylus functions effectively, and I had no problems with the pressure. It includes a tilt function of 60 degrees and 8192 pressure levels. Its precision is excellent. It required no calibration on my part.
I liked the Anti-glare protective film. It was something else altogether. Without changing the colors of the screen, it gives off the impression of a painting on paper.
4. Stand: The stand can be purchased separately and is not part of the base item. If you don't want to strain your neck when using this, I believe it is vital.
It is built of durable plastic and aluminum, and it can be adjusted from 20 to 60 degrees. I used this without experiencing any swaying.
5. Press Keys: All eight of the press keys can be changed. I enjoy how smooth it feels because of the rounded buttons.
Features Of Huion Kamvas 13
1. Screen Quality: Huion Kamvas 13 has a 15 Full HD (1920 x 1080 pixels) IPS screen with a removable anti-glare protection layer. With this size, the pixel density is adequate. Around the sockets, it starts to get a little heated.
2. Colors: With a viewing angle of 178 degrees, the colors are 120 percent sRGB. It appeared much more accurate after switching to "User" for the color temperature. It is pretty close to the best screen color benchmarks, I'd say Dell UltraSharp and iPad Pro screens.
It surprises me that the Kamvas 13 is this reasonably priced and yet possesses this caliber.
3. Drawing: Compared to the stylus for the Kamvas Pro 16, the new PW517 feels different. They aren't cross-compatible, by the way. Pen Tech 3.0, which the Kamvas 13 pen employs, lessens offset on screens, enlarges the tip, and lessens bounce/springiness.
The central orientation of the cursor would, in fact, somewhat offset when the stylus was close to the edges of the Kamvas Pro 16, but those issues are now almost completely resolved. I could just stay in the middle, so it wasn't too hard, but why would I even have that issue?
A thinner stylus, though, would be preferred. I find thick style uncomfortable to use. At the very least, allow for the rubber grip to be removed or provide a thinner option in-store. This is a sentiment I'm sure some people share, and Huion should definitely make room for us. please?
In comparison to my Cintiq 13HD, the pen display has a rougher appearance. Drawing and painting are made a little bit more difficult by the pre-installed anti-glare film on the display, which also helps to cut down on glare.
I was used to the smoothness of the Kamvas Pro 16, so at first, it was strange to draw on, but as soon as I got the hang of it, it was pleasant to draw on. Oh, and it was much better to doodle on the screen after I cleaned it with a damp paper towel, a thing of the past these days. comparable to a smooth pencil on paper.
There are shortcut buttons on the pen display as well. I won't or won't use them very often. If you choose to utilize it, it is there, it functions, and the clicks are excellent.
4. Portability:  The pen display is portable, compact, big enough for drawing, and light enough to fit in a bag. For me as a mobile worker, the Kamvas 13 is the ideal size. Its size is ideal because I walk a lot and attempt to work in different parts of my house.
However, because there isn't much weight, I need to be careful because it could easily escape my hands and go undiscovered. A foam case would likely be necessary if I wanted to pack it in my bag.
I'm glad to have the new 3-in-1 USB power cord instead of my Kamvas Pro 1.
It does away with the requirement for an additional power outlet and just allows the laptop to supply electricity to the pen display. Because you won't need to use a different power outlet and can conceal everything behind your laptop or a tablet, this is incredibly practical.
Just one cable hanging out is great. Although the previous 3-in-1 cable with the adaptor is portable for what it is, it is too heavy to move around frequently. The only drawback is if your laptop doesn't have enough USB ports.
Here, the single USB-C connection comes out on top. It would be a dream to get this to work with just one cable. It's quite portable. I tested one I purchased from Amazon, and it is amazing. Although I may be exaggerating, this is the best part of portability.
My Cintiq 13HD and its tangle of cords are still with me. Even though the device is seven years old and still performs as advertised, I won't bring it to work until I have no other option.
Due to its extremely thin (11.8mm) and lightweight (980 grams) design, it is very comfortable to carry.
You can also consider some standalone tablets which are good for doing the drawing.
5. Software: The software is quite simple to use. While using it with Photoshop CC and Windows 10, I had no issues.
Although the default settings for the 8 Press keys can be changed, they are already highly helpful. I currently have the following settings: Pan, Undo, Zoom in, Zoom out, Brush Enlarge, and Brush Shrink. However, I believe it would be better if there was an additional button with a Redo feature.
You can customize the pen settings. For me, as usual, I increased the sensitivity so that it would require less hand pressure to prevent RSI.
The first pen display to support connectivity with mobile devices via a fully featured Type-C cable is the Huion Kamvas 13. This will enable you to access the free app "Huion Sketch" and let your imagination run wild whenever and wherever you please. Please be aware that it only works with Android 6.0 or later.
Additionally, it works with many desktop programs, including Photoshop, Gimp, SAI, Illustrator, Lightroom, Premiere, Clip Studio, Manga Studio, Blender, Zbrush, and many others.
6. Pen- Tablet mode: In addition to the features I've already mentioned, the Kamvas 13 also has a unique "pen tablet" mode. It enables pen tablet use with the display tablet. While the display is off in this mode, pen detection and tracking remain operational.
It enables you to draw on your tablet while using your laptop's screen as your monitor, just like you would with a conventional graphics tablet.
With your back upright, you may work in a more ergonomic position while letting your eyes unwind.
The tablet settings also include a setting that lets you alternate between left- and right-handed modes.
What Are The Pros And Cons Of The Huion Kamvas 13?
Pros
Portability – lightweight and small: Sleek build weighing only 980 grams which is perfect for mobile workstations.
You can also check out some other drawing tablets that are portable in nature.
Affordable: Reasonable price for a high-quality display tablet.
Tracking: Pen Tech 3.0 tracks better than its competitors.
Stylus: It is not as springy/bouncy as I've experienced in my previous purchases.
Accompaniments: Huion provides a battery Free Pen Stylus with 10 spare nibs, along with an artist Glove and a cleaning cloth are included. This is thoughtful on the company's part.
Screen: Excellent screen quality (IPS 1920x1080px, 120% sRGB, minimal parallax. Anti-Glare Matte film is great and better for drawing.
USB: A power adapter is not required anymore. It is USB-powered. Also supports USB-C to USB-C for many laptops.
Connectivity: Supports connectivity with several Android devices. USB-C single connection is appreciable.
Feasibility: Easy to set up and overall great drawing experience.
Cons
The thickness of a stylus can be a personal preference. Hence I found it to be a bit thicker. It would have been perfect had the stylus been of a thinner build.

Stand not included with the display tablet. This adds to an extra unnecessary expense for the user.

Searching for the correct USB- C is a chore. In comparison, the USB-C  from huion is pricey.

Adjusting the colors using OSD mode just like a regular monitor is an unnecessary hassle. This feature should instead be in the software settings already.

Need for a foam case to be bought as extra. A decent stylus case is also missing.
Stylus PW 517 – Features And Performance
The most crucial component of a drawing tablet is the pen since, without one, it is useless no matter how excellent the display or how luxurious the tablet feels.
Here the brand-new PW517 stylus features Huion's Pen Tech 3.0, which improves the stylus's initial activation and elevates it to the top of the market.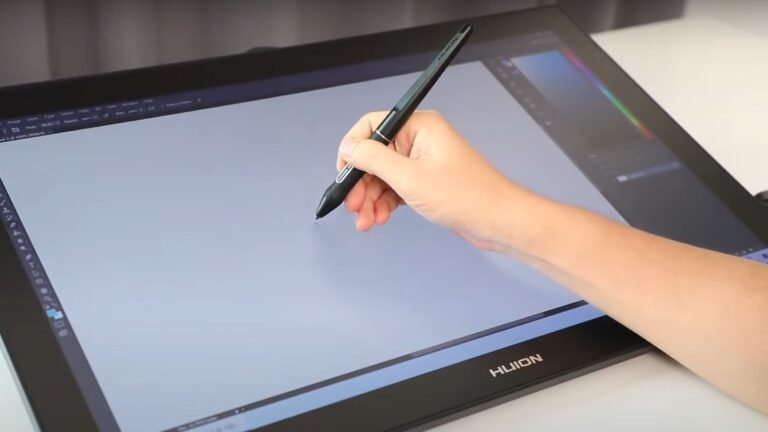 Huion's PW517 stylus, which has 60 degrees of tilt detection and 8192 levels of pressure sensitivity, is included with the Kamvas 13. It produces lines that are smooth and constant, tapering off nicely at the ends. On the front part of the stylus, there are two customizable buttons.
The pressure sensitivity of this stylus is my favorite feature because it performs so effectively. In conclusion, I would say that the laminated screen and quicker response times make it seem as though the ink is dripping from the stylus when drawing.
What Makes The Huion Kamvas 13 Better Than The Huion Kamvas 13 Pro?
Huion Kamvas 13 gives the greater value at a substantially lesser cost.
However, when compared:
The Huion Kamvas 13 and Kamvas Pro 13 have larger 13.3-inch screens but the same set of features and functions as their 12-inch equivalents. Both tablets have fully laminated 1080p IPS panels that cover 120 percent of the sRGB color spectrum. The Kamvas 13 has an anti-glare film, whilst the Kamvas Pro 13 has anti-glare glass, and that is the only difference between their displays.
In contrast to the Kamvas Pro 13, which has 4 press keys and a touch bar, the Huion KAMVAS 13 has 8 press keys. Using the Huion tablet software, you can assign these keys and the touch bar to a variety of tasks to streamline your productivity.
The PW517 pen, which replaces the Huion Kamvas Pro 13's previous PW507 pen, is included with the Huion Kamvas 13, making it a better pen overall. Each of them has an 8192-level pressure range and a tilt function of 60 degrees. Comparing the PW517 to the PW507, the PW517 is marginally more precise and responsive.
Both tablets include a USB-C port for their 3-in-1 cable, which is how they are connected. But the Kamvas 13 has a second, fully functional USB-C port that enables you to use a single USB-C connection to connect it to your Windows, MacOS, or Android device.
On the other side, you can only use the 3-in-1 cable to connect the KAMVAS Pro 13 to a Windows, MacOS, or ChromeOS device.
Pros of Huion KAMVAS 13 Pro
Touch bar 

The anti-glare glass of the pen display 

Comes with the adjustable stand
Cons Of Huion Kamvas 13 Pro
Greater cost when compared to Kamvas 13.

The model of pen provided is older(PW507)

Lacks a full-featured USB-C port 
Value for money is ultimately what matters, and the Kamvas 13 is a winner because of its affordable price and impressive feature set.
Conclusion
The Huion Kamvas 13 has a unique feature.
You can use it in two ways. The first involves using it as a normal drawing tablet with a display. However, the second way enables you to the fact turn off the screen and use the tablet as a pen tablet. Whilst in the pen tablet mode, you can draw stuff on the tablet while looking at the monitor or laptop screen.
This tablet itself is perfect—exactly what I wanted. It works with both Windows and Macbook laptops, Affinity Designer for art, OneNote for note-taking and diagramming, and as an annotation tool during online meetings.
However, you can also check out some other tablets that better for note-taking and diagramming, in this article. 
Overall, the Kamvas 13 is a great gadget for its low cost!
These days' artists are extremely fortunate that things like these exist! I heartily suggest this product, especially to artists on a tight budget and anyone else who needs a tablet for on-the-go viewing.
When I need to travel and use my laptop for art, this is ideal because it is lightweight and easily portable, still giving quality work.
It is evident from this extensive comparison that the Huion Kamvas 13 is extremely feature-rich and offers greater value for money than the Kamvas 13 Pro or even Wacom One.
Comparatively speaking, the Huion Kamvas 13 has been on the market for a while, and during that time, only positive things have been said about this tablet.
However, if you still wanted to choose a different one, you can consider any of them which were in this article.
Therefore, the Huion Kamvas 13 is a superior option and you will undoubtedly enjoy using it if you're seeking an affordable display drawing tablet that has all the functions you require.
Enjoy the art!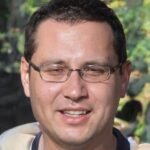 Ben Scott is a prominent technology journalist and reviewer, specializing in tablet devices. He is known for his comprehensive and unbiased reviews of tablets from various manufacturers.
With a deep understanding of tablet technology, including hardware components, operating systems, and software applications, Scott provides clear and informative reviews accessible to readers of all levels of technical expertise.
His attention to detail and in-depth analysis have earned him a loyal following of readers.