Are you in search of some of the best ways to disconnect iPad from iPhone?
If yes, then you came to the right because this article is actually based on it and will tell you about some of the most amazing hacks of the year 2023 with which you can easily disconnect your iPad from your iPhone.
Since the world is full of Apple users and people used many people used apple products for drawing, taking notes, procreating, and doing many other things, the connection between your mobile device with your tablet becomes more and more important.
In my opinion, the Apple id is a tool that lets us connect our entire world into one or one world to several apple gadgets. 
Henceforth allowing us a smooth and convenient data and information exchange platform among various devices like our passwords, as well as lets us enjoy iTunes from the same Id in different Apple devices as an iPad or iPhone.
However, I find it a bit problematic when I do want to disconnect one device or all the devices connected and logged in with my apple id. This article is all about helping you all understand how to disconnect an apple device from an Apple account and based on some of my tiresome experiences.
How To Disconnect iPad From iPhone?
So, let me help you do that by making it easier with a few simple steps, and the plus point is it doesn't require a pc to be involved. Because we are not doing this for just iTunes right? 
There won't be any need to switch off either of your devices an iPad is enough for you to perform this task
The only point that should be kept in mind is that you have to use your Apple ID-linked iPhone and iPad to disconnect them together. Here is a small tutorial for you with some easy steps:
First go to settings, On your iPad

Then click on your name banner at the top of the screen

Then click on Itunes  & App Store option and click on your Apple ID on top

Next click on View Apple ID and enter your Apple ID password there cautiously to verify

Now, go to the option Remove This Device and click on it

That's how you will be able to unlink the iPhone from

your Apple ID permanently.
By following the above-mentioned steps correctly, your iPad must have been disconnected, and it no longer has access to your apple id anymore and can't sync with any other device, for example, your iPhone.
Other Methods To Disconnect iPad from iPhone:-
The above-mentioned steps are helpful but they are not the only useful ones, several methods are there to help you in disassembling the link between your apple id and Apple devices.
I have listed all of them here, so as per your convenience you can pick anyone you please. 
1. Disconnect Using Mac?
iTunes can also be used to disconnect your iPad from your iPhone if you are using a MacBook.  You just need to go through these steps to get the task done.
Have a look at the below-mentioned steps:
Start by Opening the iTunes app on your Mac. 

Then go to the menu bar and click Account > Account Settings. 

You will then get a prompt to sign in with your Apple ID here you need to Enter your username and password 

After signing in, click Manage Devices. This option won't show if you don't have any devices associated with your Apple ID,

Now to remove a device from your Apple ID, tap Remove. Still, If you can not remove the device, then you will have to sign out of your Apple ID on that device and retry. 
2. Disconnect Using Windows?
Very few or we can say almost no alternative is present for users having a windows PC than a Mac for using apple products. But you can still disengage either iPhone or iPad or even both from your own windows pc easily. iTunes software can help you install or uninstall the devices from your PC.
Both the apple devices the iPhone or iPad can be removed from your list of Apple devices with the help of just your windows pc.
However, you still need to be logged in through your iTunes account for this task to work efficiently. But there is a simple catch here, the login account of iTunes has to be similar to that of the ones on your iPhones or iPad. And lastly, you have to just go through these instructions.
Have a look at the below-mentioned steps:
Start with Opening iTunes on Windows PC.

Then go ahead and Click the Account option in the menu.

Now, tap the View My Account option and a new window will open after a while with your Apple account details.

You then have to Click the Cloud section and next you have to tap on the Manage Devices option.

If the device you want to remove is present on the list, click on the device to remove it from your account.

Finally, tap on the Remove option after choosing the device. It will help you disconnect the device from your Apple ID and your iPhone/iPad. 
4. Disconnect Using Handoff?
Now you must be thinking about what this handoff feature is and what it does, so basically when you don't want to shut off the entire information between the devices you use this handoff.
Simply by disabling this feature you inhibit the sharing of information at the same time your apple id doesn't get separated from your iPad at all.
This is an exclusive feature only designated for apple devices that lets the app syncing happen at a much smoother pace.
So, with handoff, if you have started searching for something while browsing the internet you can easily pick it up at the exact place on your Mac, iPad, or any other apple device just like that.  But a big family with different members with a single iPad is truly an issue worth discussing.
How to disable Handoff on the iPad?
First, you have to go to the Settings app On your iPad

Now, tap on the option General

Then, search the Handoff option and disable it by toggling toward the left.
5. Disconnect Without Disabling Apple ID?
As soon as the link between iPad and Apple Id gets deducted, all the other features like Apple Pay and more also go out of your hands.
So, as an alternative, it is not essential that the iPad should get disengaged with the I'd. But, in place of that, you can easily disable the iCloud sync so that it won't get all the information, except the required one from the desired apps.
Any type of data or information regarding that app won't be backed up on iCloud once the feature is disabled. For example, if we talk about our photos, if the backup Is disabled the synchronization of photos won't take place automatically on your iPad. 
How to turn off iCloud sync for apps on iPad?
Start with opening the Settings app On your iPad

Now, you have to click on your Apple ID name 

Then go and Tap iCloud and check the list of apps that are using iCloud

At last, You just have to toggle off the app to disable its sync with other Apple devices connected to the same Apple ID as your iPad
Conclusion
At last, I am assuming that all the curiosities have been answered from my side and you now know almost all the data regarding how to disconnect an iPad from iPhone through different methods.
I have mentioned almost all types of methods that can come to be used in different types of situations or scenarios. 
If you don't want to get indulged in all these things, you can also check out some of the best alternatives to iPads.
However, if there is still something that has been left unanswered or if you want to ask any other questions apart from those mentioned here do comment and let us know. I will surely try to answer that also.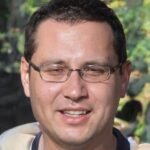 Ben Scott is a prominent technology journalist and reviewer, specializing in tablet devices. He is known for his comprehensive and unbiased reviews of tablets from various manufacturers.
With a deep understanding of tablet technology, including hardware components, operating systems, and software applications, Scott provides clear and informative reviews accessible to readers of all levels of technical expertise.
His attention to detail and in-depth analysis have earned him a loyal following of readers.