The Huion H610PRO V2 is a great drawing tablet that combines technology and art perfectly. For someone like me who looks for accuracy and quick responses in tools, this tablet stands out. It's made for everyone, from beginners to professionals in the field of art and design. The tablet's design is both practical and good-looking. In today's digital world, having the right tools can really help improve your work. The Huion H610PRO V2 does just that. It captures every detail you draw, making sure your creativity shines. So, whether you're drawing, designing, or editing, this tablet makes the process smooth and enjoyable.
The Huion H610PRO V2 isn't just another drawing tablet; it's a versatile tool designed for the modern digital era. I was struck by its adaptability, especially in the realms of online teaching and working. For educators and professionals alike, this tablet seamlessly integrates with online tutoring software, making presentations in PowerPoint, drafting in Word, note-taking in OneNote, and PDF annotations feel more natural and interactive. Personally, it's revamped how I approach online conferences. With its capabilities, web conferencing, webinars, and screen sharing become more dynamic and engaging. In essence, the Huion H610PRO V2 isn't just about artistic endeavors – it's about redefining the boundaries of digital communication and collaboration.
Hardware Specifications Huion Inspiroy H640P
Dimension
352 x 238 x 12mm
Active Area
254 x 158.8mm
Pen
Digital Pen PW100
Sensitivity
8192
Pen Resolution
5080LPI
Keys
8 express keys, 16 soft keys
OS Support 
Windows, Mac OS, Android and Linux
Weight
635g
PROS
Battery-free stylus.
Also for online teaching and working.
Budget-friendly
Huion H610PRO V2- Design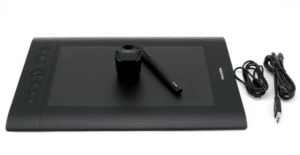 Diving into the design of the Huion H610PRO V2, the very first thing I noted was its sleek profile. With dimensions of 352 x 238 x 12mm, it presents a well-balanced form factor that manages to be both spacious and compact. The working area, a generous 254 x 158.8mm, provides ample space for creative strokes and precise edits, while still allowing the tablet to maintain a relatively travel-friendly weight of 635g.
The tablet's deep black hue gives it a professional appearance, effortlessly blending with any workstation aesthetic. But it's not just about looks – the H610PRO V2 is highly functional. I was particularly impressed by the 8 customized press keys aligned neatly on the side. These are further complemented by an additional 16 customized soft keys, enhancing workflow and offering an intuitive user experience. Each key can be tailored to individual needs, making frequently used tools or actions just a tap away.
Lastly, the choice of a Micro USB interface, while not the newest, still provides a reliable connection. And given the tablet's other features and its price point, it's a minor detail that doesn't overshadow the overall functionality.
In essence, the design of the Huion H610PRO V2 feels thoughtful, prioritizing user experience and efficiency. It manages to balance form and function in a package that speaks of professionalism and elegance.
Huion H610PRO V2- Compatibility
When it comes to compatibility, the Huion H610PRO V2 truly stands out, ensuring users aren't left grappling with system constraints. Starting with OS support, the tablet is impressively versatile. Whether you're operating on a Windows (7 or later), macOS (10.12 or up), Android (6.0 or subsequent versions), or even a Linux system, the H610PRO V2 seamlessly integrates, making it a genuine all-rounder.
Personally, as someone who's dipped toes into various operating systems, I found this compatibility incredibly refreshing. It ensures that I can switch between platforms without missing a beat in my workflow. Moreover, it's clear that this tablet isn't just designed for a single purpose. From jotting down notes, capturing digital signatures, or even venturing into the realm of online teaching and working, it's aptly equipped for diverse tasks. As a digital artist, I found its adaptability especially handy for photo editing, providing a smooth experience free from hitches.
Perhaps the crowning jewel of its compatibility features lies in its program support. The Huion H610PRO V2 comfortably pairs with a broad range of applications. From industry staples like Photoshop, Adobe Illustrator, and Corel Painter to others like SAI, GIMP, and CLIP Studio, it works without a hiccup. Even for those who dabble in lesser-known apps like Krita or ibis Paint, this tablet proves its mettle.
In summary, the Huion H610PRO V2 breaks compatibility barriers with finesse. It's not just a tool but a bridge that connects users to a universe of applications and platforms, effortlessly.
Huion H610PRO V2- Pen Sensitivity
The heart of a drawing tablet is its pen. With the Huion H610PRO V2, the Digital Pen PW100 shines brightly. Picking it up for the first time, I could see Huion really thought about its design.
The best part? It doesn't need batteries, thanks to the Battery-free Electromagnetic Resonance tech. No more stopping to charge – just continuous drawing. It's super sensitive too, with a level of 8192. This means whether I press lightly or hard, the tablet catches it all.
The pen's sharpness, with a resolution of 5080LPI, is amazing. While I used it, there was no delay because of its fast report rate of >200PPS. With an accuracy of ±0.3mm and sensing range of 10mm, drawing felt very smooth and natural.
What I also loved was how the pen could tilt up to ±60°. This makes drawing and shading feel just like using a real pencil. The tilting adds extra style to the artwork.
To sum it up, the Digital Pen PW100 of the Huion H610PRO V2 is a gem. It's not only a tool but feels like a part of my hand, ready to capture my best creative moments.
Huion H610PRO V2- Accessories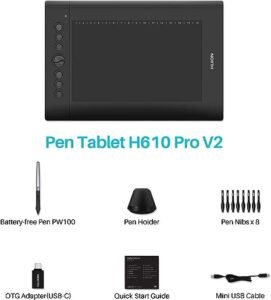 The accessories that come bundled with a drawing tablet play a pivotal role in enhancing the overall user experience, and in the case of the HUION H610 Pro V2, they did not disappoint.
First and foremost, the main star, the Pen Tablet H610 Pro V2, boasts a design that balances both aesthetics and functionality. The tablet feels premium in hand, and its surface offers a delightful drawing experience, capturing strokes with precision.
The Battery-free Pen PW100 is a godsend. Not having to worry about batteries or charging is a game-changer. The pen feels balanced, mimicking the weight and feel of a traditional drawing instrument, making the transition from paper to digital feel more natural.
One of the aspects I appreciate most is the inclusion of the Mini USB Cable. Its build quality is robust, ensuring secure connectivity and data transfer without any hiccups. No more scouring for third-party cables because this one's designed to last.
The Pen Holder is a thoughtful addition. Not only does it serve as a safe storage solution for the pen, ensuring I don't misplace it, but it also has a compartment that neatly stores the 8 extra Pen Nibs. These nibs ensure longevity, providing replacements for when the original wears down.
Lastly, the OTG Adapter (USB-C) proves invaluable, especially when I want to connect the tablet to devices that support a USB-C port. It broadens the tablet's versatility, allowing me to work on different platforms with ease.
In conclusion, the accessories accompanying the HUION H610 Pro V2 are not mere afterthoughts. They are carefully curated components that elevate the drawing experience, ensuring that users have everything they need right out of the box. Simple, efficient, and effective.
Final Verdict
After extensively using the Huion H610PRO V2 Drawing Tablet, it's evident that it's a masterpiece in the realm of digital art tools. Beyond just a drawing surface, it bridges the gap between imagination and digital realization, catering to both novice enthusiasts and seasoned professionals. The tablet's design is not only ergonomic but also aesthetically pleasing, ensuring that it finds its rightful place in any creative workspace.
Coupled with the Digital Pen PW100, which offers battery-free convenience and unmatched precision, the drawing experience becomes unparalleled. The compatibility across various platforms and software ensures adaptability, making it ideal for a wide array of tasks, from online teaching to intricate digital artistry. In a nutshell, the Huion H610PRO V2 doesn't just meet expectations – it surpasses them, cementing itself as an indispensable tool in the digital age. Simple in its essence, yet profound in its capabilities.
You can also switch to some other of the same series. The size is good so can be used to draw a fine piece of sketching. However, If you want a tablet with screen and better experience, you can read our  artists tablet, and drawing tablet with a screen according to your choice and need.
Howdy Geeks, I'm Andrew, a young passionate blogger, Tech Freak & a Gadget Lover. I help people in buying them the best tablet devices