In the world of digital art, there are many gadgets. But, the Huion Kamvas Pro 16 stands out to me as something special. From the first time I saw it, I could tell this wasn't just another tablet. It looked and felt different. It's made for today's artists and offers a deep dive into creativity, mixing the latest tech with easy-to-use features.
The first thing that caught my eye was its clear and bright screen. It makes my art pop and helps me see every tiny detail. It's like a big canvas waiting for my ideas. And using it for a long time? No problem. Its design is comfortable, so I can draw for hours without feeling tired.
But what's even better is how well it works with other tools and software. Whether I'm designing graphics or animating, this tablet fits right in. It's versatile and ready to help no matter the project.
To sum it up, the Huion Kamvas Pro 16 is more than just a drawing tool. It's like a door to a world where my creativity can fly free. If you love art and tech, this tablet might be the perfect match for you.
Since 2011, Huion, a Chinese company, has been producing pen displays, and their goods have significantly improved. The most recent pen display has a higher pixel density, better resolution, and a new design, and it is called the Huion Kamvas Pro 16 (2.5k). You can also choose Kamvas Pro 13 if your budget is not that high.
Hardware Specifications of HUION Kamvas Pro 16
Display 
15.6 Inches | 2560 x 1440(QHD)
Dimension 
436.2 x 247.3 x 10~11.5mm
Active Area
349.6 x 196.7mm
Pen
Digital Pen PW517
Sensitivity 
8192
Pen Resolution
5080LPI
Keys
8 Programmable Press Keys
OS Support 
Windows, Mac OS, Android, and Linux
Weight
1.28Kg
PROS
2.5K (QHD) display
Fully laminated screen
PenTech 3.0
CONS
Can be a bit bulky and heavy for portability.
The initial setup might be a bit complicated.
Huion Kamvas Pro 16- Design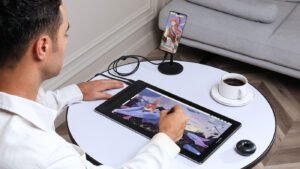 Navigating the digital art landscape has brought me across numerous devices, but the design of the Huion Kamvas Pro 16 truly left an impression. Right from its dimensions of 436.2 x 247.3mm with a sleek profile varying from 10mm to 11.5mm, it showcases a blend of aesthetics, practicality, and premium build.
Weighing in at 1.28kg, the tablet feels a little bit heavy when you hold it in hand. Its "Silvery Frost" color adds a touch of elegance that differentiates it from the generic black finishes we see on most drawing tablets.
But it's not just about looks. The eight programmable press keys on the left side of the display ensure a seamless workflow. Being able to customize these keys according to my most-used functions has made a significant difference in my productivity. Gone are the days of constant menu navigation; with the press of a button, I can execute my favorite commands.
The inclusion of a Full-Featured USB-C video interface, compatible with both HDMI and DP(Display Port), demonstrates the tablet's forward-thinking approach. This not only ensures faster data transfers but also simplifies cable management. Plus, the power USB-C port further solidifies its commitment to modern connectivity solutions.
In conclusion, the design of the Huion Kamvas Pro 16 isn't merely about visual appeal. It's a thoughtful combination of form and function, ensuring that every aspect of its build enhances the user experience. For someone like me who values both aesthetics and utility, this tablet feels like it has been tailored with precision.
Huion Kamvas Pro 16- Display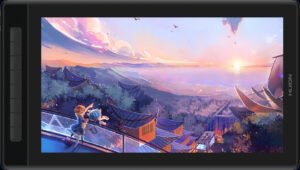 In the realm of digital art, a display can either make or break your experience. With the Huion Kamvas Pro 16, I genuinely believe I've stumbled upon a display that enhances my artistic journey manifold.
The vast 15.6-inch canvas offers ample space to breathe life into my creations. Combined with a crisp QHD resolution of 2560 x 1440, every detail, every shade, and every stroke is vividly presented. I can't emphasize enough how much clarity has transformed my work; no longer do I squint or zoom excessively, as the details are evident right off the bat.
Delving into the technical side, the IPS LCD panel with a refresh rate of 60Hz delivers consistently vibrant and fluid visuals. The active drawing area, precisely 349.6 x 196.7 mm, feels optimal for most projects, ensuring I never feel cramped. Its 16:9 aspect ratio is well-aligned with most contemporary media formats, making transitions between various projects seamless.
The viewing angle of 178° (89°/89°(H)/89°/89°(V) (Typ.)(CR>10)) is genuinely remarkable. No matter which angle I glance from, there's no noticeable color distortion. This flexibility is particularly beneficial during collaborative sessions or client presentations. The display's contrast ratio of 1200:1 gives depth to the darkest of blacks and the brightest of whites, while the brightness level of 220 nits ensures that the screen remains visible even in well-lit environments.
What further adds to the experience is the 145% sRGB gamut volume, encapsulating a rich palette of 16.7M colors. As someone who values color accuracy, this feature is a boon. Full lamination technology combines the anti-glare glass, It's the cherry on top. Not only does it minimize reflections, but it also offers a tactile feel akin to drawing on paper.
To wrap it up, with a swift response time of 14ms, the Huion Kamvas Pro 16's display is not just a screen, but a vibrant canvas beckoning artists to unleash their creativity. For me, it's been a game-changer in how I approach digital art. There is also a 4k display version available – Kamvas Pro 16 Plus (4K).
Huion Kamvas Pro 16- Compatibility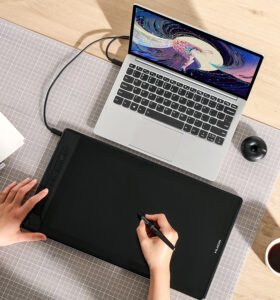 Navigating the digital art space requires a tool that's not just robust in its capabilities but also versatile in its compatibility. On testing the Huion Kamvas Pro 16, I've come to realize its impressive adaptability with various systems and applications.
To begin with, the broad OS support truly impressed me. Whether you're a Windows enthusiast, running anything from Windows 7 and beyond, or a Mac with OS 10.12 or its successors, this tablet has you covered. Even Android users, provided they're equipped with USB3.1 DP1.2 or later, can jump into the creative fray. And, let's not forget our Linux community; the Kamvas Pro 16 seamlessly integrates here too.
Beyond just the operating systems, its adaptability extends to various professional domains. Be it digital drawing, dynamic animations, meticulous sketching, vibrant photo editing, intricate 3D sculpture, or even the realms of architectural design, this tablet proves its mettle. For someone like me, who dabbles in different areas, this flexibility is invaluable.
But what truly seals the deal is the tablet's program compatibility. Working with drawing and design software like Photoshop or Adobe Illustrator felt fluid and intuitive. Dive into Corel Painter, SAI, or GIMP, and the experience remains consistent. For manga enthusiasts, the integration with Manga Studio is a dream, while CLIP Studio, Krita and ibis Paint users, too, will find the tablet responding to every nuance of their creations.
In essence, the Huion Kamvas Pro 16 isn't just a drawing tablet; it's an innovation adapting to varied creative ecosystems. For professionals and beginners alike, its compatibility spectrum ensures that no matter the platform or project, your artistic endeavors remain unhindered.
Huion Kamvas Pro 16- Pen Sensitivity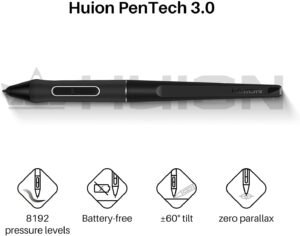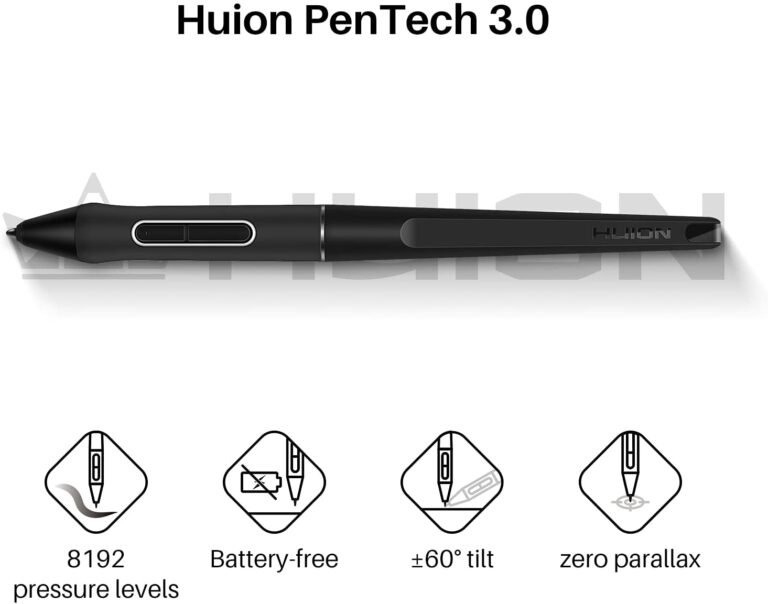 When using the Huion Kamvas Pro 16, the star of the show for me was the Digital Pen PW517. Let me break down why this pen feels so special.
Firstly, I didn't need any batteries for it. Thanks to its "Battery-free Electromagnetic Resonance" technology, I never had to worry about charging it. Just like how we don't charge a regular pencil, right?
Then, there's something called PenTech 3.0 in this pen. Without going into too much detail, it's like a magic trick that makes the pen feel smooth and act super quickly on the tablet, almost like a real pen on paper.
The pen can sense how hard or light I press it on the tablet. It has 8192 levels of pressure, which is a fancy way to say it can capture even the tiniest changes in how I draw. If I press harder, the line becomes bolder. If I press lightly, the line becomes fainter, almost like using a real pencil.
The pen's resolution, 5080LPI, is like its ability to understand super tiny details. The faster report rate of more than 300 times in a second means it can follow my moves super quickly, without any delay. Plus, it's super accurate. I can be sure that where I put the pen down is exactly where my mark will be. The pen Accuracy is  ±0.3mm (Center) ±1mm (Corner) and the Sensing Height is 10mm which can give a true-pencil-like feel.
One more cool thing, the pen knows when I tilt it. It can understand up to 60 degrees of tilt, meaning I can shade or draw just by changing the pen's angle, almost like how I'd use the side of a crayon.
In short, the PW517 pen for the Huion Kamvas Pro 16 is like a magic wand for drawing. It's quick, smart, and feels just right. It made my drawing time super fun and easy.
Huion Kamvas Pro 16- Accessories
My experience with the Huion Kamvas Pro 16 was enriched further by the thoughtfully included accessories, each designed to complement the main product and make my drawing journey smoother.
Starting with the 3-in-2 Cable, made connecting the tablet to my computer a breeze. The additional USB Extension Cable and the USB-C to USB-C cable ensured I had options and flexibility, no matter where my setup was. To power the tablet, they provided both a USB Power cable and a USB Power Adapter, making sure I was always ready to create, anytime and anywhere.
The Foldable Stand ST200 was a game-changer. It allowed me to adjust the tablet's angle to what felt most comfortable for me, be it a flat surface or an inclined angle. This adaptability meant longer drawing sessions without any discomfort.
The Pen Holder PH05F is cleverly designed, not just to hold the Digital Pen PW517 safely, but also to house extra nibs. Speaking of nibs, they generously provided 10 in total – 5 standard nibs and 5 felt nibs. Each had its unique feel on the screen, letting me choose based on my preference. And the little Nib Clip was a handy tool for changing nibs without any fuss.
A thoughtful addition was the Glove, ensuring my hand glided smoothly across the screen, preventing any unwanted smudges. The Cleaning Cloth ensured my screen remained spotless and free from dust and fingerprints.
In a nutshell, the accessories of the Huion Kamvas Pro 16 are not just mere add-ons. They are essential companions that enhanced my user experience, showing the brand's commitment to providing a holistic drawing environment. Every piece felt like a puzzle part, completing my digital drawing toolkit.
Answering the popular FAQs
Q- What are the possible ways of connecting with your computer/laptop?
If your computer does not already have HDMI and USB ports, you will need an adapter to convert the connection.

Make sure your computer is fully connected to the USB and HDMI cables.

Be sure to fully splice the USB and HDMI cables into the KAMVAS Pro 16. Make sure there is no space between the cables when they are plugged in.

You will want a TYPE-C to HDMI and USB converter for the connection if your computer only has TYPE-C ports.

After placing all of the cables in their proper locations, give the USB Hardware driver 30 to 1 minute to successfully load.
Also please note the following:
Both the USB and HDMI cables must be fully plugged into the computer.

The KAMVAS Pro 16 should accept the Type-CI Cable in its entirety.
Q- What points should you keep in mind while installing the HUION driver in the Windows system?
Please verify that your machine does not have any drivers for other brands;

Before installation, shut off any drawing programs or antivirus software;

Please don't alter the installation path. Disk C contains our default path;

Please run the driver installation program as administrator.
Q- Is the Huion Kamvas Pro 16 a standalone product?
This device requires a computer connection to function, and it is compatible with Windows 7 and later as well as macOS 10.12 or later. Thus, the Kamvas Pro 16 is not a standalone product.
Q- How can you contact Huion in case of any query/help?
At first, you would need to install the most recent driver on your computer by downloading it from the HUION Official Web. You'll get the latest version from there.
When using the KAMVAS Pro16, please read its Quick Guide and search HUION online to find a way to contact them for more help. Most likely you'll find their website complaints portal or mail id for the same. Moreover, you can write to them through your order details and e-commerce platform.
Conclusion
The Huion Kamvas Pro 16 is a special drawing tablet. It's like a magic screen where your art comes to life. The screen is big, bright, and clear, and the pen feels just right in your hand, like a favorite crayon. It comes with cool stuff to help you draw and make it even more fun. Whether you've been drawing for a long time or are just starting, this tablet is perfect.
Huion made this to help every artist do their best. It's not just something to draw with; it's like a friend that helps you create amazing things. If you love drawing, this is the best thing to have. With the Kamvas Pro 16, you can dream big and draw even bigger.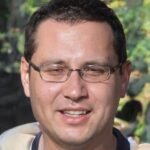 Ben Scott is a prominent technology journalist and reviewer, specializing in tablet devices. He is known for his comprehensive and unbiased reviews of tablets from various manufacturers.
With a deep understanding of tablet technology, including hardware components, operating systems, and software applications, Scott provides clear and informative reviews accessible to readers of all levels of technical expertise.
His attention to detail and in-depth analysis have earned him a loyal following of readers.