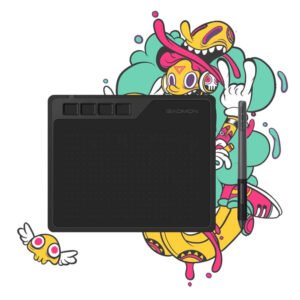 Exploring digital art shouldn't be expensive. That's what I realized when I found the GAOMON S620 Graphics Tablet. It's affordable, but that doesn't mean it's low quality. At first, I wasn't sure about this cost-effective choice. But the GAOMON S620 showed me it's worth every penny.
This tablet is perfect for digital drawing. Its surface is smooth and reacts quickly to every touch, making the drawing feel just right. What's more, it's not just for drawing. I found it great for playing OSU games and even for simple note-taking.
The design is easy to understand, even for beginners. All the buttons and features make sense, helping everyone from new learners to expert artists work without trouble.
To sum it up, the GAOMON S620 Graphics Tablet is not just another gadget. It's a door to the world of digital art, without a big cost. If you want good quality without spending too much, this tablet is a great choice. It does what it says, helping turn creative ideas into digital art.
Hardware Specifications of GAOMON S620
Dimension
211 x 174 x 8mm
Active Area
6.5 x 4 inch
Pen
Digital Pen AP32
Pen Pressure Levels
8192
Pen Resolution
5080LPI
Keys
4 Programmable Press Keys
OS Support
Windows, MacOS, Android
Weight
249g
PROS
Affordable price point
Suitable for beginners and students
Compact and portable design
Compatible with major design software
CONS
Smaller active drawing area
Limited express keys and shortcuts
Not ideal for professional or complex work
GAOMON S620 Review: Design
Recently, I tried out the GAOMON S620 drawing tablet, and I was pleasantly surprised by its design features. Let me share my experience with you.
Firstly, this tablet is quite compact. Its size is about 211 x 174 x 8mm(8.3 x 6.85 x 0.31 inches), which makes it fit in most bags effortlessly. I found its slimness a bonus, especially when my desk is cluttered or if I'm drawing on the go.
The tablet offers a drawing space of around 165.1 x 101.6 mm(6.5 x 4 inches). This might seem standard, but it felt just right for me. I could easily focus on detailed work and broader sketches without feeling restricted. This size is good for beginners.
Another plus is its weight. At just 249g, it's one of the lighter tablets I've used. The black design makes it look sleek and neat in any workspace. A bonus is that it doesn't easily pick up smudges.
What I really appreciated were the 4 shortcut keys on the tablet. They're easy to reach and use, making my drawing sessions more efficient.
As for connecting it to my computer, it uses a Micro USB. Some might prefer a USB-C, but I had no issues. The connection was steady and reliable.
To wrap it up, I genuinely enjoyed the design of the GAOMON S620. It's user-friendly and looks good, making it a top choice whether you're just starting out or have been drawing for years.
GAOMON S620 Review: Pen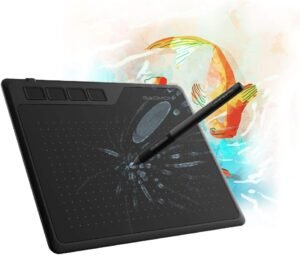 My journey into digital art took an exciting turn when I started using the GAOMON S620 Graphics Tablet, and a significant part of that excitement was due to its remarkable pen. Let me walk you through its standout features.
Firstly, the technology behind this pen is commendable. It uses Battery-free Electromagnetic Resonance, which means no more interruptions to charge the pen or replace batteries. This has been a game-changer for me, allowing uninterrupted sessions of creativity.
The precision of this pen impressed me the most. With a Pressure Level of 8192, every stroke I made, whether light or heavy, was captured with utmost accuracy. This gave me a natural drawing experience, replicating the feel of traditional media like pencils or brushes.
The Pen Resolution stands at 5080LPI, making my lines sharper and transitions smoother. Coupled with a Report Rate of 266PPS, the pen's responsiveness is top-notch. I experienced no lag whatsoever, which often breaks the flow for artists.
Accuracy is crucial for detailed work, and with an accuracy level of ±0.3mm, I could trust this pen to deliver precision every single time. The Sensing Height of 10mm is another advantage; the pen could detect and respond even if it wasn't touching the tablet directly.
Lastly, the ±60 Degree tilt support enhances the drawing experience. It recognized the angle at which I held the pen, allowing me to create different shades and strokes effortlessly.
In conclusion, the pen of the GAOMON S620 Graphics Tablet is not just a tool but a companion for artists. It blends cutting-edge technology with a user-friendly design, ensuring an unmatched digital drawing experience. If you're serious about your art, this pen won't let you down.
GAOMON S620 Review: Compatibility
Navigating through the digital world, I've come across many tools, but the compatibility of the GAOMON S620 Graphics Tablet genuinely stands out. Let's delve deeper into how this tablet integrates seamlessly with various platforms and purposes.
Starting with the OS support, it's commendable how the tablet isn't just restricted to one operating system. Whether you're a Windows user, a macOS user, or frequently on Android devices, the S620 has got you covered. Specifically, it supports Windows 7, macOS 10.12, and Android 6.0 or above. This vast compatibility ensures that irrespective of the device I'm using, I can comfortably switch without compromising on my work.
What pleasantly surprised me was its application beyond just the art realm. The GAOMON S620 isn't limited to sketching or painting. It has found a place in business environments too. Whether I'm signing important documents digitally, taking notes during a webinar, or collaborating on platforms like Excel, PPT, and even Zoom, this tablet has proven to be a versatile asset.
As for the artists out there, from fledgling doodlers to seasoned professionals specializing in drawing, graphic design, photo editing, or even 2D/3D animation, the S620 is a trusty companion. It's not just about the tablet's hardware but also how it interacts with art software. I've tried and tested it with a slew of programs like Photoshop, Illustrator, Corel Painter, Sai2, Krita, Medibang Paint, and many more. Each time, the experience was smooth and intuitive.
In summary, the GAOMON S620 Graphics Tablet is a beacon of compatibility in the digital landscape. Regardless of your domain – be it art, business, or a mix of both – this tablet promises to blend seamlessly, enriching your digital endeavors.
GAOMON S620 Review: Accessories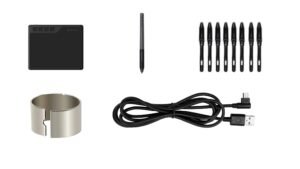 In the ever-growing world of digital tablets, what often makes or breaks a user's experience is not just the tablet itself, but the accessories that come with it. My experience with the GAOMON S620 Graphics Tablet only emphasized this belief. So, let's talk about the accessories packed in the box with this tablet.
Opening the box, the first thing I encountered was the tablet itself, the Pen Tablet S620. Smooth, sleek, and responsive, it's the main star. But, accompanying it was a set of tools that greatly enhanced my user experience.
The Digital Pen AP32 was the first thing that caught my attention. Lightweight yet sturdy, it felt like an extension of my hand rather than a separate tool. The pen was very accurate, even for tiny details. Also, no battery requirements for this pen meant I didn't have to pause in between inspirations to charge it.
Next, there was the Micro USB Cable. The cable is very durable and long enough. The connection it provided between the tablet and my devices was consistently stable, with no frustrating disconnections.
The set of Nibs that came in the box was a thoughtful addition. Wear and tear is natural, especially if you're someone who draws a lot. Having 8 extra nibs means I can keep using the tablet without any breaks, and drawing feels smooth.
Lastly, the Pen Nib Clip was a simple yet essential tool. Changing nibs became a breeze with it, ensuring I spent less time in maintenance and more in creation.
In conclusion, while the GAOMON S620 Graphics Tablet itself is an impressive piece of technology, the accessories it comes with elevate the whole experience. They not only enhance the tablet's functionality but also promise longevity and uninterrupted creativity.
[Video Credit – Nemanja Sekulic]
Conclusion
Wrapping up my experience with the GAOMON S620 Graphics Tablet, I've been really pleased. Its design is simple and easy to use, perfect for both new users and pros. The pen is a standout feature – it's accurate and doesn't need batteries. What's more, this tablet works well with many operating systems and can be used for art or even work tasks like signing documents or online meetings. The extras that come in the box, like spare nibs and a sturdy Micro USB cable, show that GAOMON really thinks about what users need.
In the last, I would say the GAOMON S620 can fulfill your all drawing needs. It's a great tool for drawing, designing, or working. If you're unsure about which tablet to get, I'd say try this one. It's a solid choice that connects your ideas to the digital world at an affordable price.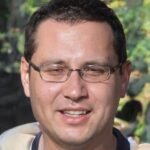 Ben Scott is a prominent technology journalist and reviewer, specializing in tablet devices. He is known for his comprehensive and unbiased reviews of tablets from various manufacturers.
With a deep understanding of tablet technology, including hardware components, operating systems, and software applications, Scott provides clear and informative reviews accessible to readers of all levels of technical expertise.
His attention to detail and in-depth analysis have earned him a loyal following of readers.