Who hasn't heard about an iPad? Officially announced on January 27, 2010, the Apple iPad is a touchscreen tablet pc made by Apple. The iPad is a brand of iOS (and iPadOS)-based tablet computers developed by Apple Inc. The Apple iPad falls into the slate (also called tablet) category of portable personal computers.
What exactly is an iPad?
iPads are primarily known for creating high-quality, print-ready illustrations on the go. All you need is to make a few initial investments: the iPad itself, an Apple Pencil, and some design software like Procreate. Then you're all set to represent your creative endeavors in the best possible way.
An iPad can be used as a sketchbook where you can erase, undo, scale or even share your creations with others. Also, unlike a laptop, it doesn't have a hardware keyboard for it to function.
Instead of being a piece of plastic with physical keys, the keyboard of an iPad is a graphic that pops up on the device's touch-sensitive screen. This interface will be familiar to iPhone and iPod Touch users including me. iPad users can type by touching pictures of keys on the screen. The iPad keyboard is about the same size as a physical keyboard. The difference here is that you and I cannot feel the keys here.
When Steve Jobs first unveiled the device in January, he quoted that the iPad is "a dream to type on." But some bloggers have been persistent in complaining that the iPad's touch-screen keyboard is a bit difficult to use.
This article is a guide where I take you through the very basics about iPads, their features, and details. Whereas you will also see the difference and comparison between iPads and drawing tablets. Because what is an honest outlook without comparing it with its alternatives? I will also take you through the various iPads so that you can decide which suits your needs. So, read ahead.
What makes the iPad so special?
Apple iPad is designed for consuming varieties of media. I can classify them into reading books, browsing the Web, and watching videos, in particular. It is widely marketed as a portable gaming device, and there are hundreds of games for sale in the iPad App Store as well. The device doesn't have a DVD player. However, you can download videos from Apple, or stream them from the Web.
Is Apple iPad the only option available in the market for artists and designers? Absolutely not!
Drawing tablets are the predecessors of the Apple iPads. Drawing tablets have been around for a long while, but are they better and more versatile than Apple's hit models? Whether you are a beginner digital artist or a traditional artist who wants to try their hand at digital, it is important to choose the right equipment. But what exactly makes drawing tablets different from Apple iPads?
An alternative or threat to the iPad- What is a Drawing Tablet?
Owning a drawing device is the first step in wanting to be a digital artist for me.
A graphics tablet, also known as a digitizer, digital graphic tablet, pen tablet, digital artboard, or drawing tablet is a computer input device. This enables a user to hand-draw images, graphics, as well as animations, with the help of a special traditional pen-like stylus, similar to the traditional way in which a person draws images with a pencil and paper.
I believe Art is not much about the tools used to create it, but more about the vision, message, or emotion that the artist wants to portray. And that is what a drawing tablet does so effortlessly. I love drawing tablets as they provide such a natural look, just like traditional artworks.
Drawing tablets are widely available, in numerous price ranges suited for all sections and needs of the society.
These tablets can be classified into two categories:
Drawing tablets with screen or Pen Display: In this, I can see my work on the screen as I do it.
Drawing tablets without screen/ Graphics tablets: These need to be connected to a computer in order to be used.
For this article, we will discuss both sides of the argument and have an unbiased look at the advantages and disadvantages of using an iPad vs a traditional drawing tablet.
iPad –Models and variants available
iPads are available in 8 generations to date, each with improved features and configurations. Doesn't matter if you are a beginner, a professional, or a casual hobbyist – there is an iPad for everyone.
1- iPad
The first generation of the iPad was announced on January 20, 2010. There have been constant upgrades and new versions of the iPad.  Ninth generation of the iPad was announced and released on September 14, 2021.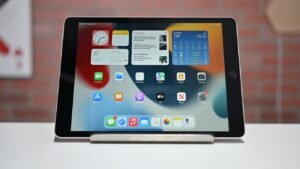 Its features include:
Height: 250.6 mm (or 9.8 inches).
Width : 174.1 mm (or 6.8 inches).
Weight: 487 grams (or 1.07 pounds).
Chip: A13 Bionic chip with 64-bit desktop-class architecture.
Battery: Up to 10 hours of surfing the web on Wi-Fi or watching video & Up to 9 hours of surfing the web using a cellular data network.
Compatibility: Apple Pencil (1st generation).
Camera: 8MP Wide camera with an aperture of ƒ/2.4 aperture.
Front camera: Ultra Wide 12MP photo camera with an aperture of ƒ/2.4.
Sensors: The touch ID.
iPhone's Retina Display features the True Tone technology, which automatically adjusts the screen color temperature according to the lighting of the ambiance.
2- iPad Pro
The first generation of iPad Pro, a high-end and professional flagship, was announced on September 9, 2015, and released on November 11, (12.9-inch version) and March 31 (9.7-inch). It used an Apple A9X chip, with a 2x higher memory bandwidth and a 1.8x faster CPU than its predecessor.
The latest iPad Pro 5th Gen has the following specifications:
Height: 280.6 mm (11.04 inches).
Width : 214.9 mm (8.46 inches).
Weight: 685 grams (1.51 pounds).
Chip: Apple M1 chip with 64-bit desktop-class architecture.
Battery: Up to 10 hours of surfing the web on Wi‑Fi or watching a video or up to 9 hours of surfing the web using a cellular data network.
Compatibility: Apple Pencil (2nd generation).
Camera: 12MP Wide and 10MP Ultra Wide cameras with Wide: ƒ/1.8 aperture and Ultra-Wide: ƒ/2.4 aperture.
Front camera: 12MP photos.
Sensors: Face ID.
Display: Liquid Retina XDR display1.
3- iPad mini
The first generation of the flagship, smaller iPad Mini was announced on October 23, 2012, and released on November 2. It uses a dual-core Apple A5 chip, and has hardware resembling that of the second generation of iPad. It has six generations till date, iPad Mini 6th Gen being the latest.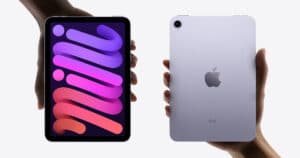 Its features are:
Height: 195.4 mm (7.69 inches)
Width: 134.8 mm (5.3 inches)
Weight : 293 grams (0.65 pounds)
Chip: A15 Bionic chip with 64-bit desktop-class architecture.
Battery: Up to 10 hours of surfing the web on Wi-Fi or watching video or up to 9 hours of surfing the web using a cellular data network.
Compatibility: Apple Pencil (2nd generation)
Camera: 12MP Wide camera with ƒ/1.8 aperture.
Front camera: Ultra Wide 12MP camera with ƒ/2.4 aperture.
Sensors: Touch ID
Display: Liquid Retina display1 True Tone
4- iPad Air
The first generation of another flagship of premium lightweight tablet computers, the iPad Air, was announced on October 22, 2013, and released on November 1. It used an Apple A7 chip with an embedded Apple M7 Motion coprocessor; the chip included over a billion transistors and comprised a 2x faster CPU and GPU. iPad Air has 5 generations.
The latest iPad Air 5th Gen has these features:
Height: 247.6 mm (9.74 inches).
Width : 178.5 mm (7.02 inches).
Weight: 461 grams (1.02 pounds).
Chip: Apple M1 chip with 64-bit desktop-class architecture.
Battery: Up to 10 hours of surfing the web on Wi-Fi or watching the video. Up to 9 hours of surfing the web using a cellular data network which is the same as the other three models.
Compatibility: Apple Pencil (2nd generation).
Camera: 12MP Wide camera an aperture of ƒ/1.8.
Front camera: 12MP Ultra Wide front camera and ƒ/2.4 aperture.
Sensors: Touch ID, Liquid Retina display.
Requirments For Drawing With iPad:-
After I've mentioned the basics and features of an iPad, it is important to speak about two necessities that decide the quality of artwork produced. These also make your work easier if used according to one's needs. These are two:
1- Apple Pencil
Apple Pencil is a wireless stylus pen accessory designed and developed by Apple Inc. for use with supported iPad tablets.
Apple has designed and provided us with two variants of its digital pencils: the Apple Pencil first generation and the Apple Pencil second generation.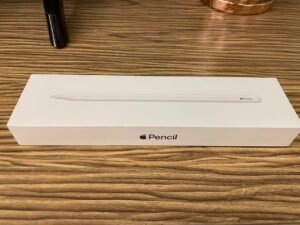 The actual drawing performance is equally good in both, and because of the major budget considerations around having to buy the most expensive iPad models to be able to use Apple Pencil 2, it's not such a clear-cut choice in practice here.
Like any other professional tool, the best option for you is the one that you can afford.
2- Operating System (iPadOS)
One of the major selling points about AppleiPad drawing apps is how well they have designed their user interface.
Currently, iPadOS-specific drawing apps like Procreate, Artstudio Pro, Affinity Photo, and Vectornator are dominating and widely used on iPads. Whenever I look at drawing apps on iPads, I find a well-put-together tool, that is ready to cater to the artistic needs of everyone.
The brush customization feature on Procreate is a customization that most software fails to provide. The tools window appears and disappears as and when needed by the user. Moreover, all the unnecessary menus and buttons are hidden away under submenus to maximize the working area.
Is An iPad Good For Drawing?
Do you know how to use the iPad as a drawing tablet? Below I have categorized the various points that appealed to me as an iPad user:
1. Portability
One of the most significant benefits of having an iPad is that there is no need to attach your drawing screen to a computer in order to use it. This means you possess a self-sufficient drawing device wherever you go.
Even the biggest iPad Pro with a 12.9" screen is portable. I can easily put it in a backpack and go outside and draw at my ease.
2. Functionality
The uses of an iPad are not restricted to just drawing. It's also a great all-in-one device on which you can surf the internet, play games, watch movies, etc.
It is also useful in other life scenarios, such as checking emails, sharing images on social networks, editing videos, and loads more!
3. Size
The Apple iPad comes in a variety of different sizes. The iPad Mini is the smallest version which has a 7.9-inch screen. The iPad Pro with a 12.9-inch screen is the largest.
However, Drawing tablets range from small to as large as 32 inches. That provides a lot of choices. If one likes to work on a large surface, then it's only logical to choose a large drawing tablet. The advantage of a large drawing tablet is that you can work in even more intricate details.
4. Stylus and Pencil sensitivity
Purchasing a drawing tablet gets you a pen in the purchase, so there is usually no need to buy one separately unless one needs to upgrade. The pen tips are removable though.
Now, the most stylus of drawing tablets don't have a battery – they don't need charging. It gets its energy from electromagnetic waves from the tablet to transfer energy and data.
The fineness of your pen stroke is dependent on the control you have over the pressure sensitivity.
Also, there isn't much difference between the first- and second-generation Apple Pencils when it comes to sensitivity. However, the latter only works on the iPad Pro lineup.
5. Software
The iPad doesn't run all the normal Apple OS software, but only software designed for the iPad tablets. There are a lot of great apps that can be installed on the iPad. including Ibis paint, Procreate, and others. There are plenty of options if you want to paint, draw, or do some cool designs. But you still may lack some programs. By that I mean the ones Adobe Creative Cloud offers (many of which are considered a standard in the industry).
Drawing tablets on the other hand support every single drawing and modeling software whether it is Photoshop, Krita, or Sketchbook for making digital art or Full-fledged 3D modeling apps such as Maya, Zbrush, 3ds Max, or Cinema 4D.
An iPad can help you with some parts of the workflow, but it's more viable for doing fun artwork than producing anything serious.
6. Programmable buttons
All professional drawing tablets, irrespective of their size or price, come with a set of programmable functions. These you can customize too. On one hand, you can have a button that performs the 'undo' function whereas another can be dedicated to switching between brushes.
Unfortunately, this cornerstone is missing in the Apple iPad Pro. At the most, you can double-tap the Apple Pencil to switch between tools. By default, it switches between pen and eraser, but you can customize it to another function as well. If you absolutely cannot work without shortcut buttons, this will majorly hamstring your workflow.
7. Price tag
Price is one factor that makes the iPad not the first option for most users. Even the cheapest iPad will cost you more than a Wacom graphics tablet. Although it is a great investment in your digital art career, it may be not for everyone, especially for beginners.
Drawing tablets without display have pretty affordable basic models which are perfect for beginners or established artists looking for an inexpensive option. Nowadays these tend to be wireless with an internal battery.
If you already have a computer/laptop, buying a Digital pen tablet can be an easy and inexpensive investment in your creative career rather than going all the way out and buying an iPad.
8. User experience
I use an iPad pro-small-sized, XP-Pen Innovator 16 medium, and XP-Pen Artist 24 Pro large screen drawing tablet. iPad Pro is for my sketching and drawing on the go and the big XP-Pen screen tablet and my pc for professional work.
At times when I do large illustrations, the iPad can get a bit chaotic. I'd say that the iPad is way more convenient when you just quickly want to sketch your idea down. However, a PC has more power and is a lot more useful when one has to work in multiple layers like in Photoshop which isn't the same in Procreate.
On the other hand, touch/gesture is pretty great for digital art. You can zoom in or out with a pinch, or pan, and rotate the canvas freely. Tapping with two fingers to undo, or three to redo, procreate also has a lot more gestures to help speed up your workflow.
In summary, I can assure the readers from my experience that the iPad is a superb drawing tablet. I'd say that the biggest advantage of an iPad over a traditional drawing tablet is its convenience. One can literally start sketching on an iPad at any place and at any particular time. Also, the variety of professional apps and tools available on the iPad is a huge pro of the same. The added advantage of its being touchscreen enables ease while using a lot of features.
A drawing tablet is a special purpose tool that enables professional digital art workflows and avails many professional tools to the artist that makes their work easier. An iPad, however, is a general-purpose tablet that supports drawing via many apps and the Apple Pencils.
Conclusion
If you have only a casual interest in drawing, then an iPad and the versatility it offers with other tasks should be just fine. However, if you're looking to take drawing seriously, or even pursue it professionally, a drawing tablet is a worthy investment.
All in all, it comes down to preferences- some want the convenience of the iPad whereas some want a big screen that drawing tablets/monitors have.
I don't think there's a right or wrong choice- here- people should just choose what's more convenient for them. As with most gadgets, what works for you will depend on your needs and personal preferences. If a physical eraser or customizable hotkeys is your preference, a Wacom might be more your choice. If you're fine with a sensitive-enough stylus and don't have to do much with rotation, an iPad will work just fine for you.
Looking at these constant upgrades and improvements as well as the benefits that come with a powerful yet compact drawing device. Thus a huge number of professional artists have already made the iPad, the drawing device of their choice.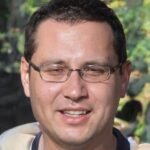 Ben Scott is a prominent technology journalist and reviewer, specializing in tablet devices. He is known for his comprehensive and unbiased reviews of tablets from various manufacturers.
With a deep understanding of tablet technology, including hardware components, operating systems, and software applications, Scott provides clear and informative reviews accessible to readers of all levels of technical expertise.
His attention to detail and in-depth analysis have earned him a loyal following of readers.