Are you even looking to buy digital pens if you haven't already come across Apple and Samsung S Pen series and wondered which is more efficient?
Getting a stylus with your tablets surely boosts your productivity as they make most of your jobs easier for people like me who are experimentative and creative. I am here to guide the ones who are wondering which one you should get for the best experience. Undoubtedly, the S-pen from Samsung and Apple pencil offers features and performance like no other stylus pen on the market. 
I write this article to provide you with an in-depth analysis of the best apple pencil and S Pen available. Then you can decide between my two absolute finalists.
Read ahead for my personally curated list of features and facts that I experienced while using the Apple Pencil and Samsung S Pen. Below you'll get a clear overview of the Apple Pencils and Samsung S Pens based on my various evaluating criteria.
Although both Samsung's S-pen and Apple pencil work on two different operating systems, their performance makes them the best in their class of digital pens. But which one performs better in head-to-head comparison? This is what I'll talk about in this article. 
Before deciding which stylus to buy, let me tell you why it's very important to invest in a good stylus based on my experiences.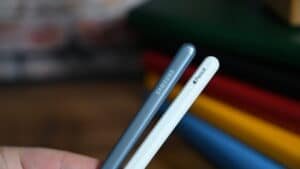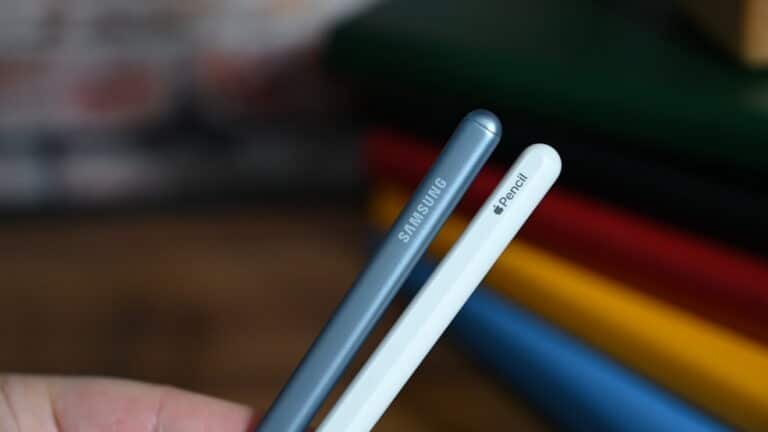 What are the benefits of using a stylus pen?
As screens have grown larger and technologies have become more advanced, your fingertips have harnessed the power to click, zoom, create, and navigate to your heart's content. However, the limitations of the fingertip show when contact accuracy is of the essence. 
Tapping away on any number of your favorite touch screen devices with your fingertips is convenient, but it's not always the most sensible option for your needs. We've outlined a few of the many benefits of using a stylus pen.
Great for handwritten notes: The creative inside you require a great stylus to make notes/art on the go when you don't have access to pen\paper.

Easy to use and have multiple brushes/tools, and few of them are weather resistant

They offer more precise contact registers: Fingers cannot change width, styluses can.
Sanitary than bare fingers: Your tablet's screen stays clear from the fingerprint-covered mess.
Now that you're sure about why I am stressing about investing in a good stylus. Now I will give you all the information you need to decide which stylus suits your purpose.
Let's start by having a look at the previous versions of the Apple Pencils to decide the same.
The Apple Pencil 2nd Gen. vs the Apple Pencil 1st Gen.
Apple has designed and provided us with two variants of its digital pencils: the Apple Pencil first generation and the Apple Pencil second generation.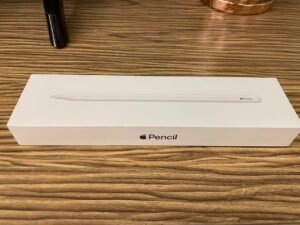 The Apple Pencil 2 is similar to its predecessor, but its unique re-design and innovation make it the topic of my reviews and discussion here. These two Apple Pencils are extremely similar in design while being different enough that you can easily tell them apart. 
Here I compare the 1st and 2nd generations of the Apple pencil based on:
Design & ergonomics:

For example, it's thinner and shorter, which gives me the feeling of an actual pencil. While they're both 8.9mm in diameter, the original Apple Pencil is completely circular on the other hand the Apple Pencil 2 has a flat edge. This ensures better grip, and the digital pen also doesn't roll off the table as easily. The silver border has disappeared and has been replaced by a subtle logo on the end of the pen.

Performance:

The good news about both Apple Pencil models when it comes to drawing performance is that while using either of them, I found them to be identical concerning pen tracking, pressure, and tilt sensitivity. Thus you don't miss out on drawing capability whichever one you go for.

Storage and charging: The Apple Pencil 1 is charged via a Lightning port.I see a major upgrade in the Apple Pencil 2, thanks to the wireless connection and wireless charging, you'll no longer have to worry about fiddling with cables. The Apple Pencil 2 has a huge edge when it comes to storage. It attaches magnetically to the side of the iPad Pro and connecting it this way also charges it wirelessly. From a usability point of view, this made me a fan of the Apple Pencil 2.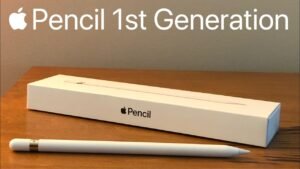 Apple Pencil vs Apple Pencil 2: My final choice
When it comes to my choice, the answer to which stylus is better is simple: it's the Apple Pencil 2. Its matte finish gives grip even to sweaty hands.
Additional features including the extra 'button' are useful, and the magnetic attachment with wireless charging is a massive upgrade from the plugged charging of the 1st-gen version.
Since drawing performance is the same in both, I suggest going for Apple Pencil 2 only if it is easily affordable.
Samsung S-Pen
S Pen series has passed the test of time and innovation, with constant upgrades since its first launch. Here I discuss them by classifying them into two categories:
Types:

S Pen with the Samsung Note series of smartphones, and the S Pen innovated for Samsung Tablets.

Design:

Designed for Galaxy smartphones are smaller inbuilt whereas the tablet S Pens resemble a pen more.

Size

:

I found the S Pen Pro longer/slightly bulkier than the S Pen. This gives it more of a pen feel.

Features:

The best feature I find about both the S pens is Bluetooth connectivity.

Specifications

:

S Pen Pro weighs 14 grams whereas S Pen weighs 4.47 grams and has a dimension of 6.7 x 130.4 x 5.5 mm. 

Multiple Devices:

S Pen Pro can switch frequencies thus it can work with multiple devices. This feature was lacking in the S Pen Fold as the frequency at which it operates is different.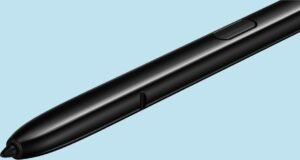 Samsung S Pen or S Pen Pro – My final choice
Do you want to up your stylus game, take notes, and draw on your compatible tablet, foldable, or smartphone? S Pen Pro offers all of the functionality, features, and benefits that people like me may be able to take advantage of.
It also has a long battery life, and it took me only 50 minutes to charge it fully via the USB-C port. So it's a clear win that the latest S Pen Pro should be your choice and that qualifies for the final round of comparison with our mighty opponent, the Apple Pencil 2nd Generation.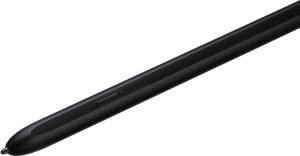 Apple Pencil vs Samsung Pencil
Let's have a clear, factful look at what gives either of these styli, an edge over the other.
Colors: The S Pen has a variety of colors matching the cover of the device – Aura Black, Aura Glow, Aura Blue, Aura White, Yellow, Ocean Blue, Lavender, and Black whereas the Apple Pencil is available only in the classic white.
Design: My observation states that the Apple pencil resembles a pencil more whereas the S pen looks more like a ballpoint pen. However, both are alike in terms of weight, cylindrical bodies with flat faces that help attach them to the tablets.
In-hand feel of Apple Pencil and Samsung S Pen: Both the stylus live up to their names; S Pen gives the glossy finish of a pen and the Pencil looks and feels like a pencil with a matte finish. However, keeping both the stylus in my hand, the Apple pencil has a more solid in-hand feel.
Pressure Sensitivity: Depending on how much pressure is placed on the ‌screen while writing or drawing, a line can be thicker or thinner. I found the Apple Pencil and S Pen to have equally good pressure sensitivity.
Tilt Sensitivity: Styluses with tilt sensitivity allow the artists to shade just like a real pencil when the stylus is tilted at an angle. Both these styluses have tilt sensitivity enabled and worked equally well for me.
Shortcut Buttons:
The main purpose of shortcut buttons here is to quickly switch from different brushes/effects to erasers and various other tools that are required to be handy. S Pen has one button on the side whereas the Apple Pencil has a touch-based shortcut button.
Tip of S Pen vs Apple Pencil: The S-Pen has a soft, rubbery, 0.7 mm, pointed nib, providing sufficient friction, on the other side the Pencil has a hard, more rounded nib that allows smooth strokes. S Pen has a pointed tip while the Apple Pencil has a blunt tip.
The pointed tip of the S pen makes the strokes provided by it look more accurate on my tablet.
Charging: Phones – Charge by inserting it into the dedicated slot on the Samsung set;
Tablet – Does not require charging.
About the pencil: 1st Gen – Charging connector at the bottom;
2nd Gen – Attaches magnetically to the side of iPad for charging.
Performance/ Parallax:
An important aspect to be looked at before making your decision. Whenever a stylus is used, what we see on the screen is a result of the various calculations that take place within the mechanisms of the stylus. Parallax is when the strokes appear a few millimeters away from where the stylus tip is touching the surface. 
The shorter the delay between your input and the styluses output, the more realistic the drawing experience. Who wants their lines trailing behind their pen movements after all? However, you're lucky here as both S Pen and Apple Pencil come with a fast response rate of 9ms.
One thing to be noted here is that if you're going for the previous versions of the S Pen, unlike me, you might have to compromise a bit on this feature.
Palm Rejection:
Palm rejection is a very basic yet the most essential feature. When a display supports pen input and touch, palm rejection allows you to rest your palm comfortably on the iPad/tablet screen while using the stylus. Without this feature, your palm would leave stray marks on the digital paper in an app.
Thanks to both, Samsung and Apple, the palm rejection system is excellent and it did not possess any issues for me. 
Supported Devices:
S Pen is compatible with: Samsung Note range (all Note Phones / Note Pro), Galaxy Book / Tab S3 / Tablets / Tab A 9.7 / Tab A 10.1 
1st Gen – iPad range (including Pro, Air, mini)
Apple Pencil 2nd Gen is compatible with – only iPad Pro 11″ and 12.9″ (3rd Gen onwards)
*Not compatible with all iPhones 
In case you're still wondering, have a look at these precise features of the Samsung S-Pen, which I found the cons while using the following. Here's the list :
PROS - Samsung Pen
Quick Start guide helped me brush through the shortcuts.

1.13 ounces is the weight of my Samsung S pen pro.

S pen pro is Wireless. This made it very feasible to be used by me.

My experience of using S Pen was very smooth.

I found the S Pen easy to use.

Affordability is what I loved about the S Pen.
CONS - Samsung Pen
The tip of the S Pen felt rigid while using it for various shading instances while drawing.
In case you're still wondering, have a look at these precise features of the Apple Pencil, which I found the cons while using the following. Here's the list :
Apple Pencil Features
PROS - Apple Pencil
My experience with Apple Pencil was smooth, I found the performance to be excellent.

Apple pencil has great pressure sensitivity and precision.

0.73 Ounces weight is the weight of my Apple Pencil 2.

It is compatible with many devices.

Apple pencil has a Lithium battery and good battery life.
CONS - Apple Pencil
Apple Pencil was a bit heavy on my pocket.
Is S Pen or Apple Pencil Compatible with Other OS?
For people who own both Android and iOS, it's more feasible to have one pen that can work for both, isn't it?
Samsung's s pen allows you to use your stylus on both Android and iOS platforms. Other than lacking some features an Apple Pencil could provide, the Samsung S Pen worked perfectly fine on my iPad.
However, the Apple Pencil doesn't work on any android devices.
Conclusion
Having been a user of both, the Apple Pencil and S Pen for four months now, I state the following conclusion. If you're looking to draw on your smartphone with the help of a stylus, you may be more comfortable choosing an Apple Pencil like me. This is due to its overall speed rates related to input lag.
On the other hand, the S-Pen better performs the task of taking notes. It is more comfortable in terms of weight and grip for most people. However, Samsung makes a mark here by constantly upgrading and bettering its S Pens to fit the needs of its consumers. On the other hand, Apple has launched just two generations of its pencils. 
Apple has yet to make such bold revolutionary upgrades in its pencil thereafter. Also, Samsung S Pens come with their respective tablets, and with the latest OS Compatibility too, I bet that it is all set to threaten Apple's market. Samsung S Pen proves to be worth every penny spent whereas Apple standing up to its legacy, gives the effortlessly luxurious feel, from the touch to every stroke it is used for.
I highly commend how Samsung S Pen has proved to be such an amazing alternative to Apple Pencil. 
Howdy Geeks, I'm Andrew, a young passionate blogger, Tech Freak & a Gadget Lover. I help people in buying them the best tablet devices