Those days are gone when we had to glue down to the chair and work on computers for tiring long time durations. Now when we have Chrome OS tablets and light laptops we can work anytime and anywhere since they're easy for traveling. Laptops and tablets can be stored with computer software and also android functions which makes them sustainable and effective.
In this guide, we are going to review the latest 6 best chrome os tablets of this year and see if it's worth the hype and good for daily use and storage life. Without further ado, let's jump right in. 
What Are Chrome OS Tablets?
People often get confused by the term 'Chromebook'. Chrome book is a laptop or tablet that runs with the Linux-based chrome os as its operating system. It's used because it's efficient since most of the applications and data are stored in the cloud rather than on the tablet's storage. 
Just to tell you, There are more than 25 million+ chrome OS users now in the world. Also, Chrome OS-based tablets are always cost-effective when it comes to features and specifications in a fair price range. We'll discuss in-depth some of the best chrome os tablets in this article.
List of the 6 Best Chrome OS Tablets In 2023:-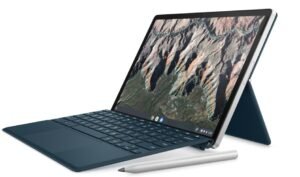 It's hard to find fault with the 11-inch IPS 1440p display. The 400 nits of brightness are incredible, especially for a Chromebook, and the 3:2 aspect ratio makes it simple to complete productivity tasks. In other words, it is sufficiently bright to be seen outside. The touch screen responds rather quickly. It's simple and fluid to scroll, swipe, and tap.
In terms of appearance, the HP Chromebook X2 is a high-end item. The silver finish is understated and elegant. The tablet itself has a beautiful hand feel. Rugged aluminum serves as the chassis, while Gorilla Glass shields the display. It also has a wireless USI Pen that is self-charging and sticks to the side of the tablet.The HP Chromebook X2 exhibits strong performance.
The Snapdragon 7c can't compete with anything like an Intel i3, but it is superior to the MediaTek CPUs found in many cheap Chromebooks (obviously). Nevertheless, it is quick enough for everyday tasks like web browsing and drafting academic papers. I could launch several programs and even play a few simple games.
The HP Chromebook X2 gives you a solid 32Wh battery. With either of its USB-C ports, it charges quickly, reaching 50% in 45 minutes. It ran for around 11 hours of continuous use on a full charge. That's an excellent performance that's more than an entire workday hour.
Only the tablet can be used to recharge the bundled pen. However, the beauty of USI pens is that any Chromebook that supports them will be able to use any of them.
Hardware Specifications of HP Chromebook X2
Processor
Qualcomm Snapdragon 7c Octa-core
RAM
8GB
Storage
64GB, 128GB
Display
11-inch IPS 2K Display (2160 x 1440 Pixels)
Camera
Rear- 8MP | Front- 5MP
Operating System
Google Chrome OS
Battery Life
Up to 11 hours
Weight
1.16 kg
PROS
Efficient for multitasking and time management.

It gives you a vibrant, bright 1440p display.


Extended battery life is an excellent advantage.
CONS
Speakers exhibited a poor performance


I found the trackpad to be a difficult-to-use one.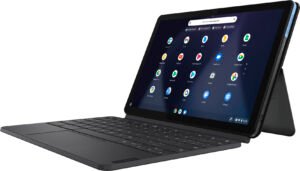 In addition to being large by tablet standards at 13.3 inches, the Duet 5's is also incredibly vivid and brilliant (certified at 400 nits). (Lenovo claims it emits 70% less blue light than its competitors and covers 100% of the DCI-P3 gamut.) The 1,920 by 1,080-pixel resolution of the screen causes text and icons to appear small.
The Lenovo IdeaPad Duet 5 Chromebook weighs 700 grams and has dimensions of 186.74 x 305.86 x 7.25mm. It has an 8-megapixel camera on the back and a 5-megapixel camera on the front for selfies. Abyss Blue and Storm Grey were the colors used for the launch.
There is almost no UI lag here, which makes using this tablet as a simple video consumption device much more appealing. This tablet not only performs excellently with Android apps as well as Chrome OS duties, such as light browsing and running whole Linux applications.
The average time this tablet was used without a charge was between 12 and 14 hours when it was used for word processing, web surfing, and media streaming.
The Lenovo IdeaPad Duet 5 Chromebook has USB Type-C and Wi-Fi 802.11 connectivity options. The power plug has a USB-C connector and an inconveniently short cable. Lenovo promises to charge the battery up to 80% in an hour of keeping the tablet plugged in.
Hardware Specifications of Lenovo Chromebook Duet 5
Processor
Qualcomm Snapdragon SC7180 Processor
RAM
4GB, 8GB
Storage
64GB, 128GB, 256GB
Display
13.3-inch FHD OLED (1920 x 1080 Pixels)
Camera
Rear- 8MP | Front- 5MP
Operating System
Google Chrome OS
Battery Life
Up to 15 hours
Weight
1.5lbs(700g)
PROS
The excellent OLED display in a detachable device under $500

Superior front and back cameras.


The tablet includes a kickstand and keyboard cover.
CONS
It showed mediocre computing performance.

Lacks a choice for 4G or 5G LTE or an audio jack.


Stylus support is provided, albeit at an additional cost.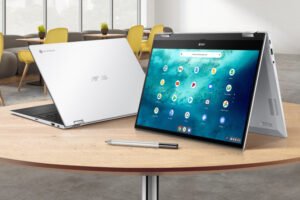 Full HD (1920 x 1080) and 250 nits of maximum brightness are the specifications of the actual monitor. While everything appears sharp and colorful, working outside in direct sunshine will be challenging. Fortunately, you have a good selection of angles because the CX5's hinges rotate 360 degrees.
The large 358 x 24 x 19mm chassis is unquestionably the largest I've seen for a Chrome OS tablet, not to mention the substantial 1.95kg. The keyboard deck has almost little and no flex on the screen, making it reasonably solid. The build quality surpasses many of the most excellent laptops at this price point and is as lovely as any Chromebook I've used this year.
It has an Intel Core i3-1115G4 dual-core CPU from the 11th generation (Tiger Lake), rated at 3GHz with a turbo clock of 4.1GHz.
The CX5 was a reliable performer with no stutters or glitches during routine use, web browsing, streaming entertainment content, writing this review, and other chores of a similar nature.
Given the strength of the internal CPUs, battery life is also respectable. With the CX5's screen set to medium brightness, I could use it continuously for an average of eight hours and 31 minutes. On some tests, it quickly exceeded nine hours. Though it's not an extraordinary outcome, you can still use the device for a full day without needing to recharge it for your workload.
Hardware Specifications of Asus Chromebook Flip CX5
Processor
11th Gen Intel Core i3/i5/i7
RAM
8GB, 16GB
Storage
128GB, 256GB, 512GB
Display
14.0-inch, FHD (1920 x 1080 Pixels)
Camera
720p HD camera with privacy shutter
Operating System
Google Chrome OS
Battery Life
Up to 10 hours
Weight
3.09 lbs(1.40 kg)
PROS
Efficient for multitasking and time management.

It gives you a vibrant, bright 1440p display.


Extended battery life is an excellent advantage.
CONS
The display is a bit din.

Faceplate has rough edges.


Number pad feels cramped up and is irritating to use.
The QLED panel is bright and covers a 100% DCl-P3 color gamut. The QLED display produces noticeably vibrant colors that make whatever you look at on the screen pop.
The Galaxy Chromebook 2 is somewhat thicker and weighs slightly less than its predecessor, but it still features a compact aluminum frame (1.2 kilograms). It features a hybrid laptop/tablet design that is ultra-slim, attractive, and a complete pleasure to use. It boasts an excellent illuminated keyboard and a touchpad with complementary colors.
The sound quality is the next feature that truly sticks out. It is impressive that a laptop this thin can create a sound that is incredibly loud and crystal clear. TJack, the laptop's bottom-mounted speakers are quiet. Its small laptop's Chrome OS operating system runs flawlessly, making it ideal for use in the classroom or while traveling. It also features a good 720p facing camera with an integrated microphone, fast Wi-Fi, Bluetooth, and headphone jacks.
On the Galaxy Chromebook 2, battery life has also significantly improved. The main criticism of the first-generation Galaxy Chromebook was its poor battery life caused by the 4K display. The new full-HD QLED panel is much easier on the battery, and this is evident you will get while using it.
Samsung claims its batteries last 13 hours on average with two USB-C ports (one on each side) and a micro SD slot, maintaining the profile's rigidity and slimness.
Hardware Specifications of Samsung Galaxy Chromebook 2
Processor
Intel Celeron Processor 5205U
RAM
4GB, 8GB, 16GB
Storage
64GB, 128GB
Display
13.3-inch FHD QLED Display (1920 x 1080 Pixels)
Camera
1 MP
Operating System
Google Chrome OS
Battery Life
Up to 13 hours
Weight
3.79 lbs(1.72 Kg)
PROS
Enticing metal construction adds to the aesthetic look of the tablet.

Better battery life than the previous version.


Beautiful QLED display.
CONS
Speakers are muffled when kept on the lap and used.

This is because of inadequate speaker positioning at the bottom of the laptop.


The Galaxy Chromebook 2 no longer includes a pen to be used.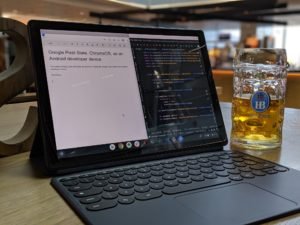 I have placed this first on the top chrome books list because it's the best Chromebook by Google. This tablet has amazing features that will surely startle you. First of all, the outlook, this tablet looks stunning and it has a standard sleek design which is well, very attractive. It has a personality of its own.
The screen of the tablet is very impressive it's embedded with a molecular display for sharp quality that enables you to experience the best picture quality. If you're a multi Tasker then this tablet is your equal friend. You can work on multiple tasks at the same time with the split-screen feature on this Chromebook.
To edit a picture and write an article on the same display, isn't it time-saving? Since it's a Google product it comes with all the Google services and applications like slides, Google docs, etc so that you can make a slide, your office or school projects, and write articles or reports.
After completing all your tasks you'll see the battery life is still stable since this tablet works for 12 hours straight which sounds better than other pricey laptops. To save your content and other data files, you do have password options but apart from that, you get a fingerprint to unlock the system for better security. This tab comes with a pen for precise work functions. 
Some highlighted features:-
Fast charging
Better processing
10-hour battery
Fingerprint unlock system
Molecular display
Google apps
Pixel slate pen
Hardware Specifications of Google Pixel Slate
Processor
8th Gen Intel Core m3, i5 or i7 Processor
RAM
4GB, 8GB, or 16GB
Storage
32GB, 64GB, 128GB, or 256GB
Display
12.3-inch Molecular Display (3000 x 2000 Pixels) LCD LTPS
Camera
Rear- 8MP | Front- 8MP
Operating System
Google Chrome OS
Battery Life
Up to 12 hours
Weight
1.6 lbs
PROS
High-quality display

Solid build quality
Lightweight and portable
Long battery life
Regular software updates
Detachable keyboard option
CONS
Relatively expensive
Mixed software experience
Limited tablet-optimized apps
No biometric login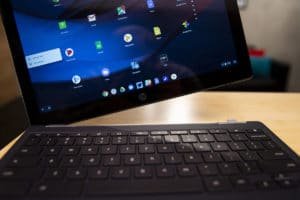 HP is another effective and stunning company brand for tablets, mobiles, and chrome books. The display is a 12.3inch screen 2400X1600 it's a full touch screen that is stunning and very sleek for amazing picture quality. The body of the tab is aluminum which gives it a standard look. The tab has all the applications like Gmail, youtube, files, etc.
You can work and listen to music, you get pre-installed Google Play, Google Music, and play store so that you can download new applications and games, etc. The tablet has a detachable keyboard that you can detach. You can work and play games and watch movies with this impressive battery life, you can go on and on without tensing over the charging life. 
Some highlighted features:-
12.3-inch display
12 hour battery life
2400×1600 pixel resolution
impressive storage
 stunning display
Hardware Specifications of Acer Chromebook X2 12-F104D
Processor

2.6GHz Intel Core m3-7Y30

RAM
4 GB
Storage
32 GB eMMC storage
Display
12.3-inch (2400×1600 Pixels)
Camera
Rear- 13MP | Front- 5MP
Operating System
Google Chrome OS
Battery Life
Up to 12 hours
Weight
1.62 lbs
PROS
Detachable, versatile design
Comes with a keyboard
Good battery life
USB-C connectivity
CONS
Limited storage capacity
Performance can be moderate
Heavier than typical tablets
Limited app compatibility
Frequently Asked Questions:-
What is unique about Chrome OS Tablets?
An elementary version of a standard computer is a Chromebook. A Chromebook features an incredibly long battery life, lightning-fast bootup speeds, and outstanding app integration with the Google suite. ChromeOS is based on Linux.
How to decide which Chrome OS Tablet to buy?
Every Chromebook has one advantage over the other. The Asus Chromebook Detachable CM3 is more affordable, whereas The Asus Chromebook Flip CX5 is a higher-end Chromebook.
Which are the best Chrome OS Tablet choices?
A classic Chromebook choice would be the HP Chromebook X2 11. Lenovo Chromebook Duet 5 has a larger screen, whereas Asus Chromebook Flip CX5 is an excellent high-budget option.
Are Chrome OS Tablets affordable?
Chromebooks are renowned for being affordable and costing less than a typical laptop or tablet. You should be able to purchase one for about $200 or lower for older variants.
What are the advantages of a Chromebook?
There are quite a few. Chromebooks are compact and cheaper than laptops. Moreover, Chrome OS is very stable and fast and less prone to virus attacks.
What are the cons of having a Chromebook?
Generally, Chromebooks offer a minimal 32GB storage space. Also, it needs high-quality video and photo editing software. It has a lot to offer with access to the internet.
Why Buy Chrome OS Tablets?
You must be thinking about Why you should buy Chrome OS Tablets?  Well, With their initial launch in the market they've been running smoothly and are considered the best choice by users who're looking for a smooth and efficient tablet within a budget range.
They have a fast processing system and that's the reason they are good at multi-tasking. If you are one of those multi-tasking users then these chrome os tablets are going to be your partner in your work for a long time.
They are designed so well for day-to-day tasks that they easily outperform the other tablets available in the market at the school and college levels. But now its age of 5G then I suggest to have a look once in these magnificent 5g tablets.
Along with being user-friendly, Chrome OS tablets extend all features that other tablets have, and that too is a notch higher in terms of usability. They are well equipped to handle any applications on the go. You can easily use Microsoft Office, Google Docs, Sheets & slides on these Chrome OS Tablets.
Talking about the display, they have a larger display with high resolution and some other features which makes them outrank other normal tablet devices. Price makes the difference and at the price of a normal tablet device, these Chrome OS tablets will give you extra performance with some additional features as well.
What To Look In Chrome OS Tablets?
There are some major specifications one should always look for while buying Chrome OS Tablets in 2023.
Screen Size- Go for some large size displays, it will help you in your day-to-day work especially if you're using it for work. I recommend going for some 8-inch tablets or 10-inch tablets.
Resolution- Always go for Chrome Tablets with high resolution for a better picture and video quality.
Memory and Internal Storage- You need space to store data, make sure the tablet you're going to buy has enough internal storage and RAM as well
Chrome OS Tablets Vs Android Tablets:-
Here I have provided a comparison chart highlighting the key differences between Chrome OS Tablets and Android Tablets:
| Feature | Chrome OS Tablets | Android Tablets |
| --- | --- | --- |
| Operating System | Chrome OS, primarily web-based | Android OS, designed for mobile devices |
| App Ecosystem | Access to Google Play Store and web apps | Access to Google Play Store and wide range of apps |
| User Interface | Desktop-like experience with a focus on browser | Mobile-first interface, optimized for touch |
| Updates & Security | Frequent and automatic updates by Google | Varies by manufacturer, can be less consistent |
| Performance | Generally optimized for multitasking and productivity | Depends on the model, often optimized for media consumption |
| Hardware Variety | Limited options available | Wide range of models from various manufacturers |
| Offline Capability | Dependent on web apps, improving offline functionality | Strong offline capabilities with many apps |
| Integration | Seamless integration with Google services and Chrome extensions | Deep integration with Google services and Android ecosystem |
| Price Range | Often mid-range to high-end | Wide range, from budget to high-end |
| Target Usage | Education sector, productivity, and web browsing | Versatile, from entertainment to productivity |
| Keyboard Support | Many models designed for use with keyboards | Varies, some models have keyboard support |
| Multitasking | Strong multitasking with windowed apps and desktop-like interface | App-based multitasking, split-screen in newer versions |
| Customization | Limited customization options | Highly customizable interfaces and settings |
This table provides a general comparison. Specific models may have features or capabilities that differ from the typical characteristics of their respective categories.
Wrapping Up
These are the best top 3 chrome books which are very effective and amazing for their performance. They have brilliant storage and a brilliant display look that will surely help you work swiftly.
Tablet with a pen
, you can work in a jiffy and precisely, making it ideal for art lovers. All these chrome os tablets are user-friendly and easily adaptable. They are lightweight and easy for traveling. You can get them on great deals on platforms like Amazon.
I tried my best to list out the best chrome os tablets in 2023 to fulfill your search. I hope I've covered everything about these Chrome OS Tablets and you can make your decision.
Howdy Geeks, I'm Andrew, a young passionate blogger, Tech Freak & a Gadget Lover. I help people in buying them the best tablet devices