Unpacking the XP Pen Artist 15.6 Pro was exciting for my art journey. It's a standout in the world of drawing tablets. Its big size and many cool features make it perfect for both pro artists and hobbyists like me. I'm always searching for the best tools for my art, and this tablet really caught my eye.
As an avid digital artist, I'm always on the lookout for tools that can take my creativity to the next level. The XP-Pen Artist 15.6 Pro has been a revelation in my artistic journey.
At a quick look, the big 15.6-inch screen is what grabs attention. It gives lots of room for detailed work. It's perfect for artists who love diving deep into their drawings. But there's more, The clear, sharp display and rich colors colors make it special. In art, getting the right colors and details is super important, so this is a big win. I have also included this in my list of recommended tablets for artists.
Also, a good tablet should work well with different computer programs. And the XP Pen Artist 15.6 Pro does just that. It's known to work great with top art software. This means it's not just a drawing space; it's a powerful tool for today's artists.
With its high-resolution display, ergonomic design, and versatile stylus, the Artist 15.6 Pro has quickly become an essential part of my creative toolkit. Join me as I delve into the details and discover how this device has transformed the way I create digital art.
Hardware Specifications of XP-Pen Artist 15.6 Pro
Display
15.6 Inch | 1920×1080 (FHD)
Dimension 
443 x 280 x 12.6 mm
Active Area
344.16 x 193.59 mm
Pen
PA2 Battery-free Stylus
Sensitivity 
8192
Pen 
5080LPI
Keys
 8 Shortcut Keys
OS Support 
Windows, macOS, Chrome OS, Linux
Weight
 3.21 lbs
PROS
Large, Full laminated display
Adjustable stand for comfortable use
Customizable shortcut buttons
Supports multi-touch gestures
CONS
Requires connection to a computer
No wireless connectivity
XP-Pen Artist 15.6 Pro Review: Design
Starting my art journey, I was instantly drawn to the design of the XP Pen Artist 15.6 Pro. It looks good and works even better, and I'm eager to share my thoughts on it.
Firstly, its dimension (443 x 280 x 12.6 mm) gives me a lot of space to draw. Even with that size, it's quite thin, just 11 mm, so it fits nicely on my table without taking up too much space. It weighs 3.21 lbs, making it solid but not too heavy, so it stays in place when I'm drawing.
The black color of the tablet looks classy, making my workspace look professional. It feels good to touch too.
I love the 8 shortcut keys and the black + red dial wheel on the tablet. Before using them, I didn't know how handy they could be. I can change them to shortcuts I use often, making my drawing faster. The dial wheel isn't just for show; I use it a lot for zooming in and out or changing my brush size quickly. I also like the brightness buttons, which help me adjust the screen brightness whether it's day or night.
The tablet has a USB Type-C port, which means it's easy to connect and also transfers data quickly.
In short, the design of the XP Pen Artist 15.6 Pro is both good-looking and useful. From its size to the useful buttons, everything is made keeping the user in mind. It's a great tool for artists, making drawing fun and easy.
XP-Pen Artist 15.6 Pro Review: Display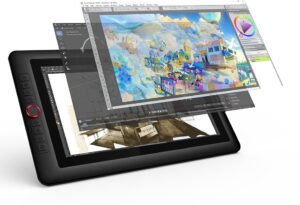 Being a digital artist, the quality of the display on my drawing tablet is paramount to the success of my creative endeavors. The XP-Pen Artist 15.6 Pro boasts an impressive display that has truly transformed my digital art experience.
The Artist 15.6 Pro offers an expansive active area measuring 344.16 x 193.59 mm. This generous canvas provides ample space for my artistic creations. Whether I'm working on intricate details or sweeping strokes, I never feel constrained by the display's size. It's like having a vast digital canvas at my fingertips.
With a display resolution of 1920×1080 pixels, the clarity and sharpness of the Artist 15.6 Pro are outstanding. Every line, color, and detail is rendered with precision, ensuring that my artwork is vibrant and true to life. It's a visual treat that brings my creations to life.
The full-laminated IPS (In-Plane Switching) display is a standout feature. This technology minimizes parallax, the gap between the pen tip and the displayed line, creating a more natural and responsive drawing experience. It feels like I'm drawing directly on the surface with exceptional accuracy.
The display covers 88% of the NTSC color gamut and an impressive 120% of the sRGB color gamut. This wide color range ensures that my artwork is displayed with rich and accurate colors. It's essential for artists who require color precision in their work, and it has greatly improved the quality of my digital art.
With support for 16.7 million colors, the Artist 15.6 Pro delivers true-to-life hues and shades. This vast color spectrum allows me to express my creativity with a level of vibrancy and subtlety that's unmatched. Every color I use is faithfully reproduced on the display.
The display boasts a contrast ratio of 1000:1, ensuring that the darkest shadows and brightest highlights in my artwork are well-defined. The wide 178° viewing angle means that I can view my work from various positions without any distortion or color shifts.
With a response time of 14ms, the display is incredibly responsive. There's a minimal lag between my pen strokes and their appearance on the screen. This real-time response is crucial for fluid and natural drawing.
In conclusion, the display of the XP Pen Artist 15.6 Pro isn't just about numbers and specs; it's about delivering a premium visual experience. Whether it's the expansive active area, the vivid colors, or the sharp resolution, every element ensures my creations look as fantastic on screen as they do in my imagination.
XP-Pen Artist 15.6 Pro Review: Pen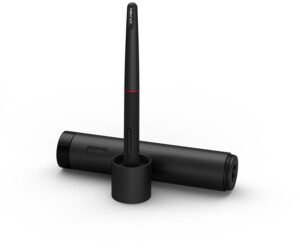 When I first held the PA2 Battery-free Stylus of the XP Pen Artist 15.6 Pro, I was surprised. No need for batteries? That's right. This pen demands no charging, ensuring I dive straight into my art without interruptions.
Its 8192 levels of pressure sensitivity astounded me. My strokes, whether feather-light or with pressure, appeared on screen with an accuracy that mirrored my intent. Combined with a pen resolution of 5080LPI, the detailing and smoothness felt almost akin to drawing on paper.
What caught my attention next was its impressive report rate of 200RPS (max). The stylus is incredibly responsive, capturing every nuance of my drawing in real time. This, coupled with its commendable accuracy of 0.25mm (center) and a generous reading height of 10mm, made my drawing sessions seamless and efficient.
Moreover, the 60-degree tilt recognition elevated my shading techniques. It's rare to find a stylus that allows for such natural drawing dynamics, especially at this price point.
In conclusion, the XP Pen Artist 15.6 Pro's PA2 stylus has redefined my digital art experience. A combination of precision, responsiveness, and convenience makes it a must-have for both budding and professional artists.
XP-Pen Artist 15.6 Pro Review: Compatibility
When I started using the XP Pen Artist 15.6 Pro, one major concern was its compatibility. But, wow, it worked great.
First, it's super versatile. Whether you're a Windows user like me, with Windows 10, 8, or 7 (both 32 and 64bit), or you lean more towards Mac with OS X 10.10 and up, it's got you covered. Even Linux users aren't left out, which is a refreshing change given how often Linux is overlooked in such gadgets.
But where the XP Pen truly shines is its software partnerships. With free access to a range of software like Toon Boom, Zoner Photo Studio X, and both ArtRage Lite and ArtRage 6, there's no limit to creativity. I'm personally a big fan of openCanvas, and to see it included in the mix was a big plus.
For professionals, the compatibility doesn't stop there. It flawlessly works with major graphics software. I've used it with Photoshop and Illustrator, and the experience was smooth. Friends of mine swear by its efficiency with Painter and Clip Studio too.
In conclusion, the XP Pen Artist 15.6 Pro ensures that regardless of your OS or preferred design software, you're in for a smooth ride. It's truly a tool designed with the user's convenience in mind. Highly recommended.
XP-Pen Artist 15.6 Pro Review: Setup Process
The setup begins with the three-in-one cable included with the package. The single plug connects to the tablet through a port on the side.
The cable has an HDMI plug, a black USB plug for connecting to the computer, and a black USB plug for power. The HDMI plug plugs into my PC. The black USB cable is connected to the USB port on the PC.
With all the options of international power adapters, you can pretty much connect to any compatible device. Powering it all up I needed to download some software from the XP-Pen site to meet your computer's requirements.
The instructions may vary based on the setup and operating system, but XP Pen's website provides a user-friendly support section to find the software that's right for the user's computer.
The installation will set you up with multiple monitors, and optimize the display for the tablet. I chose to mirror the tablet and main monitor settings for my testing and did some fiddling with the settings and the whole process took less than 30 minutes from start to finish, which was okayish in my opinion.
XP-Pen Artist 15.6 Pro Review: Accessories
The moment I unboxed the XP Pen Artist 15.6 Pro, it felt like an early Christmas. The range of accessories it comes with is simply outstanding.
Starting off, there's the main star – the tablet itself. Sleek and well-designed, it promises a smooth user experience. Alongside, the PA2 Battery-free Stylus, is a blessing for uninterrupted work sessions. No more charging interruptions for me.
What caught my attention next was the AC 41 Display Stand. It's sturdy and holds the tablet at a comfortable angle, making longer drawing sessions a breeze. The Pen Holder is a neat touch, ensuring the stylus has a designated spot, reducing the chances of misplacing it.
The 8 Replacement Nibs show that XP Pen truly understands the wear and tear artists put their tools through. Knowing I have backups gives me peace of mind. The 3 in 1 Cable and USB Cable ensure connectivity is never an issue, while the four different international power adaptors mean I can work even when I'm traveling abroad.
The Anti-fouling drawing glove is something I never knew I needed until I tried it. It protects the screen from smudges, making the drawing experience cleaner. And the cleaning cloth ensures the tablet remains dust-free and in prime condition.
In short, the XP Pen Artist 15.6 Pro offers more than just a drawing tablet. It's a complete package, ensuring artists have everything they need right from day one. This level of thoughtfulness in accessory inclusion sets XP Pen apart.
Conclusion
In conclusion, the XP-Pen Artist 15.6 Pro has truly revolutionized my digital art journey. Its expansive and vibrant display, combined with precise stylus technology, has allowed me to create with unparalleled clarity and accuracy. From intricate details to bold strokes, this device has exceeded my expectations.
Whether you're a professional artist or a beginner, the Artist 15.6 Pro's display is a canvas that will breathe life into your creative vision. It has become an essential tool in my creative arsenal, and I highly recommend it for those seeking a superior digital art experience.
Howdy Geeks, I'm Andrew, a young passionate blogger, Tech Freak & a Gadget Lover. I help people in buying them the best tablet devices