With the introduction of graphic tablets, our lives couldn't have been easier. Graphic tablets fill the gap between a laptop and a smartphone. The former being on the powerful side while sacrificing the portability side while the latter one being too small to use. Thus the graphic tablets with touchscreen are the best bet for you if you are into art.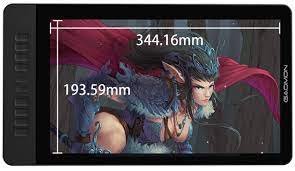 Here comes the Gaomon PD1560, which looks, feels, and performs like a much more expensive piece of hardware. But even though the PD1560 tends to be on the prohibitively expensive side like most of the pen displays. I have been using this tablet for a few months and feel that it is sufficient for hobbyist and professional work. It is among the top best tablets for artists in 2021.
In The Box
When opening the box I noticed the tablet has a screen protector pre-applied which is below average. Along with the tablet a battery-powered pen is provided. I also found a pen-stand which is useful in case you lose your writing pens and pencils.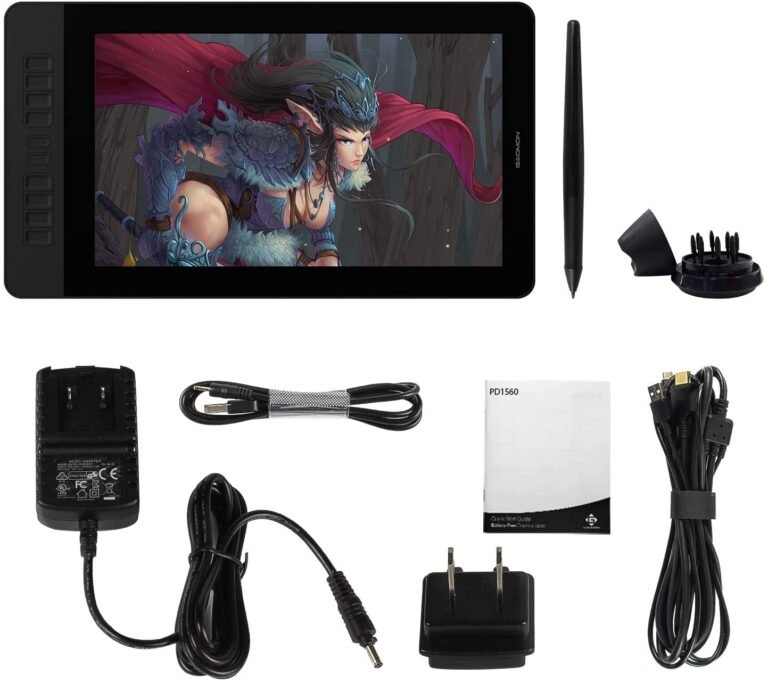 The pen-stand also acts as a nib remover tool and can hold 8 extra nibs in it. In the box, I also saw drawing gloves for both hands, an adjustable stand, a screwdriver and screws to mount it on the stand, a charger, cables, and a carrying bag as well.
The case is however not the most durable one, but hey it's free!
Hardware Specifications of Gaomon PD1560
Pen sensitivity

8192+ Levels

Active Area
15.6 inches
Display
Screen Resolution: 1920 x 1080
Express Keys
10
OS Support
Windows, macOS
Battery Life
5 hours
Weight
3.48 lbs
PROS
Widescreen.
Pen Sensitivity.
Shortcut buttons.
With gloves.
CONS
Stand.
Glossy screen.
Complicated settings.
First impressions
The tablet features a 15.6-inch widescreen display and with the Express Keys on the shorter side, I feel this tablet is pretty long and has a sizeable working space, which in my opinion is not bad for a budget model.
I was impressed by the number of extra accessories included with this tablet. While some of these accessories didn't feel particularly solid: the case is made of a felt-like material that doesn't feel very durable and the stylus holder is light plastic and is very easy to knock over. But it feels refreshing to have all the trimmings packed in rather than having them available as high-priced accessories that can be bought separately.
Setup Process
Setting up the hardware was, unfortunately, not particularly intuitive as the stand requires some screwdriver but that was easy enough and all of the required tools come included. But getting the drivers and tablet to work on my PC took way longer than it needed to, and I only got there after a few reboots which kind of hampered my user experience.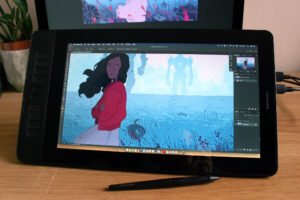 A couple of different issues including a non-responsive screen, followed by a repeatedly blinking screen happened but seemingly fixed themselves after a driver update. I'm not sure if this was an issue with the driver or my computer, but it definitely influenced my first impression which was kind of disappointing for the price I pay.
There may have been a few setbacks initially, but the tablet ran pretty smoothly afterward, I tried it both with Photoshop and Sketchbook and both worked pretty well.
The Drawing Experience
As someone used to work on a different graphic tablet, the drawing experience that I felt in the Gaomon felt different, a little less organic, but okay overall. Gaomon boasts 8,192 levels of pressure sensitivity equal to its Wacom rival but while decent enough, it feels less precise than its competitors with more noticeable parallax.
The stylus is made entirely of plastic made me miss the eraser tip I'm used to with Wacom pens. It also needs recharging via a USB cable, which can take around 80 minutes for a full charge according to the manual and is okay as you can keep working while plugged in.
The glass screen feels exactly like a glass screen should, a bit hard against the plastic nib and, to some extent, prone to reflections and glare, thus I may suggest you buy a custom screen protector for it which will be far better than the one pre-applied. The customizable Express Keys on the left side are, however, a great bonus and there's plenty of them which is enough for 10 shortcuts and I could adjust the settings and rotate the tablet to better suit me as a left-handed user.
Display And Colors
When it comes to the image quality, I felt that the screen is actually pretty good and the range of colors looks great. Everything is crisp and clear, and the colors were actually fairly close to my own monitor right out of the box, although it is not accurate and you might not notice it right away.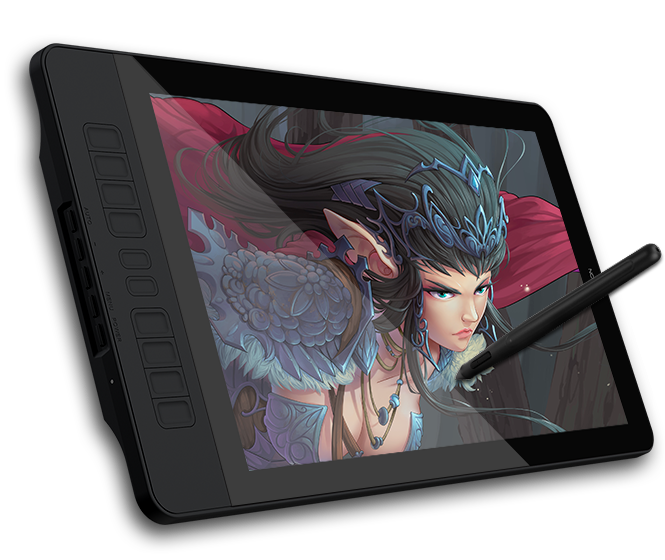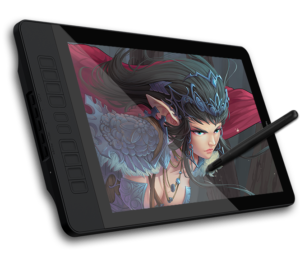 A lot of the screen settings are also highly customizable, which is great in theory however, the only way to navigate these menus is through remarkably unreasonable controls on the side of the screen. Even after trying them all, I found the only one I would be using regularly which is the Brightness Adjustment menu to be of little use. There is barely any noticeable difference between brightness at 0 and 100 and can make night-time work a bit rough on the eyes.
Of all design choices in this tablet, this seemed like the poorest option to me as it makes adjustments unnecessarily complex and I don't understand why they couldn't just be controlled through software instead which would have been a great advantage. While more of an annoyance than a serious grievance, it feels representative of many design choices of Gaomon PD1560 as a whole that the raw function and performance are there, but some corners were cut on the user experience and quality of the tablet.
Conclusion
The Gaomon PD1560 is a very competent product and it clearly does what it claims to do, however when compared to other tablets at a similar segment, there were several factors in it which it was to put, were ever so slightly inferior.
While I don't think any of the factors are deal-breakers or make this tablet less of a valid tool, it did highlight the countless small ways where the other products in this range are slightly better. Although you might notice them if you haven't used any tablets earlier, I think for the price it provides a fair deal.