Large-screen tablets are fun to use, Don't you think so? Well, I love using my large-screen iPad pro. I can easily watch movies and surf the web on that.
Are you someone who's looking to buy a best large screen tablets? Because finding the right tablet is something very confusing.
So, I'm here to help you out with my complete buying guide on choosing the best large screen tablets in 2023.
Tablets are really fun; I love using my iPad more than my mobile phone. There are specific reasons why I prefer tablets over mobile. Some of them are that I can also do my office work on the tablets that I can't do on my mobile. Also, big-screen tablets help me to visualize by drawing and by taking notes as well.
It fills up the bridge between laptops and mobile devices; I can easily carry my tablet anywhere I want. These days tablets also have a perfect battery backup, so I don't have to worry about charging my devices again and again.
Suppose you are someone who also works from home or has to do a lot of work online. I will suggest you get a large-screen tablet that can help you in your work as well as you can also use the tablet for zoom meetings.
In this guide, I will be helping you to choose the best large screen tablets for you. The list is going to have all the best big-screen tablets which are available online.
I have been playing around with these gadgets for four years now. You can say I have some good experience using these 12-inch and 24-inch large-screen tablets.
So let's get started.
List of 12 Best Large Screen Tablets In 2023:-
Large-screen tablets have advantages over regular 8-inch tablets and 10-inch tablets. The screen size is better; you will have a visual experience and a better grip on the device. You can use these large tablets for multiple purposes like watching movies, reading books on a tablet, doing office work, and even use these tablets for college.
Based on my experience and reviews of thousands of users online, I'll be sharing all the best large-screen tablets in the below list.
As mentioned earlier, the new advances and what can be further than the SAMSUNG s8 tab ultra, the ultimate tablet owning the largest screen of 14.6-inch Super AMOLED (2,960 x 1,848) display including a 120 Hz refresh rate. With this much larger screen space, I could visualize and appreciate all sorts of tiny details and correct the mistakes, if there were any, on my piece.
In addition, when I talk about the gaming experience, it was somewhat parred to reality, meaning the height of clarity and the detailing on every level was just unimaginable.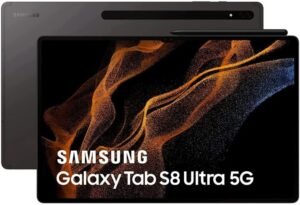 Being a fan of thriller and sci-fi genre shows, I was utterly shocked by the visuals this large screen tab can offer. At first, I thought it was not worth mentioning somewhere, but after experiencing it in real life, my perception changed drastically. Also, I couldn't stop when I started binging shows on this tablet.
Now, after seeing all of it, I was like there was nothing more left of this tablet to surprise me. But, here I was proved wrong yet again. This tablet has 13MP primary and 6MP ultra-wide rear cameras and two 12MP front-facing cameras. All the pictures that I took came out so smoothly without any sort of distortion or error. And the visuals were phenomenal, and the width and depth of the images were just unspeakable.
| Feature | Specification |
| --- | --- |
| Operating System | Android 11 |
| Display | 14.6-inch WQXGA ( 1848 x 2960 Pixels ) |
| Processor | Qualcomm Snapdragon 865 Plus |
| RAM | 6GB or 8GB LPDDR5 RAM |
| Storage | 128GB or 256GB UFS 3.1 |
| Rear Camera | 8MP |
| Front Camera | 5MP |
| Battery | 7,040mAh battery |
| Connectivity | 5G, Wi-Fi 6, Bluetooth 5.0, USB Type-C, GPS, 3.5mm audio jack |
| Sensors | Accelerometer, Fingerprint Sensor |
| Dimensions | 8.4 x 4.9 x 0.3 inches (212.8 x 124.2 x 7.5 mm) |
| Weight | 299g |
PROS
High-resolution display.
Good performance with Snapdragon 865 Plus processor.
Good amount of RAM and storage options.
5G connectivity.
CONS
Costly.
Some users have reported issues with software bugs.
Limited software support.
It does not have expandable storage.
It does not have a headphone jack.
I went for this tablet as I have heard and read a lot that it's going to give an experience of a real computer for the price of a tablet.
The PixelSense Flow display was rather amusing. This tablet has a fantastic 13-inch touch display, 2880 x 1920, and a 120Hz refresh rate, which is relatively smooth without any complaints. And instead of being a large screen tablet carrying it with me was a piece of cake, as it is very light and has excellent portability.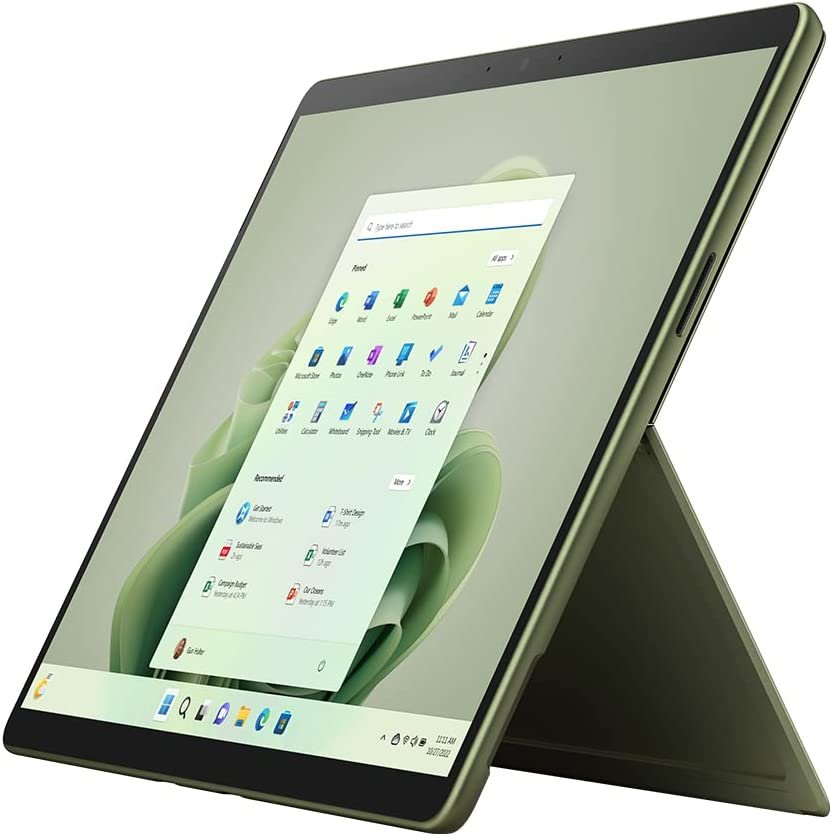 While testing this particular tablet, I had a fun time; it has undoubtedly enhanced my gaming and shown my binging experience to the maximum. The most amusing fact about this tablet having a large screen is that even the minute details of the games were clear to me. What used to happen with me while using other tablets is that as the level increases, the visual quality degrades after some time. Still, this obstacle has been easily overcome with these Microsoft Surface 9 tablets.
Now, as for its video quality, that is, just indistinguishable. My all-time favorite show in the entire Marvel universe seemed immensely impressive on this tablet due to its 13-inch large-screen display. And my next Choice for ultimate fun is the Avatar which can only be fully grasped when the device's screen is enormous.
So, my experience with this tablet was exceptionally excellent, regardless of the purpose, for binging shows or gaming.
| Feature | Specification |
| --- | --- |
| Operating System | Windows 10 Home or Pro |
| Processor | 11th Gen Intel Core |
| Display | 12.3″ PixelSense, 2736 x 1824 resolution, multi-touch screen |
| RAM | 8GB or 16GB LPDDR4x RAM |
| Storage | 128GB, 256GB, 512GB, or 1TB SSD |
| Graphics | Intel Iris Xe Graphics |
| Camera | 5.0MP front-facing camera, 8.0MP rear-facing autofocus camera |
| Connectivity | Wi-Fi 6: 802.11ax compatible, Bluetooth 5.0, full-size USB-C, Surface Connect, 3.5mm headphone jack, Surface Type Cover port, microSDXC card reader |
| Sensors | Accelerometer, Gyroscope, Magnetometer |
| Battery life | Up to 15 hours of typical device usage |
| Dimensions | 11.5 x 7.9 x 0.3 inches (292 x 201 x 8.5 mm) |
| Weight | 1.70 lbs (771 g) |
PROS
11th Gen Intel Core processors for high performance.
12.3″ PixelSense display with high resolution and touchscreen functionality
Good battery life.
A wide variety of storage options.
Good connectivity options, including Wi-Fi 6 and USB-C.
Lightweight and portable.
CONS
The price of the device is high.
Some users have reported poor customer service from Microsoft
Limited upgradability options.
The device runs hot under a heavy load.
The keyboard and stylus are not included in the price of the device and must be purchased separately.
Some users have reported issues with the device's cooling system.
3.

Samsung Galaxy Tab S7+
Samsung's flagship products are well known for their premium build and design. This is also true of the Tab S7 series. It is immediately apparent to you when you take the tablet out of the package. Feels solid, as if it's made of metal.
You get a 12.4-inch display with a 16:10 aspect ratio and similarly sized bezels on all four sides in the front. You get a selfie camera at the top of the tab when you hold it in the landscape. You find the Type-C USB port to the tablet's right, and Samsung's keyboard connects via a magnetic connector at the bottom of the tablet.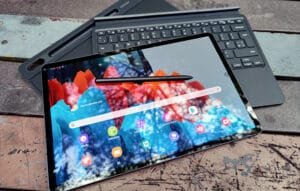 The LCD panel has a resolution of 2,560 x 1,600 and a pixel density of 276ppi, which is decent. The aspect ratio is 16:10. Tab S7 Plus features a 12.4-inch AMOLED panel running at 120Hz. 
I find the display to be quite lovely and enjoyable for the most part, and the 120Hz refresh rate ensures smooth animations and navigation across the UI. You can choose between a standard refresh rate of 60Hz and an adaptive refresh rate of 120Hz.
The tablet's performance is one of its key highlights. In the Samsung Galaxy Tab S7 Plus, Qualcomm's latest Snapdragon 865 Plus SoC based on 7nm fabrication is installed. CPU cores are clocked at 3.1GHz on this octa-core chipset. Adreno 650 controls graphic processing. In addition to this, the phone has 6GB of RAM and 128GB of internal storage. Micro SD cards are also supported, allowing you to add up to 1TB of additional memory. 
It is once again the best Android tablet on the market. The device's excellent display, beautiful design, and reliable performance justify its price. Tablets depend heavily on software, as Android isn't very capable of running on these devices.
Hardware Specifications of Samsung Galaxy Tab S7+
Processor
Octa Core (3.09+2.4+1.8GHz)
RAM
6/8 GB
Storage
128/256 GB SSD
Display
12.4″ Retina display with 2800 x 1752
Camera
Rear- 13+5MP | Front- 8MP
Operating System
Android
Battery Life
8 hours
Weight
1.28 lbs
PROS
Great Display.
Snappy Performance.
Excellent speakers.
CONS
Costly.
Aspect Ratio.
Battery backup.
4.

Microsoft Surface Pro X –

B

est Large Screen Tablet
It is a lightweight device that fits easily into most bags, even with the Type Cover attached. Furthermore, Microsoft has removed sharp edges from the Design of the Surface Pro X, giving it a much softer, more rounded appearance and feel. 
However, the tablet lacks a headphone jack despite having two USB-C ports. It is essentially a Windows tablet without 3.5mm audio support.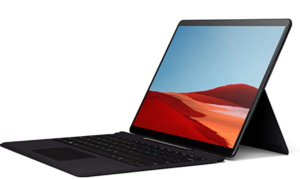 Display-wise, it has a PixelSense touchscreen with 267 pixels per inch (2.880 x 1,920) resolution in a 3:2 aspect ratio. With 450 nits of brightness, this is a genuinely stunning screen with stunning colors.
Can Qualcomm's 7nm SoC compare to Apple's A12X Bionic? Honestly, it gets trounced. Recent Geekbench 4 single and multi-core test results show the iPad Pro 12.9 to perform better than the Surface Pro X by 40% to 50%.
I tested the Surface Pro X in our video rundown battery test, and it did last longer than the Surface Pro 7 (6 hours and 2 minutes). However, the Surface Pro 6 (8 hours and 45 minutes) lasted nearly an hour longer than this version. 
Although I appreciate the Surface Pro X's sleek, refined design, thin and light design, and comfortable typing experience, I cannot recommend this device for most people. Despite the lack of a headphone jack and app support, it is perfect for a tiny group of users.
Hardware Specifications of Microsoft Surface Pro X
Processor
10th Gen Intel Core i7, i5 and i3
RAM
16 GB
Storage
256 GB SSD
Display
13″ Retina display with 2880 x 1920
Camera
Rear- 10MP
Operating System
Win 10
Battery Life
12 hours
Weight
1.7 lbs
PROS
Beautiful hardware design.
Lightweight and portable.
Better battery.
CONS
Costly.
Some app issue.
No 5G.
5.

Lenovo Tab P11 Pro
The Lenovo Tab P11 Pro has been designed with two particular use cases in mind. The first is as a replacement TV, as a companion on long winter evenings. Second, a mobile workstation. The design is dominated by straight lines and sharp angles, straight out of a design book. It will look smart in any office or boardroom, and it can also be used on the go.
With a complete aluminium unibody design, the Lenovo does not come with a plastic appearance. The desktop is overkill for the living room because it is so strong.
I experienced no problems tracking our rudimentary doodles with the Lenovo Pen since it has a pressure sensitivity of 4,096 levels. Though it may be suitable for doodling, some doubts remain about its suitability for digital artists.
Despite the large included panel, the bezels surrounding the screen are pleasingly thin. Bright, sharp, contrasty, colour-accurate, and comfortable with really high resolutions, the AMOLED is an excellent choice.
Lenovo's Tab P11 Pro doesn't challenge this stereotype in any way. With the included Snapdragon 730G, most experiences will run smoothly but can quickly work up a sweat with a few additional requests.
Based on Geekbench 5 results of 527 points and 1614 points on multi-cores, performance is very similar to the Snapdragon 845 flagship.
It has enough RAM for a few apps to run smoothly and enough storage space to last most users for a few years.
In addition to being a laptop replacement, the Lenovo Tab P11 Pro is also the best large screen tablet. It fails at some of its ambitions but succeeds where it succeeds. For its price, this is among the best media tablets you can find today.
Hardware Specifications of Lenovo Tab P11 Pro
Processor
Snapdragon 730G
RAM
6 GB
Storage
128 GB SSD
Display
11.5″ Retina display with 2880 x 1920
Camera
Rear- 13+5 MP | Front- 8+8MP
Operating System
Android 10
Battery Life
12 hours
Weight
2.1 lbs
PROS
Punchy OLED screen.
Great-sounding quad speakers.
Responsive enough performance.
CONS
Few optimized apps.
Productivity mode.
Keyboard and pen accessories.
6.

Google Pixel Slate 12.3
With the Google Pixel Slate 12.3inch's powerful Chrome OS device and optional accessories, the Pixel Slate can do work and play beautifully. Having both a tablet and laptop in one device will come at a hefty price.
The Pixel Slate's design follows the same simple approach as the rest of Google's hardware. In a stealthy midnight blue finish, the Pixel Slate's body is made of anodized aluminium.
Pixel Slate has a minimal port selection. If you hold it in portrait orientation on the top and bottom of the device, you will find two USB Type-C connectors. In addition to charging the Pixel Slate, USB Type-C ports can also transfer data and output to a 4K display.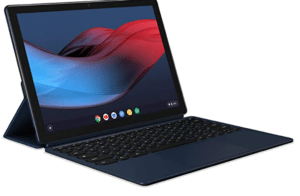 As with Google's previous tablet-laptop hybrid, the Pixelbook, the Pixelbook Slate has a 12.3″ large screen with a 3:2 aspect ratio but higher resolution. This tablet has an incredibly sharp LCD with a resolution of 3,200 x 2,200. In light of Apple's Retina screen, the screen is called a "Molecular Display," which seems like nothing more than a marketing ploy to compete with Apple.
There are five different versions of the Pixel Slate, each with varying RAM, storage, and Intel processor. In my testing, I've been using a model powered by an Intel Core i5 y-series processor, 8GB of RAM, and a 128GB SSD. The second-highest model in this line. It does not offer expandable storage regardless of configuration.
A great product from Google is no surprise with the Pixel Slate. Google Chrome OS is a very flexible operating system, and it has excellent hardware. My daily computer has been an enjoyable experience, but I have difficulty recommending it. Pixel Slate's pricing is almost confusing, and it is expensive.
Hardware Specifications of

Google Pixel Slate 12.3

Processor
8th Gen Intel Core m3 processor
RAM
8 GB
Storage
64 GB SSD
Display
12.3″ Retina display with 2880 x 1920
Camera
Rear- 8MP
Operating System
Chrome OS
Battery Life
10 hours
Weight
1.59 lbs
PROS
Elegant design.
Sharp display.
Great Audio.
CONS
Buggy BT problem.
Keyboard as a additional.
Expensive.
7. New Apple iPad Pro – Best iPad With Large Screen
Although the design of the iPad Pro 2021 hasn't changed too much from previous versions, it still looks great and feels extremely durable as well.
Aluminium is used on the rear and frame, and glass is used on the front with a scratch-resistant coating. 
It has four speakers, two on top and two at the bottom edge. It also has a Thunderbolt port located on the bottom of the device.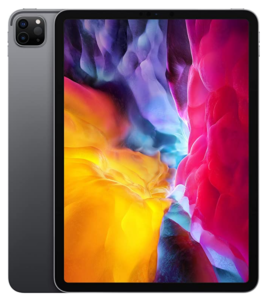 A new Mini LED display on the 12.9-inch Pro offers a crisp image as well as improved brightness. I've found that this screen provides a great viewing experience, and it's called a Liquid Retina XDR screen.
It has a resolution of 2048 x 2732, which equals 265 pixels per inch. This is comparable to what you'd expect ontop Android tablets like the Samsung Galaxy Tab S7 Plus.
This is Apple's latest M1 chipset, which will debut in the company's top-end Mac products in 2020.
Depending on the model you choose, you get either 8GB or 16GB of RAM. My review model, the 1TB and 16GB model, is far more suitable for our needs, even when performing intensive tasks. The other two highest-capacity models, with 1TB and 2TB of storage, each receive 8GB.
This is the best tablet money can buy:
High performance.

A fantastic display.

A multitude of minor upgrades.

An overall experience makes it the best tablet for Apple fans and those who want an unrivalled tablet experience.
However, it's not for everyone because of its large size and price, and an alternative more portable and affordable tablet may be a better choice. Still, this is the best of the best.
Hardware Specifications of iPad Pro 12.9 Inch
Processor
Apple A12Z Fusion Processor
Display
11-inch Retina Display with 1668 x 2338 Resolution
RAM
6 GB RAM
Storage
128GB / 256GB / 512GB / 1TB
GPU
Apple GPU (7-core graphics)
Camera
Rear- 12 MP (wide), 10MP (ultrawide) | Front- 7 MP
Operating System
iPad OS 13.4
Battery Life
10 hours
Weight
1.04 lbs
PROS
Incredibly powerful.
Beautiful, high refresh rate display.
Superb speakers.
The new Pencil.
CONS
No HDR capability in the screen.
Multi-tasking still limited.
Expensive.
Single USB-C port.
8. Microsoft Surface Book 2
Compared to the MacBook Pro, the Microsoft Surface Book 2 15-inch is a much better computer for many reasons. With an upgraded Dynamic Fulcrum Hinge and a larger display in a slimmer form factor, it takes everything we love about the original Surface Book and raises the bar a bit.
It is visually identical to the first Surface Book. Because it's always been a sizeable 13.5-inch laptop that's edging closer to a 15-inch machine, the Surface Book's larger size is strangely familiar to me. Even though it's bigger and heavier and with a larger screen, you're also getting more power under the hood.

The Surface Book 2 15-inch measures 0.9 by 13.5 by 9.87 inches (HWD) and weighs 4.2 pounds. At 0.61 x 13.75 x 9.48 inches and 4.02 pounds, the Surface Book 2 is small, light, and incredibly powerful.
Apart from the addition of USB-C, the ports are mostly the same. Although Microsoft has added USB-C to the Surface 3, Thunderbolt 3 is still missing, so you cannot connect external GPUs or other faster peripherals.
The fully loaded model is equipped with an Intel Core i7-8650U processor (the newest Kaby Lake R processor), 16GB of memory, and an NVIDIA GTX 1060 video card. Compared to last year's "basic" Surface Book (which had an NVIDIA GTX 965M and Intel Core i7 Skylake CPU), these components are more in line with last year's Surface Book 2 but still a notch above.
There turns out to be a 2-in-1 laptop that can beat any 2-in-1 to date as long as you have a large Surface Book – a computer that can handle the latest PC games and last for a very long time. The tablet is also the best one we have tested for drawing so far. However, I would have preferred Microsoft to utilize the extra space afforded by the 15-inch form factor better.
Hardware Specifications of Microsoft Surface Book 2
Processor
Intel Core i5
RAM
16 RAM
Storage
256 GB SSD
Display
13.5 Inches touchscreen
GPU
Intel HD Graphics 620 integrated GPU
Operating System
Windows 10 Pro
Battery Life
10 hours
Weight
1.2 lbs
PROS
Premium alloy construction.
Elegant convertible design.
Sharp high-resolution.
Nvidia GTX 1060 graphics.
CONS
16GB RAM maximum.
Surface Pen need to buy seperately.
9. Microsoft Surface Pro 7
Compared to the Surface Pro 6, the Surface Pro 7 shows a slight improvement, mainly due to internal upgrades. The Surface Pro 7 does not appear to be getting any crucial enhancements or fixes, so it looks like Microsoft missed an opportunity with this release.
This configuration comes with an Intel Core i3 processor (CPU), 4GB of memory (RAM) and a 128GB solid-state drive (SSD), with the latter two points upgradeable to 16GB and 1TB capacity.

In addition to the USB-C port, Microsoft's Surface Pro 7 has no other significant design changes compared to the last model. Although the device still has 11.5 x 7.9 x 0.33 inches (292 x 201 x 8.5mm), it weighs 1.7 pounds (770g). Furthermore, the silver and matte black finishes remain the same.
Tablet's 12.3-inch touchscreen has a resolution of 2,736 x 1,824 pixels (267 pixels per inch) and a 3:2 aspect ratio. Despite the previous generation's impressive performance, this one is sharper, more vibrant, and more responsive to touch. But, as I mentioned earlier, this specification has not changed in a few years and needs to be updated with HDR and improved color gamut coverage, at the very least. In addition, the bezels are incredibly thick for a tablet at this price point.
Surface Pro 7 didn't meet my expectations in terms of advancements. Having USB-C is nice, but for a device priced at this level, it should have Thunderbolt 3. Microsoft's Surface Pro 7 doesn't make a big enough leap over the Pro 6 to make it a recommended upgrade, or even for those coming to the Surface family for the first time.
Hardware Specifications of Microsoft Surface Pro 7
Processor
10th Gen Intel Core i3/ i5/ i7
RAM
4 GB/ 8GB/ 16GB RAM
Storage
128 GB/ 256 GB/ 512GB/ 1TB SSD
Display
12.3 Inch PixelSense Display with 2736 x 1824 Resolution
GPU
Intel UHD Graphics/ Intel IRIS Plus Graphics
Operating System
Windows 10 Home
Battery Life
10.5 hours
Weight
3.53 lbs
PROS
Quad-core performance.
Cool and quiet with quick resume.
USB-C port.
CONS
Still no Thunderbolt 3.
Dated design.
Lack of built-in LTE.
10. Samsung Galaxy Tab S6
With a base storage model of 6GB RAM/128GB RAM, Samsung introduced the Galaxy Tab S6 in late August 2019. When you add LTE to that configuration or a Wi-Fi model is upgraded to 256GB, you will have 8GB of RAM and 256GB of storage.
There is a 256GB model with 8GB RAM and 4G LTE connectivity at the top of the Tab S6 line. Every single one of them comes with a similar top of the line 855 CPU. Despite the lack of originality in its design, the Samsung Galaxy Tab S6 is a handsome gadget that doesn't disappoint.

There is nothing quite as angular and muscular about it as an iPad Pro 11, but it is still all-metal. Tab S6 feels slightly smaller than Apple's iPad because it has softer edges, a thinner body, a lighter frame, and a wider aspect ratio than the iPad.
AKG-tuned speakers are installed on both narrow edges of the device, with a USB-C port and two speakers on the 'bottom' edge (judging from the orientation of the Samsung logo). There is no 3.5mm headphone jack on this tablet, which is a damn shame for a device of this calibre.
Similarly, the display of the Galaxy Tab S6 doesn't flinch when it comes to underplaying its design. A Super AMOLED display measures 10.5 inches with a 1600 x 2560 and 287 pixels per inch.
What's noteworthy here is the Super AMOLED technology. The Galaxy Tab S5e and the Galaxy Tab S4 both have it, but it still feels like a novelty in a tablet.
It is one of the best Android tablets on the market. In addition to media, it is also beneficial for productivity. Though expensive, the iPad Pro is still cheaper than this tablet. In terms of quality, it falls short of Apple's Pro range.
Hardware Specifications of Samsung Galaxy Tab S6
Processor
Qualcomm Snapdragon 855
RAM
6GB / 8GB RAM
Storage
64GB / 128GB (upgradeable up to 512GB)
Display
10.5 inch Super AMOLED with 2560 x 1600 Resolution
Camera
Rear – 13MP + 5MP | Front – 8MP
Operating System
Android 9.0 Pie
Battery Life
10 hours
Weight
0.92 lbs
Still want to know more?? Read our expert's Review on Samsung Galaxy Tab s6.
PROS
Powerful Processor.
DeX mode.
Storage space.
Updated S pen stylus.
CONS
Keyboard need to buy seperately.
Small keys.
11. Microsoft Surface Go 2
Students or those who are always on the go should find the Microsoft Surface Go 2 an outstanding laptop. If power over portability is what you require, you'll likely need to look elsewhere.
You'll recognize the Surface Go 2's design if you've seen any other Surface Pro device. It's smaller on two axes but shares the same design philosophy. If you're looking for a budget laptop, this is the best option. With just 8.3mm of a thickness (without the keyboard cover), it feels very premium. It is made of brushed aluminium on the sides and back, so it is great to hold and touch. Regarding the material choices and build, there isn't much to say.

It features a headphone jack, USB-C port and proprietary charging port on the right side of the device. Chargers easily snap into that magnetized charging port. Additionally, the Surface Go 2 can be charged via the USB-C port, so you do not need to rely on the charger that comes with the device. The feature is convenient and friendly.
There isn't much difference between the Microsoft Surface Go 2 and its predecessor regarding its footprint. With the bezels shrunk, it can work with a 10.5-inch display. Furthermore, the screen resolution has been bumped up to 1,920 x 1,280 at a 3:2 aspect ratio.
My low expectations for the processing power of the Surface Go 2 were surpassed. It takes on most tasks quite well, thanks to the 1.1GHz dual-core Intel Core M3-8100Y processor. This should be sufficient for those who may not have a lot to do simultaneously, like students or businesses.
Its performance, battery life, and app support mean that the Surface Go 2 falls short of being a top tablet thanks to Windows' incredible capabilities. I still think it's a great machine, but the iPad would be a better choice if you don't need Windows.
Hardware Specifications of Microsoft Surface Go 2
Processor
8th Gen Intel Core M3 / Intel Pentium Gold 4425Y
RAM
4 GB / 8 GB RAM
Storage
64 GB / 128 GB
Display
10.5″ PixelSense Display with 1920 x 1280 Resolution
GPU
Intel UHD Graphics 615
Operating System
Windows 10 Pro
Battery Life
10 hours
Weight
1.2 lbs
PROS
Bigger screen
Core M3 processor option
Runs any Windows app
CONS
Very low performance ceiling
Battery life
Keyboard flex
12. Lenovo Tab M10 Plus
This is a quick summary of my experience with the Tab M10 FHD Plus. Despite its low price, this 10.3-inch tablet has an impressive range of modes.
Considering the tablet's looks, it would be easy for you to understand why older family members, teens, and parents would like it. With an all-metal body and a thin, rounded bezel, this is a very smooth and sleek piece of equipment.

This product feels like (and looks like) a good value for its price, like a premium tablet. In addition to the FHD Plus display, the Lenovo Tab M10 comes with a charging dock, which you can just plugin and leave somewhere – so that everybody knows where to put it away.
A Full-HD IPS panel is available as the 10.3-inch display. There's something odd about the size of the screen, but it's not terrible. With a 1920 x 1200 resolution, the IPS panel is easy enough to handle games and video on this size screen.
The M10 Plus finds a good balance between performance and cost to replace, which ranks among the top in this category.
It comes with 4GB of RAM and either 64GB or 128GB of internal memory, which is a decent amount at this level. Streaming, browsing, gaming, and most other tasks can all be completed quickly on this device.
With the Lenovo Tab M10 FHD Plus, it's hard to be disappointed. Honestly, there isn't much here that makes a tablet the best, but there is quite a bit that it does pretty well. This is a true all-arounder that would be perfect for families.
As a whole, this offers good value for the average household. A powerful enough tool for parents, mature enough for teenagers, and safe enough for young children (as long as there's a case). If you're shopping in this price range or just looking for something to supplement what you've got, this would be a good pick.
Hardware Specifications of Lenovo Tab M10 Plus
Processor
MediaTek Helio P22T Octa-Core Processor
RAM
2GB / 4GB RAM
Storage
16GB / 32GB / 64GB (expandable up to 256 GB)
Display
10.1 inch HD IPS Display with 1280 x 800 Resolution
Camera
Rear – 8 MP | Front – 5 MP
Operating System
Android 9 Pie
Battery Life
7 hours
Weight
1 lb
PROS
High-end metal body.
Good 10.3-inch screen.
Almost pure Android 9.
Solid performance.
CONS
Bad speakers.
Updates uncertain.
Blurry cameras.
Some More Best-Seller Large Screen Tablets
Bestseller No. 1
Apple iPad Air 2, 128 GB, Space Gray, (Renewed)
Apple iOS 8; 9.7-Inch Retina Display; 2048x1536 Resolution
A8X Chip with 64-bit Architecture; M8 Motion Coprocessor
Wi-Fi (802.11a, b, g, n, ac): 16 GB Capacity: 2GB RAM
8 MP iSight Camera; FaceTime HD Camera - Up to 10 Hours of Battery Life
Bestseller No. 2
Apple MacBook Air MJVM2LL/A 11.6-Inch 128GB Laptop (Renewed)
Renewed products look and work like new. These pre-owned products have been inspected and tested by Amazon-qualified suppliers, which typically perform a full diagnostic test, replacement of any defective parts, and a thorough cleaning process. Packaging and accessories may be generic. All products on Amazon Renewed come with a minimum 90-day supplier-backed warranty.
1.6 GHz dual-core Intel Core i5 (Turbo Boost up to 2.7 GHz) with 3 MB shared L3 cache
11.6-Inch (diagonal) LED-backlit Glossy Widescreen Display, 1366 x 768 resolution
Intel HD Graphics 6000
Bestseller No. 3
Apple iMac 21.5in 2.7GHz Core i5 (ME086LL/A) All In One Desktop, 8GB Memory, 1TB Hard Drive, Mac OS X Mountain Lion (Renewed)
Intel Iris Pro Graphics
2.7 GHz Quad-Core Intel Core i5 Processor (Turbo Boost up to 3.2 GHz) with 6MB L3 cache
21.5-inch (Diagonal) LED-backlit Display with IPS Technology; 1920-by-1080 Resolution
1TB Hard Drive, 8 GB (Two 4 GB) of 1600MHz DDR3 Memory
This Certified Refurbished product has been tested and certified to work and look like new, with minimal to no signs of wear, by a specialized third-party seller approved by Amazon. The product is backed by a minimum 90-day warranty, and may arrive in a generic brown or white box. Accessories may be generic and not directly from the manufacturer
Sale
Bestseller No. 4
Samsung Galaxy Tab 4 10.1in 16gb WiFi Black (Renewed)
Android 4.4 Kit Kat OS, 1.2 GHz quad-core Qualcomm processor
16 GB Flash Memory, 1.5 GB RAM Memory
WXGA Display (1280x800 Resolution)
64GB of memory available through a microSD slot and 50GB of free Dropbox storage
Bestseller No. 5
Sale
Bestseller No. 6
Sonos Play:3 - Mid-Sized Wireless Smart Home Speaker for Streaming Music, Amazon Certified and Works with Alexa. (Black)
Delivers richer and deeper sound than play:1, making it perfect for spots where you have more room
Connect your play:3 to any Amazon echo or Alexa enabled device, then just ask for the music you love
Play different songs in different rooms at the same time; Or, pump one song in perfect sync, throughout your home
Set up in five minutes using your home wifi; Easily expand your home audio system over time by adding wireless speakers to additional rooms whenever you're ready
Wirelessly stream all your favorite music services like Amazon music, Pandora, Apple music, and Spotify
FAQ about Best Large Screen Tablets:-
In this section, I will be answering some of the most frequently asked questions about large-screen tablets. These questions are collected from the internet are answered to help you choose your big-screen tablet.
What is the best large screen tablet in 2023?
According to me, It depends upon the needs and requirements of the user. If you ask me in general then, I would say  Surface Pro X or the Apple iPad Pro are the best tablets with a big screen.
Which is the most affordable large-screen tablet?
If you have a tight budget and you still want to get the best tablet, then I would recommend you to get the Lenovo P11 Tablet. It is the most affordable tablet with an 11-inch 2K (2000 x 1200) IPS, anti-fingerprint, touchscreen, TDDI, and 400 nits.
Which one is the largest tablet under a $300 budget?
The Lenovo P11 is the best large-screen tablet that you can buy in under a budget of $300.
Can I get a large-screen tablet for under $100?
No, We don't recommend going for any cheap tablet under 100$ budget as they will not be value for money.
What are the best large-screen tablets for gaming?
As per my observation while playing PUBG, the best large-screen tablet for gaming is Apple iPad Pro
What are the best large-screen tablets for watching movies and TV shows?
According to my research, the best large-screen tablet for watching movies and tv shows is Samsung galaxy tab S8+. I've also been using this since the day I bought it.
What are the best large-screen tablets for business and productivity?
My tests on various devices have shown me that the best large-screen tablets for business and productivity are the Samsung galaxy tab S6 and Apple iPad air
What are the best large-screen tablets for reading ebooks?
After trying out several tablets, the best large-screen tablet for reading ebooks is the Amazon fire HD 10.
What are the best large-screen tablets for drawing and graphic design?
There are undoubtedly several tablets available for digital artists, but it's quite a task to choose one. After trying a few of them, I thought the best large-screen tablets for drawing and graphic designing were the Microsoft Surface Pro 8 and Wacom Intuos pro.
What are the best large-screen tablets for students?
Being a student is already a big job, so let me help you find the best large-screen tablets for students: the Samsung galaxy tab S8 and the Realme pad10.
Final Words – Large Screen Tablets

In my final words, I would recommend the Apple iPad Pro or the Microsoft Surface Pro 7. Depending upon your OS choices, you can choose anyone between these two. They are great for the price being charged.
There are not a lot of large-screen tablet options available in the market like there are very few reliable 12-inch tablets and 13-inch tablets in the market. I have listed out all the best 12-inch large tablets including some of the other largest android tablets as well.
If you think I missed any of the 12-inch tablets or large-screen tablets in this list, feel free to mention your favorite largest tablet in the comments section below.
Howdy Geeks, I'm Andrew, a young passionate blogger, Tech Freak & a Gadget Lover. I help people in buying them the best tablet devices