Let me guess, you are an engineer/engineering student who wants the best experience to write notes, and storing research notes. Am I right?
Well, then you are looking at the exact article for your needs. Because this article features some of the best tablets for engineers. Books and pens will undoubtedly rank somewhere on the list of what you will need for college if you are planning on pursuing a career in engineering.
However, since we are living in the 21st century, I suggest you take advantage of the digital trends by getting the best tablet for engineering students. Perhaps you are wondering why not use phones or laptops instead of a tablet. But wait, there's more.
The small screen size of a smartphone makes it difficult to view wide format designs that are synonymous with engineering while on the other hand, a laptop is too bulky, heavy, and impractical. Thus I'm of the opinion that smartphones and laptops are less suited to engineering tasks.
Using engineering tablets is a versatile and powerful method of computing. Unlike general optimization, engineering tabs go beyond the ordinary. Tablets for students include specific features to help you accomplish the desired objectives, aside from gaming, streaming movies, watching videos and general web browsing.
But before getting directly into the tablets let us look into some important features of tablets that I recommended you consider before you buy a tablet for your engineering needs.
So till now, I'm sure that you have gained knowledge on what to look for in the tablets that are going to be used for your Engineering work. So without wasting any further time let's get into the tablets that would suit your Engineering needs.
List of Best Tablets for Engineering Students In The Market:-
In the Smasungs 2022 tablet lineup, Samsung Galaxy Tab S8 is the smallest of the three. The Samsung Galaxy Tab S8 is a robust and versatile tablet that offers most of what you'd anticipate from a top-tier product.
Display: This tablet has an 11-inch LCD, making it the only model in this lineup without an AMOLED display. I was pleasantly surprised by the 120Hz refresh rate that made working on the go easier with smooth navigation.
PROS
Extended battery life.
Strong network connectivity.
Knox Security.
CONS
Absence of Keyboard cover.
No AMOLED panel.
DeX mode could be better.
Processor: Equipped with Qualcomm Snapdragon 8 Gen 1 chip, the tablet has a powerful enough processor to multitask without a glitch. It is based on Android 12, which is upgradable to Android 13 One UI 5. I could run complex and resource-intensive engineering software apps like CAD, Data analysis, and CAE without a lag.
Storage: I own the 8GB RAM with 256GB storage variant of Galaxy tab S8. Besides this, it is also available in 128 GB storage. A microSD card slot is present, so you can store, manage, and access large amounts of data files without running out of space.
Battery Life: Using the 8,000mAh battery of the tablet, I was able to stream videos and work for 10 hours at maximum brightness. That is more than other tablets in the same range and equates to a full day of use. A charger of at least 45W can be recharged in 80 minutes.
Camera: Rear camera is a pair of 13MP primary cameras and a 6MP ultrawide camera. I found this great for taking on-site pictures and videos. The front camera is 12MP which does a solid job in clicking selfies and video calling.
Connectivity: With Bluetooth 5.2, GPS, and WiFi 6 support, the tablet helps in staying connected with clients and collaborating in remote locations as well. The S Pen support is an excellent feature for jotting down notes and storing them virtually.
The new generation of iPad makes for an excellent device for casual use and light work. It is considered one of the budget-friendly Apple devices with a balance between functionality and affordability. iPad10th generation comes with some substantial upgrades from its predecessor. This tablet comes in different pops of colors like Blue, Pink, Yellow, and Silver.
Display: You get a 10.9-inch Liquid Retina Display with IPS technology. I like how the true tone technology provides excellent color accuracy and reduces eye strain during long working sessions. With its sleek design and lightweight, it is easy to carry around; this is especially beneficial during on-site work.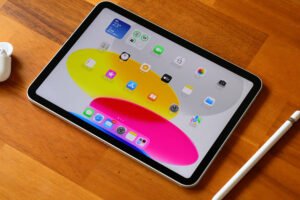 PROS
OS supports a wide range of engineering apps.
Long battery life.
Lightweight.
CONS
No expandable storage.
Extra cost for accessories.
Average quality display.
Processor: A14 Bionic chip powers the iPad 10th generation, ensuring smooth and fast performance when running heavy engineering software or apps. When it comes to Operating Software, it runs on iPadOS 16.
Battery life: Apple claims a battery life of 10 hours on normal usage. The battery life is perfect for engineers working on the go or remotely.
Storage: Two storage variations are available for iPad 10th generation, i.e., 64GB and 256GB. I preferred a microSD slot to expand storage for storing large files and data.
Camera: Both the front and rear cameras are 12MP. These cameras are great for capturing/field data and video conference meetings with clients or colleagues.
Connectivity: iPad 10th generation has cellular and WiFi models available. Compatibility with Apple Pencil (gen1) is an excellent feature allowing engineers to take notes and annotate drawings and ideas on the screen.
The first tablet that I'm going to present is the iPad Pro 11-inch version. The tablet comes with a Liquid Retina display from Apple and features a P3 wide color and true tone technology which in my opinion is absolutely top class in the world of tablets.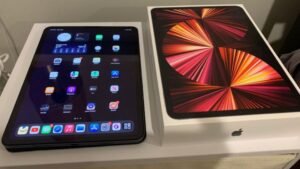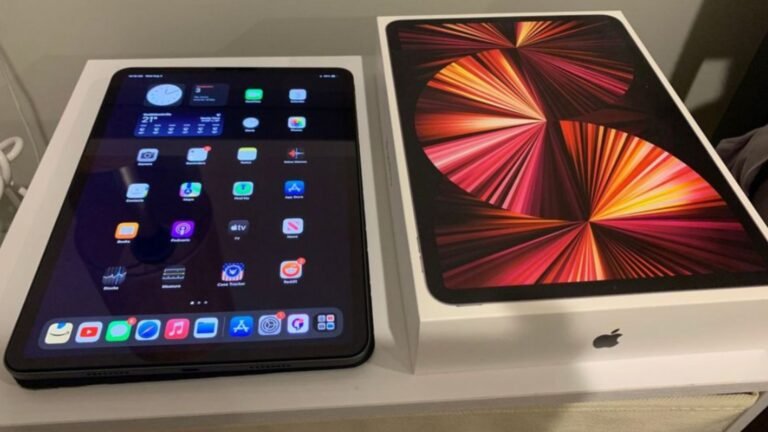 This generation features an M1 chip, thanks to which I got better graphics for immersive gaming, immersive augmented reality, and ultra-wide cameras.
I have never heard a sound so immersive from a tablet thanks to its four-speaker audio, five microphones, and iOS 13. The Wi-Fi in this tablet is ultrafast, so I could stream anything I wanted from anywhere in my room without a lag time and the experience of talking to friends on FaceTime was so smooth.
I feel that the 11MP Wide camera, 12MP Ultra Wide camera, and the LiDAR Scanner for immersive augmented reality are thoughtful additions. After receiving 40 billion requests from customers, I am pretty sure this is the right decision. With this tablet, you will get more power, versatility, and creativity than ever before.
This tablet features a powerful A12 Bionic chip that delivered me with next-level performance.
Hardware Specifications of Apple iPad Pro 11″
Processor
Octa-core 4×2.5 GHz Vortex
RAM
4 GB
Storage
256 GB
Display
11-inch Retina display with 1668 x 2388 Resolution
Camera
Rear- 12+10 MP | Front- 7 MP
Operating System
iOS 12
Battery Life
10 hours
Weight
1.04 lbs
PROS
Trackpad Support.
Gorgeous Display.
Faster Chipset.
Better Cameras.
LiDAR Scanner.
CONS
Costly.
Processor Is Not A Major Upgrade.
The tablet comes with 8GB of RAM on variants up to 512 GB and with 16GB of RAM on variants having 1TB and 2TB of internal storage, but I chose the variant with 512GB internal storage and 8GB of RAM and I'm of the opinion that this is the best value for money variant for engineering students.
This tablet is also good for doing video calling. However, you can also check out some other better video-calling tablets.
Overall, this tablet would be a very good option for engineering students who have a high budget to spend on their devices as well as delivering the desired top performance.
Thanks to its flexible design and lower price, Lenovo Flex 14 is a tablet that lives up to its name and offers an equally good value to anyone who is willing to try it. With performance-inducing specifications, this device is designed and built like a full-fledged laptop, in my opinion.
This tablet has 256GB of storage space, AMD Radeon Vega 8 graphics card, and 2400 MHz memory speed. I can guarantee you that if you take proper care of this tablet, it will last for many years to come.
With the Lenovo Flex 14, every computing task I could think of was done with ease, including browsing the internet and running graphically demanding software such as Photoshop. It all comes together with a 10-hour battery life, which just added to my already delightful experience.
Its display, of course, is what costs money. As it only has a 1920 x 1080 HD touch screen, you won't get as much pixel density as with the other tablets on the market, but I think that you won't notice this unless you are planning on doing professional-level photo editing. Now you may be wondering, isn't this a laptop?
Yes, but here is where the lines become hazy. This device will allow you to convert into a full-blown tablet with a flick of the wrist, living up to its name, after all: "what's in a name anyway"?
Hardware Specifications of Lenovo Flex 14
Processor
Intel Core i3-8145U
RAM
4 GB
Storage
128 GB Nvme SSD storage
Display
14.0″ Full HD Touch
Camera
Rear- 2MP Webcam
Operating System
Windows 10 Home
Battery Life
8 hours
Weight
3.52 lbs
With the power of a laptop coupled with the portability of a tablet, the Lenovo Flex truly lives up to its name.
It is time for me to give a final verdict. Overall, I think that the Lenovo Flex 14 is the perfect combination of a laptop and tablet and you can use it as either of them depending on your mood. Thus, I can thoroughly recommend it to you.
It is truly incredible how the Apple iPad Mini will provide engineering students and professionals with the ability to own a professional iPad without breaking the bank. No matter what, Apple delivers top-notch devices. There are many fantastic features included in the Apple iPad Mini that show off the device's quality.
On my first look, the gadget resembles the popular iPad in a compact form. There is a 7.9-inch retina display that boasts a resolution of 2048 x 1548P and a pixel density of 324 pixels per inch and with its 6.1 mm sleek design and 0.16 pounds, the iPad Mini is the lightest and most portable device in the luxurious line of iPads.
After using it for quite a while I can surely state that It is perfect for students looking for something small and portable. Consequently, there is no doubt about the quality of the images that the tab produces. You will receive images with stunning colors and detailed details.
As I looked at the improvements that the device has seen over the past few years, I was amazed. The device currently runs an iOS 16 operating system and is powered by an A15 Bionic processor. Using this combination, you can deliver a fast and reliable tool you will find invaluable for almost any engineering or architectural project.
Overall, I really liked this tablet in my daily usage and I can recommend it to engineering students who want a great overall experience.
Read out this tablet's full comprehensive review in another article if you are not convinced by this brief one.
If engineering students have to study electronic circuit diagrams or model systems while working on electronic circuit diagrams, a tablet with additional features may be helpful.
Students of engineering who excel in electronics often use their tablets as mini-computers or modules to supplement their laptops while doing their work. The engineers often use a combination of the tablet and the laptop while studying, which allows them to be very productive. They are also able to take notes simultaneously.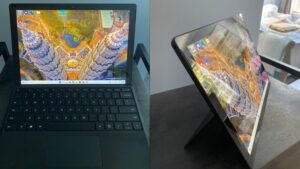 Since electrical engineering students are skilled at circuit diagrams, they should be able to easily transfer information from the tablet to the laptop and vice versa. In other words, the tablet should be capable of performing these functions without any issues.
A tablet like the Microsoft Surface Pro 7 falls into this category. With its latest releases, it has continued to perform well and has been one of the top-selling tablets since it came out.
Hardware Specifications of Surface Pro 7
Processor
Intel Core i5 10th Gen
RAM
8 GB
Storage
128 GB
Display
12.3″ Inch Retina display with 2736 x 1824
Camera
Rear- 8MP
Operating System
Windows 11
Battery Life
10.5 hours
Weight
1.7lbs
PROS
A keyboard is included in the package.

All PC apps are supported.

The display is bright and vivid.

Batteries that last longer.

Processor with high performance.
CONS
The quality of the camera is poor.

Very expensive.
Windows 10 runs on the Surface Pro series, which means that it is compatible with all modern software for Windows. These include Android apps, Office productivity programs, and many more.
Tablets with a 12.3-inch screen and 2256 x 1504 resolution are also available. Besides a Core i7 processor and 16GB of RAM memory, it has a 1TB hard drive as well.
7. Samsung Galaxy Tab S5e
For tech nerds like me, I expect a tablet to have three things. One should have a large screen, one should perform well, and one should be portable. Tablets have features that set them apart from laptops and smartphones.
However, what is the point of choosing a big screen at the expense of portability?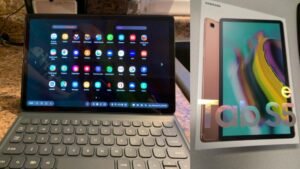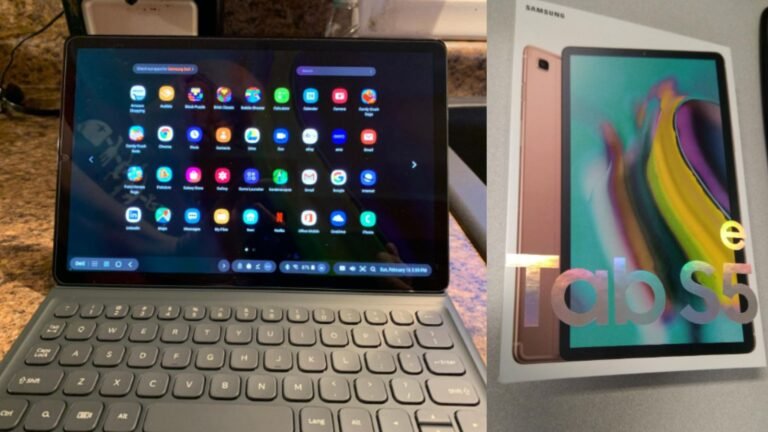 The Samsung Galaxy Tab S5e is Samsung's slimmest and lightest tablet to date. This device weighs less than one pound and has a pretty slim design as a result I can carry it anywhere easily.
For engineering students like me, who prefer to keep their devices lightweight, I found the device perfect for portability. However, there are more features and specifications to look forward to.
The vibrant colors displayed on the 10.5-inch display amazed me. I also loved the stunning display which comes with a resolution of 2560 x 1600 pixels. With a resolution of this size, I could see everything clearly and in fine detail. The device also features astounding contrast that enhances your viewing pleasure.
Hardware Specifications of Samsung Galaxy Tab S5E
Processor
Samsung Exynos 7 Octa, Octa-core
RAM
3 GB
Storage
128 GB storage
Display
10.5″ LCD Display
Camera
Front-8MP
Operating System
Android 8.1
Battery Life
45 hours
Weight
0.86 lbs
A fast charging mechanism is built into the Tab S5e which is very helpful when I'm late for a class and want my tablet to get charged rapidly. The device will, however, provide continuous video watching for up to 15 hours, despite its fast charging capability of just about 2 hours.
In addition, the 13 MP camera on the back is a great addition for me as I love photography. My tablet's primary camera gives me the ability to capture moments as they occur and in fine detail.
I hope you got the whole idea about this tablet. However, if you still want to know more about it then you can read our tablet's long review.
8. Samsung Galaxy Tab S6 10.5″
Are you interested in getting the most out of your engineering degree? The Samsung Galaxy Tab is a great option.
With its high-quality components, this device is reliable and can help you excel in your studies. Plus, it comes with so many applications that you'll never get bored!
You can use the Galaxy Tab S6 for both works and play. You'll be able to unlock the full potential of your device with Android 9.0 (Pie). Additionally, it supports 4G LTE and has 256 GB of memory.
There is a large 10.5-inch screen with a convenient viewing angle, making it a great device for watching videos and reading documents on screen.
Additionally, it comes with a stylus with which you can write messages or draw on the screen. The S Pen allows you to take more detailed notes than most other similar products because it has a more sensitive tracking feature.
There are a variety of colors available, so you can get exactly what you're after. Colored in Mountain Gray, this version will look great in any school environment.
Hardware Specifications of Samsung Galaxy Tab S6
Processor
Octa-Core(2.8GHz+3×2.4, 4×1.7)
RAM
6 GB
Storage
128 GB
Display
10.5″ Inch Retina display with 2560 x 1600
Camera
Rear- 13MP | Front- 8MP
Operating System
Android
Battery Life
15 hours
Weight
0.92 lbs
PROS
Powerful Processor
DeX mode
Storage space
Updated S pen stylus.
CONS
Keyboard need to buy seperately
Small keys
In addition to its keyboard case, this tablet has another unique feature. The tablet can double as a laptop on this system. When you want to use it more easily and safely, the keyboard case can be used.
With the large battery included, you can utilize it for a long period of time so that you can do your work with ease. Because it has an incredibly fast processor, you can multitask whenever you want.
However, if you wanted to know more about this tablet, you can also check out its full review which was done by our experts in another article. 
What Should You Look For In A Tablet For Engineers?
While brand and price are important, there are a number of other factors to consider when purchasing a student tablet. I have discussed some of the most important considerations in this guide.
Convertible Or Standalone
Mainly you can find two tablets in the market, namely, standalone and convertible. A person's choice isn't just about their preferences, but also about their desired performance.
Standalone devices are more compact and portable as they do not require a keyboard, which adds weight. In contrast, one will find the touchscreen mode of input to be inconvenient if they need to upload a lot of Word or Excel documents.
I feel that a convertible tablet or a 2-in-1 tablet is an impressive device that accomplishes two tasks at once. A convertible tablet can easily be transformed into a laptop or can stand alone as a tablet. A detachable keyboard gives you the convenience of typing in content just as you would on a full-featured computer.
A tablet's display size is one of the most important features to look out for. Most of you are probably familiar with the fact that tablets come in a range of display sizes. Tablets that are as small as 7 inches are the most compact. That's about the same size as most smartphones.
There is a conflict between screen size and portability when it comes to screen size. Nevertheless, even though most students always desire pocket-friendly tablets, I often advise them to choose a tablet that is big enough to display all their designs without much zooming. I would recommend students select a tablet about the size of 10 inches.
Speaking as an engineering student and in perspective to any student for that matter, you will need a device with sufficient storage to keep up with your high storage needs. In addition to lessons, presentations, and notes, you will need storage for a significant amount of classwork.
I'm very sure that one will need content like this throughout their college career as well as afterward. The more time passes, the more content they will need to add. The amount of space required for photos, videos, and music is also quite high.
In this case, one would not want to remove some of their older content in order to store new ones, so they should avoid fumbling with this requirement. If you choose a tablet for engineering students with a large storage capacity, there is less chance that you will run out of space midway through your coursework.
Now, let me talk about connectivity features that you would need in a tablet for engineering. Generally speaking, it is not unusual for college work to involve a lot of research and content sharing and it's also the case when becoming an engineer. A college environment is typically wirelessly connected, which means that all student tablets will need a Wi-Fi connection.
When traveling outside of Wi-Fi-connected areas, have you thought about how this will affect your experience? The need for alternative connectivity options arises from the fact that devices are always susceptible to that possibility. Cellular devices are particularly useful in such instances.
Frequently Asked Questions
Does the Surface Pro work well for engineering students?
It depends on the model, the engineering students pick whether they can use the Surface Pro. Since it comes with a touchscreen, moving around diagrams becomes easier. This is a good choice for general design and AutoCAD use.
However, for high-quality design, users should pay attention to the processor, which should not be lower than an Intel Core i5 and have a good graphics card.
What Is The Best Tablet For AutoCAD for Engineering students?
A few of the best tablets for AutoCAD are the Apple iPad Pro and the Google Nexus 9.
Although Microsoft's Surface Pro line is considered one of the best computers for this task. According to your budget and needs, you can pick either the Surface Pro 3 or the Surface Pro 7. However, both are well suited to AutoCAD thanks to their high-resolution displays, spacious screen spaces, and superior graphics.
Do 2 in 1 laptops work well for engineers?
Even though most 2-in-1 laptops aren't designed for engineers, a few of them are and among these is the Surface Pro 7, a tablet that boasts a quad-core processor of the 10th generation in order to meet all software requirements.
If you want the 2-in-1 functionality while still being able to run engineering software, the Surface Pro series from Microsoft is another option. Surface Pro 3 and Surface Pro 7 make good choices because of their top-notch processors, large screens, and good graphics.
Are tablets better than laptops for engineering students?
It turns out that the answer to this question is more nuanced than it seems. It is said that tablets can be taken anywhere, unlike laptops, because of their portability.
Also, I would like to state that tablets don't need to be recharged as often as laptops. At the same time, not all engineering software has been optimized for tablets. Tablets typically have lower resolution than laptops; meaning that engineers will have to squint slightly more when designing larger projects.
Many students all around the world choose the iPad as their default tablet for good reason. There is a wide variety of software that works well with this program, and it is very easy to use.
Due to today's market, however, which offers more options than you ever dreamed of, there are other tablets that might be more worthy of your consideration, such as the Surface Pro 3.
Does tablet storage space ever become an issue?
The lack of storage space on tablets existed even before the iPad was invented. Users can usually store some files locally on tablets even though most of the storage is cloud-based.
As a general rule, a tablet with 128 GB or 256 GB of storage will be sufficient for an engineering student. Alternatively, the user can get an external hard drive if they want to keep a lot of information or files locally.
Conclusion
So, you have finally reached the conclusion. In order to get the work done more efficiently and effectively, new engineering students and current engineering students require computing gadgets. I can state that, for engineering assignments, tablets are the most viable computing device. This is due to their versatility, compact size, lightweight nature, and high performance.
Interestingly, I feel that the best tablet for engineering students can also be used for entertainment or classwork.
Among the things you can do with it are document issues, view building plans, examine site photos, and access BIM data. However, an ideal product like those that I have included here in this review provides the right connectivity and power so that you can access social media and other entertainment sites like Netflix and YouTube.
I hope that I have given enough information for you to choose from these tablets. Now it's up to your decisions on which tablet fits your requirements and budget properly for an overall great buying and owning experience.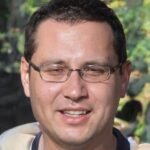 Ben Scott is a prominent technology journalist and reviewer, specializing in tablet devices. He is known for his comprehensive and unbiased reviews of tablets from various manufacturers.
With a deep understanding of tablet technology, including hardware components, operating systems, and software applications, Scott provides clear and informative reviews accessible to readers of all levels of technical expertise.
His attention to detail and in-depth analysis have earned him a loyal following of readers.