Sadly, not every tablet is suitable for Emulation because of the demands made by emulators. Additionally, the proper processing setup can be challenging to find at times. Not to mention the fast-draining batteries on several tablets, which are further affected by the installed emulators.
In light of the particular user requirements and the difficulties you were experiencing in identifying a reliable tablet for emulators, I have finally made up my mind to help you. Also, I plan to mention compatible emulators along the way that may be of use for you to download some platform-specific apps and games.
Simulating another platform's software or hardware through Emulation is also known as Emulation. In this way, you can administer programs on a system or device not designed for them. For instance, you may feel you need to play very ancient games in this era of technological advancement. It is possible that the gaming consoles will not be available since most of the old programs were discarded.
In addition, not all of the games we have today are compatible with all types of devices. It may be necessary to purchase expensive gaming consoles to play the games. The use of emulators allows you to play any game you want, regardless of the device you're using. It would be ideal if you had the best tablet for the process to allow you to attain a fun and remarkable game experience for a low price.
We have shorted out the list of the Best Tablets for Emulation:-
1- Apple iPad Pro
Apple iPad Pro is the best tablet if you want to run Android apps and games on your iPad, and you want requisite assistance from emulators. Aside from this, if you already own the 2020-variant iPad Pro 11, the new model seems like a decent upgrade, thanks to its faster processor than the predecessor.
Hardware Specifications of Apple iPad Pro 11″
Processor
Octa-core 4×2.5 GHz Vortex
RAM
4 GB
Storage
256 GB
Display
11-inch Retina display with 1668 x 2388 Resolution
Camera
Rear- 12+10 MP | Front- 7 MP
Operating System
iOS 12
Battery Life
10 hours
Weight
1.04 lbs
PROS
Trackpad Support.
Gorgeous Display.
Faster Chipset.
Better Cameras.
LiDAR Scanner.
CONS
Costly.
Processor Is Not A Major Upgrade.
Is it suitable for emulation?
A brilliant, visually pleasing screen is what makes the iPad Pro an emulation-ready device. It would appear that the overall resolution is enough to drive the best visuals. With a 120Hz refresh rate and a liquid retina display, you can play games without lag. Additionally, the aspect ratio of the game fits organically with every PSP and GameCube title out there.
With a clock speed of 3.2GHz, the processor handles most of the heavy lifting. Managing multiple threads to perfection is about working 8GB of RAM, which allows you to control the AltStore. This third-party application installer will enable you to run emulators like PPSSPP and Dolphin without jailbreaking your device. For those who want to run on-device resources, there is a lot of storage available to install numerous emulator games.
There is also a DisplayPort interface in play for connecting external devices for emulating other gaming consoles.
The battery backup is more than enough. Using the battery's fast-charging capability may be necessary if you wish to run emulators for long periods. In addition, the device comes with a trio of cameras on the back and one 12MP camera on the front.
Conclusion
Apple's iPad Pro 11 is one of the few tablets on the list capable of running OS-independent games and applications. In terms of gaming performance, it stands out from the competition due to its powerful SoC. However, that's not it. Additionally, the device comes with Face ID support for protecting it from prying eyes.
Also, if you wish to emulate hardware for games and apps on a more affordable iPad, the 4th Gen Apple iPad Air may be a good choice.
2- Samsung Galaxy Tab S7
For those who want to test Windows and iOS apps on their tablets, precisely their functionality, without having to turn to a PC or a Mac, the Samsung Galaxy Tab S7 is the tablet to consider. One of the most promising features is the high refresh rate for OS-agnostic games.
Hardware Specifications of Samsung Galaxy Tab S7
Processor
Octa Core (3.09+2.4+1.8GHz)
RAM
6 GB
Storage
128 GB
Display
11″ Inch Retina display with 2560 x 1600
Camera
Rear- 13MP | Front- 8MP
Operating System
Android 10
Battery Life
12 hours
Weight
1.1 lbs
PROS
Powerful Processor
DeX mode
Storage space
Updated S pen stylus.
CONS
Keyboard need to buy seperately
Small keys
Is it suited for Emulation?
The TFT screen makes a promising start because it offers an excellent overall resolution, excellent outdoor visibility. Besides providing a good layout for viewing apps, browsers, and cross-platform resources, the aspect ratio is also a plus.
With a processor and 6GB of RAM, and 128GB of expandable storage, the system can handle complex tasks, including playing emulators. With the processor setup, the tablet can run most on-premise and browser-specific emulators such as Appetize, Sauce Labs, Nox Player, and more.
This Samsung tablet is packed with connectivity and boasts a Type-C port, DeX software support, and Wi-Fi 6 compatibility with a slim design.
The fast-charging battery can run for almost 15 hours at a time which is enough if you consider this for emulation. Additionally, you will find a standard fingerprint scanner and Android 10 OS that can be accessed via most Windows and iOS emulators.
Conclusion
Because of its incredible processing power, the Samsung Galaxy Tab S7 may be the best tablet on the list if you plan on coding and testing apps or using resources like Procreate on Android.
3- Lenovo Tab P11 Plus
Could you imagine using a tablet to perform more specific tasks like emulating an operating system or using it to mirror your screen? It looks like you are in luck if you own the newly launched Lenovo Tab P11 Plus. This computer features a 2K display and a much faster processor than its predecessor, which will handle all your emulation needs.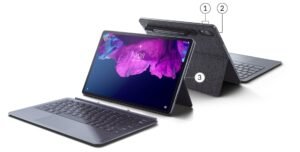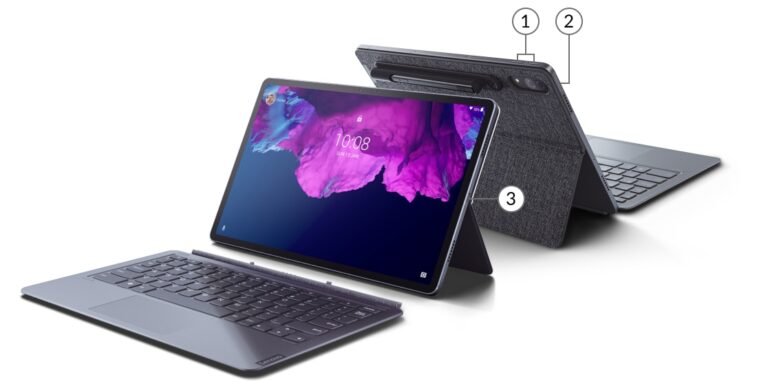 Hardware Specifications of Lenovo Tab P11 Plus
Processor
MediaTek Helio G90T Tab Octa-Core
RAM
4 GB
Storage
128 GB
Display
11″ Inch display with 2000 x 1200
Operating System
Android 11
Battery Life
15 hours
Weight
1.08 lbs
PROS
Punchy OLED screen.
Great-sounding quad speakers.
Responsive enough performance.
CONS
Few optimized apps.
Productivity mode.
Keyboard and pen accessories.
Is it suited for Emulation?
As for the Tab P11 Plus' emulation capabilities, well, the screen with a 2KIPS panel and a high resolution will do the job. Landscape and portrait viewing is equally enjoyable with the aspect ratio, regardless of the games you want to play.
In terms of its performance, a 12-nanometer processor, which is its heart, proves to be very impressive. It has octa-core support, ensuring no lags in your gaming experience. As a result of this SoC, the tablet becomes one of the better emulator-enabled multitasking devices, capable of running iEMU and Cider for exploring iOS functionality. Together, the chipset and lots of on-device storage offer a great overall experience.
With moderate usage, this tablet can provide 15 hours of backup. Moreover, the battery can be charged quickly in a heartbeat by fast charging, so you don't need to wait for hours to play games on an emulator.
Conclusion
Comparatively to other tablets under $300, the Lenovo Tab P11 Plus offers a best-in-class display and provides a better multitasking performance, allowing you to run multiple emulators without lags. There are still better options available if you plan to use a tablet only to emulate gaming consoles.
It appears that the Samsung Tab S6 Lite is the more reliable tablet if you plan to emulate the Windows ecosystem on your Android device, mainly for playing some entry-level games and accessing PC resources.
The S6 Lite easily scores higher than the somewhat dated Tab 3 Lite, which features a smaller and not so emulation-friendly screen.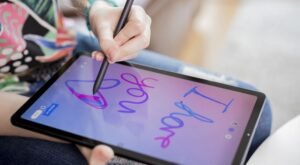 Hardware Specifications of Samsung Galaxy Tab S6 Lite
Processor
Exynos 9611
RAM
4 GB
Storage
64 GB
Display
10.4″ Inch Retina display with 2000 x 1200
Camera
Rear- 8MP | Front- 5MP
Operating System
Android
Battery Life
12 hours
Weight
1.02 lbs
PROS
Bezels that are slim.

Quite long battery life.

Synchronization in DeX mode.

The package includes an S-Pen.

Lightweight and thin.
CONS
Front camera quality is average.

The Qualcomm processor could be improved.
Is it suited for Emulation?
Here's a quick round-up of my thoughts on the screen, with its aspect ratio. The thing that's promising here is that despite a TFT screen, the tablet offers a decent outdoor visual experience enabling gamers to play even if they are traveling and are out in the sunlight. The higher resolution on the higher end, however, contributes to the benefit.
You also won't be let down by the processing setup with the chipset, which provides you with lag-free simulation. The tablet is often used to run the likes of Limbo and Wine, precisely to simulate Windows functionality, but it can also emulate console-specific functions to enhance the possibilities.
The processor gets help from 4GB of RAM. However, the tablet is offered plenty of storage, which can be increased by purchasing another unit, which means you have options to explore.
A stylus pen is also included with the Tab S6 Lite to facilitate drawing and notetaking even further. Additionally, it features an 8MP rear camera and a 5MP front camera for attending Zoom meetings.
Conclusion
Despite its slick design, Samsung's S6 Lite tablet runs Windows and Console-specific emulators with comparable ease. Its ability to play PSP titles without lag, however, is what makes it a superior option over others.
5- Microsoft Surface Go 2
It is no more conventional than any other approach to emulate the Android ecosystem on a tablet-like PC. No matter what you choose, there is nothing better than the Microsoft Surface Go 2 due to its excellent ability to run Android and even iOS emulators.
Moreover, if you were looking for just one reason to buy this tablet, its state-of-the-art SSD is only offered by the Go 2, making on-device file retrieval faster than ever before.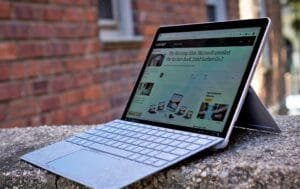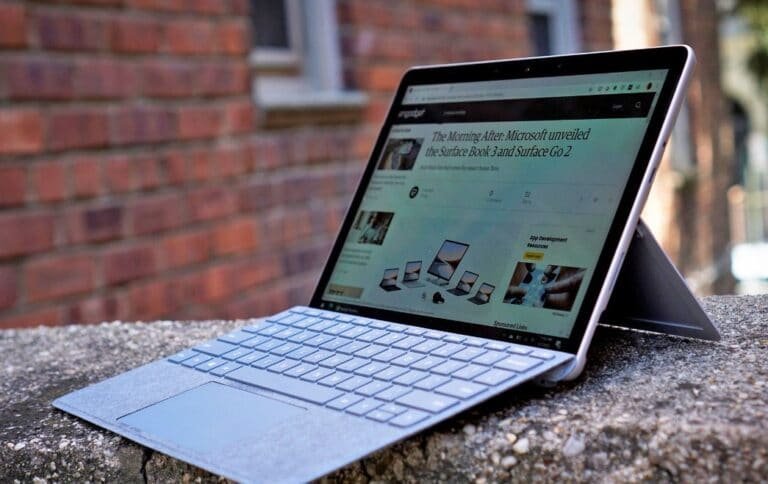 Hardware Specifications of Microsoft Surface Go 2
Processor
8th Gen Intel Core M3 / Intel Pentium Gold 4425Y
RAM
4 GB
Storage
64 GB/128 GB
Display
10.5″ PixelSense Display with 1920 x 1280 Resolution
Camera
Rear- 8MP
Operating System
Windows 10 Pro
Battery Life
10 hours
Weight
1.2 lbs
PROS
Bigger screen.
Core M3 processor option.
Runs any Windows app.
CONS
Very low performance ceiling.
Battery Life.
Keyboard Flex.
Is it suited for Emulation?
With a decent screen size and a standard Full HD resolution, the Surface Go 2 offers a fantastic display, ensuring a great viewing experience. In addition to the screen, the PixelSense show also comes with a 3:2 aspect ratio for optimal viewing of the emulated ecosystems.
Powered by an Intel processor, the setup further enhances its emulation capabilities. You can also run Android emulation games with its decent GPU. Additionally, the tablet has sufficient RAM, the same as what you might expect to get in a mid-range PC, and users will find it acceptable enough for emulation usage.
Emulator gamers will also be happy to know that Microsoft has opted for a Type-C port and a surface connect slot for pairing the external keyboard.
Battery life on this tablet is 10 hours, and it lives up to that promise. Additionally, the tablet has camera units on both the front and back of the tablet that is good enough for attending professional calls.
Conclusion
Surface Go 2 runs Windows 10 in S Mode out of the box and is essentially a standard PC-like tablet. However, when it comes to supporting Android, iOS, and console emulation, this is arguably the most compatible product on this list, enabling users to access applications such as Electric Mobile Studio for iOS and KO, BlueStacks, and more for Android.
6- CHUWI Hi10 X
When it comes to pairing emulators with Windows-based tablets, I adore them. Windows is the trickiest platform to emulate, so it would be best to use a Windows tablet, such as the CHUWI Hi10 X, as a host while simulating the other ecosystems and associated processes.
I feel that the Hi10X, even though the UBook from the same company is also a contender, wins out on its portability.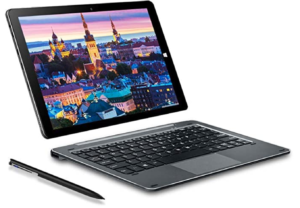 Hardware Specifications of CHUWI Hi10 X
Processor

Intel N4120 Quad-core

RAM
6 GB
Storage
128 GB
Display
10.1″ Inch display with 1920 x 1200
Camera
Rear- 5MP | Front- 2MP
Operating System
Windows 10
Battery Life
6 hours
Weight
1.15 lbs
PROS
Processor.
The camera is below average.
CONS
Very low performance ceiling.
Battery Life.
Keyboard Quality.
Is it suited for Emulation?
Hi10 X succeeds as an emulation tablet, even though it is a Windows tablet. However, when it comes to installing and using emulators, the screen is one of the essential features. I like the quality of the screen, and it is well suited for emulation. The aspect ratio of the IPS display makes the net compatible with Android and iOS.
Improving the quality of emulation is a significant benefit of the processor. Along with the chipset, UHD graphics, a healthy amount of RAM, and a lot of storage space enable lag-free and smooth emulation, or at least I didn't feel any hitches.
In terms of other relevant specs, this tablet comes equipped with an excellent keyboard, making it one of the better tablets for writing, provided you've given emulation a break.
Conclusion
The CHUWI Hi10 X scores well for its overall aesthetics, processing power, and pricing, making it one of the more emulation-friendly tablets on our list. However, the 6GB of RAM makes the tablet stand out, allowing it to run multiple emulators simultaneously, including Remix OS, MEmu, and others.
7- Vastking Kingpad K10
We have a Fast Performer at the end of this list in Vastking Kingpad K10, another tablet computer on display. Regarding productivity, the Kingpad K10 is competitive with the TECLAST M40 tablet on price and excels due to the superb keyboard and excellent cost-to-ownership ratio, despite being the cheaper version.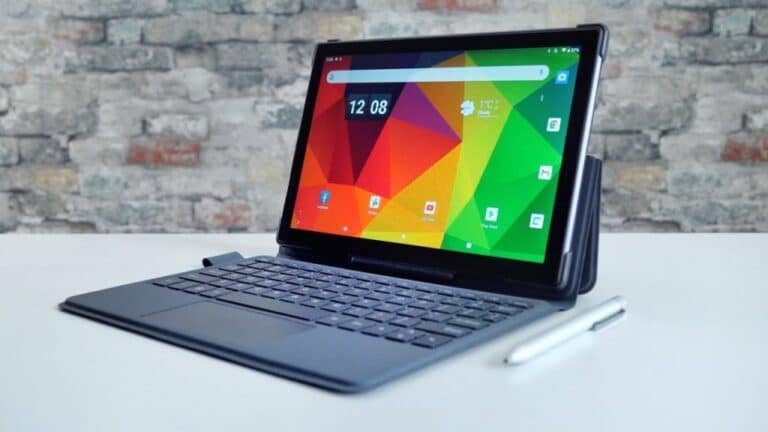 Hardware Specifications of Vastking Kingpad K10
Processor

Octa Core (2X1.8Ghz + 6X1.6GHz)

RAM
4 GB
Storage
64 GB
Display
10.1″ Inch display with 1920 x 1200
Camera
Rear- 13MP | Front- 8MP
Operating System
Android 10
Battery Life
12 hours
Weight
1.15 lbs
PROS
Camera with decent quality.

Unlocking with facial recognition.

Vivid and bright display.

Includes a keyboard and a pen.

The price is affordable.
CONS
A brand that is not popular.
Is it suited for Emulation?
Most emulators run smoothly on the same IPS screen. Furthermore, if you are more interested in playing Windows and iOS games, the Full HD screen seems like a pretty exciting addition, featuring a special glare-reduction filter.
The processor leads the processing setup, which is also competent enough. Because of this, the Kingpad can run emulators like Win7, Limbo PC, and others without breaking a sweat despite having only 3GB of RAM. Regarding storage, you get a hold on the lesser side, which can be upgraded if needed, and I will advise you to take the higher storage variants if you especially plan to use them for emulation.
Conclusion
Overall, if you want to run emulators on a budget, there is no better choice than the Vastking Kingpad K10. Furthermore, the Kingpad's dockable keyboard makes it stand out from the rest of the list of affordable tablets.
8- Microsoft Surface Pro (5th Gen)
Is it suited for Emulation?
With its high-quality visuals on a widescreen, you can experience the most enjoyable gaming experience. Aside from being versatile, this device can be used as a tablet, laptop, or studio, whichever suits you best.
Hardware Specifications of Microsoft Surface Pro 5th Gen
Processor
Intel Core i5
RAM
8 GB
Storage
128 GB, 256 GB
Display
12.3" PixelSense Display
Operating System
Windows 10
Battery Life
13.5 hours
Weight
1.69 lbs
PROS
Fast Performance.
Excellent Battery.
Bright and colorful display.
Thin keyboard.
Pen support.
CONS
No C-type USB.
256GB SSD is bit sluggish.
Pen and Keyboard sold seperately.
As this model comes with advanced connectivity features, including LTE Advanced connectivity, you can be sure that you will never be disconnected from the internet and that you can run all your favorite games via direct download or through emulators.
This gaming laptop is powered by a capable processor and has a decent GPU for a stellar gaming experience and incredible visuals. There is also plenty of RAM on the device. It will also provide you with hassle-free and smooth emulation for all your favorite games.
For enhanced gaming convenience, a Surface Pro Signature Type Cover keyboard and Surface Arc Mouse are available for use with the Surface Pro. In addition, you will be able to play games for hours on end with long-lasting battery life.
Conclusion
With its latest accessories, the Surface Pro is still the ultimate 2-in-1 laptop and productivity tablet. This is so much so that despite Microsoft's decision to pull the Surface Pen from the box, I still recommend it for emulation usage.
9- TECLAST M40
Even though Windows-backed tablet computers can be fun, most Android users prefer such efficient levels of multimode functionality. In this scenario, the TECLAST M40 comes to the fore as an attractively priced alternative. TECLAST has released an entire line of relevant tablets, and the M40 can easily outperform the TECLAST 8, thanks to its large screen.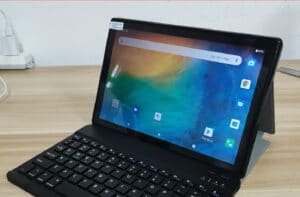 Is it suited for Emulation?
For iOS developers on a deadline without MacBook access, you can use the TECLAST M40 to manage a few lines of code, debugging, and even code validations for the time being. Additionally, the screen makes life easier visually, thanks to IPS technology and its aspect ratio.
As an Android emulator, the octa-core processor from Unisoc is a reliable ally, allowing you to work without lags with several credible tools like Cider, Appetize, and iEMU. This chipset is distinguished by its AI-accelerated core structure, which anticipates processing requirements in advance and allocates resources accordingly. This is very useful in emulators to make the workflow smooth.
Conclusion
It has a powerful SoC, plenty of RAM, and storage space, making it one of the better sub-$200 tablets you could buy. Although this tablet has several things to love, its reasonable price makes it one of the best emulator-friendly tablets among the top 10.
Guide on how to choose the Best Tablet For Emulators-
Featuring a powerful processor
To ensure optimal game emulation performance, the device must have a powerful processor. Your gaming experience will be smooth and speedy, thanks to the powerful processor. If you want a flawless gaming experience, a laggy or unresponsive device is not the way to go.
To get the ultimate gaming experience, choose a device with the fastest processor with a maximum number of cores, as well as the quickest clock speeds.
RAM with a large capacity
It is essential for a good tablet for emulators to have a large RAM and efficient performance. While multitasking, the large amount of RAM improves the performance without lagging.
The device must have at least 2-4 GB of RAM to store your games and other files. Alternatively, you can use an expandable memory option if your model does not have sufficient space.
It comes with a sound GPU chip
.
Graphics matter a lot for games as they affect the quality of game visuals and, therefore, your overall gaming experience.
Several models of tablets with integrated graphics are available in the market, so choose the one with the best GPU. It is common for tablet manufacturers not to specify a GPU frame rate, but you should go for the highest frame rate.
Frame rates are usually measured in Hertz (Hz) and determine how fast images appear on your display. The higher the frame rate, the better the visual quality, as the more advanced the graphics are.
Should be compatible with emulators
One more feature to consider when buying a tablet is its ability to run emulators. Be sure that the device you buy has emulator compatibility. Models such as PSP, desktop games, Android games are also available, and NDS Neo-Geo and CPS1/2/3. You can choose between them.
Battery Life should be long enough
.
Gaming devices consume more power and drain batteries more quickly. Batteries must last a long time on gaming devices. To provide a day-long gaming experience, the device must have a long-lasting battery.
Especially if you frequently travel and do not have time to charge, you must have a battery run time of eight to ten hours. To satisfy your endless entertainment requirements and meet all your needs, good battery life is the key.
You may have to consider a good emulator if you plan to make your tablet more platform-agnostic when it comes to games and apps. For example, if you plan to test or play specific iOS apps on a Mac and Windows tablet, you need to install Corellium, iPadian, or something similar.
With so many tablet P.C. choices available, finding the right one for running multi-platform resources can be challenging. Having evaluated over 30 tablets, I have developed dependable options based on specifications, emulation capabilities, and budget.
Frequently Asked Questions-
What is the best tablet to run emulators on?
Based on my analysis, it appears that the Samsung Galaxy Tab S7 is the best Android tablet for Emulation, as it supports Windows, iOS, and console emulators for app and game simulation without experiencing any lag.
How good is the iPad Pro for Emulation?
If you are a gamer, the iPad Pro 2021 is the best emulator tablet you should consider for your emulation-friendly device. In addition to allowing you to run multiple emulators when jailbreaking your device, this tablet will enable you to run third-party emulators such as PPSSPP and GameCube without experiencing any lag.
Is there a minimum amount of RAM & storage that I need for Emulation on a tablet?
To explore the possibilities of an entirely new ecosystem, you need to have at least 4 G.B. of RAM. Make sure you have at least 128GB of storage if you want smoother transitions.
How big should the tablet screen be for Emulation?
It is ideal for running emulators on an 11-inch screen, particularly if you wish to use WhatsApp on your Windows tablet and play console games on your Android tablet, such as Tekken.
Conclusion
It would help if you understood that Emulation is not the primary goal for designing a tablet or other device. Consoles are made specifically for that purpose. Several devices and operating systems do not support all emulators.
Despite their compatibility with certain emulators, they might not run some games at their optimal level. There is a lot of research involved in selecting the appropriate tablet for Emulation. Though this list is supposed to be helpful, it wouldn't hurt to narrow it down based on specific use cases, such as:
The Apple iPad Pro is the best device for simulating apps and games and experiencing ultimate smoothness during low-level Emulation.

A great choice is the Samsung Galaxy Tab S7 if you are more invested in the Android ecosystem and wish to explore console games and iOS-only apps in a virtual environment.

To retain Windows functionality while still having Android U.I. accessible through BlueStacks and other reliable emulators, you should choose the Microsoft Surface Go 2.
Thus, Emulation on tablets is a great way to make the most of your monetary investments while still getting the most out of the gadgets. Considering the host ecosystems, we have discussed and listed options, you can pick any other device based on the reviews and your budget and requirements.
Howdy Geeks, I'm Andrew, a young passionate blogger, Tech Freak & a Gadget Lover. I help people in buying them the best tablet devices