You might consider getting a compatible tablet if you are looking for a portable tablet for playing music, a sheet music reader, or a simple recording hub so that you can prepare better for gigs and jam sessions. Despite this, finding a suitable option can be difficult. That's why I wrote this article.
Several factors must be considered, including the speaker's strength and compatibility with the Mason mount, as well as other factors. Furthermore, the musician in you would want to find a portable device to run apps such as amp modelers, synths, metronomes, and more, which would require sufficient processing power. There are also some data from the musician's perspective on how they choose the tablet.
Investing in practice would also make sense with tablets that have potent microphones. If you are an aspiring performer who wants to learn more via online and offline videos, such as battery life and storage capacity, this phone is the right one for you.
Apple iPad 10th Gen - Tablet For Musician
Here's the best pick for the best tablet for musicians, If you're looking for a reliable and feature-loaded tablet then iPad 9th Gen is the best option for you.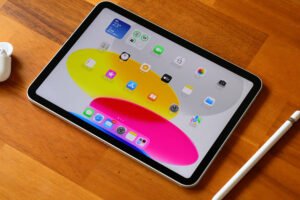 Some of its key features are:-
A14 Bionic Chip.

10.9″ wide display.

Camera.
Battery Life.
Robust body.
No matter what your preferences are, you'll get subpar tablet processors, shoddy displays, poor acoustics, insufficient RAM, or simply a tablet that's not designed to handle music production.
In addition, it is essential to note that I have tried over 30 tablets on my way to compiling this list, and each device has been my musical ally for at least a week.
The following are my Eight Best Tablet For Musicians:-
In the Smasungs 2022 tablet lineup, Samsung Galaxy Tab S8 is the smallest of the three. The Samsung Galaxy Tab S8 is a robust and versatile tablet that offers most of what you'd anticipate from a top-tier product.
What makes it suitable for musicians?
This tablet has an 11-inch LCD, making it the only model in this lineup without an AMOLED display. I was pleasantly surprised by the 120Hz refresh rate that made working on the go easier with smooth navigation.
PROS
Extended battery life.

Strong network connectivity. 

Knox Security.
CONS
Absence of Keyboard cover. 

No AMOLED panel. 

DeX mode could be better.
Hardware and Performance
Equipped with Qualcomm Snapdragon 8 Gen 1 chip, the tablet has a powerful enough processor to multitask without a glitch. It is based on Android 12, which is upgradable to Android 13 One UI 5. I could run complex and resource-intensive engineering software apps like CAD, Data analysis, and CAE without a lag.
I own the 8GB RAM with 256GB storage variant of Galaxy tab S8. Besides this, it is also available in 128 GB storage. A microSD card slot is present, so you can store, manage, and access large amounts of data files without running out of space.
Using the 8,000mAh battery of the tablet, I was able to stream videos and work for 10 hours at maximum brightness. That is more than other tablets in the same range and equates to a full day of use. A charger of at least 45W can be recharged in 80 minutes.
Camera & Connectivity
Rear camera is a pair of 13MP primary cameras and a 6MP ultrawide camera. I found this great for taking on-site pictures and videos. The front camera is 12MP which does a solid job in clicking selfies and video calling. With Bluetooth 5.2, GPS, and WiFi 6 support, the tablet helps in staying connected with clients and collaborating in remote locations as well. The S Pen support is an excellent feature for jotting down notes and storing them virtually.
The new generation of iPad makes for an excellent device for casual use and light work. It is considered one of the budget-friendly Apple devices with a balance between functionality and affordability. iPad10th generation comes with some substantial upgrades from its predecessor. This tablet comes in different pops of colors like Blue, Pink, Yellow, and Silver.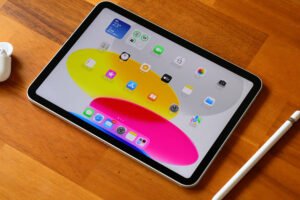 What makes it suitable for musicians?
You get a 10.9-inch Liquid Retina Display with IPS technology. I like how the true tone technology provides excellent color accuracy and reduces eye strain during long working sessions. With its sleek design and lightweight, it is easy to carry around; this is especially beneficial during on-site work.
PROS
OS supports a wide range of engineering apps. 

Long battery life.

Lightweight.
CONS
No expandable storage. 

Extra cost for accessories. 

Average quality display.
Hardware and Performance
A14 Bionic chip powers the iPad 10th generation, ensuring smooth and fast performance when running heavy engineering software or apps. When it comes to Operating Software, it runs on iPadOS 16. Apple claims a battery life of 10 hours on normal usage. The battery life is perfect for engineers working on the go or remotely.
Two storage variations are available for iPad 10th generation, i.e., 64GB and 256GB. I preferred a microSD slot to expand storage for storing large files and data. Both the front and rear cameras are 12MP. These cameras are great for capturing/field data and video conference meetings with clients or colleagues.
iPad 10th generation has cellular and WiFi models available. Compatibility with Apple Pencil (gen1) is an excellent feature allowing engineers to take notes and annotate drawings and ideas on the screen.
As Microsoft's latest tablet, P.C., Surface Pro 7 is designed with a professional-grade operating system. You can expect it to run most music-making applications like Avid Pro Tools, Magix Acid, DarkWave Studio, and more because it is a Windows-based tablet.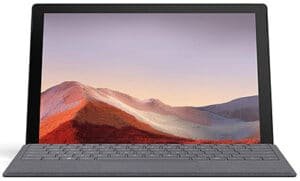 In my opinion, the Microsoft Surface Pro 7 is an excellent choice if you are a professional musician, thanks to its PC-like capabilities. If you are currently using a primary laptop to accomplish most of the heavy lifting, this can serve as an extension.
Furthermore, if you currently use the Pro 6, the Pro 7 provides a Type-C port that allows you to transfer music files, samples, and relevant data quickly.
What makes it suitable for musicians?
Musicians who perform gigs or manage multiple instruments like synthesizers, organs, and cellos should consider the Surface Pro 7 as a reliable investment. However, it has fast RAM, which lets you cope with multiple tasks seamlessly and allows you to make live synthesizers and collaborate in real-time, even during gigs.
Furthermore, you will have access to studio-grade far-field microphones, which are great for recording high-fidelity music. In addition, the front-firing stereo speakers are powerful enough for listening to information and resources, especially when combined with Dolby Audio technology for enhanced upward-firing, natural ambiance, and improved overhead acoustics.
Hardware Specifications of Surface Pro 7
Processor
Intel Core i5 10th Gen
RAM
8 GB
Storage
128 GB
Display
12.3″ Inch Retina display with 2736 x 1824
Camera
Rear- 8MP
Operating System
Windows 11
Battery Life
10.5 hours
Weight
1.7lbs
PROS
A keyboard is included in the package.

All PC apps are supported.

The display is bright and vivid.

Batteries that last longer.

Processor with high performance.
CONS
The quality of the camera is poor.

It's very expensive.
Display
Musicians do not often use tablets because the screen is usually too small to display sheet music. Microsoft addresses this problem by including a display that makes reading sheet music easy for performers. It is easy to view the sheets with a pretty high resolution, while the aspect ratio feels similar to paper music sheets.
Hardware and Performance
Intel's chipset is at the core of the Surface Pro 7, capable of maximum single-core speeds. A single-threaded environment is handy for musicians since most music-related applications and processes are single-threaded. In addition, Windows 10's software coverage is more extensive, and its interface is more interactive so that musicians can work more effectively.
To handle applications like Ableton Live Lite 9 and more efficiently, the low-power RAM is crucial. Additionally, the S.S.D. in play has a storage capacity of 128GB, which is more than adequate for storing music files. The micro-SD card, which can add additional storage, makes space upgrading easy.
It was easy to manage ambient sounds, noise-reduction, sampling, stuttered vocals, sheet loading, and pitch shifting with D.A.W.s like F.L. Studio and Ableton on this tablet P.C.
Conclusion
Considering its laptop-like capabilities, the Microsoft Surface Pro 7 is one of the best tablets for musicians. Its Wi-Fi 6 connectivity lets it establish high-speed internet connections as an alternative to other products on the list. One final standout feature of the Pro 7 is its 10.5-hour battery life which is decent enough for musicians if they use the tablets to produce music.
4. Apple iPad Pro – Best Tablet For Musicians
According to the charts, Apple iPad Pro is still ranked number one in portable music production. It is the proprietary M1 chipset that emboldens the tablet when it comes to music processing despite the impressive specs sheet.
Because of the decent screen real estate, the iPad Pro is fit for use as a smallish MacBook. Also, the iPad Pro 2021's upgraded RAM makes it a worthy upgrade to the iPad Pro 2020.
What makes it suitable for musicians?
Apple is one of the few O.E.M.s that offers studio-quality microphones for its tablets. With this feature, recording audio and voice is a breeze. Also included are four speakers that are loud, clear, and boast stereo capabilities.
Hardware Specifications of Apple iPad Pro 11″
Processor
Octa-core 4×2.5 GHz Vortex
RAM
4 GB
Storage
256 GB
Display
11-inch Retina display with 1668 x 2388 Resolution
Camera
Rear- 12+10 MP | Front- 7 MP
Operating System
iOS 12
Battery Life
10 hours
Weight
1.04 lbs
PROS
Trackpad Support.
Gorgeous Display.
Faster Chipset.
Better Cameras.
LiDAR Scanner.
CONS
Costly.
Processor Is Not A Major Upgrade.
Display
The Liquid retina will be easy to see in direct sunlight. You'll also find scratch-resistant glass to protect you against rough use. Its large screen and slimmer bezels serve as the perfect working interface for music production and reading sheet music.
Hardware and Performance
With iSpark, Retro Piano, and other processes, the M1 chipset handles the bulk of the work. 3.2GHz is a considerable clock rate for many applications, processes, and post-production tasks.
Despite its limitations, the iPadOS 14.5.1 is a reasonably intuitive and interactive O.S. Musicians. Audio professionals will find this tablet appealing because it has 8GB RAM and 128GB of storage space. 
Design and Peripherals
There is also a Thunderbolt 4 port, allowing the tablet to connect to external displays, digital audio workstations, or data hubs. You can also connect headphones and compatible external microphones to the magnetic connector.
Conclusion
The Apple iPad Pro 2021-variant is nothing less than a full-fledged laptop when it comes to music production. Although it has a triple camera setup at the back, the depth scanner enables it to record video and music higher than some other products on the list.
If the price is a concern, the Apple iPad Air is also a solid choice since it comes with an A14 chipset, a decent 10.9-inch screen, and a Type-C port. As well as being highly responsive, the iPad Pro and iPad Air both work with the Apple Pencil.
As an aspiring musician, the Microsoft Surface Go 2 is an excellent choice. In addition to exhibiting a user-friendly specs sheet, Windows compatibility comes across as the most heartening feature for budding performers.
This is a great mid-range tablet P.C. if you are into music production and small gigs. I recommend this phone because it has an all-inclusive feature set highlighted by a big screen and a battery life of up to 10 hours.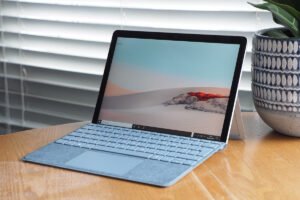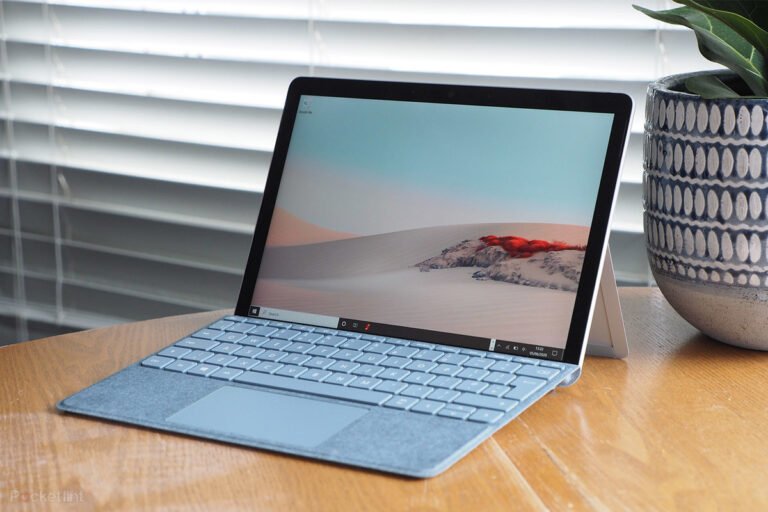 The Go 2 offers more powerful specs than the Pro 7 and Windows compatibility, making it more appealing to budding musicians. It also features a user-friendly specs sheet that makes it more attractive to budding musicians.
What makes it suitable for musicians?
Its dual studio-grade microphones qualify it as a reliable device for musicians interested in recording music to check voice consistency. The 2W speakers with stereo-like capabilities and Dolby Audio enhancement enhance the music-listening experience.
Hardware Specifications of Microsoft Surface Go 2
Processor
8th Gen Intel Core M3 / Intel Pentium Gold 4425Y
RAM
4 GB
Storage
64 GB/128 GB
Display
10.5″ PixelSense Display with 1920 x 1280 Resolution
Camera
Rear- 8MP
Operating System
Windows 10 Pro
Battery Life
10 hours
Weight
1.2 lbs
PROS
Bigger screen.
Core M3 processor option.
Runs any Windows app.
CONS
Very low performance ceiling.
Battery Life.
Keyboard Flex.
Display
About the screen, the Full HD panel is good enough to read sheet music on if that is important to you. What makes this sheet stand out, however, is its aspect ratio. This makes it easier to align the sheets with the Mason stand. Choral enthusiasts will appreciate the clarity of the resolution of the tablet.
Hardware and Performance
Intel Pentium processor and UHD graphics make up the heart of the system. It is suited for basic post-production tasks like noise removal from music as well as supporting app modelers.
If you want to explore the tablet's PC-like capabilities, Windows 10 in S Mode makes sense. You can jam live with high-speed RAM and extraordinary disk caching speeds. Its storage capacity is well worth the price. With a micro-SD card, you can still upgrade the same.
Conclusion
The Microsoft Surface Go 2 is an excellent tablet to consider if you are an aspiring performer and more used to the Windows ecosystem. If you like exclusives, Wi-Fi 6 support puts it at the top of the list.
The Samsung Galaxy Tab S6 Lite is a mid-range tablet with an exceptional battery that supports fast charging. The powerful processor makes this an excellent device for mid-level music producers, with its ability to run most apps with ease.
Despite the difference in RAM and storage support between the Galaxy Tab S6 Lite and the Tab A7, I found the former better for musicians.
What makes it suitable for musicians?
The Galaxy Tab S6 Lite is an excellent choice for musicians, audio engineers, and performers due to its high-quality microphone and high-fidelity audio recording support. It also comes with dual AKG-tuned speakers, which are well worth the investment. This is followed by Dolby Atmos' support for a more immersive acoustic experience.
Hardware Specifications of Samsung Galaxy Tab S6 Lite
Processor
Exynos 9611
RAM
4 GB
Storage
64 GB
Display
10.4″ Inch Retina display with 2000 x 1200
Camera
Rear- 8MP | Front- 5MP
Operating System
Android
Battery Life
12 hours
Weight
1.02 lbs
PROS
Bezels that are slim.

Quite long battery life.

Synchronization in DeX mode.

The package includes an S-Pen.

Lightweight and thin.
CONS
Front camera quality is average.

The Qualcomm processor could be improved.
Display
The Galaxy Tab S6 Lite features a decent screen with an industry-standard resolution. It is bright enough, and its aspect ratio corresponds to the format of paper-based sheet music.
Hardware and Performance
The processor makes up the tablet's core, which can handle essential D.A.W. functions and apps like a real pro, voice tuner, etc. The chipset is the Android 10 O.S., which works with the OneUI 3.1 and can be upgraded if needed.
As far as system memory is concerned, you get enough to work with. The storage capacity for recordings, synthesizers, and sheet music is 128GB, but it can constantly be upgraded if and when necessary.
Peripherals
A 3.5mm jack, followed by a Type-C port, is also available for connecting external speakers or microphones. Bluetooth 5.0 and dual-band Wi-Fi 5 are provided as connectivity options.
Conclusion
Considering the excellent cost-to-ownership ratio, Android tablets like this one make sense for musicians. Despite some of the other inclusions in the list, its battery makes this tablet stand out.
You can use the 9th Gen Apple iPad to read sheet music, manage tuners, and run specific music-related apps such as NanoStudio, Animoog, and more. This device has a lot of storage space for its price, but it's the scratch-resistant screen that stands out.
It even compares well with the older eighth-generation iPad, thanks to the faster processor, improved front camera, and more responsive operating system, i.e., iPad OS 15.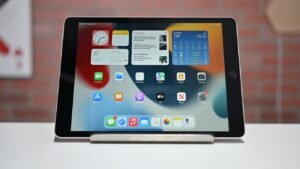 What makes it suitable for musicians?
Audio recording and playing must be noise-free for musicians. This is what the studio-quality microphones on this tablet are designed to accomplish. To get the best experience from the pre-recorded audio pieces, you should consider the stereo speaker setup.
Hardware Specifications of Apple iPad 9th Gen
Processor
A13 Bionic Chip
RAM
4 GB
Storage
64 GB
Display
10.2-inch Retina display with True Tone
Camera
Rear- 8 MP | Front- 12 MP
Operating System
iPadOS
Battery Life
10 hours
Weight
1.09 lbs
PROS
Cheaper then anyother ipad.
Display.
Build quality.
CONS
Smaller screen as compared to other.
Display
Sheet music of all types, including graphic notation and guitar tablature, can be displayed on the existing display.
Hardware and Performance
A13 Bionic is the chipset used by Apple, and as mentioned previously, your existing chipset can handle almost any task. The new iPadOS 15 offers an interactive user interface for the musician to use tools like tuners, voice modulators, and more in real-time.
Peripherals
A front-mounted fingerprint sensor, a lightning connector for charging, and a 3.5mm headphone jack for wired headphones or external mics.
Conclusion
Apple's iPad 2021 offers a 10-hour battery life which is also decent enough for musicians and a rear and front camera. In addition to the better display, the comprehensive specifications set it apart from the rest of the products.
The Lenovo Tab M10 Plus is one of the more affordable tablets on the list, characterized by its exceptional microphone arrangement and long battery life. For musicians who are more inclined towards recording their pieces and modulating or processing them at will, I recommend the same tablet recommendation.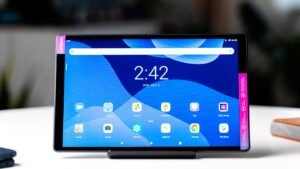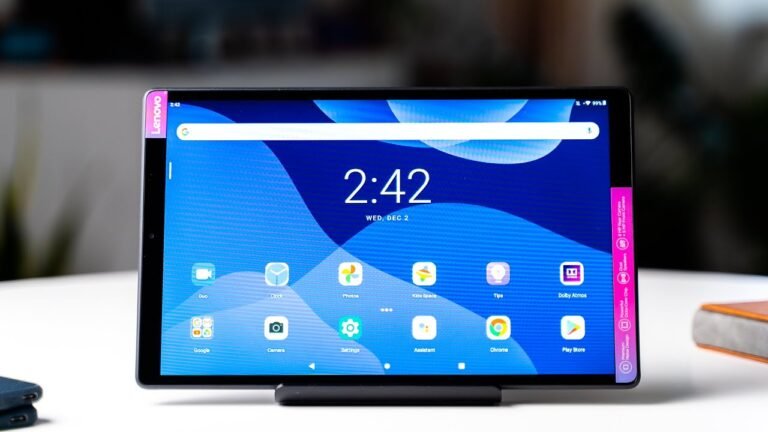 What makes it suitable for musicians?
The tablet comes equipped with dual microphones that are capable of recording audio of the highest quality. In addition to these, Lenovo offers a pair of side-adhesive speakers with Dolby Atmos for a more immersive audio experience.
su_row]
PROS
RAM that operates quickly.

Battery life is exceptional.

Display of excellent quality.

Processor with high performance.
CONS
The structure is flimsy.

Heats up a bit.
[/su_row]
Display
With an I.P.S. screen, this laptop is top-of-the-line. The pixels also contribute to the screen's quality and vividness. Furthermore, the aspect ratio is excellent if you enjoy reading notation and sheet music, such as lead sheets and musical staves.
Hardware & Performance
A Mediatek chipset resides at the core, boasting an octa-core architecture. Despite managing most apps and tools perfectly, the processor leads directly to the Android 9.0 Pie operating system for added professional versatility.
In addition, you'll get access to 4 G.B. of RAM and 128 GB of storage space. If you intend to store many recorded music and files, you can always upgrade the storage.
Peripherals
For quick data transfers, you can make use of the Type-C port on the peripherals.
Conclusion
Lenovo Tab M10 Plus is a go-to tablet for most musicians because of its excellent cost-to-ownership ratio, which separates it from some other products on this list.
A Tablet's Top Uses for Musicians :-
Sheet Music (Chord Charts and Tablature)
Get on board. This is no longer 1999. I think it's a waste of time and a headache to have all those printouts of sheet music and tablature lying around.
You can find a variety of digital sheet music apps these days that let you read chord charts with lyrics and scores and playback charts, transpose scores, and make setlists.
Sound Tools and Apps
A metronome, timer, amp modeler, digital music app, multitrack recording app, synth… any of these can be handled on a tablet. If you want to listen to music, you have to drag out your laptop or go to the other room to access your desktop every so often.
Thanks to a portable, lightweight tablet that solves all these annoying headaches, your playing and listening time will be more enjoyable.
Playing music
You're learning a new song on guitar; how can you nail that rhythm? Put your tablet in music mode, load up your player of choice, and start jamming.
If you're listening to your uploaded music collection or looking for inspiration from one of the many kinds of music streaming apps on your tablet, one thing's for sure: you'll have plenty of options to choose from.
Recording (at home and on location)
A tablet is one of the top gadgets every musician should own, whether they want to record regular practice progress clips, catalog song ideas, or create multi-track studio productions.
It's easier than ever to record music on the go when you pair up your tablet with devices such as the iRig and Line 6 Sonic Port and your favorite music software.
Tutorials on YouTube and online
The majority of things you need to know can be found in a video somewhere online, whether it's how to play that intro riff or how you change the bpm in your new music app.
A tablet is a wise choice for convenience alone, whether for work, research, or general browsing. Thanks to that extra screen space, squinting at your smartphone will become a thing of the past.
To remedy these deficiencies and get you the best value for your money, I have compiled a list of the best-rated tablets for musicians. You will use these devices to handle most of your requirements, regardless of your experience level.
Frequently Asked Questions:-
What kind of tablet does a musician use?
Musicians prefer tablets with larger screens, powerful microphones, and top-of-the-line speakers. To increase the effectiveness of the speakers, it is also preferable to have dedicated tuning technology on board.
Is it possible to record music on a tablet?
The tablet can record music if it has a microphone or a set of microphones. The recording quality, however, is determined by the microphones and technology.
What is the best way to show sheet music on my tablet?
When the tablet's dimensions match the paper sheets, sheet music can be displayed and read. For viewing sheet music quickly, you can always download apps like Mobile Sheets, Orpheus Sheet Music Reader, and MusicNotes. Lastly, if you want more control over the pages, it is always possible to pair wireless page-turning pedals.
Can iPads be used to make music?
The iPad is part of Apple's ecosystem, making the device capable of creating music using apps like Retro Piano, iSpark, and the Digital Audio Workstation in Garageband.
Are there any music production apps available for tablets?
BandLab, FL Studio Mobile, Sun Vox, Roland Zenbeats, and more are some of the best music production apps perfect for tablets. Groovepad is another option if you need a beatmaker to assist you with live jamming sessions.
Verdict
I have already outlined some of the best tablets for musicians, but you can choose from a wide range of handpicked options based on specific needs. Some of them include:
The Microsoft Surface Pro 7 is the premium tablet P.C. for those looking for Windows-like usability, ultrafast processing, and tablet-PC functionality.

The Apple iPad Pro is an excellent choice if you are steadfast about music production.

Samsung's Galaxy Tab A7 is a reliable tablet if you plan to play from different sheet music formats and files and produce music.

I would recommend the Huawei MediaPad M5 Lite if you are looking for a comprehensive specs sheet at an affordable price along with the best speaker arrangement.
Other than the tablets mentioned, you can always consider other tablets depending on your budget, recording capabilities, and other factors.
Howdy Geeks, I'm Andrew, a young passionate blogger, Tech Freak & a Gadget Lover. I help people in buying them the best tablet devices