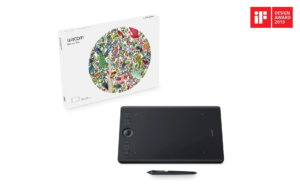 As a graphic designer, I understand the importance of having the right tools at my disposal. And when it comes to graphic tablets, the Wacom Intuos Pro is a name that stands out. This sleek and innovative device has become an integral part of my creative process, and I'm excited to share my experiences with you.
The Wacom Intuos Pro is not just a drawing tablet; it's a gateway to a world of limitless creativity. In this review, I'll walk you through the key features and benefits of this remarkable device, designed to enhance the way artists, illustrators, and designers work.
From its ergonomic design to its responsive pen and customizable shortcuts, the Intuos Pro has transformed the way I bring my ideas to life. So, let's dive into the world of digital artistry and discover how the Wacom Intuos Pro can be your ultimate creative companion.
Hardware Specifications of Wacom Intuos Pro
Dimension 
338 x 219 x 8 mm
Active Area
224 x 148 mm
Pen
Wacom Pro Pen 2
Sensitivity 
8192
Pen 
5080LPI
Keys
8 customizable keys
OS Support 
Windows, macOS
Weight
700 g / 1.54 lb
PROS
ExpressKeys and Touch Ring for shortcuts
Wireless options for flexibility
Customizable radial menu and pen buttons
Multi-touch gestures for navigation
CONS
Relatively higher price point
Requires connection to a computer
Wacom Intuos Pro Review: Design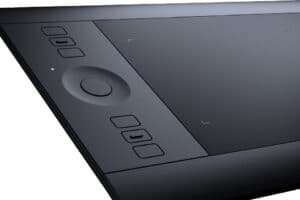 I recently got my hands on the Wacom Intuos Pro, and I'm thrilled to share my thoughts on its design. The Wacom Intuos Pro is a sleek and well-crafted graphics tablet that measures 338 x 219 x 8 mm (13.2 x 8.5 x 0.3 in). It's slim and lightweight, weighing just 700g (1.54 lb), making it incredibly portable and easy to carry around.
The tablet comes in a stylish black color, which not only looks professional but also adds a touch of elegance to my workspace. The matte finish on the surface gives it a premium feel and ensures that my hand glides smoothly while working on my digital art projects. The tablet also comes with Multi-touch support. If you visit the Wacom Desktop Center app, you can customize signs and touch gestures.
One of the standout features of the Intuos Pro's design is its active area, which measures 224 x 148 mm (8.7 x 5.8 in). This generous workspace provides ample room for drawing, sketching, and editing, allowing for precise and detailed work. The tablet also features 8 customizable express keys, which are strategically placed for easy access. These buttons are programmable, allowing me to assign them to my most-used functions and shortcuts, streamlining my workflow.
Additionally, the Intuos Pro boasts a touch ring with 4 customizable functions. This touch ring is a versatile tool that enables me to zoom, scroll, and adjust brush sizes with ease, making it a valuable addition to my creative toolkit.
The tablet includes a power on/off button for convenient control, ensuring that it's ready to use when I need it. In terms of connectivity, it offers both a USB Type-C port and Bluetooth Classic. This dual connectivity option gives me the flexibility to connect the tablet to my computer using a USB cable or go wireless via Bluetooth, depending on my preferences.
In summary, the design of the Wacom Intuos Pro is top-notch, with its slim and lightweight build.
Wacom Intuos Pro Review: Pen
In my journey as a digital artist, I've come across various tools and pens, but my experience with the Wacom Pro Pen 2, a part of the Wacom Intuos Pro, has truly been exceptional. Right from the outset, it's clear that this isn't just any stylus.
The Wacom Pro Pen 2 stands out with its resolution of 5080 LPI, which offers a highly detailed output. This ensures that my strokes and sketches are captured with great accuracy, making my artwork look sharper and more professional.
The Wacom Pro Pen 2 is pressure-sensitive, which has genuinely transformed my drawing and sketching experience. With a staggering pressure level of 8192, it has provided me with unparalleled precision. Whether I'm sketching lightly or pressing down for bolder strokes, the responsiveness is always on point, mimicking traditional drawing tools almost flawlessly.
One of the standout features for me is its cordless, battery-free design. This is powered by Wacom's patented electromagnetic resonance technology. Not having to worry about charging the pen or replacing batteries has allowed me to immerse myself in my work without any interruptions, which is a game-changer.
Another aspect that I found impressive is the pen's tilt support, which goes up to 60 degrees. This makes shading and nuanced strokes a breeze. Furthermore, it's comfortable in hand, weighing a mere 15g. The design seems to have ergonomics in mind, and even after hours of use, my hand doesn't tire.
Additionally, the two side switches on the pen come in handy for shortcuts and specific functions. This intuitive addition ensures that I don't have to constantly reach out to my keyboard or tablet buttons, streamlining my workflow.
In conclusion, the Wacom Pro Pen 2 is not just a stylus; it's a bridge between the artist and the canvas, helping translate imagination into art with utmost precision. If you're serious about digital artistry, this is one pen you shouldn't overlook.
Wacom Intuos Pro Review: Compatibility
When I first considered investing in the Wacom Intuos Pro, one of my main concerns was how well it would fit into my existing digital workspace. A tool is only as good as its ability to work seamlessly with the programs and systems I use. Fortunately, the Wacom Intuos Pro excels in its compatibility.
To start with, the tablet is effortlessly compatible with both Windows and macOS systems. I've tested it on machines running Windows 7 and later, as well as on a Mac with macOS 10.12, and the experience was consistently smooth across the board. The installation and setup were straightforward, and there were no hitches or glitches to speak of.
As someone who dabbles in various creative pursuits, I was particularly keen to see how the Intuos Pro would perform with different software. Whether you're a fashion designer, an animator, an architect, or even a filmmaker, this tablet has got you covered. Its versatility in seamlessly integrating with a broad spectrum of professional software is genuinely commendable.
For instance, I was thrilled to find that the tablet works flawlessly with programs like ibisPaint, MediBang paint, and Bamboo Paper. My sketches on Adobe Sketch and Infinite Painter were as fluid as if I were working with pen and paper. For more advanced design and editing tasks, tools like Concepts, Autodesk SketchBook, and Adobe Premiere Rush worked like a dream with Intuos Pro.
In summary, the Wacom Intuos Pro isn't just a piece of hardware; it's a universal key to the world of digital artistry. No matter your creative profession or preference in software, this tablet ensures that you're not just equipped but empowered to bring your visions to life.
Wacom Intuos Pro Review: Accessories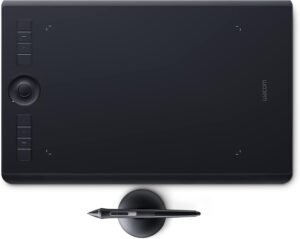 The Wacom Intuos Pro not only shines in its primary functionality but also impresses with its thoughtfully designed accessories, enhancing the overall user experience.
The inclusion of the pen stand is a small yet crucial detail that I absolutely adore. It's not just a place to rest the stylus; it also houses replacement nibs, ensuring they're always within reach. Speaking of which, the 10 replacement nibs provided are a testament to Wacom's understanding of artists' varied preferences.
Having a mix of 6 standard nibs and 4 felt nibs offers me the flexibility to choose the one that best suits my project's needs or my personal drawing style. Switching between the nibs is straightforward, and having them stored in the pen stand ensures I don't misplace them.
Lastly, the 2m (6.6ft) PVC-free USB cable is both environmentally conscious and generously long, providing ample freedom of movement when I'm working wired. This flexibility allows me to find the most comfortable position, whether I'm at my desk or lounging on my couch.
To sum it up, every accessory that accompanies the Wacom Intuos Pro feels purposeful and is a testament to the brand's commitment to offering a holistic drawing and designing experience. It's not just about the tablet; it's the ecosystem around it that elevates the entire experience.
[Video Credit – Cladio Juliano]
Conclusion
After spending a lot of time with The Wacom Intuos Pro and having navigated through its features, design, compatibility, and the thoughtful accessories that come with it, it's evident that this device is a synthesis of innovation and user-centric design. The tablet seamlessly bridges the gap between the tactile feel of traditional art and the limitless possibilities of digital creativity.
Whether you're a seasoned professional or someone just embarking on their digital art journey, the Intuos Pro offers a fluidity that makes the transition almost intuitive. Its compatibility with both Windows and macOS, along with its synergy with top-tier creative software, underscores its versatility. And the accessories, especially the Wacom Pro Pen 2, amplify the drawing experience manifold.
In conclusion, the Wacom Intuos Pro is more than a tool; it's a partner that understands an artist's needs, making the process of creation not just simpler but also more enjoyable. If you're on the lookout for a tablet that offers both premium features and exceptional value, look no further. The Intuos Pro is, in my opinion, a pinnacle in its category.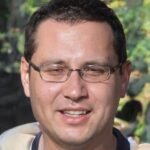 Ben Scott is a prominent technology journalist and reviewer, specializing in tablet devices. He is known for his comprehensive and unbiased reviews of tablets from various manufacturers.
With a deep understanding of tablet technology, including hardware components, operating systems, and software applications, Scott provides clear and informative reviews accessible to readers of all levels of technical expertise.
His attention to detail and in-depth analysis have earned him a loyal following of readers.