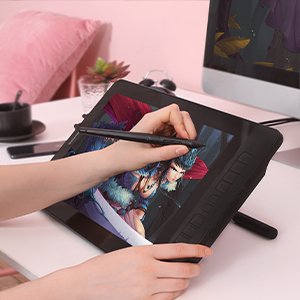 In today's digital age, finding the right tool that can meet multiple needs is crucial. Enter the GAOMON PD1560 Drawing Tablet. Immediately, it became evident to me that this wasn't just another gadget on the shelf. Designed with versatility at its core, the tablet seems to understand the nuances of diverse fields.
For online teaching, clarity and precision are key. With this tablet, lessons come to life, making learning interactive and engaging. Transitioning to digital art, the tablet offers a canvas that feels expansive and intuitive. Every stroke, every shade, and every design element can be executed with precision, reflecting the artist's true intent.
But the GAOMON PD1560 doesn't stop there. For tasks that require intricate detailing like 3DMAX, the tablet's responsive surface and high-definition display come as a boon. It offers a level of detail and clarity that's hard to find elsewhere. And for those who live in the animated world, be it simple animations or full-blown animation production, this tablet promises to be a reliable companion. It simplifies the complex process of animation, allowing creators to breathe life into characters and scenes effortlessly.
All in all, the GAOMON PD1560 Drawing Tablet isn't just a piece of technology. It's a partner, an ally, designed to help users seamlessly merge their vision with the digital realm. Whether you're teaching, designing, modeling, or animating, this tablet seems ready to make the journey smoother and more efficient.
GAOMON PD1560 looks, feels, and performs like a much more expensive piece of hardware. But even though the PD1560 tends to be on the prohibitively expensive side like most of the pen displays. I have been using this tablet for a few months and feel that it is sufficient for hobbyist and professional work. It is among the best tablets for artists in 2023.
Hardware Specifications of GAOMON PD1560
Display 
15.6 Inches | 1920 x 1080 (FHD)
Dimension 
17.8×9.9×0.8inch
Active Area
13.5×7.6inch
Pen
GAOMON Artpaint AP40
Sensitivity 
8192
Pen 
5080LPI
Keys
10 customizable shortcut keys
OS Support 
Windows, macOS
Weight
1.58KG
PROS
Widescreen.
Pen Sensitivity.
Shortcut buttons.
With gloves
CONS
Glossy screen.
Complicated settings.
GAOMON PD1560- Design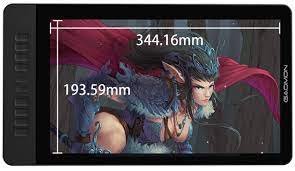 When it comes to drawing tablets, design matters a lot. After all, it's the first thing you notice before you even turn it on. So, let's talk about the GAOMON PD1560 Drawing Tablet and how its design measures up.
Starting with its size, the tablet boasts dimensions of 17.8×9.9×0.8 inches. This gives a large workspace without it being too bulky. Perfect for those who like a bigger canvas but still want something manageable. Its sleek black color gives it a professional look, making it visually appealing on any desk or workspace.
The weight of the tablet is around 1.58 kg. Now, while that might seem a tad heavy for some, I found it to be quite sturdy and reassuring. It doesn't feel flimsy or delicate, which is a big plus for me.
Now, the 10 Customized Press Keys on the side caught my attention. These keys can be set up to suit your workflow, and having them easily accessible makes tasks faster and more intuitive. I no longer need to constantly go back and forth between the tablet and the computer. There are also 5 Menus Button placed on the left side of the display: AUTO / + / – / MENU / POWER.
The video interfaces, which include a Mini HDMI and USB-C, are a nod to the tablet's adaptability. These options ensure that connecting to various devices remains hassle-free, which is a relief in today's diverse tech ecosystem.
In conclusion, the design of the GAOMON PD1560 Drawing Tablet feels well thought out. It's user-friendly, looks good, and offers a comfortable workspace. Whether you're sketching, drawing, or even just navigating, the design aspects of this tablet certainly enhance the overall experience.
GAOMON PD1560- Display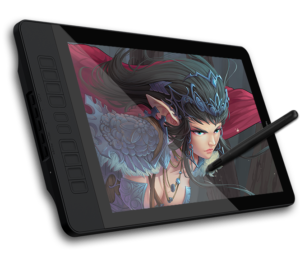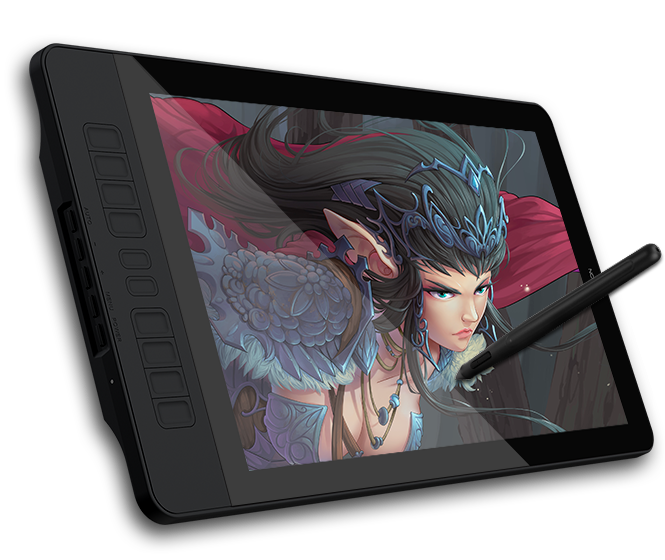 When diving into the world of digital art or any visual task, the display of your tablet is where the magic happens. And with the GAOMON PD1560 Drawing Tablet, I was keen to see if its screen matched its impressive design. Spoiler alert: It did.
The first thing you'll notice is the ample display size of 15.6 inches. This offers a comfortable workspace, allowing for broader strokes and better detail without constantly zooming in and out. The resolution is a crisp 1920 x 1080 (FHD), ensuring your artwork or any visual content looks sharp and clear.
Now, let's talk about the type of screen. It's an IPS LCD, which, in simpler words, means the colors are vibrant and true to life. This type of display also means you get consistent and accurate colors no matter which angle you're viewing it from, especially with its wide 178° viewing angle.
The active drawing area, which measures 344.16 × 193.59mm(13.5×7.6 inches), gives ample space for creative freedom. It feels neither too constrained nor too vast.
Brightness is an essential factor, and at 220 nits, this tablet offers enough luminance for indoor use. Colors stand out with a spectrum of 16.7M (8bit) and a gamut volume of 72% NTSC, making your artwork pop.
Other technical aspects like the 1000:1 contrast ratio and a 25ms response time all contribute to the smooth, lag-free drawing experience.
Lastly, the Anti-glare Protective Film is a delightful addition. It not only protects the screen but also reduces those pesky reflections, ensuring your eyes remain comfortable during prolonged use.
All in all, the display of the GAOMON PD1560 Drawing Tablet genuinely compliments the artist's journey, ensuring every stroke, shade, and detail is captured just as you imagined.
GAOMON PD1560- Compatibility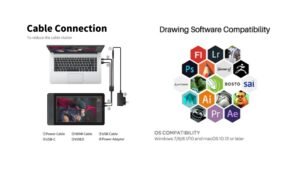 For anyone diving into digital creativity, one vital question always comes up: "Will this tablet work with my computer and software?" Well, with the GAOMON PD1560 Drawing Tablet, I found some reassuring answers.
Firstly, when it comes to OS support, this tablet is friendly with a broad spectrum of users. Whether you're on Windows 7 or any later version, or if you're a macOS enthusiast with version 10.12 or later, the PD1560 will integrate smoothly. This wide OS support ensures that a majority of users, whether they're team Apple or Windows, can jump in without a hiccup.
Now, moving on to its practical applications. The GAOMON PD1560 is not a basic drawing tablet. It's designed as an ideal tool for various tasks. Online teaching, Digital art, or 3DMAX, and for those who are into animation production, this tablet has your back. The versatility truly stands out.
When it comes to software, I was delighted to see its adaptability. For artists who are budget-conscious or just starting and prefer free drawing programs, the PD1560 works seamlessly with software like Krita, GIMP, FireAlpaca, MediBang Paint, Inkscape, and even Blender. On the flip side, if you're a professional or someone who doesn't mind investing in premium software, this tablet is compatible with big names like Photoshop, Adobe Illustrator, Clip Studio Paint, SketchBook, and Sai version 2.
In essence, the GAOMON PD1560 Drawing Tablet ensures that no matter your platform or software preference, your creativity faces no boundaries. It's like a universal key, ready to unlock any door in the world of digital creation.
GAOMON PD1560- Pen Sensitivity
Using a drawing tablet often boils down to the feel and performance of its pen. In the case of the GAOMON PD1560 Drawing Tablet, I was introduced to the GAOMON Artpaint AP40. And here's my hands-on experience with it.
The first feature I noted was the inclusion of Two User-defined Press Keys on the pen. This is a thoughtful addition, allowing for quick shortcuts, enhancing my workflow, and making my drawing sessions more efficient.
The Pressure Sensitivity of the pen, standing at 8192 Levels, was a game-changer for me. Each stroke I made, whether a faint line or a bold sketch, was perfectly captured. This sensitivity, paired with a Pen Resolution of 5080LPI, meant my drawings were as detailed as they could get. Every line felt precise and fluid.
The pen's speed was hard to miss. With a Report Rate of 233PPS, the immediate feedback made the drawing feel incredibly organic. It was like the digital canvas was directly reacting to my pen in real time. The Accuracy of ±0.5mm in the center and ±3mm at the corners reassured me of consistent precision throughout the tablet.
I also found the Sensing Height of 10mm handy. I could hover the pen slightly above the tablet before committing to a stroke, a feature that felt reminiscent of traditional sketching. The Tilt functionality, allowing a generous ±60°, added to the pen's realism, especially when I tried my hand at different shading techniques.
Now, while the GAOMON Artpaint AP40 boasts Battery-free Electromagnetic Resonance technology, ensuring I'm not routinely charging it, the Flexible Charging Experience is worth mentioning. On the rare occasions it needed power, I could connect it to various sources, be it a power bank, computer, or an adapter. The red LED indicator was a simple yet effective way to notify me of its charging status.
In summary, the GAOMON Artpaint AP40 is a brilliant companion to the PD1560 Drawing Tablet. Every feature feels like it's been crafted with the artist in mind, ensuring an effortless and enjoyable drawing experience.
GAOMON PD1560- Accessories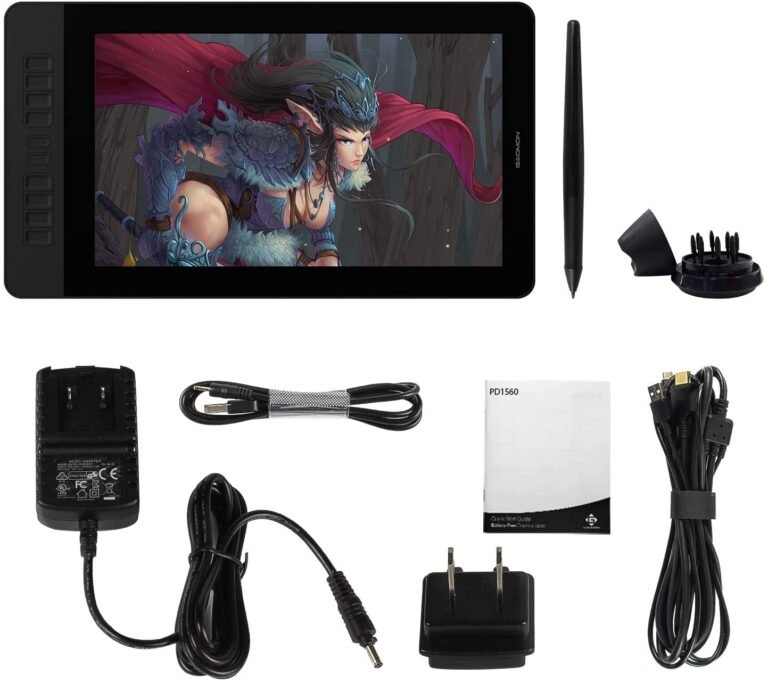 When I unboxed my GAOMON PD1560 Drawing Tablet, I was pleasantly surprised by the range and utility of the accessories that came with it. Here's a breakdown of each and my personal experience using them.
Firstly, the Rechargeable Pen stands out. Though the pen itself rarely requires charging thanks to its efficient design, the fact that it's rechargeable adds an element of convenience. This is especially true since it comes with its Pen Charging Cable. It's straightforward to use, and I never found myself searching for a compatible charger, which is a big plus.
The Pen Holder has been a nifty addition to my workspace. Not only does it ensure my pen has a designated spot, reducing the chances of misplacing it, but it also contains a Tip Clip and 8 Replacement Nibs inside. Having these replacements at hand has been great. The Tip Clip makes changing nibs a breeze, ensuring that the pen feels brand new with each change.
The Adjustable Stand is another thoughtful accessory. I often adjust it depending on my drawing posture or the angle I'm most comfortable with, and it has never let me down in terms of stability.
I was genuinely thankful for the Protect Bag. It's a simple addition but invaluable for someone like me who occasionally travels or moves around. The bag ensures my tablet remains scratch-free and safe from external factors.
One accessory I found particularly useful was the glove. Not only does it help in maintaining a smooth glide across the screen, but it also prevents smudges and keeps the display clean during longer drawing sessions.
Lastly, the USA STD Adapter and the 3-in-1 Cable simplify the connection process. The 3-in-1 Cable, especially, reduces clutter and the usual mess of tangled wires, making the setup process straightforward.
In conclusion, the accessories of the GAOMON PD1560 Drawing Tablet are not just afterthoughts. They enhance the overall user experience, making the tablet feel like a comprehensive kit ready for any artistic challenge.
GAOMON PD1560- Setup Process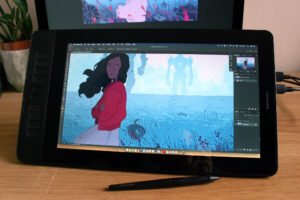 Setting up the hardware was, unfortunately, not particularly intuitive as the stand requires some screwdriver but that was easy enough and all of the required tools come included. But getting the drivers and tablet to work on my PC took way longer than it needed to, and I only got there after a few reboots which kind of hampered my user experience.
A couple of different issues including a non-responsive screen, followed by a repeatedly blinking screen happened but seemingly fixed themselves after a driver update. I'm not sure if this was an issue with the driver or my computer, but it definitely influenced my first impression which was kind of disappointing for the price I paid.
There may have been a few setbacks initially, but the tablet ran pretty smoothly afterward, I tried it both with Photoshop and Sketchbook and both worked pretty well.
Conclusion
After spending considerable time with the GAOMON PD1560 Drawing Tablet, it's clear that it's more than just another tablet in the crowded market. Its design is both functional and aesthetically pleasing, offering a solid platform for various tasks. Whether it's online teaching, animation production, or delving into digital art with programs like 3DMAX, this tablet effortlessly meets the demands. The expansive 15.6-inch FHD display, with its accurate color reproduction and anti-glare protection, ensures that every stroke is vividly and accurately represented.
The pen, with its high sensitivity and battery-free technology, offers a seamless drawing experience, akin to using traditional mediums. Add to this the vast compatibility with both free and paid drawing programs, and it's evident that GAOMON has poured thought into every aspect of this tablet. The variety of accessories, from the glove to the adjustable stand, further accentuates the user experience. In summary, the GAOMON PD1560 isn't just a tool; it's a companion for every digital artist and educator, making the digital transition smooth and enjoyable.
Howdy Geeks, I'm Andrew, a young passionate blogger, Tech Freak & a Gadget Lover. I help people in buying them the best tablet devices