Stepping into the world of compact yet powerful computing devices, the Microsoft Surface Go 2 caught my attention. It's evident that Microsoft envisioned a blend of portability and functionality when crafting this tablet.
Sized just right for both work and play, the Surface Go 2 promises to be more than just your average tablet. It's lightweight, yet packs a punch performance-wise. And while it's positioned as an entry-level option in the Surface lineup, its features suggest a device that's aiming higher.
With a display designed for clarity, backed by a hardware setup meant to streamline daily tasks, it serves as a testament to Microsoft's commitment to quality. Whether you're a student, a traveling professional, or someone seeking a reliable companion for digital creativity, the Surface Go 2 beckons with potential. As I embark on this exploration, it's clear that Microsoft has placed a bet on versatility and convenience with this device. And in these initial impressions, it seems like a bet that's paying off.
Hardware Specifications of Microsoft Surface Go 2
Processor
8th Gen Intel Core M3 / Intel Pentium Gold
RAM
4 GB, 8 GB
Storage
64 GB/128 GB
Display
10.5″ PixelSense Display with 1920 x 1280
Camera
Rear – 8 MP | Front – 5 MP
OS
Windows 10 Home
Battery Life
10 hours
Weight
544 grams
PROS
Bigger screen.
Core M3 processor option.
Runs any Windows app.
CONS
Very low performance ceiling.
Battery Life.
Keyboard Flex.
Microsoft Surface Go 2 Review: Design And Display
Navigating the sleek world of modern tablets, the Microsoft Surface Go 2 stands out with its impeccable design and impressive display. Let me delve a bit deeper into my experiences with this device.
The moment you hold the Surface Go 2, its premium feel is evident. Weighing just 544g, it's pleasantly light in the hands. The dimensions of 245 mm x 175 mm x 8.3 mm make it compact, but it's the magnesium alloy case that amplifies the tablet's luxurious appeal. The platinum color is understated yet elegant, seamlessly blending with both professional and casual settings.
When it comes to the display, Microsoft has equipped the Surface Go 2 with a 10.5-inch PixelSense Display. This isn't just any ordinary screen; the resolution of 1920 x 1280 ensures crisp visuals, making content come alive with 2.45M pixels. I found reading articles, watching videos, or just browsing the web to be an absolute delight. The 10 point multi-touch feature makes navigation smooth, and with a refresh rate of 60 Hz, everything feels fluid. And, with a pixel density of 220 PPI, images and text look sharp. A noteworthy addition is the Corning Gorilla Glass 3 that offers an added layer of protection against unexpected knocks and scratches.
In conclusion, the design and display of the Surface Go 2 are both functional and aesthetically pleasing. It's clear that Microsoft has taken great care to craft a tablet that not only looks good but performs exceptionally when it comes to visuals.
Microsoft Surface Go 2 Review: Camera and Features
The Microsoft Surface Go 2's camera and features have been my go-to for both work and play, offering an immersive and versatile experience. Here's my straightforward review of its camera setup and primary features.
Starting with the camera, the 8.0 MP rear-facing auto-focus camera captured moments with a good level of clarity. It supports 1080p HD video recording, which has come handy during some of my vlogging moments or when capturing memories with friends and family.
Switching to the front, the 5 MP camera, while decent for video calls and the occasional selfie, is further elevated by the Windows Hello face authentication feature. This added layer of security, using the front-facing camera, makes logging in a breeze, ensuring that my tablet is secure from prying eyes.
Sound quality, often a overlooked factor, gets its due attention in the Surface Go 2. The 2W stereo speakers, paired with Dolby Audio, create a balanced sound environment, be it while watching movies or attending video meetings. The Dual Studio Mics further ensure clear voice pick-up, crucial during online meetings or voice recordings.
Connectivity is robust. The Bluetooth 5.0 support ensures quick pairing with various devices, while the Wi-Fi (supporting IEEE 802.11a/b/g/n/ac/ax standards) maintains a steady and fast internet connection. For those on the go, the LTE Advanced feature, powered by the Qualcomm Snapdragon X16 LTE Modem, is invaluable, providing 4G LTE Advanced support across 22 Bands. And, the inclusion of GPS/GLONASS and GNSS ensures precise location tracking.
Lastly, the onboard sensors, including the ambient light sensor, accelerometer, gyroscope, and magnetometer, add layers of functionality to this already feature-packed device, adjusting display brightness, or aiding in various applications that require movement detection. It comes with 1-year limited hardware warranty.
In essence, the Microsoft Surface Go 2 has managed to weave in both utility and convenience in its camera and feature offerings, making it an optimal choice for those seeking functionality without compromise.
Microsoft Surface Go 2 Review: Hardware and Performance
My journey with the Microsoft Surface Go 2 in terms of its "Hardware and Performance" has been quite impressive, and here's why.
The heart of this device is the 8th Gen Intel Core M3-8100Y processor. With its dual-core setup, it manages everyday tasks quite seamlessly. From browsing multiple tabs to editing documents or watching videos, the Surface Go 2 has tackled it all without any hiccups. The max turbo speed of 3.4 GHz ensures that even demanding applications load up swiftly. With 4 MB of cache and 64-bit computing support, the overall computing experience feels optimized and swift.
When it comes to graphics, the Intel UHD Graphics 615 handles it pretty well. While I wouldn't say it's meant for heavy-duty gaming, it's perfectly capable of handling casual gaming, video playback, and basic graphic tasks without breaking a sweat.
Speaking of multitasking, the RAM options of 4GB and 8GB have played a pivotal role. The 8GB variant, in particular, feels more breezy and responsive, especially when juggling between multiple applications.
Storage is another strong point for the Surface Go 2. With choices ranging from a 64GB eMMC to a 256GB SSD, the device caters to both casual users and those needing more space for files and applications. The SSD versions, undoubtedly, offer faster boot times and quicker file access. And if that's not enough, the microSDXC card reader has been a lifesaver, allowing me to expand the storage even further.
In conclusion, the Microsoft Surface Go 2 has proven to be a reliable companion in the hardware and performance department. It strikes a good balance between everyday productivity and entertainment, offering a smooth experience tailored for modern users like myself.
Microsoft Surface Go 2 Review: Software and Battery Life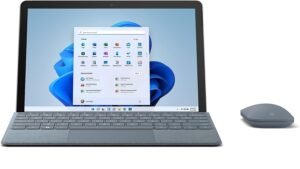 Navigating through the software realm of the Microsoft Surface Go 2 has been a noteworthy journey. Here's my candid take on its software capabilities and battery longevity.
First off, the device comes with Windows 10 Home in S mode, a streamlined version that's secure and performance-optimized. For those unfamiliar with S mode, it primarily allows apps from the Microsoft Store, ensuring safety and optimized performance. However, if you're someone like me who requires a broader range of applications, the free upgrade to Windows 11 is a pleasant addition. Transitioning to Windows 11 was a breeze, bringing in a host of new features and a refreshing interface.
Now, the Microsoft 365 Family one month trial was the cherry on top. It let me dive into a world of productivity with apps like Word, Excel, and PowerPoint. Plus, the integration between the OS and Microsoft 365 felt seamless.
A significant software attribute that can't be overlooked is security. With the Firmware TPM and enterprise-grade protection, I felt reassured about my data's safety. The Windows Hello face sign-in is quick and offers an extra layer of protection, making logging in both secure and convenient.
Diving into battery life, the Surface Go 2 houses a 26.81 Wh battery, which, in my experience, delivered close to the promised 10 hours on mixed usage. This longevity meant I could get through a day of work or leisure without constantly reaching for the charger. Speaking of which, the 24W proprietary Surface Connect power supply ensures decent charging speeds. Additionally, the USB Type-C 3.1 Gen 1 port is versatile, supporting OTG and even charging if you're on the move and forget the main charger.
In summary, the Microsoft Surface Go 2 excels in software, with its seamless Windows experience and top-notch security features. The battery life complements the software, ensuring you have enough juice to enjoy the device's offerings. For someone seeking a blend of productivity and reliability, the Surface Go 2 doesn't disappoint.
Conclusion
After spending considerable time with the Microsoft Surface Go 2, I've come to a few solid conclusions. This compact device has showcased a seamless blend of performance, design, and utility, fitting perfectly for both work and leisure. The 10.5-inch PixelSense Display delivers vivid visuals, while the device's hardware ensures smooth multitasking. With Windows 10 Home and the promising upgrade to Windows 11, the software front stands out, offering both security and versatility.
The integrated cameras and features, like Windows Hello, enhance both productivity and security. And the battery? It's dependable for a full day's use. For someone on the go, or anyone in need of a reliable secondary device, the Surface Go 2 proves to be a compelling choice. Its thoughtful design, combined with top-notch software and dependable battery life, makes it a standout in the market. If you're looking for a tablet that can double up as a mini workhorse, the Microsoft Surface Go 2 should be high on your consideration list.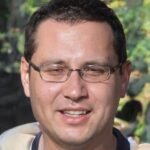 Ben Scott is a prominent technology journalist and reviewer, specializing in tablet devices. He is known for his comprehensive and unbiased reviews of tablets from various manufacturers.
With a deep understanding of tablet technology, including hardware components, operating systems, and software applications, Scott provides clear and informative reviews accessible to readers of all levels of technical expertise.
His attention to detail and in-depth analysis have earned him a loyal following of readers.