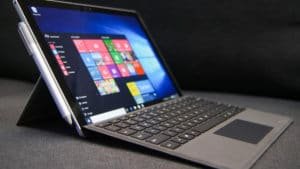 Introducing the Microsoft Surface Pro 4, a marvel that reshaped my perceptions of modern devices. This isn't just another piece of tech; it's the fusion of the convenience of a tablet with the robustness of a laptop. Right from the start, its versatility caught my eye. One moment I'm typing away in laptop mode, and the next, I'm sketching and browsing in tablet mode.
What's more, it's not just about flexibility. The Surface Pro 4 delivers exceptional performance, making multitasking a breeze. Every task, whether big or small, is handled with ease, showcasing the advanced technology packed within its sleek frame.
Then, there's the Surface Pen. Honestly, it was a game-changer for me. Scribbling notes, doodling, or professionally sketching became intuitive and natural. It felt like a traditional pen but supercharged with tech.
Moreover, the inclusion of Office 365 Personal added another layer of productivity to the mix. With familiar tools at my fingertips, tasks like creating presentations or crunching numbers in spreadsheets became seamless.
In essence, the Microsoft Surface Pro 4 provides a good experience, blending cutting-edge technology with everyday functionality. For someone looking to strike a balance between work and play, this might just be the perfect companion.
Hardware Specifications of Microsoft Surface Pro 4
Processor
6th Generation Intel Core m3, i5, or i7
RAM
4GB, 8GB, or 16GB RAM
Storage
128GB, 256GB, 512GB, or 1TB
Display
12.3-Inch | 2736 x 1824  Pixels
Camera
Rear – 8 MP | Front – 5 MP
OS
Windows 10 Pro
Battery Life
Up to 9 hours
Weight
M3: 1.69lbs | I5: 1.73lbs | I7: 1.73lbs
PROS
High-resolution PixelSense display
Versatile 2-in-1 design (tablet and laptop)
Powerful performance
Good selection of available accessories
CONS
Relatively high price point
Type Cover keyboard sold separately
Decent battery life
Microsoft Surface Pro 4 Review: Design and Display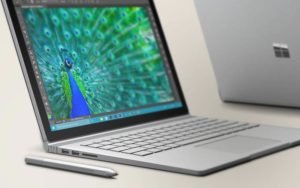 When I first held the Microsoft Surface Pro 4 (i5 model), the very first thing that grabbed my attention was its impeccably sleek design. With dimensions of 11.50" x 7.93" x 0.33", it felt compact yet spacious enough for all my activities. And I was also quite surprised by its weight only 1.73lbs (786g). This lightweight design, paired with its smooth silver color and sturdy magnesium casing, truly radiates a blend of elegance and resilience.
Transitioning to the display, I was in for a visual treat. Boasting a 12.3" PixelSense Display, the vibrancy and clarity were undeniable. With a resolution of 2736 x 1824, and a pixel density of 267 PPI, every image, video, and text looked crisp and vivid. Moreover, the 3:2 aspect ratio ensured an expansive viewing area, making multitasking smoother.
Additionally, the contrast ratio of 1300:1 further enhanced the viewing experience. Colors seemed true-to-life, thanks to the 100 percent sRGB color accuracy. Now, touching the screen was a pleasure in itself. The 10-point multi-touch was responsive and intuitive, allowing me to interact effortlessly.
But what truly fortified my trust in its design was the Corning Gorilla Glass 4. Not only did it promise durability, but it also assured me of a scratch-resistant surface, meaning my device would look pristine for a long time.
In a nutshell, the design and display of the Microsoft Surface Pro 4 are thoughtfully crafted, merging aesthetics with top-notch functionality. It's not just about looks; it's about experiencing technology at its finest.
Microsoft Surface Pro 4 Review: Camera and Features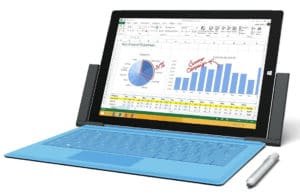 Diving into the camera and features of the Microsoft Surface Pro 4, I was genuinely excited about the prospects it held. Starting with the front-facing camera, the 5.0MP lens paired with 1080p Skype HD video became a game-changer for my virtual meetings. It's not the best in class but provides decent quality in video calls, also the Windows Hello face authentication, integrated into the front camera, added an extra layer of security with its swift and seamless recognition.
Switching over to the rear, the 8.0MP autofocus camera didn't disappoint either. Shooting 1080p HD videos was a breeze, and the images captured were sharp with good color representation.
Moving on to the audio, the stereo speakers with Dolby Audio Premium resonated with a rich and clear sound, making my binge-watching and music sessions all the more immersive. Complementing this, the stereo microphones ensured that while on calls or recording, my voice stood out crisply and clearly.
Transitioning to the connectivity features, I was elated with the range of options. The full-size USB 3.0 port connects a USB accessory like a mouse, printer, Ethernet adapter, USB drive, or smartphone, while the Surface Connect ensures efficient charging.
Additionally, expanding storage with the MicroSD card slot or connecting to larger displays using the Mini DisplayPort version 1.2 became hassle-free. The 3.5mm headset jack was a classic touch, and the Cover connectors hinted at the device's adaptability.
On the wireless front, the device excelled with Wi-Fi 5: IEEE 802.11 a/b/g/n/ac, ensuring fast and stable internet connectivity. And, with Bluetooth Wireless 4.0 technology, pairing devices was swift and hassle-free.
Lastly, I can say Microsoft Surface Pro 4 provides decent camera quality and lots of useful features for day-to-day tasks. Other features are the same as the previous one.
Microsoft Surface Pro 4 Review: Hardware and Performance
Jumping right into the heart of the Microsoft Surface Pro 4 – its hardware and performance – I found myself awed by its sheer power and finesse. Firstly, the choice between the 6th Generation Intel Core m3, i5, or i7 processors catered to a range of user needs. Personally, I opted for the i5, and it effortlessly handled my multitasking demands, from browsing multiple tabs to running intensive applications.
Diving deeper into graphics, the integrated GPU options were impressive. For the m3, it sports the Intel HD graphics 515; for the i5, you get the Intel HD graphics 520, and the i7 is equipped with the formidable Intel Iris graphics 540. Being an avid fan of visual content and light gaming, my i5 with its Intel HD graphics 520 rendered vibrant visuals and smooth animations consistently.
Transitioning to memory, the Surface Pro 4 offers a spectrum: of 4GB, 8GB, or a whopping 16GB of 1866 MHz LPDDR3 RAM. My 8GB variant ensured seamless app switches, quick boot-ups, and efficient operations, even during those long work marathons.
In terms of storage, there's a bounty of SSD options ranging from 128GB to a vast 1TB. My choice, the 256GB SSD, provided a sweet spot of space and speed, ensuring lightning-fast data access and ample room for all my files and software.
Lastly, the inclusion of an array of sensors, like the ambient light sensor, accelerometer, gyroscope, and magnetometer, showcased the device's knack for adaptability. The ambient light sensor, in particular, adjusted the screen brightness according to my environment, making for a comfortable viewing experience.
To sum it up, the Microsoft Surface Pro 4 is a powerhouse, with top-tier components and sophisticated engineering. Whether you're a casual user or a power user, its hardware prowess ensures you're equipped for any task at hand.
Microsoft Surface Pro 4 Review: Software And Battery Life
Kicking off with the software aspect of the Microsoft Surface Pro 4, my experience was enhanced by the inclusion of Windows 10 Pro. As a seasoned Windows user, I found the OS to be highly intuitive and optimized for touch interaction.
The flexibility it offers, especially with features like snapping apps side-by-side or the action center, significantly boosted my productivity. Furthermore, the bundled Microsoft 365 30-day trial was a treat, allowing me to dive into tools like Word, Excel, and PowerPoint right out of the box.
Now, on the security front, I was thoroughly impressed. The HW TPM 2.0 chip ensures enterprise-grade security, which for someone who often works with sensitive data, is paramount. Moreover, the addition of Windows Hello face sign-in is not just a fancy feature; it's practical. Logging in using facial recognition felt futuristic, and above all, it worked seamlessly every single time, offering both speed and security.
Transitioning to battery life, the 38.2 Wh battery promises up to 9 hours of video playback. During my usage, it held up well, consistently delivering around 8 hours with moderate tasks like browsing, document editing, and occasional video streaming.
The 36W proprietary power supply ensures rapid charging, getting me back to full juice in no time. Moreover, the power supply's added functionality, like the USB-A output offering 5W and the Surface Connect pushing 31W, made it more than just a charger, but rather a versatile tool. Here I have provided battery life test results for a better idea.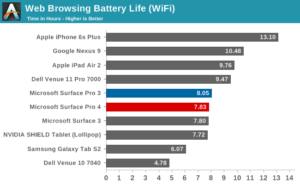 In conclusion, the Surface Pro 4's software and battery components are a testament to its well-rounded capabilities. With a harmonious blend of an efficient OS, top-notch security features, and a battery that lasts, Microsoft ensures that users have a reliable companion for their professional and personal endeavors.
Microsoft Surface Pro 4 Review: Accessories
Unboxing the Microsoft Surface Pro 4 was a delightful experience. Right off the bat, I was greeted with the sleek Surface Pro 4 itself, accompanied by its power supply. But the real star of the show was the Surface Pen.
With an impressive 4096 levels of pressure, it felt incredibly responsive. The tilt sensing added an extra layer of precision, and in my hands, it felt like a premium instrument.
Moreover, its "best in class" latency claim held up; every stroke felt immediate, replicating the familiar sensation of pen on paper. The magnetic storage feature is a smart touch, ensuring the pen has a home when not in use, reducing the chances of misplacing it.
As I delved deeper into the Surface ecosystem, I discovered the range of additional accessories available for purchase. The Surface Pro Type Cover with Fingerprint ID caught my attention. Not only did it offer a tactile typing experience, but the added security feature of the fingerprint ID was a welcome surprise.
Transitioning to the Surface Dock, it promised to be the bridge between tablet portability and desktop capability, expanding the Surface Pro 4's range of functionalities. Lastly, the Microsoft Wireless Display Adapter proved to be a nifty tool, seamlessly allowing me to project my Surface display onto larger screens.
In essence, the accessories of the Surface Pro 4 elevate the entire experience. While the tablet alone is a powerhouse, these add-ons ensure users can tailor their setup to best suit individual needs. Whether sketching with the Surface Pen, typing on the go with the Type Cover, or expanding your workstation with the Surface Dock, there's an accessory for every occasion. And for those who want to push boundaries even further, the available options are both robust and purposeful.
Final Talk
In summing up my journey with the Microsoft Surface Pro 4, it's clear that this device stands as a paradigm of innovation in the modern tech world. Merging the best of laptop functionality with tablet versatility, it addresses diverse user needs effortlessly. With its advanced hardware and software integrations, such as the Windows 10 Pro and Microsoft 365 trial, combined with the added luxury of the Surface Pen and other stellar accessories, the Surface Pro 4 transcends conventional computing norms.
From my perspective, it's not just a piece of tech, but a cohesive and thoughtful tool designed for both professionals and casual users alike. If there's one takeaway from my experience, it's that the Microsoft Surface Pro 4 is a testament to what's possible when design meets function. For those yearning for a seamless, high-performing, and adaptive device, this is undoubtedly the gold standard.
There are some other devices in the range of under $500 you can go through it before buying it or any other versions of Microsoft Surface Go series.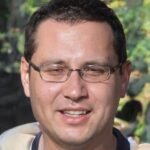 Ben Scott is a prominent technology journalist and reviewer, specializing in tablet devices. He is known for his comprehensive and unbiased reviews of tablets from various manufacturers.
With a deep understanding of tablet technology, including hardware components, operating systems, and software applications, Scott provides clear and informative reviews accessible to readers of all levels of technical expertise.
His attention to detail and in-depth analysis have earned him a loyal following of readers.