Introducing the Microsoft Surface Go: a true testament to technology's evolution, designed for the modern user's dynamic needs. As someone who's always on the move, I've found it to be versatile, adjustable, and the epitome of ultra-portability. But don't let its compact nature fool you. It's fast and efficient, ensuring you've got ample unplugged power for those long stretches away from an outlet.
What truly stands out is how it effortlessly fits into everyday work and play. With the Surface Go, you're not just using a device; you're experiencing the best of Microsoft. It brings together all the favorite features we've grown to love, backed by trusted security we can rely on.
For someone like me who uses a tablet for various purposes, its adaptability is a game-changer. Switching between Laptop Mode for work, Tablet Mode for leisurely browsing, and Studio Mode for my creative spurts has never been easier. And when inspiration strikes, the Surface Pen becomes an extension of my thoughts, allowing me to jot down ideas or doodle with precision. However, Surface Pen is not included with the set you have to buy it separately which costs you a few dollars more.
But there's more. With Office 365 seamlessly integrated, productivity takes center stage, ensuring tasks, whether big or small, are tackled efficiently. It comes with 1-year limited hardware warranty.
In a nutshell, the Microsoft Surface Go is not just a simple tablet; it's a lifestyle companion. Perfect for those who want the best of both worlds – power and portability.
Hardware Specifications of Microsoft Surface Go 
Processor
Intel Pentium Gold Processor 4415Y
RAM
4 GB, 8 GB
Storage
64 GB/128 GB
Display
10-Inch  |1800 x 1200 Pixels
Camera
Rear – 8 MP | Front – 5 MP
OS
Windows 10 Home
Battery Life
Up to 9 hours
Weight
1.15 lbs (522 g)
PROS
Compact and portable design
PixelSense display with good color
Supports Surface Pen for note-taking
Runs full Windows 10
CONS
Limited processing power for some applications
Smaller screen compared to some competitors
Type Cover and Surface Pen are sold separately
Microsoft Surface Go Review: Design And Display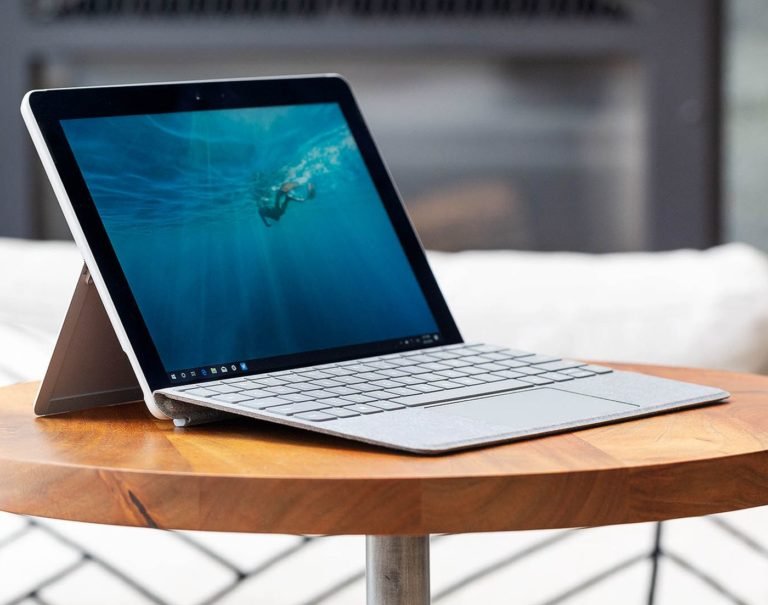 When I first got my hands on the Microsoft Surface Go, its design immediately stood out. Measuring just 9.65″ x 6.90″ x 0.33″(245 mm x 175 mm x 8.30 mm), it's compact and slim, making it perfect for those always on the move. The silver color gives it a sleek, modern look, and the magnesium casing adds a touch of class while keeping it lightweight at only 1.15 lbs (522 g). It's not just a gadget; it's a style statement.
But as we all know, it's not just about looks. Turning it on, the 10″ PixelSense Display catches your eye. With a resolution of 1800 x 1200, equivalent to a sharp 217 PPI, images appear crisp and texts are easy to read. The 3:2 aspect ratio provides ample screen space, making multitasking a breeze.
The Surface Go's 10-point multi-touch feels responsive and accurate. Whether I'm doodling, scrolling, or selecting, it's smooth. The Corning Gorilla Glass 3 is the cherry on top, ensuring the screen remains scratch-free and durable.
What stood out the most for me is the contrast ratio of 1500:1. The blacks are deep, the whites are bright, and the colors pop, making media consumption a treat.
In conclusion, the Microsoft Surface Go's design and display aren't just functional; they blend style with utility. Whether you're working or watching a movie, it promises an experience that's both visually delightful and efficient. It truly encapsulates the essence of modern-day tech needs.
Microsoft Surface Go Review: Camera And Features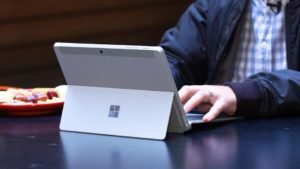 Starting off with the camera department, the Microsoft Surface Go truly impressed me. The 8.0MP rear-facing autofocus camera captures clear photos and shoots a delightful 1080p HD video. Transitioning to video calls, the 5.0MP front-facing camera didn't disappoint either, delivering crystal clear 1080p Skype HD video. The icing on the cake? The Windows Hello face authentication. Using the front camera, logging in becomes a breeze; it's quick, secure, and feels futuristic.
Now, onto the audio. Equipped with 2W stereo speakers with Dolby Audio, the Surface Go produces sound that is crisp and immersive. Whether I'm watching a movie or on a conference call, the sound quality remains consistent. Additionally, the single microphone picks up sound well, ensuring that I'm heard loud and clear during virtual meetings.
In terms of connectivity, the Surface Go comes packed with features. Firstly, the inclusion of a USB-C port for Charging and OTG features. Moreover, traditionalists like me appreciate the 3.5mm headphone jack. The Surface Connect port and the Surface Type Cover port 4 make it versatile for various attachments and accessories. And, for those who need extra storage or easy file transfers, the microSDXC card reader is invaluable. An interesting addition is its compatibility with Surface Dial off-screen interaction, which I find intriguing and useful for specific tasks.
Lastly, the wireless capabilities. The Wi-Fi compatibility covers a broad spectrum, including the IEEE 802.11 a/b/g/n/ac standards, ensuring a stable connection. Pairing devices is a snap, thanks to the Bluetooth Wireless 4.1 technology.
To wrap it up, the Microsoft Surface Go's camera and features bridge the gap between traditional laptops and the modern-day tablet. It's not just about doing the basics; it's about doing them well and then adding those little extras that enhance user experience. In a world where details matter, the Surface Go checks all the right boxes. It's well-thought-out and efficiently executed.
Microsoft Surface Go Review: Hardware And Performance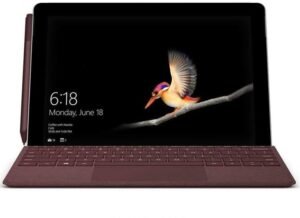 Diving straight into the heart of the Microsoft Surface Go, the device is powered by the 7th Gen Intel Pentium Gold 4415Y processor. At first, I was a bit skeptical about its performance, but with 2 cores, 4 threads, and a clock speed of 1.60 GHz, my day-to-day tasks ran without a hitch. Moreover, the 2MB SmartCache ensures that frequently used processes are swiftly executed, making multitasking feel seamless.
Transitioning to the graphics department, the integrated Intel HD Graphics 615 comes into play. Boasting 24 Execution Units and a frequency range of 300 → 850 MHz, I found it more than capable of handling standard media consumption and light graphic tasks. It might not be a gaming powerhouse, but for its size and purpose, it holds its own commendably.
In terms of memory, users have options: either the 4GB or the 8GB RAM variant. My unit packs 8GB (1866 MHz LPDDR3 RAM), and the performance difference is noticeable, especially when multiple tabs or applications are open.
On the storage front, choices abound again. For those who prioritize speed over space, the 64GB eMMC drive is a decent option. However, for users like me who need a blend of both, the 128GB SSD variant proves ideal. Quick boot times and snappy file transfers have become the norm for me now.
Lastly, I must mention the thoughtful inclusion of sensors. Whether it's the ambient light sensor adjusting the display brightness or the accelerometer and gyroscope enhancing certain apps and functionalities, these additions amplify user experience. Not to forget, the magnetometer, has its unique uses, especially for navigation and map-based applications.
To conclude, the Microsoft Surface Go, in terms of hardware and performance, manages to strike a balance between portability and power. It might not replace a high-end laptop, but for its size and price bracket, it's a solid performer that rarely disappoints. If you're on the lookout for a device that effortlessly juggles work and play, this might just be it.
Microsoft Surface Go Review: Software And Battery Life
Starting off with the software, my Surface Go came pre-loaded with Windows 10 Home in S mode. Initially, I was curious about this "S mode" and upon exploration, I found it to be a streamlined version of Windows. It's particularly geared towards speed and security, which is quite evident in daily use. Furthermore, for those considering this for professional use, there's the 'Surface Go for Business' variant that runs Windows 10 Pro, giving that additional layer of advanced features and enterprise controls.
Transitioning to Microsoft 365, the inclusion of a 30-day trial is a boon. It allowed me to delve into its myriad features without any upfront commitment, offering apps like Word, Excel, and PowerPoint that are integral for both students and professionals alike.
Security, a paramount concern in today's digital age, hasn't been overlooked. The Surface Go boasts TPM 2.0, ensuring enterprise-level security, which for someone like me who's often working on the go, brings peace of mind. But what truly impressed me was the Enterprise-grade protection with Windows Hello face sign-in. Beyond its futuristic appeal, it offers a level of convenience and rapidity that traditional passwords just can't match.
Lastly, a crucial aspect of any portable device is battery life. While the Surface Go may not last an entire workday with intensive tasks, for moderate use like browsing, streaming, and document editing, it reliably pulls through.
When it comes to battery life, Microsoft promises up to 9 hr of continuous use from the Surface Go. Yes, it is right in our testing the battery runs so well in every mode either in S-mode or simply in Windows.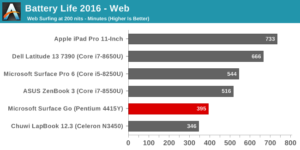 Sometimes in our test, after the
rough usage battery lasts only for 7 hr only
but is acceptable, due to the
USB-C port
the speed of charging is better than others.
In essence, with the Surface Go, Microsoft has managed to integrate a user-friendly software experience with commendable battery longevity. It's a blend that caters to both casual users and professionals, providing security and efficiency in one compact package.
Microsoft Surface Go Review: Accessories
Upon unboxing my Microsoft Surface Go, the contents were straightforward – the device itself and its power supply. Simple, no extra accessories. However, it's when you delve into the world of its additional accessories that the experience truly elevates.
Firstly, the Surface Pen is not just any stylus. With its whopping 4096 levels of pressure sensitivity, every stroke, whether writing or sketching, feels intuitive and precise. The tilt sensing enhances the drawing experience, mirroring the nuance of working with traditional media. Additionally, Microsoft's claim of "best in class latency" isn't just marketing jargon. The pen's responsiveness is genuinely impressive. For me, the magnetic storage and the paper-like feel while writing were the cherries on top. It's clear that thought went into designing this accessory.
Transitioning the Surface Go Signature Type Cover genuinely transforms the tablet into a mini-laptop. The typing experience is smooth, and the touchpad is responsive. The availability of colors, especially the luxurious Alcantara options like Platinum, Burgundy, and Cobalt Blue, adds a personal touch, ensuring both functionality and aesthetics are met.
Lastly, the Surface Mobile Mouse. This accessory, although might seem ordinary, impressed me with its seamless scrolling capability. The cord-free Bluetooth connectivity makes it perfect for on-the-go tasks without the hassle of wires. Its lightweight nature ensures that it doesn't feel cumbersome when I'm traveling.
However, a point to note is that these accessories come at an extra cost, as they're sold separately. While some might argue it adds to the overall expense, I see them as investments, enhancing the Surface Go's potential manifold.
In conclusion, the Microsoft Surface Go, when paired with its range of accessories, offers an unparalleled user experience. It's clear that each accessory was crafted with the user in mind, ensuring a seamless integration with the main device.
Final Verdict
To sum it up, the Microsoft Surface Go is a standout device. It works like both a laptop and a tablet, making it perfect for today's busy world. Its software is easy to use, and it's built really well. Plus, the extra things you can get, like the pen or keyboard, are great. For someone like me who needs something powerful but easy to carry around, the Surface Go is perfect. If you're looking for a small device that's still top-quality, this might be just what you need.
There are some other devices in the range of under $500 you can go through it before buying it or any other versions of the Microsoft Surface Go series.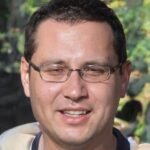 Ben Scott is a prominent technology journalist and reviewer, specializing in tablet devices. He is known for his comprehensive and unbiased reviews of tablets from various manufacturers.
With a deep understanding of tablet technology, including hardware components, operating systems, and software applications, Scott provides clear and informative reviews accessible to readers of all levels of technical expertise.
His attention to detail and in-depth analysis have earned him a loyal following of readers.