Diving into the digital art world, I was searching for the right tool to begin drawing or learning. Among many options, the UGEE M708 Drawing Tablet stood out. It's not just any tablet; it opens a world of creativity. It smoothly connects traditional drawing to the digital space.
Looking at its features, I could see the effort in its design. The makers didn't just create a tablet; they built an experience. It comes with so many useful accessories. All of Its features make moving from paper to digital easy.
To sum up, the UGEE M708 Drawing Tablet is more than tech. It's like a blank paper, ready for your ideas. If you're thinking about a tablet for art, this might be the one for you. The UGEE M708 is perfect for students, and new artists.
Hardware Specifications of UGEE M708 V3
Dimension
359 x 210 x 8mm
Active Area
10 x 6 inches
Pen
UGEE Battery-free Stylus P01
Pen Pressure Levels

8192+ Levels

Pen Resolution
5080 LPI (Lines Per Inch)
Keys
8 Express Keys
OS Support
Windows, Mac OS, Linux, Chrome OS
Weight
2.20 lbs
PROS
Effective price.
Lightweight.
Highly Customizable
CONS
Without screen.
Limited drawing area for larger projects
UGEE M708 Review: Design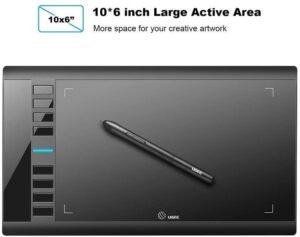 Upon unboxing the UGEE M708 Drawing Tablet, the first thing that caught my attention was its sleek design. With dimensions spanning 359 x 210 x 8mm, it's compact yet spacious enough to ensure an ample active drawing area, a generous 10 x 6 inches to be precise. This balance offers the artist a canvas that's both expansive and manageable, especially for those who are always on the go.
Moreover, weighing in at just 2.20 lbs, the tablet has a reassuring heft without being uncomfortable. It's light enough to carry around, but it doesn't feel flimsy. The deep black color gives it a professional and chic appearance that would seamlessly fit into any artist's workspace.
Now, transitioning to functionality, the 8 Express Keys are truly a game-changer. They cater to essential functions like adjusting brush size, zooming in and out, and even the undo option. For someone like me, who's always refining my work, these keys come in exceptionally handy. I particularly appreciated the presence of dedicated keys for the hand, brush, and eraser functions – tools I frequently switch between.
Lastly, the subtle indicator light is a thoughtful addition. It keeps me informed of the tablet's operational status without being overly bright or distracting.
In wrapping up, the design of the UGEE M708 Drawing Tablet is a harmonious blend of aesthetics and functionality. Its form factor, combined with essential features like the Express Keys, ensures an experience that's both visually pleasing and user-friendly. It's evident that every design choice was made with the artist's comfort and convenience in mind.
UGEE M708 Review: Pen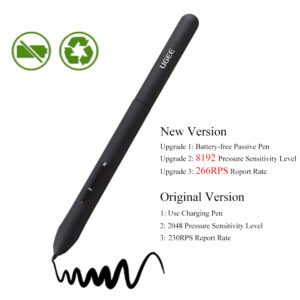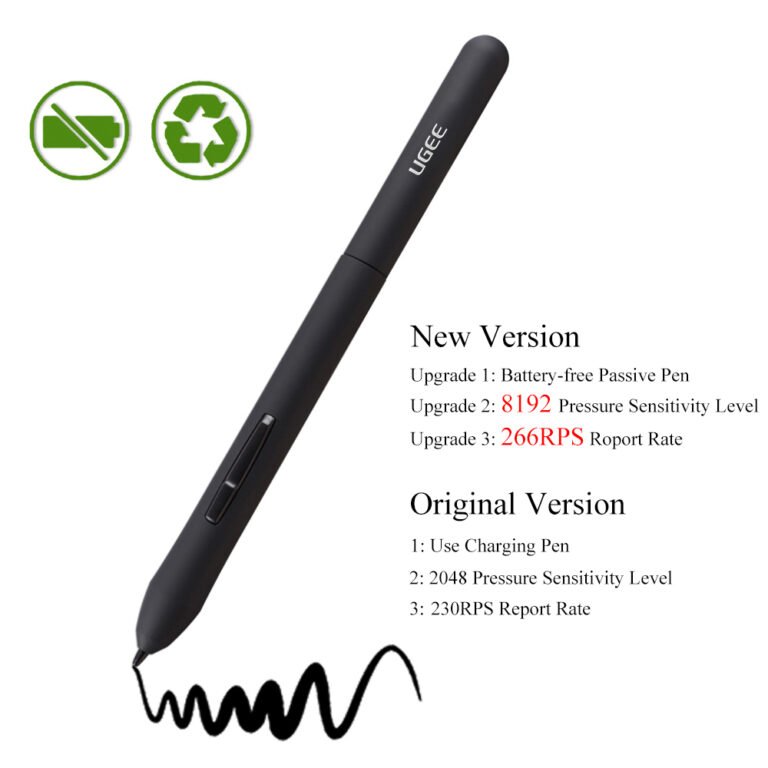 Embarking on my artistic journey with the UGEE M708 Drawing Tablet, I was particularly eager to get my hands on the included P01 battery-free stylus. From the outset, it's evident that this isn't just any pen. It's a meticulously crafted tool designed to bring out the best in an artist.
First and foremost, the fact that the stylus is battery-free is a massive relief. This means no interruptions in the middle of an inspired drawing session and no fumbling around for batteries. It's always ready to capture your creativity when inspiration strikes.
The pressure sensitivity, with 8192 levels, is truly remarkable. This feature allows for the most nuanced strokes, mimicking the tactile feel of drawing on paper. Whether I'm sketching light outlines or filling in with bold strokes, the pen responds intuitively to every pressure variation.
Additionally, with a tilt functionality of up to 60°, it's wonderfully adaptable. The pen effortlessly captures the varied angles and techniques I use while drawing, ensuring that every stroke appears precisely as intended.
The 266RPS report rate ensures that there's no lag whatsoever. Even my fastest strokes are captured in real time, making the drawing experience incredibly fluid. This, combined with a reading resolution of 5080 LPI(Lines per inch), guarantees that every detail, no matter how minute, is recorded with precision.
Moreover, the pen's 10mm reading height is another feature I've come to appreciate. It offers enough distance for hover movements without making contact, adding an additional layer of versatility to my drawing process.
In conclusion, the P01 stylus of the UGEE M708 Drawing Tablet is a gem in its own right. It's an essential companion that complements the tablet. The combination of its advanced features ensures that artists, like myself, can truly bring their vision to life with unparalleled precision and ease.
UGEE M708 Review: Compatibility
Delving into the world of digital art, one of my prime concerns was finding a tablet that seamlessly integrates with various operating systems and software. With the UGEE M708 Drawing Tablet, that concern was promptly laid to rest.
Right off the bat, its broad OS compatibility is commendable. Whether you're on Windows, be it 7, 8, 10, or the latest 11, or if you're more inclined towards Mac OS X, starting from 10.10 and beyond, this tablet has got you covered. Even Chrome OS users, from version 88 onwards, and Linux aficionados can hop on board the UGEE train with ease. The plug-and-play approach, where all I had to do was connect the USB cable, download the driver, and get started, truly simplified the entire setup process.
Furthermore, the tablet's synergy with software is nothing short of remarkable. As an enthusiast, I dabbled with SketchBook and SAI, and the experience was effortless. Sketching, painting, or drawing, the UGEE M708 elevated my creations to new heights. And for those, like myself, who occasionally indulge in graphic design, the seamless integration with powerhouses like Photoshop and Illustrator is very helpful.
On an educational front, it's impressive how the tablet transitions from an artist's companion to an educator's ally. With the ability to craft and annotate directly onto files, teachers can convey concepts with unmatched clarity. Pairing it with Google Jamboard's whiteboard only amplifies this real-time, interactive learning experience. For students, the convenience of jotting down notes using Google Keep, or collaborating on projects, becomes a breezy affair.
In conclusion, the UGEE M708 Drawing Tablet's compatibility spectrum is vast, catering not just to artists but educators and students alike. It ensures that whatever your creative or educational endeavor, there's a platform and a tool ready to accompany you on your journey.
UGEE M708 Review: Accessories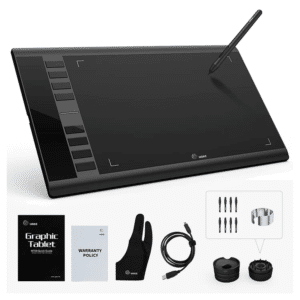 First, you will get the UGEE M708 Pen Tablet and the Battery-free Stylus P01 when you open the box. Also, the thoughtful addition of a pen stand and 8 replacement nibs further amplifies this device's usability. With the stand, I found it incredibly convenient to have my stylus within arm's reach, while the ample supply of replacement nibs guarantees longevity and continuous use without the need for frequent accessory shopping.
Now, let's talk about connectivity. The USB cable, transitioning from USB-A to Micro USB, ensures that the tablet can be effortlessly connected to a myriad of devices, thus reinforcing its adaptability and user-friendliness.
Lastly, the black glove was an unexpected but delightful accessory. It not only reduced friction between my hand and the tablet but also prevented any unintentional smudges, ensuring that my artistic endeavors remained pristine.
In essence, the UGEE M708 doesn't just stop at providing an exceptional tablet experience. Through its comprehensive suite of accessories, it guarantees that users, whether beginners or professionals have everything they need right from the get-go. This thoughtful approach truly showcases UGEE's dedication to its users, ensuring that every artistic session is as smooth and fulfilling as possible.
Conclusion
In summing up my experience with the UGEE M708 Drawing Tablet, it's evident that this isn't just a tool but a doorway to the vast world of digital creativity. Its meticulous design, high-responsive pen, extensive compatibility, and thoughtful accessory set make it stand out in a crowded market. Every feature feels purposefully integrated, aiming to enhance the user's artistic journey.
Whether you're a budding artist or a seasoned professional, the UGEE M708 seems to anticipate your needs, ensuring a seamless transition from thought to digital canvas. It's not just about drawing or sketching; it's about bringing visions to life with ease and precision. If you're just starting with digital art or searching for a better tablet, the UGEE M708 is a great pick. It easily connects your love for drawing with the latest tech.
Howdy Geeks, I'm Andrew, a young passionate blogger, Tech Freak & a Gadget Lover. I help people in buying them the best tablet devices