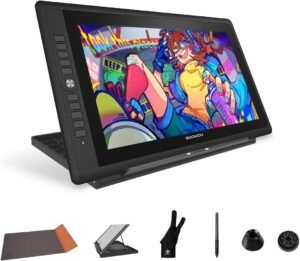 Stepping into the world of digital drawing, I came across the GAOMON PD156 Pro Drawing Tablet, and it caught my attention immediately. At first glance, it's easy to see that this tablet is built for those who love to create. The size is just right, making it a comfortable workspace for both beginners and experienced artists.
The GAOMON PD156 Pro offers a broad screen, letting your art truly shine. It doesn't feel cramped, and there's enough space to move freely, sketching out ideas or working on detailed projects. And when it comes to colors, this tablet doesn't disappoint. Every shade and hue looks clear and vibrant, making the drawing experience even more enjoyable.
One of the things I appreciate about this tablet is its user-friendly design. It has buttons on the side that can be set to do different things, which means I can adjust my drawing tools without having to stop and search for them. This can be really helpful, especially when I'm in the zone and don't want to break my flow.
The pen that comes with the GAOMON PD156 Pro feels natural in hand. It's like holding a regular pen or pencil but with the added advantage of digital features. This makes the transition from paper to tablet smoother, especially if you're new to digital art.
To sum it up, the GAOMON PD156 Pro Drawing Tablet is a reliable tool for anyone who wants to dive into the digital art world. It's straightforward to use, offers great drawing space, and ensures that every artwork comes out looking its best. Whether you're sketching, painting, or editing, this tablet is ready to be your creative companion.
Hardware Specifications of GAOMON PD156 Pro
Display 
15.6 Inches | 1920 x 1080 (FHD)
Dimension 
442 x 274 x 12.5mm
Active Area
344.16 × 193.59mm
Pen
Digital Pen AP50
Sensitivity 
8192
Pen 
5080LPI
Keys
9 Press Keys, 1 OSD Button
OS Support 
Windows, macOS
Weight
1320g
PROS
Affordable price point
Fully laminated screen
Adjustable stand for comfortable use
CONS
Requires connection to a computer
Not compatible with Chrome OS and Android
GAOMON PD156 Pro- Design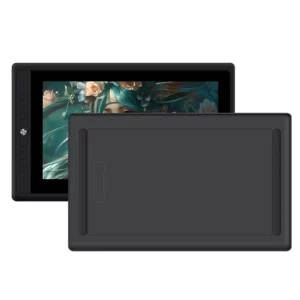 When I first laid my hands on the GAOMON PD156 Pro Drawing Tablet, it was evident that a lot of thought had been put into its design. Let's start with the basics: its dimensions. Measuring 442 x 274 x 12.5mm, it provides ample space for all artistic endeavors. It's a tad on the larger side, but this size ensures that artists have plenty of room to work without feeling cramped.
The tablet's weight of 1320g does make it a little bit bulky. While this might seem like a drawback to some, I found that the weight gave it a sturdy feel, ensuring it stays put while I work. The classic black color is sleek and professional, allowing it to fit seamlessly into any workspace setup.
One of the standout features is the customized press keys. The GAOMON PD156 Pro comes with 9 customized press keys, along with an OSD switch button. This might sound technical, but in simple terms, it means I can quickly change settings or tools without having to dive into menus. These buttons are well-placed, ensuring they're within reach but not in the way.
The tablet's connectivity is also worth noting. The Type-C input interface ensures fast data transfer, which is crucial when working on detailed projects. Meanwhile, the output interfaces, including USB-A, HDMI, and DC, offer flexibility in connecting to different devices and displays. This is particularly handy when presenting works or collaborating with others.
To sum it up, the design of the GAOMON PD156 Pro Drawing Tablet offers a harmonious blend of functionality and aesthetics. It might feel slightly heavy for some, but the array of features and the well-thought-out layout more than compensate. This tablet truly feels like it's been designed with artists in mind.
GAOMON PD156 Pro- Display
When I took a closer look at the GAOMON PD156 Pro Drawing Tablet's display, I was immediately impressed. With a screen size of 15.6 inches, it offers a spacious canvas for artists, ensuring ample space for detailed creations. The resolution, clocking in at 1920 x 1080 (FHD), ensures that images are crisp, clear, and vibrant. It's like looking at a high-definition TV but for your art.
One of the standout features of this tablet is its IPS LCD display type. In simple terms, this means that colors remain consistent, and the images stay sharp no matter from what angle I'm viewing them. This is further complemented by the generous active drawing area of 344.16 x 193.59mm, allowing me to make the most out of the screen space.
Another essential point to touch upon is the viewing angle. At 89° both horizontally and vertically, it ensures that my art looks consistent regardless of my sitting position. This is especially crucial when I'm sharing my work with someone else, ensuring that they see it just as I intended.
Brightness and color are also vital for an artist. With a brightness of 220 nits and a gamut volume of 88% NTSC, I found that my artwork's colors were vivid and true to life. The tablet can display 16.7 million colors, which means I can be sure of the accuracy of every shade I choose.
Lastly, GAOMON's decision to include full lamination and an anti-glare protective film is a boon. It reduces reflections and gives a paper-like feel when drawing, which enhances the overall experience.
In conclusion, the GAOMON PD156 Pro Drawing Tablet offers a display that's not only visually stunning but also incredibly functional. Whether you're sketching, coloring, or just viewing this tablet's screen ensures that your work shines in its best light.
GAOMON PD156 Pro- Compatibility
Diving into the compatibility aspect of the GAOMON PD156 Pro Drawing Tablet, I found it to be refreshingly versatile. I've used a few drawing tablets in the past, and being able to seamlessly integrate with various systems and software is always a top priority for me. Thankfully, the GAOMON PD156 Pro doesn't disappoint in this regard.
Starting with the OS support, this tablet supports both Windows and macOS. Specifically, it supports Windows 7 or later versions. For Mac users, it's compatible with macOS 10.12 and its later versions. This kind of flexibility is great, especially if you, like me, switch between different computers and operating systems.
But where this tablet truly shines is in its program compatibility. For someone who often flits between different software depending on the project, this was a significant point. It works effortlessly with Photoshop, which is my go-to for detailed editing. And when I want to illustrate, it pairs just as well with Adobe Illustrator and Corel Painter.
But the compatibility doesn't stop there. For those who prefer other software like Paint Tool Sai2, Krita, Medibang Paint, and SketchBook, the GAOMON PD156 Pro integrates perfectly. This ensures that no matter what software you prefer for your art journey, this tablet is ready to be your companion. It can also be used for Online teaching and meetings. But if you want a tablet, particularly for meetings, you can check some other tablets also.
In a nutshell, the GAOMON PD156 Pro Drawing Tablet is a dream when it comes to compatibility. Whether it's the operating system or your favorite drawing software, this tablet is designed to fit right into your creative process without any hiccups.
GAOMON PD156 Pro- Pen Sensitivity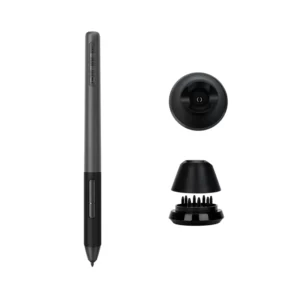 The pen is really important for a drawing tablet. For the GAOMON PD156 Pro Drawing Tablet, I found the pen- Gaomon Art Paint AP50 to be really good. Here's what I think:
First, I noticed the Pressure Level. It has 8192 levels. This means I can draw light or heavy lines, and the tablet knows exactly how hard I'm pressing. With a Pen Resolution of 5080LPI, my lines looked really clear and smooth.
The pen is also really fast. It has a Report Rate of 266PPS. This means when I draw, the line appears on the screen right away. It feels just like drawing on paper.
The pen is also very accurate. In the middle, it's accurate to within 0.5mm. Even at the edges, it's not off by more than 3mm. Plus, I can move the pen above the tablet, up to 10mm high, and the tablet still knows where it is.
I also liked the Tilt feature. I can tilt the pen up to 60°. This is great for shading or different drawing styles.
The best part is pen doesn't need batteries. It uses a special kind of technology called Battery-free Electromagnetic Resonance technology. That's really handy.
To finish, I think the pen for the GAOMON PD156 Pro Drawing Tablet is great for anyone who likes to draw. It works really well and makes drawing fun and easy.
You can also check out some of the best tablets with pen displays. However, if don't want to invest so much money, you can also check out some other tablets.
GAOMON PD156 Pro- Accessories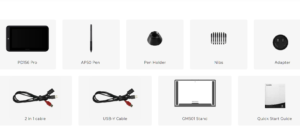 When I unpacked the GAOMON PD156 Pro Drawing Tablet, I was immediately greeted with a set of accessories that seemed carefully thought out for an artist's needs. Here's a breakdown of my experience with them:
Pen Display PD156 Pro: The main star of the show. It's sleek, sturdy, and feels just right in terms of size. The display is clear, making my drawings pop. Truly, a central piece that does not disappoint.
Digital Pen AP50: The pen feels comfortable in my hand, neither too heavy nor too light. It works seamlessly with the tablet, ensuring precision in every stroke I make. It's a partner that understands an artist's touch.
2-in-1 Cable: This cable is such a convenience. Instead of juggling multiple wires, I just have to manage this single cable, making my workspace neater. The connections are firm and ensure a consistent transmission.
GMS01 Stand: The GMS01 Stand is designed to work with the GAOMON PD156 Pro product. It provides a sturdy and adjustable platform for the PD156 Pro drawing tablet, enhancing your creative experience. The stand allows you to position the tablet at different angles, making it more comfortable to draw, sketch, or work on your digital projects for extended periods. It's a useful accessory that complements the PD156 Pro and helps you make the most of your artistic endeavors.
Y Cable: A practical addition, especially if I want to connect to different devices. It's versatile and doesn't feel flimsy.
Pen Holder: A simple yet important accessory. It gives my pen a proper resting place, ensuring it doesn't get misplaced. Plus, it's a stylish addition to my desk.
8 Pen Nibs: These extra nibs are a lifesaver. Over time, nibs wear out, and having replacements on hand ensures I don't face any interruptions in my creative process.
Glove: At first, I wondered about its purpose. But, using it, I found that it prevents unnecessary smudges on the screen and makes my hand glide smoothly. A small but very thoughtful inclusion.
Power Adapter: It's compact and does its job efficiently. Plugging in and getting the tablet powered up is a breeze.
In conclusion, the accessories that come with the GAOMON PD156 Pro Drawing Tablet aren't just afterthoughts. They enhance the overall user experience, making sure that everything I might need for a smooth drawing session is right within my reach. For someone diving into digital art, this tablet and its accessories offer a complete package, making the creative journey enjoyable and hassle-free.
Frequently Asked Questions:-
How can you contact and get help from GAOMON?
If you have any questions about the product before or after making your purchase, you can drop your queries on the online stores and get in touch via your order details.
How to download and install the driver?
Downloading drivers For the latest driver to be downloaded to your PC, please visit the GAOMON official website.
Please make sure there aren't any other brand drivers on the computer before installing the driver. Run as an administrator before installation rather than following it.
Conclusion
The GAOMON PD156 Pro Drawing Tablet has genuinely cemented its place in my digital art toolkit. With its brilliant display and a pen that feels like an extension of my hand, every stroke becomes an experience rather than just a motion. Its wide compatibility ensures that, whether I'm sketching or editing, the tablet integrates seamlessly into my workflow.
In essence, the GAOMON PD156 Pro isn't just another device; it's an artist's ally. Merging technology with intuition, it stands as an ideal choice for anyone looking to elevate their digital art journey. This tablet isn't just about specs; it's about the stories and masterpieces it helps bring to life.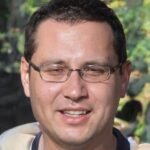 Ben Scott is a prominent technology journalist and reviewer, specializing in tablet devices. He is known for his comprehensive and unbiased reviews of tablets from various manufacturers.
With a deep understanding of tablet technology, including hardware components, operating systems, and software applications, Scott provides clear and informative reviews accessible to readers of all levels of technical expertise.
His attention to detail and in-depth analysis have earned him a loyal following of readers.