In the last few months, we get a lot of comparison and confusion between Amazon Fire HD 10 vs Samsung Galaxy Tab A 10.1. So we try to give you the best comparison between these two. And hope this will help you so that you can save your money.
| | |
| --- | --- |
| | |
| Amazon Fire HD 10 | Samsung Tab A |
| Check Price On Amazon | Check Price On Amazon |
| PROS | PROS |
| Large, clear screen. Dependable battery life. Practical design. | Solid metal body. Pretty screen. Powerful processor. Android 9.0 Pie. Good cameras. Decent speakers. |
| CONS | CONS |
| Divisive software. Only okay speakers. Best for Amazon customers. | The base model with 2GB RAM. Speakers on just one side. No fingerprint scanner. |
P. S – you can also block certain apps and features which might not be safe for your children and click here for review Samsung Galaxy Tab A 10. 1 from our experts.
For more detailed explanation you can read our expert's review on Amazon Fire HD 10. 
Design
| | | |
| --- | --- | --- |
| | Fire HD 10 | Samsung Tab A |
| Dimensions | 10.31 x 6.26 x 0.30 inches (262 x 159 x 7.7 mm) | 9.65 x 5.88 x 0.3 inches (245.1 x 149.4 x 7.6 mm) |
| Weight | 17.8 oz (504 g) | 16.54 oz (469 g) |
| Materials | | Back: Aluminum |
| Colors | Black, White | Black, Gold, Gray |
Fire HD 10-
On the very top, we have our power button, USB type-c for charging in sync, a pinhole microphone, headphone jack, and volume rocker.
Over on the right side, we do have an SD card slot and this is good up to a 512-gigabyte card.
This tablet also contains dual stereo speakers and it also does Dolby Atmos and it sounds really good.
When comparing this to the 2017 version of the HD fire 10, it's the same size, it's the same thickness, we just have more powerful internals.
Samsung Tab A:
It is a pretty decent product, it comes in three separate colors (Black, Gold, silver). On the back, you get the Samsung logo a little two-tone on your camera. On the bottom you got a USB type-c port for charging, you got speakers on both sides, and you actually have the 3.5-millimeter headphone jack on top.
The power button, volume buttons, and SD card slot on the right-side. It has two models, which is 32 GB and 128 GB. Camera setups you got a 5-megapixel camera on the front, and an 8-megapixel camera on the back.
This tablet doesn't get any physical buttons on the front of Samsung. Samsung is 7.5 millimeters thin, and its weight is 469 grams.
Display
| | | |
| --- | --- | --- |
| | Fire HD 10 | Samsung Tab A |
| Size | 10.1 inches | 10.1 inches |
| Resolution | 1920 x 1200 pixels, 224 PPI | 1920 x 1200 pixels, 16:10 ratio, 224 PPI |
| Technology | IPS LCD | IPS LCD |
| Screen-to-body | 71.04% | 80.80 % |
Fire HD 10-
The size of the display is standard to 10.1″ with a great resolution of 1920 by 1200 pixels. The viewing angle is great with a laminated screen. The screen size is a big and decent color combination, in this range, this is enough and best in class. The screen quality is not very bad, you can watch movies or videos for a long time without heat.
The front camera is VGA and the rear is 2 mp with recording in high quality. When you compare its price you well realize what Amazon gives in this range which can not be done by any other reputated brand. The latest version has more features like Alexa and many other AI as compared to Fire HD 8.
Samsung Tab A-
As we all are familiar with this stunning and world-renowned company, recently Samsung has come up with a Samsung galaxy tab A 10.1. The tab looks very sleek and smart and the body of the tab is metal which is definitely surprising since Samsung mostly comes with plastic bodies.
The screen size and ratio are similar to other i.e. 10.1″ and  1920 by 1200 resolution. Of course, the screen of Samsung is always better than its competitor. There is no fingerprint sensor and no face recognition either.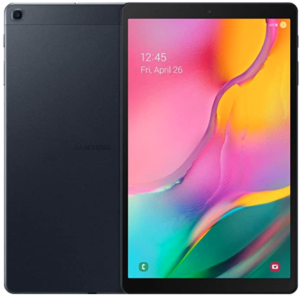 Software and Performance
| | | |
| --- | --- | --- |
| | Fire HD 10 | Samsung Tab A |
| System chip | MediaTek | Samsung Exynos 7 7904 |
| Processor | Quad-core, 1500 MHz | Octa-core, 1800 MHz, ARM Cortex-A73 and ARM Cortex-A53, 64-bit, 14 nm |
| GPU | Yes | Mali-G71 MP2 |
| RAM | 2GB | 3GB |
| Storage Expansion | microSDXC up to 512 GB | microSDXC up to 512 GB |
| Internal Storage  | 64GB | 128GB |
| OS | Customized Android, Fire OS | Samsung OneUI |
Fire HD 10-
One thing which I don't likE is its 2GB RAM same as the 2017 model. So some may don't like this but apart from this, you can get 32 GB and 64GB model which can be used to store data and other things which can help for entertainment purposes. You can also use an SD card to increase the storage up to 512GB.
Other than this wifi and Bluetooth connectivity is good.
You may face some problems while heavy gaming but middle-level games and small games run better in it. The graphic is low so on low setting and highest framerate you can play it. On the lowest graphic setting with the call of duty mobile and the highest framerate, it actually runs quite well.
RAM is low so it is something that needs to be upgraded so heavy games may run easily without changing any setting. It's running fire OS 7.3 and this is based on Android 9.0. If you happen to go with the cheapest option and get the $150 version, you'll notice ads from Amazon on your lock screen.
Many ads are running in the whole system so if you don't like it you can get a free version by giving 15 m0re bucks. The OS is fine and smooth functioning to any process. Its is quite different from Android but runs better when you use it for a few time. If you're not familiar with it, it sort of groups everything into tabs of content like games, books, etc. Overall, the interface is very simple and easy to use.
Samsung Tab A-
In this, you will get the same 2GB as before but its performance is quite impressing, runs the game without lagging, looks pretty good, and approximately no issue with it. Multitasking is performing easily. One thing is special in this is you can get a higher configuration of you to pay near about $300 tablet range.
Its processor is Exynos 7904 which is made by Samsung and it comes pre-loaded with Android 9.0 and it has Samsung OneUI in it. The loading times on Samsung are quite long which is not expected in the 250 dollars above range, the graphics usually normal and sufficient in its budget.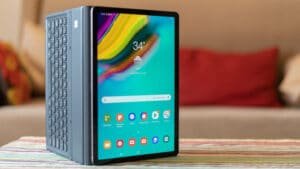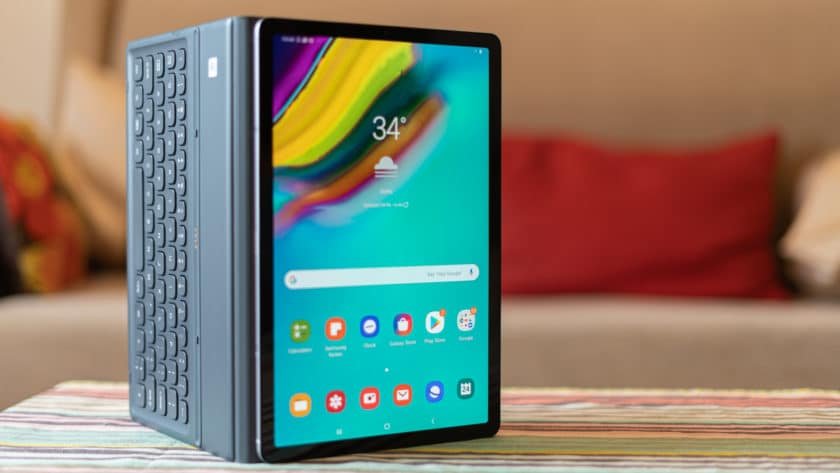 You can use the night mode and the navigation bar. You can also change the navigation bar to swipe up. When you turn on the dark mode or the night mode which tries to save you some battery, but also it is easier on your eyes in the evenings.
Battery
| | | |
| --- | --- | --- |
| | Fire HD 10 | Samsung Tab A |
| Capacity | 4300 mAh | 6150 mAh |
| Type | Li-Ion, Not user replaceable | Li-Ion, Not user replaceable |
Fire HD 10-
This device is equipped with a 4,700 mAh battery. And Amazon claims they improved the battery life to 12 hours of screen on time. But in a real-time scenario, it is near about 9-10 hr which is still pretty good. So in terms of battery, this is the better choice.
Samsung Tab A-
This device is equipped with a 6000 mAh battery with 11.5 hours of battery life at medium brightness. Which is overrated and can get 6-7 hr of running time. For normal use, you can take this but on the day you use it continuously you need to charge with in-use time.
Conclusion
After reading this you can easily decide what you need to get. Choose according to your need and requirement so that it can fulfill your need. Samsung has more powerful hardware, a metal body, a better camera, and a speaker. And it's running on google's android. So, in my opinion, you can spend money on Galaxy Tab A.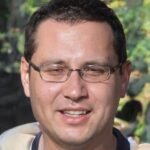 Ben Scott is a prominent technology journalist and reviewer, specializing in tablet devices. He is known for his comprehensive and unbiased reviews of tablets from various manufacturers.
With a deep understanding of tablet technology, including hardware components, operating systems, and software applications, Scott provides clear and informative reviews accessible to readers of all levels of technical expertise.
His attention to detail and in-depth analysis have earned him a loyal following of readers.