We know very well that this is not expensive and also not so cheap so you need to take care of this also. Saving your fire HD with a case is a great idea to run it for the longest time. This tablet is multitasking and can do everything which a heavy and costly tablet can do.
Covers and cases can help to place your tablet on the desired position while watching movies or showing something to anyone. Playing games or surfing on google you can do it very easily on this. The large screen can help a lot to do your work easily.
If you want to know more about FIRE HD tablets then you can read our expert's view on this tablet performance.
We have done a lot of research and the largest selling case to help you to choose the best fire HD 10 case. Choose according to your need and requirement as many cases have different features than others.
List of the Best Fire HD 10 Cases in 2020:-
Multiple Colors- Moko Case for Fire HD 10
This can help your tablet to look very simple and stylish with its variety of colors and a more normal look. The pattern is good so can cover your whole tablet.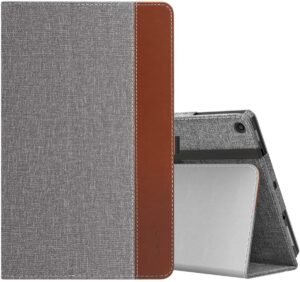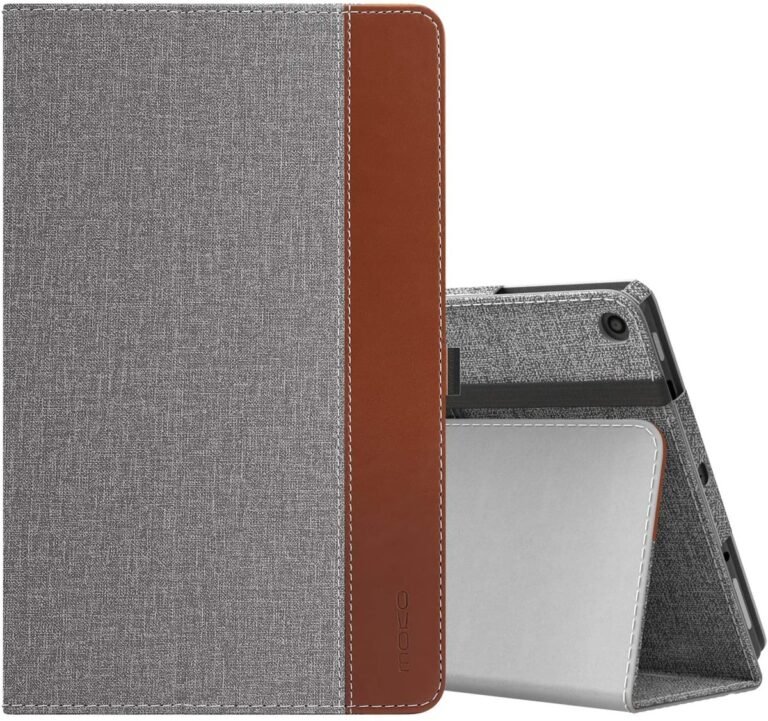 The design looks so slim and lightweight, the kickstand can help to watch any video just by putting on the table. The hand strip can help to hold that bigger size of the tablet more easily. More than 25 designs are available you can choose anyone from them.
College Look- Poetic Slimfolio Composition Case
The look can feel you like holding a book and even no one can try to steal any copy or book for no reason. The look is classical and helps to bring school days back. A lot of patterns available to choose either leather look or any other pattern which you like.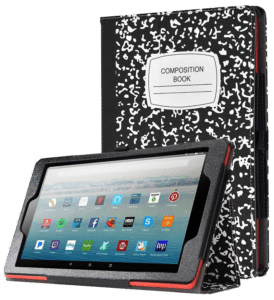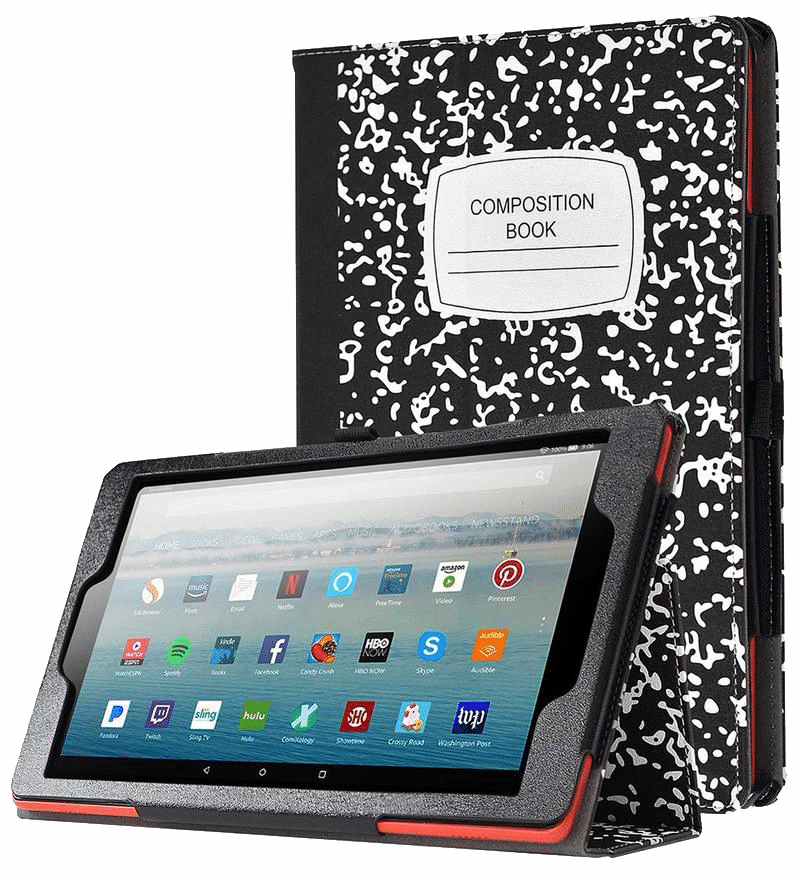 Budget-Friendly- JETech Case
Cheap, best, and enhance your simplicity and front layer can fold to hold the tablet like a kickstand and help to watch and video very easily. 4 different colors are available includes a magnet in the front area so the sensor for sleep mode works well. If you don't want to spend any more on your tablet then this cheap one is for you. This is cheap doesn't mean it is bad or average, but what else you can expect in this range.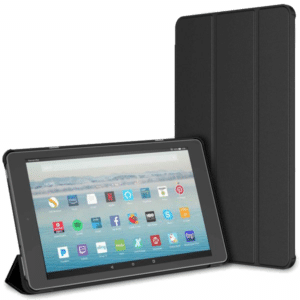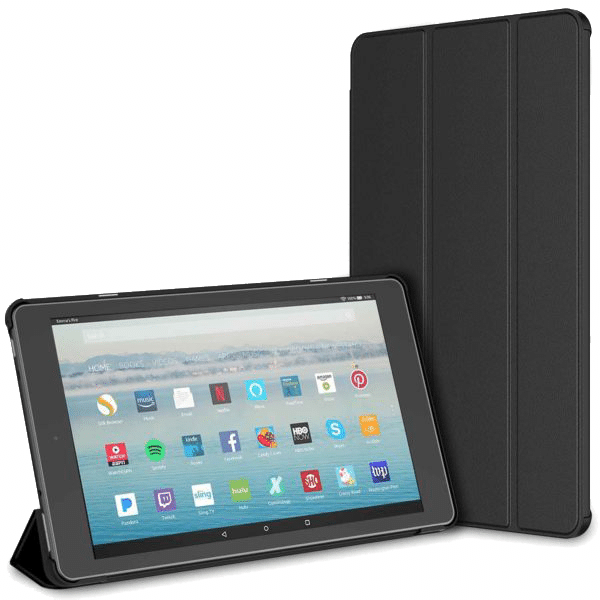 Overall Protection- Dadanism Amazon Fire HD 10 Case
The slim and smart look for your tablet, the material is thin but don't worry the slick material helps to absorb all the jerk whenever it falls on the surface. The translucent case also shows the actual surface of Fire HD so you can also show your color. After that the flip cover that protects the screen from any normal screen damage, some time kickstand also.
Ring Case- Fintie Tuatara Magic Ring Case
To avoid any unwanted scratches or dent with this combination you can hold your tablet ina secure position and also no chance to slip from your hand. The ring-like structure hep to make a round band around your palm or finger. This ring is also used as a stand, easy to hold and carry in full working days.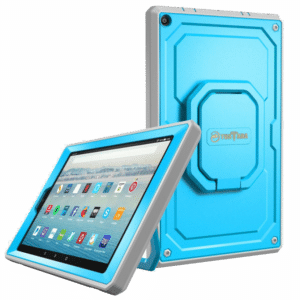 Choose orientation- Amazon Fire HD 10 Tablet Case
In this case, you will get a kickstand so you can hold your tablet horizontally and vertically. The design is slim and its material does not take lots of space in your arm or bag where you can carry it very easily. Many different fabric options available so it's upon you to choose your style.
Lightweight protection- Fintie Silicon Case
Great for anyone who wants no more weight on tablet and also makes your tablet slim. Available in 7 different colors for children to choose their favorite. Compact and honeycomb-like structures make a superior grip so that no chance to slim even from the children's hands. The material used is silicon so easy to use and clean if used by dirty hands.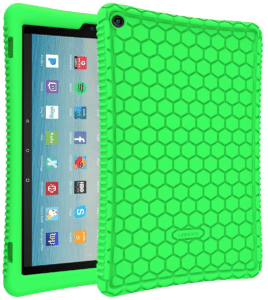 For Kids- Amazon Kid-Proof Case
If you are taking your FIRE HD for your kid then you need to buy this, as they have more chance to drop the tablet so this can absorb the energy even from 3-4 feet height. It has 3 variants to choose from, the grip is specified for kids so that they can make a perfect grip even from the small hands and fingers.
You can also get a Fire tablet for kids if you want to take for kids and avoid using these cases.
Get your Character- DC Faner Case for Amazon Fire HD 10
This brand makes unique print on the case like Cheshire Cat, Batman, and Mickey Mouse. Marvels fan can also get their desired design like captain America and spiderman. The front layer can help to use a stand to view any movie or videos. The cases feature a loop for a stylus, a memory card slot inside, and a magnetic cover that helps to sleep your tablet and save memory for a hard time.
One-Handed User- TSQ Fire HD 10 Tablet Case
If you are a rough user and your tablet does not run longer then this is for you. The hard case is like military-level protection, very rigid and tough. The corner is layered by tough material which reduces the chance of risk when falling to a hard surface. Its strap easily slides to your palm so no chance to fell, you can also rotate the strap to 360 degrees. This safety feature will cost you a little more but assure to get protected from.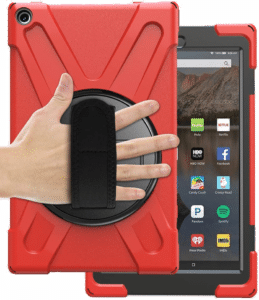 What's the best Amazon Fire HD 10 case?
We take lots of time to decide the best amazon fire HD 10 case. But it's all upon you, there are not many other things to check in covers. So we decide to categorized your need and this also helps for a faster choice of cases.
In order to determine which were best, we focused on protection, price, the materials they were made of, and any additional conveniences each case offered. Before making a decision make sure to confirm your uses and then choose the right one.
If you'll mainly be watching shows or playing games, a kickstand is a must. If you'll be using it outside, you should get something strong with a screen protector and you can also take insurance protection for your tablet. If you want screen protection then choose a strong cover with a front case that can fold to stand and with magnetic closure.
Conclusion
Go for the case which gives all-around protection and also gives some support to the edges and screen. In addition, you can get a case that can also be used as a side stand so easy to watch a movie and many other purposes.
We hope you like our list of best amazon fire HD cases and get your desired case which fulfills your need.
Happy Shopping!!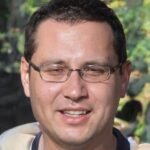 Ben Scott is a prominent technology journalist and reviewer, specializing in tablet devices. He is known for his comprehensive and unbiased reviews of tablets from various manufacturers.
With a deep understanding of tablet technology, including hardware components, operating systems, and software applications, Scott provides clear and informative reviews accessible to readers of all levels of technical expertise.
His attention to detail and in-depth analysis have earned him a loyal following of readers.