Nowadays the rising demand for good quality and smart look devices are increasing rapidly and their prices too. But what if the prizes are normal, or in the budget so that anyone can take it easy. RCA 11 Galileo Pro tablet exactly do the same and with its attractive budget range.
This is very low maintenance and highly demanded due to its 2-way use i.e. laptop or tablet. You can expect a fast device that is capable of multi-tasking and much other major work which 0only can be done on a stable laptop only. But we will explore a product that comes in with a cost-effective price and good quality.
By you can also looking at some of the significant features, let's travel through what it has to offer and come to a conclusion.
Features and Specifications
RCA 11 Galileo Pro features normal specs which are enough for normal use but not for high performing tasks. So first have a quick look at its specification and a hardware install in it.
Hardware Specifications of RCA 11 Galileo Pro
Processor
Quad-Core Processor 1.3GHz
RAM
1 GB
Storage
32 GB
Display
11.5″ touchscreen, 1024 x 600 resolution
Camera
Rear- 2 MP | Front- 1 MP
Operating System
Android 6.0
Battery Life
6 hours
Weight
1.65 lbs
---
Deatachable Keyboard
Storage
Processor
Ports
Viewing angles
Design
Battery life
Processor
Under the hood, it has an MTK Quad-Core processor which is known for its performance in earlier devices. It has four independent processor builts for separate functions and performing like a pro. Strong enough for normal tasks and day to day work. A variety of program runs very easily in it, making it best in the segment.
Display
The resolution of the display is 1024 x 600 pixels which are quite enough for the tablets. Multi-touch technology helps to use very fluently and feel good while zooming or pinching any images. The size of the screen is 11.5″ so in laptop mode it provides enough area to work and to perform multiple tasks at a time.
In this zie of the screen its pixels are quite low so disappoint many users. The screen display is IPS so no problem will arise when viewing from different angles.
Storage
Its storage is just 32 GB which is low but for official works, this may be enough for you but still, you want to make some more space in it then you can simply insert a microSD card to increase its storage capacity to 128 GB. So this problem is solved and make it fir for you.
Input Device
The removable keyboard is one of the advantages if you wish to use it for an office purpose. This helps the user to increase the speed and other data entry work.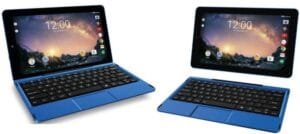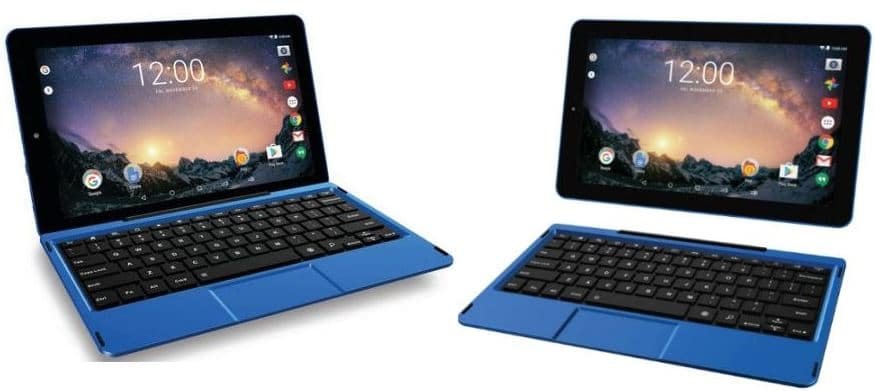 The keyboard looks very beautiful and can be easily removed from the tablet, but if it attaches the whole setup look like a small machine that performs a lot of action. You won't even feel any discomfort when the keyboard is attached to it.
RAM
It offers only 1 GB of RAM which is low but you can perform your normal activities without any lag. Best for the new users and person with a low budget and still need a device that can perform an action without any lag.
Design
In terms of design, it is entirely made of plastic, but the weight is a little more than expected. It weighs 1.65 lbs which are pretty heavy for a basic tablet.
The dimensions of the tablet are 11.81 x 7.54 x 1.16 inch, which is thicker but it also includes the keyboard with it. But since you remove the keyboard it will be attractive as usual tablets.
Battery
The battery quality is very good if we compare it with a laptop then its life is 5-6 hours running time. But it takes near about 4 hr to a full charge when completely discharged.
Conclusion
RCA 11 Galileo Pro is suited well for consumers looking to perform foundational tasks. While the tab has its cons, it offers good specifications that come at an inexpensive price.
Let's not put the tab's faith to doom because no product is perfect and with such a price range, expecting a premium product is inappropriate.
And that is when you end with an expensive product rather than choosing a simple device that is well crafted for you.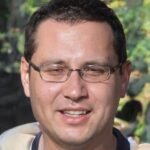 Ben Scott is a prominent technology journalist and reviewer, specializing in tablet devices. He is known for his comprehensive and unbiased reviews of tablets from various manufacturers.
With a deep understanding of tablet technology, including hardware components, operating systems, and software applications, Scott provides clear and informative reviews accessible to readers of all levels of technical expertise.
His attention to detail and in-depth analysis have earned him a loyal following of readers.