These days people mostly search for a versatile device that is capable of fulfilling all their requirements but at an affordable price. Therefore, all the producers have prepared the devices as per their requests. Now there is no need to spend thousands of dollars to buy a cheap drawing tablet with screen.
A sudden rise of decent display tablets has occurred in the past few years that can provide basic functions at cheaper rates.
This time can be considered as the best time for digital artists, animators, photographers, and designers to buy their drawing tablets with a screen.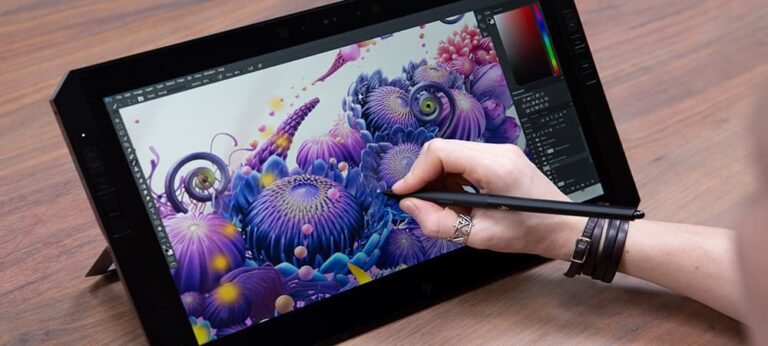 Now the question that arises is which device should be picked?
All the popular brands claim that their product is better than others, so they all have launched many options for their products. Hence, this list has been made for the convenience of the user at a very cheaper and pocket-friendly budget and they can compare as well as choose their perfect fit. The saying goes like don't wait to become an artist and own a drawing tablet, it is the case.
By performing a detailed and monitored analysis for at least a couple of years on the graphic tablets, we have witnessed some advanced features like laminated display, tilt recognition that was originally available only in the expensive tablets but now is also present in the budget devices.
XP-PEN Artist15.6 Pro- Best Cheap Drawing Tablet With Screen
Here's the best pick for the best tablet for artists, If you're looking for a reliable and feature-loaded tablet with unique features this XP-PEN Artist15.6 Pro Tablet is going be the best artist's tablet. You can also read our full expert's review on this.
Some of the key features of XP-PEN Artist15.6 Pro are:
15.6-Inch active area
8192 levels pen pressure
Compatible with Windows 10/8/7, Mac OS X version 10.10
The lightweight of 1500 Grams
Including lots of accessories
4.7/5 Rating By Users
The awesome fact about these cheaper drawing tablets is that their quality and features don't diminish as the price goes down. Even the tablets that lie on the bottom with the lowest prices have good enough features in comparison to the previous models.
A portable tablet with a perfect size is a must for the artists. It provides sufficient space for creating a masterpiece and a tablet that is easier to carry around.
Here Come the list of Cheap Drawing Tablet With Screen:-
1- Huion Kamvas Pro 16 & XP Pen Artist 15.6 Pro (Best value)
The first devices that are mentioned in the list are the Huion Kamvas Pro 16 and XP Pen Artist 15.6 Pro. Huion graphic drawing tablet possesses a Slimline body and is a mid-size entry.
Even though it provides a wide space for drawing, it is still only 11 mm in thickness which is almost similar to a 15-inch tablet. It can be used as a second display or screen after being attached to a Mac or a PC. Along with a battery-free stylus and your favorite designing apps, this will become your best companion.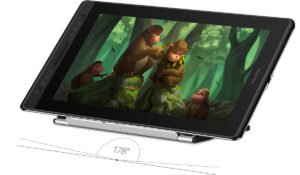 Its Full HD display of 15.6 inches is purely laminated as well as lined with anti-glare glass. It is designed in a way that it remains close to the display panel so that the parallax can be reduced, and the nib of the stylus can move freely above the cursor or brush of the screen.
Huion's panel is also capable of providing a color accuracy of up to 120% sRGB wide gamut. A bunch of shortcut buttons and a touch bar is present directly next to the display.
This tablet comes with a total of 6 programmable express keys and a touch bar that allows the user to never worry about a keyboard to adjust the brush or scroll through a page. However, it can be provided with a stand by a few sellers.
The Huion Kamvas Pro 16 and XP Pen Artists 15.6 Pro have attained a tie for making it to the first position in the list. Both of them exhibit almost the same features at the same price.
Nowadays, the available tablets that can be considered as most economical are the Kamvas Pro 16 and Artist 15.6 Pro in the market.
Hardware Specifications of XP-Pen Artist 15.6 Pro
Pen sensitivity

8192+ Levels

Active Area
9 x 5 inches
Input Resolution
5080 LPI
Express Keys
8
OS Support
Windows 7/8/10, Mac OS X 10.10 Android 6.0
Battery Life
USB Powered
Weight
3.21 lbs
PROS
Battery Free stylus.
Lightweight.
Cheap.
Compatible with any OS.
CONS
No screen.
Pen sensitivity.
These tablets offer the same features to the users as expensive ones. This includes all the useful features like the laminated display, accuracy of the stylus, and better color accuracy.
As for the display, an amazing display is offered by both the tablets along with a support of 120% sRGB color space. Due to this, the color comes out looking stunning. Its panels give out a sufficient amount of brightness so that the colors can be used beautifully even in a closed room.
The Huion tablet has the PW507 stylus with it whereas the PO5R is offered with the XP Pen. Both of these tablets are extremely comfortable and lightweight. They can be held as well as can be used for longer periods without feeling any discomfort.
A test has been conducted on both the stylus, and they stood out the most as they have great pressure sensitivity. With the laminated display, they provide the same service as the most expensive tablets.
For more details, read our full review on XP-PEN 15.6 Pro.
---
2- Wacom One Display Tablet
Wacom is also one of the emerging brands that provide great devices with awesome features. So the next tablet on the list is The Wacom One, which is the cheapest drawing tablet ever made by Wacom.
For newbies and hobbyists, this tablet can become a perfect device. Also, they need not spend a large amount on this tablet and can learn the basics of drawings, designing, and many more.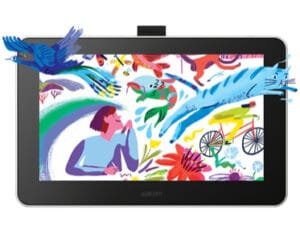 Hardware Specifications of Wacom One
Pen sensitivity

4096 Levels

Active Area
11.6 x 6.5 inch
Response Time
26 ms
Voltage
DC 5V
OS Support
MAC OS 10.13 or later and Windows 7 or later
Battery Life
Micro-USB
Weight
4.56 lbs
PROS
Surface feels like paper.
Small size fits anywhere.
Pen quality.
CONS
Multi cord setup.
Not for the long run.
All the great features that are expected from a great drawing tablet are offered by the Wacom One. It also provides a full HD display of 13.3 inches along with a color coverage of 72% NTSC color space.
The stylus which has been provided with this tablet is the Wacom One stylus. It offers a decent pressure sensitivity with the 4096 levels and a tilt detection of ±60°. Among all the features, the best feature about this tablet is that even to a light touch it offers a great response.
The tablet comes with an inbuilt foldable stand that gives you a comfortable working angle (19 degrees). In case you want some more adjustment angles you can get a separate drawing tablet stand. Overall it is a great drawing tablet to have and provides some of the best drawing experiences.
---
The next device falling in our list also belongs to the Huion, it's the Huion Kamvas Pro 13 GT-133. It possesses a slim body which makes it easier to carry anywhere.
It is not as big as a bigger tablet, and its graphics monitor is also just 11 mm in thickness weighing 910 grams. Although it didn't possess an enormous display with a screen of 13.3 inches it was sufficient enough to complete some light design work.
For detailed expert's review of Kamvas Pro 13 click here.
There is an updated 3-in-1 cable solution along with the type c interface present at the end of the tablet. It provides the power into the three-way adapter that combines power, stylus signal input (USB-A), and video (HDMI) at the computer or laptop end.
There is a bigger version of this tablet, GT-191. However, this tablet (GT-133) offers only 4 customizable keys that are quite different from its bigger version. A touch bar is also present on the left side of the drawing tablet.
For providing 6 different angles, this tablet comes with a separate adjustable stand weighing 765 grams and can be folded flat.
As the name of this tablet is Huion Kamvas Pro 13, it offers a full HD laminated display of 13 Inches. Hence the resolution that appears on this 13-inch display looks very well.
Despite having a low price, it is made very finely. It has a modern as well as minimalistic look. It offers a metallic back to make it strong and sturdy.
Well now talking about its express keys, it offers a total of 4 shortcut buttons as well as a handy touch bar. They are used to perform various shortcuts like zoom, pan, scroll, and most importantly for changing the size of brush and eraser in the drawing software.
This tablet performs on the same technology as the Huion model of 15 inches. Therefore, it is highly obvious that a great stylus will be accompanying it. A great 8192 levels of pressure as well as a tilt recognition of up to ±60°, is provided by the stylus.
All in all, it can be said that the user will be getting many features at a very economical price. Hence, this drawing tablet can be considered a worthy one.
Hardware Specifications of Huion Kamvas Pro 13
Pen sensitivity

8192+ Levels

Active Area
293.76 × 165.24 mm – (1920 x 1080)
Input Resolution
5080 LPI
Pen
Battery-free PW507
OS Support
MAC OS 10.12 or later and Windows 7 or later
Express Key
4 + 1 Touch Bar
Weight
2.01 lbs
PROS
Anti-Glare glass.
Touch Bar.
With adjustable stand.
CONS
Expensive.
No full USB-C support.
Older pen.
4- XP Pen Artist 13.3 Pro
The next device that we have included in our list is the XP Pen Artist 13.3. It is a great tablet that provides almost similar features as the XP tablet of 13 inches.
This tablet comes with a full HD screen of 13 inches and a 123% sRGB color space. Its screen is laminated too, to save the screen from parallel while being used by the artist.
It possesses an amazing design made up of premium quality plastic to provide it a strong build, and it is also responsible for the lower price. Glass is also placed on top of the anti-glare and scratch-resistant film additionally for the safety of the screen.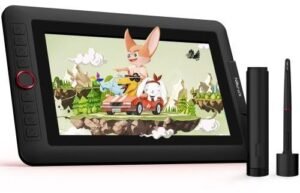 The user is going to be amazed by the service of this tablet. One of the best things about this tablet is its shortcut buttons. There are a total of 7 shortcut buttons provided, with a dial. These buttons are wholly customizable and through the tablet's settings can be accordingly customized to any shortcut command as per the user's choice.
A red dial is a shortcut feature useful for performing various tasks like zoom, pan, scroll. Brush and eraser sizes can also be changed by the red dial only with a rotation. This dial becomes quite handy while performing operations on the drawing tablet.
A comfortable battery-free passive stylus is provided with the tablet for making it easier for the user to carry the stylus for longer drawing sessions.  A well-balanced pressure curve, accurate pen tracking, and a total of 8192 levels of pressure sensitivity are offered by the tablet.
So, this XP Pen Artist 13.3 can be the dream tablet for those users who work with the shortcut buttons the most.
5- XP-PEN Artist22 Pro 21.5-inch Drawing Pen Display Graphics Monitor
A wide range of drawing tablets with built-in monitors are offered by the XP-PEN tablets. They are available in different sizes, i.e. from 11.6, 13.3, 15.6 up to 21.5 inches of the Artist 22 Pro.
For providing better connectivity, the device consists of HDMI, DVI, VGA for videos, and USB for digitizer inputs.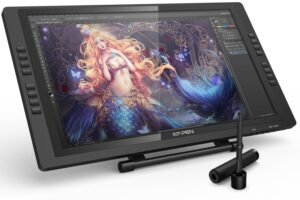 It is a 21.5 inches display tablet that offers a full HD resolution of 1080p along with the Colour Gamut of 77-82%. The IPS technology that can provide vibrant colors and the ultra-wide viewing angle is also included in the tablet.
However, this Artist 22 Pro is lacking a feature which is the presence of numerous buttons on the sides of the drawing tablet. So if the user wants to experience those side keys, they can go for the Artist 22E Pro. It has a rechargeable stylus. The monitor can serve as a dual-purpose display i.e. as writing as well as a drawing tablet.
6- GAOMON PD1561 15.6-inch Drawing Tablet
This is a device of Gaomon that has been included in our list. It is the Gaomon PD1561 which is a successor of the PD1560.
Even though it isn't much of a bigger tablet, still all the features can be provided to the users. It also offers an ultra-wide viewing angle of 178° and a full HD resolution.

A widescreen of 15.6 inches along with the HD resolution of 1920 x 1080 and an IPS technology for giving amazing visuals to the users as it produces vibrant and sharp colors. It also offers a 72% Screen NTSC color gamut.
There are several express keys present on the left side of the display so that the users can perform their favorite operations with ease. The keys comprise a total of 10 shortcut keys as well as 5 menu keys. Its successor is also performing very well you can also check this out.
It also offers a stylus in the package which is a battery-powered one. It gets fully charged after approximately 2.5 hrs. Some extra nibs are also given with the pen holder. It offers 8192 levels of pressure sensitivity.
For a better experience, an arm stand is also provided with the tablet.
It can be connected to all the devices like Windows, Mac, laptop, and PC through HDMI or USB connections.
7- Huion KAMVAS 20 19.5-inch Drawing Tablet (GT-191)
Huion has a variety of products at a greatly economical amount and only one is not enough to be included in the list of cheapest drawing tablets. Hence, the next Huion device mentioned in the list is the Huion Kamvas 20.
The tablet offers a drawing monitor with a variable tilt stand. Users can get their desired working angle as this stand can be easily adjusted up to 20°-80°.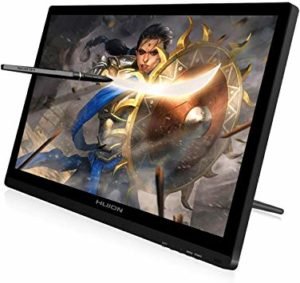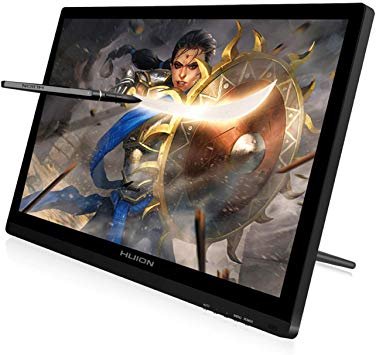 A battery-free stylus is a boon to artists. They don't need to be charged so there is no need to worry about their power wearing off, halting the work in between just because of the low charging or a discharged stylus. This tablet also offers a battery-free stylus making it an idealistic tablet at a very reasonable price.
A huge display of 19.5 inches is offered by the tablet. Wide-angle viewing of 178°, sRBG color gamut of 120%, and a sufficient contrast is provided by the display of the tablet. To reduce the glare and strain on the eyes an anti-glare glass has been lined up on the display panel so that the user can focus on creating new art pieces regardless of the light conditions.
This tablet can also be used as a laptop with a strong stand because of its great size. However, there are no express keys present on it, so it works better as a second display than the main screen.
8- Huion KAMVAS Pro 20
Another device on the list is the Huion Kamvas Pro 20. Although it's not as cheap as the other tablets, this is a graphic tablet of a professional level.
This drawing tablet offers a huge Full HD screen of 19.5 inches along with a wide viewing angle of 178°. It also provides at least 15.7 million colors and a 120% sRGB rich color gamut.
However, this is not the most shocking feature of the tablet. Its shocking feature is the different express keys it possesses. It has a total of 8 customizable shortcut keys and a touch bar on both sides, these are the features that are highly required for professional artists.
Either way, it can help the user to perform the functions smoothly. This means that the user can mirror these buttons for giving the same functions or they can set the 16 buttons for different functions.
Users get the latest battery-free stylus with the tablet-like any other drawing tablet. A wide range of connectivity options are also available for them, this tablet can be through various means like HDMI, VGA, USB, and DP Port.
For providing a better angle for drawing to the users, an adjustable stand is also given. This stand is capable of offering different angles for working i.e. from 20° to 80°.
9- XP-PEN Artist15.6 Pro 15.6-inch Drawing Monitor
Although the updated version of Artist 15.6 Pro is the last device on our list, it won't be a  disappointment for the users. It doesn't necessarily need a wall adapter for charging, it can be powered through a USB.
The drawing tablet offers an HDMI cable for video signal and two USB connections for signal and power. It also has a generous Full HD display that features sRGB color accuracy of 120% along with an IPS technology that provides a wide viewing angle of 178°.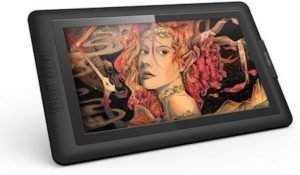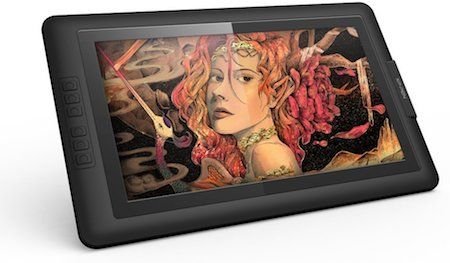 It has a complete laminated technology that helps the nib of the stylus to get closer to the display by eliminating the air gap present between the display and protective glass. The glare is also reduced because of the anti-reflective coating.
There are 8 customizable shortcut keys present on the bottom of the left side of the display. Whereas a red dial is present in the middle of the tablet. This whole setup is only 11 mm in thickness. In addition, a separate stand is provided too.
Conclusion
Overall it can be said that these tablets will provide all the features and advantages of drawing tablets to the artists at a very low price. These graphic tablets have been designed with utmost consideration of the user's needs, that's why they have maintained a balance between their sizes and costs, to get fit to fall in the user's budget.
Those artists whose demands are to get a graphic drawing tablet with a bigger display of 21.5 inches can opt for the XP-PEN Artist 22 Pro, XP-PEN Artist22E Pro, or the Huion Kamvas Pro 22.
However, if the artists want to have a graphic drawing tablet with an even bigger display of 23.8 inches they can pick the Huion Kamvas Pro 24. It also offers a 2.5K QHD display. They can be a bit costly but still are economical compared to their Wacom equivalents.
These tablets are extremely comfortable and stunning with a reliable body. They are easily portable, hence the artists can easily carry them around. In this world of digitization, there are different kinds of drawing tabs available offering non-negotiable benefits but at a very high price.
Therefore, with these mentioned cheap drawing tablets, we are trying to provide the perfect gadget to amateur or beginner artists. The above-mentioned Tablets are capable enough to provide you the most needed features at a very low amount.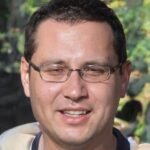 Ben Scott is a prominent technology journalist and reviewer, specializing in tablet devices. He is known for his comprehensive and unbiased reviews of tablets from various manufacturers.
With a deep understanding of tablet technology, including hardware components, operating systems, and software applications, Scott provides clear and informative reviews accessible to readers of all levels of technical expertise.
His attention to detail and in-depth analysis have earned him a loyal following of readers.