When it comes to picking the most suitable tablet for graphics drawing, there are various options for selecting the most suitable tablet for this purpose. That's why we are here to serve you in choosing the most reliable tablet for you.
We have done intense analysis and found that Huion kamvas pro 13 explications for all of your queries. 
Huion utilizes electromagnetic handwriting input technology as a fundamental technology. It has acquired applications and outcomes in various areas such as digital panels, pens, digital screens, copy boards, electronic school bags, graphic design tablets, and other electronic gadgets. Huion takes appropriate concern in designing all its accessories and guarantees that its goods are made with high-quality material.
Specifications:-
Hardware Specifications of Huion Kamvas Pro 13
Pen sensitivity

8192+ Levels

Active Area
293.76 × 165.24 mm – (1920 x 1080)
Input Resolution
5080 LPI
Pen
Battery-free PW507
OS Support
MAC OS 10.12 or later and Windows 7 or later
Express Key
4 + 1 Touch Bar
Weight
2.01 lbs
PROS
Anti-Glare glass.
Touch Bar.
With adjustable stand.
CONS
Expensive.
No full USB-C support.
Older pen.
Design & Build
Huion has a slightly sharp edge in times of its designs. Huion Kamvas Pro 13 has a svelte and chic design. It has an astonishing display size and dimensions, which delivers it helpful to be carried around in a regular bag or hand. The touch bar arrives with different modes like pen size, zoom in or out, etc.
If you look at its smooth plastic-made front panel, you will notice that the tablet is fully covered with a unique anti-glare sheet of glass aside from its six shortcut buttons. There is no obvious and crease that differentiates between screen and bezels. This feature gives a stylish and novel look to the tablet. 
The rear panel of the Kamvas Pro 13 is formed of anodized aluminum, which gives structural strength, thus making it more comfortable to hold. The metallic rear also improves its endurance. The rear panel also has two rubber straps, thus providing an additional grip.
Multipurpose Dial and Touch Bar
Multipurpose shortcut buttons are great as they enable you to operate multiple shortcuts with a single control.
Huion Touch Bar
The Huion Kmavas Pro 13 arrives with a touch-based shortcut which they say is a touch bar. The touch bar is a linear strip of touch-enabled surface that can function shortcuts such as zoom, pan, scroll, and most importantly, modify the brush and eraser's size by swiping your palms up or down.
The only point which is missing is the possibility of changing the sensitivity of the touchpad.
Display, Color, and Resolution
The display is one of the essential elements of a drawing tablet. It's the primary part where all the activities and actions take place. Having a more excellent screen helps in a much more reliable and precise drawing. 
Huion Kamvas Pro 13 GT-133 has a 13 inch IPS LCD which seems fabulous. The display of the tablet is coated by a top-notch quality layer of Anti-Glare coating. The Anti-Glare coating is essential for individuals who have to work regularly in front of the screens.
If we speak about its screen presentation, the Kamvas Pro 13 has a 1920 x 1080. The fluorescent screen of the Kamvas Pro 13 GT-133 is much brisker and clear because of the compressed and sound display, which means higher pixel density. Amazingly viewing angles are beautiful and excellent. However, due to the anti-glare coating, the show looks dark.
The color setting of the tablet is out of the box, excellent, and surpassing. If you are not satisfied with the settings, you can always return the settings to default by moving to the Other and Reset choice. No desire to feel scared to play around with the OSD settings to find the best colors for you.
Compatibility
The Kamvas Pro 13 is congruous with Windows 7 or following and Mac OS 10.12 or later, Chromebook (ChromeOS 88 and above). It also fits with mainstream software like Adobe Photoshop, clip studio, paint tool sai, and higher others things.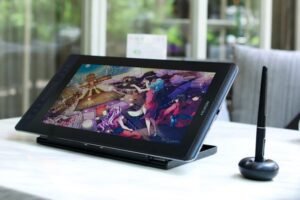 It is also helpful for online education and other working ideas. You can find it necessary to meet all your requirements for every subject with online training software. It also has Word, PowerPoint, OneNote, PDF pre-installed in it. The Kamvas pro 13 runs enhanced efficiently. You can also utilize Huion Kamvas pro 13 for online conference ideas, web conferencing, and various webinars.
Drawing Performance
Amazingly, the overall design performance of Huion Kamvas Pro 13 is incredible. Pressure sensitivity and slant sensitivity go correctly. Lines seem just the way a specialist and a novice can expect. Pressure can be held consistently to draw lines with equal width. 
There's no delay with any of the design apps we' 've tested on both Windows and macOS. The matte design surface and laminated display also make the design experience awesome. There's the palpable feeling of drawing on the surface, and the lines look directly beneath the pen tip without any notch.
Other Features
Huion Kamvas Pro 13 gives plenty of valuable and exciting features which make drawing fun. While some of the functions are necessary, other parts can be done only when felt important. While working on the tablet, we never thought that any significant or essential element was missing. Let's take a peek at some of the vital features of the drawing tablet.
Battery-Free Pen
The Kamvas Pro 13 arrives with an astonishing and innovative battery-free pen, PW507. Since there is no battery in it, the pen doesn't require any recharging or battery renewal. What's exciting is that the pen works great and is on the same level as the other high-quality battery-powered drawing pens. The tablet arrives with a silicone cover on the cell, providing a stable and robust grip.
The tablet also appears with a useful doughnut-shaped pen holder PH05, which holds the pen upright. 
Ten more nibs also occur with Huion Kamwas Pro 13 drawing tablet. 
The drawing monitor gives users a broader field of view and offers more vibrant colors and more natural transitions.
Summary
Huion Kamvas Pro 13 GT-133 Tablet has a three-in-one port to correlate with the power and laptop. The other one is for the computer, the HDMI port, and the USB port, and the other is for management.
The power port is then attached to the adaptor. There is a slight bulge on the dock, which assists in making a solid connection. The display feature is very effective. 
If you are looking for a well-built, more nice-looking tablet with great design and overall performance, then Huion Kamvas Pro 13 can be a great choice.
On the other hand, if you apply the shortcut buttons a lot and overall want a more functional tablet with better shortcut options, then XP Pen Artist 13.3 Pro is the best choice for you.
We suggest this tablet to anyone engrossed in it. It has a beautiful screen with fabulous colors, a spacious battery-free pen with pen tilt functionality, and a slender profile which makes it easy to take from one work area to another. If you're seeking a great drawing monitor, We suggest the Huion Kamvas Pro 13 is a very compelling choice.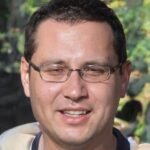 Ben Scott is a prominent technology journalist and reviewer, specializing in tablet devices. He is known for his comprehensive and unbiased reviews of tablets from various manufacturers.
With a deep understanding of tablet technology, including hardware components, operating systems, and software applications, Scott provides clear and informative reviews accessible to readers of all levels of technical expertise.
His attention to detail and in-depth analysis have earned him a loyal following of readers.