After an eternity of searching for the best Wacom tablets which fit all kinds of professional and personal needs, I have finally made my list. A good tablet must be user-friendly and accessible to everyone. Since then Wacom has kept a note on the demands and delivered excellent quality graphic tablets.
The range is so good that it would be a little rude to decide the best amongst them all. But then everyone has different needs and there is always a perfect match for all. Keep reading ahead and check out my list of nine best Wacom tablets for photoshop you can buy for your designs.
Wacom One- Best Wacom Tablet
Here's the best pick for the best Wacom tablet, If you're looking for a reliable and feature-loaded tablet with unique features this Wacom One Tablet is going to be the best artist's tablet. You can also read our full expert's review on this.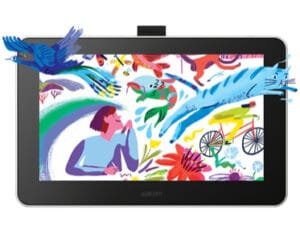 Some of the key features of Wacom One are:-
11.6-Inch active area.
4096 levels pen pressure.
Lightweight of 1500 Grams.
Including lots of accessories.
Best rating on amazon.
9 Best Wacom Tablets In 2023:-
As mentioned already, Wacom and graphic tablets go hand in hand. The duo is as obvious as photoshop with photo retouching. Read out the best features to boost your digital art game.
1. Wacom Intuos Pro- Best Wacom Tablet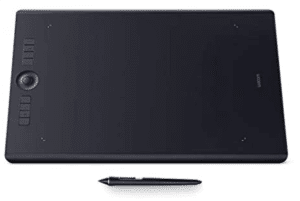 Specs: Large active drawing area: 311 x 216mm (12.1 x 8.4 inches) | Stylus touch sensitivity: 8192 levels, both pen tip and eraser | Connection: USB, Bluetooth | Ergonomics: Right or Left-handed use | ОS: Windows/macOS
It is quite understandable that everyone has their style and techniques, but here we are assuring you that, peeps like me who love to draw on their pen and paper are going to be the ones most affected by this tablet. This is one of the main reasons why I have put it on the top as this is the best tablet for drawing and has the caliber to replace it without causing any kind of discomfort for the user.
A nice graphic tablet maintains on-point image post productions. The Wacom Intuos functions as a large sheet of paper- an exhilarating experience for the folks sticking to the traditional mouse function. You can choose from the best orientation to fit into your computer screen.
Customizable Express keys come in handy as they are located on the side of the tablet along with a touch ring. The hotkeys sit along with the power switch and touch function switch on the sides. On the opposite side, you will find the optional USB module.
Want to know more? read our expert's review on Wacom Intuos pro.
Pro Pen 2 has two buttons which can be well adjusted. It also has overhangs. If you wish to erase anything just turn the pen upside down. This is the reason It is placed on the top of the list of best cheap wacom tablets.
---
PROS
The pen gives accurate results
Highly customizable
It is perfect for Photoshop
2. Wacom Intuos Art- Cheap Wacom Tablet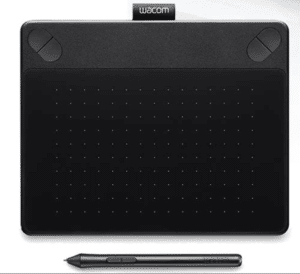 Specs: Medium active drawing area: 216 x 135mm (8.5 x 5.3 inches) | Stylus touch sensitivity: 2048 levels | Connection: USB, Wireless (Buy it separately) | Ergonomics: Right or Left-handed use | ОS: Windows/macOS
Wacom Intuos Art medium is known to be something that comes handy to all beginners. It's different from regular tablets in terms of its processor- Corel Painter Essentials 5, which can be used not only by professionals but by beginners as well. The model has 4 keys and extra hotkeys which perform different commands.
This Tablet can modify the operation for different purposes. It is considered one of the best Wacom tablets. The stylus button has 2 buttons but no eraser and is also thinner. The tablet is light to use and seamlessly draws. Mac and Windows drivers are supported by Wacom.
Various versions and sizes are available of this tab, and I used the smallest version of this drawing tablet for my research. It surely surprised me as it has more than enough space even after being so small for my hands to freely work on. Unlike other tablets which can let our hands hang off the edge making us tired. Same goes with its point grid pattern present on the main drawing area which makes it easy for us to relate where we actually are on the screen along with a better intuition and natural feel to draw on its pressure-sensitive surface.
There are exclusive gestures assigned to operate the tablet, many of which are the same as the gestures on the usual smartphones. The only thing to look out for is an extra modem since the tablet since the model is wired.
3. Wacom Bamboo One
Specs: Small active drawing area: 152 x 95mm (6.0 x 3.7 inches) | Stylus touch sensitivity: 2048 levels | Connection: USB | ОS: Windows/macOS
This device was created for limited use for those who are beginners in the field hence it retails very cheap. The bamboo line has been marketed for years with the promise of new updates and features on the device.
The new Wacom bamboo One drawing tablet is a great option for those users with a tight budget. It is compatible and gets along with devices to work like Windows, Mac, and Android devices. For me it was an awesome upgrade, after being a 2D and 3D artist for a long time, this is something I was always looking for.
It's a good tablet with a pretty big draw space amongst its contemporaries. Tablet comes with an operation friendly pen. The pressure sensitivity has nearly doubled!
---
PROS
Budget-friendly
Good build
High sensitivity to pen pressure
CONS
No wireless connection
No additional control keys
4. Wacom Intuos
Specs: Small active drawing area: 152 x 95mm (6.0 x 3.7 inches) | Stylus touch sensitivity: 4096 levels | Connection: USB, Wireless | Ergonomics: Left or Right-handed use | ОS: Windows/MacOS
Wacom Intuos knows the market and takes care of people with varied budgets including those who ain't willing to spend a fortune. The nice build and resolution help to work on large displays. This one is a recent variant of the already known Wacom tablets.
After testing the model, the utmost votes of confidence fall into its painting Grid with the stylus. They both possess a marvelous combo style and passion important for the artists. Well, I won't say that it's weightless but yeah it does have a lighter weight than others.
In Fact, its stylus didn't feel any different from a normal pencil to me. It doesn't matter which category you belong to, beginner or professional, this drawing tablet is just for anybody.
Although it was similar in price to the previous version it offered some great features. The tablet is upgraded to operate on a touch sensitivity of 4000. You can easily go back and forth with the opacity and line width.
You get small and medium versions of Bluetooth but no eraser. Anyway, you can sit anywhere across the room without sticking on to your computer system.
---
PROS
Wireless connection
Express Keys
CONS
Lack of multi-touch gestures
No pen eraser
5. Wacom Cintiq 22HD
Specs: Active drawing area: 19.5 x 11.5 inches | Resolution: 1920 x 1080 | Stylus touch sensitivity: 2048 levels | Connection: DVI, USB 2.0 | OS: Windows/macOS
The tablet has a Wacom tablet display. It's known to be the best drawing tablet for upcoming artists. Screen quality is crisp with a slight glare on the usual matte screen. One drawback of concern with the display has come to notice.
Based on its size and the features it is offering it can be considered the most affordable drawing tablet for beginners. This tablet has the capability of changing one's entire view of creating digital art masterpieces effortlessly.
The display isn't scratchproof. 18 programmable keys are provided which is a complete package for a professional editor. There are more than a hundred gestures.
Also, it has been empowered with an in-built adjustable stand so that you can do whatever you want with your level of ease and accessibility.
Also we have a detailed and deep review on Wacom Cintiq 22.
You could connect the tablet with DVI and USB. The stamp provided enables to tilt the tablet in different directions. The pen comes handy and makes the set a good deal.
---
PROS
Excellent display quality
Durable stand
Good IPS panel for great color rendition and maximum viewing angle
Can be used by left-handers
The stylus is small and convenient
CONS
The border around the screen is quite large
The monitor heats up after long-term use
You need special scratch protection
6. Wacom Cintiq Pro 13
Specs: Active drawing area: 11.6 x 6.5 inches | Resolution: 1920 x 1080 | Stylus Touch Sensitivity: 8192 levels, both pen tip and eraser | Connection: USB Type-C, Mini Display port, HDMI | OS: Windows/MacOS
These tablets have been entirely made for designers and digital artists working in both 2D and 3D applications. All the graphics and pixels show clearly with its 4 k display. In order to put less strain on the artists the screen pixel density has been reduced a lot. Along with good contrast and color accuracy all the paintings and the process is going to become much more exciting and fun than it already is. This function is possible because of the distance between the surface and pixels.
The tablet has its place among the best tablets in the digital draw category. A 24-inch screen is a good size to ensure a large workspace but you must CONSider the studio screen space.  To get nice strokes you get ample tools. The pro pen 2 is included in the set.
Still want tom know more? Read our further feedback on Wacom Cintiq Pro 13.
It claims to sustain 8000 levels of touch sensitivity which in case of being too good to be true, still passes the test. We know that Apple pencil is a class apart but this one is better in terms of tenacity.
---
PROS
Excellent resolution
Good color accuracy
Wacom Pro Pen 2 is convenient and precise
CONS
Built-in legs are nice but not adjustable
You should buy a remote control for manual buttons
7. Wacom Cintiq Pro 24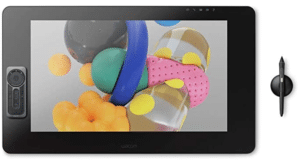 Specs: Active drawing area: 22.55 x 11.57 inches | Resolution: 3840 x 2160; Stylus touch sensitivity: 8192 levels, both pen tip and eraser | Connection: HDMI 2.0 port, 4 x USB3 ports, USB C port, DP port | OS: Windows/macOS
This is one hell of a device which ensures a nice experience with digital canvas and provides great designs. The interface is user-friendly and easy to understand, unlike rocket science.
The tablet works both on Mac and windows. If we compare Wacom tablets, the Cintiq Pro 24 has a resolution of 3008 × 1692, while the Cintiq 24HD has a 1920 x 1200 resolution. It comes with the Wacom Pro Pen 2 stylus.
For zooming in and out to get a more detailed and beautiful art piece, there are several express key remotes with the touch ring. An utmost satisfaction is provided to the artists by this function due to its highly responsive and smoother nature. Even it can be assumed that this remote function is the best as well as fully customizable experience offered by the Cintiq till now. Different functions can be assigned to each key as per the need.
For further review read our full review on Wacom Cintiq Pro 24.
---
PROS
High brightness IPS UHD panel
1.07 billion colors (10 bits color)
99% Adobe RGB
Wacom ProPen 2 is convenient and accurate
CONS
A stand isn't included
Expensive
8. Wacom Mobile Studio Pro 13
Specs: Active Area (11.6 x 6.5 in) | Resolution: 2560 x 1440 | Pen Touch Sensitivity: 8192, both pen tip and eraser | Connectors: 3 х USB-C, Bluetooth, Wi-Fi | Intel Core i7, 16GB RAM, 512GB SSD | ОS: Windows 10 Pro
Looking for a drawing tablet with a stylish stylus, like me, or getting confused about which one to choose without compromising your demands. Go for this Wacom MobileStudio Pro 13 as your best option. I have used almost all kinds of stylus pens Available with drawing tablets but the best fit for me was the Wacom Pro Pen 2 which comes with it. In fact, after researching a bit about this stylus, digital artists all over the world have ranked it the best for illustration purposes.
This is designed for professionals who want perfection and do some serious work.  The design is well built and suits performance and not just looks. The 13inch model, although huge is portable.
It weighs similar to the standard laptops. You get a mobile studio pro designed stylus which is supported by the docking station.
The express key system backs the need of an external keyboard but you can always buy the add on piece. This is a go-to tablet for official work.
---
PROS
96% Adobe RGB color range
Can be used as a pen display for a more powerful desktop
Best-in-class pen interface
Full-size SD card slot
CONS
Low battery life
Non-removable battery
A 3D scanner is not very accurate
9. Wacom Mobile Studio Pro 16
Specs: Active Area (13.6 x 7.6 in) | Resolution: 3840 x 2160 | Pen Touch Sensitivity: 8192, both pen tip and eraser | Connectors: 4 х USB-C, Bluetooth, Wi-Fi | Intel Core i7, NVIDIA Quadro M1000M 4GB GDDR5, 16GB RAM, 512GB SSD | ОS: Windows 10 Pro
The Mobile studio pro display is a better variant of this model. The Wacom mobile studio pro 16-inch screen manages the huge Adobe RGB gamut. The colors have a cool undertone but are well balanced.
However, this Wacom MobileStudio Pro 16 isn't suitable for beginners but is the best choice for professionals if the cost isn't an issue. Pro artists looking for a portable digital studio can surely opt for this, when I started to use this tab for my illustrations it felt as if m drawing on paper only as it was so smooth and with its vivid, colorful 4K display, the process and the end result became a visual treat to the eyes and with its state-of-the-art pen, which doesn't run on a battery only enhances the pen and paper experience for the illustrators.
This one is a must-buy for all the photographers and designers. Other customers have more options to consider. The screen is perfectly set and comes with the best stylus currently in the market.
You also get an extra real sense camera. Isn't this a cool feature to look out for!
---
PROS
Powerful under-the-hood functionality
Great display
Customizable express keys
Optional RealSense camera is great for working with 3D
CONS
Expensive
Relatively slow SSD
Battery life should have been better
Frequently Asked Questions:-
What are the Important features to look for in a drawing tablet if you are a beginner?
The most important qualities should be a comfortable stylus, good pressure sensitivity (at least 1,024) and easy-to-use controls for you to make it a habit and learn to do illustrations on your own.
Why should I choose a drawing tablet over normal tablets?
It has a very simple answer and that is visibility. The screen of drawing tablets offer a wide 4k display with utmost fluidity which makes it really easy to give a detailed mapping of the drawing.
What are the Benefits of a Drawing tablet?
They come with a battery free stylus, that means you can paint all you want and will never get out of ink, isn't it amazing. And the other benefit is, they are available in various sizes from small to large as per the artists needs and convenience.
Why do digital painters go for a drawing tablet with a stylus?
Because it helps them by making doodling, painting, drawing, sketching and providing minimalistic details to their masterpieces much easier for them.
Wrapping Up
I have Provided Almost all the most needed and useful information about all the best and cheap drawing tablets, and hope that this article has answered all your queries accordingly.
And now we conclude our list of the best Wacom tablets for your graphic work. Wacom tablets are best for graphic designers and artists. We covered every popular Wacom tablet on our list. And tried to answer almost all kinds of questions that may arise while deciding to buy a drawing tablet.
But, If you think we missed your favorite device. Just let us know in the comments section.
Howdy Geeks, I'm Andrew, a young passionate blogger, Tech Freak & a Gadget Lover. I help people in buying them the best tablet devices