We earn some commission from AMAZON when you buy from the below links.
Art is the way to express one's self and now it's not limited to paper. Various devices are present to provide a better experience although they can't replace a simple brush or real colors. Instead, they can represent it with the help of a stylus.
But convenience and comfort are the basics for any artist to transform his imagination into a masterpiece, and that can be assisted with the help of the best drawing tablet stand.
Keeping this fact in mind, nowadays the tablet companies have stopped providing tablet stands to buyers with the purchase of a drawing tablet. No matter what the price of the tablet is, they don't come with a tablet stand which is quite inconvenient for the users.
The most puzzling part is finding a perfect stand that matches the tablet because various tablets can be easily united with more than one stand.  Therefore, to make it easier for the users, we have made a list of stands that are perfectly suitable for your Tablets through detailed research.
If you have also begun to think as to which stand you should buy for your tablet, you can go through our listings.
Lists of the Best Drawing Tablet Stand:-
1- Parblo PR100- Great Design, Good Price, and Greater Flexibility
As the saying goes, expensive ones last longer and fulfill every desire. A good tablet stand has to be expensive whereas the cheap ones are truly a misfit for your tablet, especially for a drawing tablet.
The Parblo PR100 consists of all the features and benefits that too at a great price range. Its frame is built with a mixture of plastic and an alloy which makes it super strong for holding even a heavy pen tablet and has an adjustable range of 15°- 90°.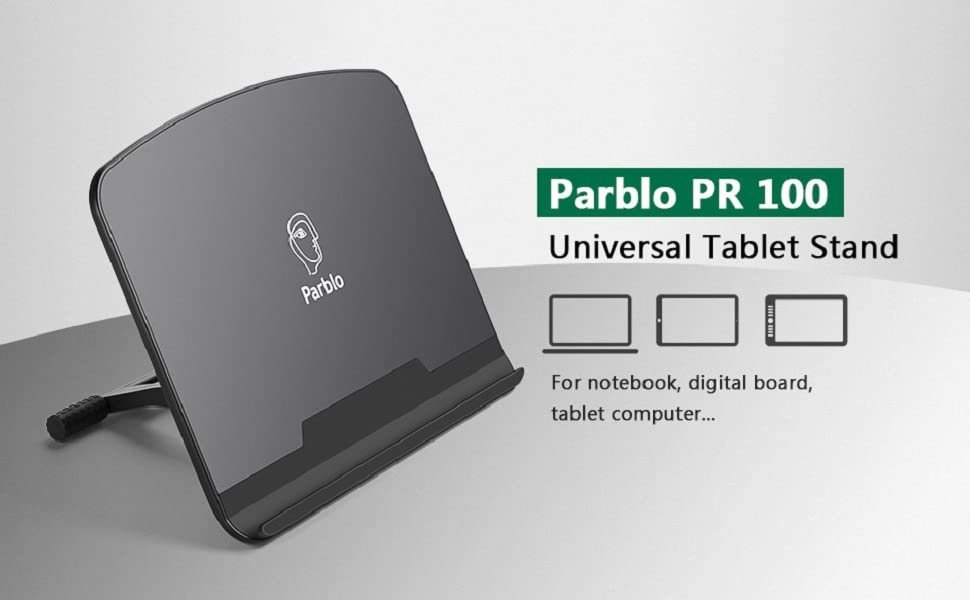 It has a spiraled base margin with firm rubber pads for holding and protection of the tablet against scratches or scuffs while drawing or sketching. For better stabilization on slippery or smooth surfaces, rubber pads are present at the leg and bottom of the stand too.
This tablet stand is appropriately suitable for iPads, drawing tablets, or lightweight Ultrabook computers that have a thin body.
2- Parblo PR110 – Best Drawing Tablet Stand
All in one tablet stand for Apple iPad Pro and Wacom Drawing Tablets
A classy stand is a must for any tablet. The Parblo PR110 is an amazing stand at a rational price which has a great build with a magnificent body.
This stand possesses many qualities that are usually required hence make it a likable accessory. It has even surfaces in addition with the bezeled sides and edges and the frame is made of aluminum alloy. The frame helps to avoid scratches or nicks on the tablet whereas the low-grade stands can not prevent it usually.
It provides a better grip for a drawing tablet while performing various activities like making sketches, portraits, and drawings. It has a firm rubber holder at the end of the stand and four other big rubber strips facing the front side in addition to the two rubber feet. Altogether they maintain the stability of the tablet on any surface.
3- Wacom Cintiq Adjustable Stand – For Wacom Cintiq 16
This Wacom adjustable stand is particularly designed for the Wacom Cintiq 16 which is a magnificent creative pen display.  It offers limited flexibility because of having a single stand.
The Stand is adjustable and permits movement in any direction from 19° – 68°. The portability of the stand is amazing as well as it possesses a locking mechanism at the top of the stand so that the tablet can be locked and is easily moved to the wanted location.
Its metallic body along with the locking mechanism makes sure that even with the heavy pressure the tablet does not get damaged and the user does not feel any unsteady movements.
Two rubber pads are there on the base or the stand for preventing slippery motions on flat and even surfaces. The stand has a simple fitting procedure which becomes easier to understand with the user manual.
This can be concluded that if one wants a stand for their Wacom Cintiq 16, this stand is the best option.
4- Adjustable Lap Desk with In-Built Cushion – Soft Lap Stand
Drawing or sketching needs a lot of patience and time, hence to do so most of the time artists end up sitting at a position unchanged for a longer duration that becomes laborious for them. This tablet desk is just perfect to provide ease and comfort to the user.
It provides relief as well as support to the user as its bottom has two cushions attached to the desk. It allows ease for you to work on the tablet even while keeping it on the lap.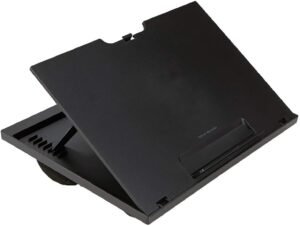 The desk has a simple body made up of plastic and it looks great. It can sustain and manage heavy loads because of the eight adjustable angles. This desk is capable of handling a variety of devices like the iPad, laptops, tablets, and many more devices.
People who are supposed to work constantly on their laptops or tablets for numerous hours can opt for this desk. It provides different angles as well as various working positions which will be beneficial for them, especially the artistic ones.
5- Max Smart – Best Drawing Tablet Stand
If you want a cheap drawing tablet stand, the Max smart can be the best choice available in the market. It has a plastic body and a simple design which is sufficient enough to fulfill its duties without any extra apparel.
This stand is capable of holding various tablets regardless of their display size. It supports six different angles for the adjustments, and they are 15°, 17°, 19°, 35°, 37°, and 39°.
The stand offers stabilization to some extent over slippery surfaces as it has few anti-slip rubber pads that prevent the sliding of the stand. This table is not as superb as the others but is still good enough at this minimal price range.
It is a model stand for any lightweight drawing tablet and is available in two colors i.e. Red and Black.
6- Ergotron arm – infinite adjustability stand
A better screen position is required to offer great convenience to the user and that exactly is provided by the ergonomic arm which turns the screen into a floating monitor that can be adjusted or moved in any direction you want.
It offers extension and lifts to a great degree of 25 inches and 11 inches respectively. This simply implies that the arm permits the working condition on the monitor at any position lying in between this range.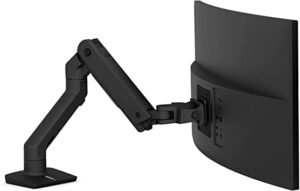 This arm can be the best adjustable stand for drawing purposes as it can tilt, rotate, or pan the screen however you like after getting attached.
This stand has a strong metallic build which molds it as a perfect stand that has the capability of carrying heavy tablets weighing up to 42 pounds and 43 inches in measurement.
Market has many cheap or economical monitor arms however they are not quite suitable for the bulky drawing tablets, instead, they offer stability to the simple computer monitors.
It offers the feature where one can tighten the moving joints by adjusting the friction resulting in better stability. Drawing tablets that have a VESA-supported mount at the back can be easily attached with the Ergotron Arm Stand.
7- Elevation Lab Draft Table Kit For iPad Pro
The iPad's official stand doesn't allow the maximum comfort to an artist for drawing due to its restricted elevation movements which can become quite hectic during lofty drawing hours.
Elevation Lab Draft Table resolves this issue for iPads. This table has proven to be an absolute answer for the iPads or the small-sized tablets. The whole set consists of a tablet stand, a premium grade palm rest, and a holder for Apple Pencil (stylus).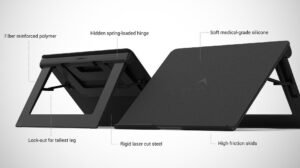 It is designed with high-quality materials which makes it a strong and well-built tablet stand. A soft silicone of medical grade is present in the front for the protection of the tablet against scratches and rubber pads are present on its legs for stabilization at smooth surfaces.
It is a portable table as it can be folded into a lean pack which becomes easier to carry along with the iPad in the backpack. The table enhances the drawing experience of the iPad and is also available at a logical amount.
8- XP Pen Multifunctional Metal Stand
The XP Metal Stand is the most appropriate accessory for the XP-Pen display tablet. It is made especially for the Xp-Pen appliances.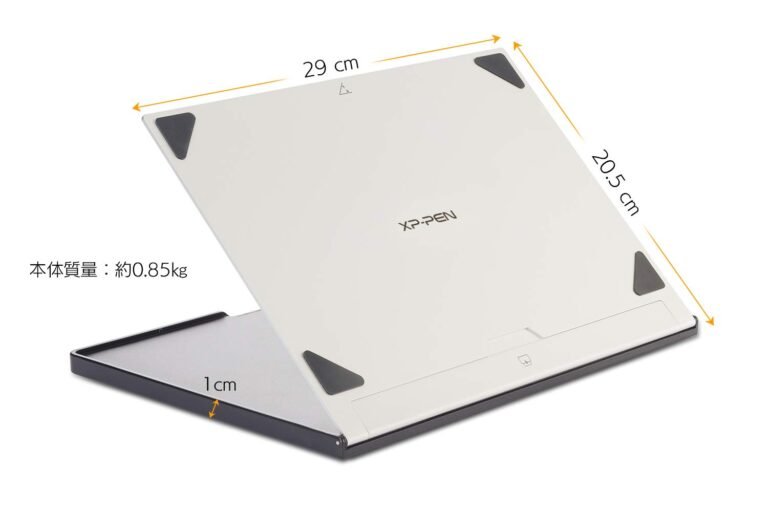 It possesses rubber pads on the rear ends and has a body made of aluminum which allows it to hold heavier tablets on it without getting shaken or wobbled. It offers the movement from 1°- 65°in addition with a 1° increment.
This table doesn't take much space and is conveniently portable with the tablet after folding. Even though the table is specifically designed for Xp devices, it can be attached with other similar tablets due to its excellent build.
9- Artisul Freestyle Stand
This Artisul freestyle stand comes with the Artisul tablets, but they are capable of supporting other Tablets too, from smaller to mildly heavier ones. The table has a plastic build along with the rubber pads present at the legs which enhances its stability on the smooth surfaces.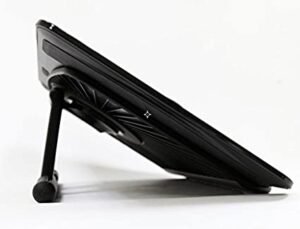 The front of the table has a U-shaped curve which is used for securely holding the device in addition to the rubber pads which offer protection against scratches or damages.
It can stand at any angle as it can be physically rotated in all four directions from the back. It also stands straight at the angle of 85°. Even so, the table is simply hard, but on pushing with a strong force it can fall back.
For thinner laptops, the table can act as a stand as its front grips only allow lean monitors to fit in. It is lightweight hence becomes an easily portable stand.
10- Wacom Ergo Stand – Best Drawing Tablet Stand
A big drawing tablet needs a large stand which is somewhat trickier to produce. Weak tablet stands can not support heavy tablets like the Wacom Cintiq Pro 24 and 32. Normal monitors are not hampered by this but in a drawing tablet, the shaking and wobbling can cause a huge impact and can even damage the whole art piece.
On both sides of the tablet, a set of levels are present which are used by the stand. The tilt mechanism is unlocked by pressing a lever permitting the rotation of the head of the stand to any angle easily. In addition to the front and back movements, it also provides additional flexibility by rotating the tablet up to 180 degrees.
It provides a finer drawing experience and can become a superb addition to one's drawing setup which can offer unlimited customizability.
The ergo stand is available in different sizes and is highly compatible with the Wacom Cintiq Pro 24, Cintiq Pro 32, and Cintiq 27QHD.
Conclusion
Drawing on tablets or other devices is entirely different from drawing sheets or canvas. Stability is a basic requirement while painting or sketching. In the case of electronic devices, a minute deviation can damage the complete picture. That's why the tablet stands are required for a drawing tablet.
The most important thing to keep in mind is that not every stand can match your tablet. The user needs to be specific regarding this matter. The convenience and comfort can sometimes be expensive but in the end, all this spending becomes worth it.
Heavy tablets or tablets with larger displays can only be managed by an expensive and stronger build tablet.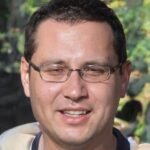 Ben Scott is a prominent technology journalist and reviewer, specializing in tablet devices. He is known for his comprehensive and unbiased reviews of tablets from various manufacturers.
With a deep understanding of tablet technology, including hardware components, operating systems, and software applications, Scott provides clear and informative reviews accessible to readers of all levels of technical expertise.
His attention to detail and in-depth analysis have earned him a loyal following of readers.