Are you in the search of some of the best tablets for writers and writing?
Travelers who use tablets very often have become accustomed to carrying them with them. You get a multimedia center, productivity tool, and internet browser in one compact device. This would be perfect for someone who wants to write wherever and whenever they urge.
Compared to laptops, tablets are much lighter and more portable–a good thing these days when hand luggage allowances are dwindling daily. Even when accompanied by an extra keyboard, a tablet can easily be slipped into a backpack without adding too much weight or bulk.
Not all tablets are created equal, and none of them are specifically designed for writers. Next, we will discuss what you should look for in a writing tablet, and then we will explore some of the top sellers in more detail.
With a better understanding of what to look for in a tablet for writing, let's get down to business:
List of Top Tablets For Writers And Writing That Are Available In The Market:-
1. iPad mini
The Apple iPad mini is a 6th Generation tablet available on the market. I really like its design as it fits in our hands without any problem. This iPad Mini came in four different variants they are Pink, Purple, Space Gray, and Starlight. It is one of the best choices for those who want to buy it for writing purposes like writers and students.
This tablet has an 8.3-inch Liquid Retina Display with True Tone, P3 wide color, and ultralow reflectivity, which make everything look stunning. Its size allows it to fit in the palm of your hand, making it easier to write or note something.
This Apple iPad Mini has the A15 Bionic Chip, which delivers powerful performance. It has the iPad OS, which allows us to multitask while working. It makes our iPad more productive and versatile. This iPad Mini is compatible with an Apple Pencil (2nd Generation), and Bluetooth Keyboard which make its working even more efficient for writers.
It came with a 12 MP ultra-wide front camera and a 12 MP wide back camera, which allows us to take good quality pictures and videos.
Overall, from my experience, I can say that this 6th generation iPad Mini is a great device for writers and students.
PROS
Compact and sleek design.
Powerful performance.
Touch ID for security.
CONS
Less Battery life.
Higher price.
2. iPad Air M1 (latest)
iPad Air M1 is a 5th Generation tablet launched by Apple Inc. This tablet came in two different styles, i.e., WiFi and WiFi + Cellular Data. The best part about this iPad Air, according to me, is that it comes in five different colors they are Blue, Pink, Purple, Starlight, and Space Gray. Can also look for some other tab with Cellular connectivity.
This iPad Air has a 10.9-inch Liquid Retina Display with true tone, P3 wide color, and ultralow reflectivity. I prefer this device because of its size, as it is not too big or too small, a perfect one for the purpose of note-taking and writing.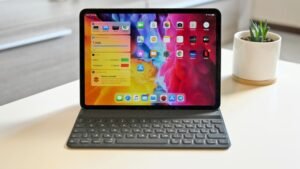 As a writer and freelancer, I am a fan of its M1 chip, which allows me to multitask smoothly between different-different apps, and it has iPad OS, which allows it to work easily and simply. It is compatible with the Apple Pencil 2nd Generation. It lets us work on this iPad Air easily and fluently. It is also compatible with Apple's Magic Keyboard, allowing writers to have an enhanced writing experience.
This iPad Air has a 12 MP ultra-wide front camera for taking selfies and video calls. It also has a 12 MP back camera with true tone flash for taking 4K quality videos and pictures. Well, I can say that this Apple iPad Air is a great choice for doing both simple work like writing and note-taking and hard work like multitasking. It is the best one for writers in this price range.
PROS
Sleek and lightweight design.
Wide Accessory Support.
Face and Touch authentication.
CONS
Limited storage options.
Limited connectivity options.
3. Microsoft Surface Pro
There is a lot of similarity between the Surface Pro 6 and its predecessor, leading to confusion. However, the Surface Pro 6 is vastly different on the inside. It's an excellent tablet for writers, thanks to all the features it offers.
Besides being highly performant, it has a fantastic screen and various writing possibilities. This tablet's 12.3-inch screen has a lot of surface area, so you won't get frustrated by having to scroll endlessly for information.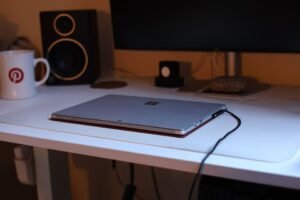 It has the same magnesium body as the previous model and is just as thin and lightweight. Adding the type cover reaches a total weight of 1.08 kg, which is still less than most ultrabooks.
Everyone is talking about the Surface Pro and the iPad Pro these days. In addition to its top-notch components that make it fast and responsive, a few features interest writers and editors. A keyboard must be comfortable enough to be used for long periods.
In addition, it is essential to have a stylus without lag, which allows for natural handwriting.
The Surface Pro comes with a type cover that offers users the best experience. At this point, we do not have any competitors that do a better job.
A magnetic snap makes it easy to attach to a tablet. Surface pens provide the same level of satisfaction when used.
With its magnetic surface, it connects to the tab's side. Compared to previous versions of Microsoft pens, the level of pressure sensitivity is skyrocketing here.
Hardware Specifications of Microsoft Surface Pro
Processor
Intel Core i5
RAM
8 GB
Storage
128 GB, 256 GB
Display
12.3" PixelSense Display
Operating System
Windows 10
Battery Life
13.5 hours
Weight
1.69 lbs
PROS
Fast Performance.
Excellent Battery.
Bright and colorful display.
Thin keyboard.
Pen support.
CONS
No C-type USB.
256GB SSD is a bit sluggish.
Pen and Keyboard sold separately.
The Surface Pro is also equipped with a blazing fast processor, the Kaby Lake processor. You will have no problem multitasking, listening to music, watching videos, or surfing the web to find material for your writing.
Additionally, the display offers excellent viewing experiences thanks to its technology, which ensures that every image is crisp and clear, the contrasts are realistic, and the brightness is as high as necessary.
4. Apple iPad Pro
The MacBook Pro does not have any competition in its category. The question that has arisen since the iPad Pro was released is whether or not you need it. Almost nothing can compare to the performance, speed, efficiency, and portability of this 12.9-inch tablet.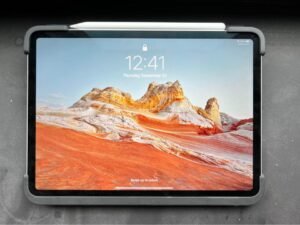 There are so many uses for this 2-in-1 tablet that it can be used successfully by writers, drawers, creative professionals, entrepreneurs, and many others.
A beast can become a beauty with this tablet. Writers interested in buying the best tablet on the market for writing comfortably, taking notes using the stylus, doing research, and having fun will find this to be the best choice for them.
Hardware Specifications of Apple iPad 12.9 Pro
Processor

M1

RAM
6 GB
Storage
64 GB/1 TB
Display
12.9″ Resulution with 2732 x 2048 – 264PPI
Camera
Rear- 12MP-10MP | Front- 7MP
Operating System
iPadOS
Battery Life
10 hours
Weight
1.41 lbs
PROS
Powerful Processor.
Battery Life.
Gorgeous Mini LED screen.
Stellar 5G performance.
CONS
Very expensive.
iPadOS makes multitasking difficult.
In addition to all its high-end components, it is also lightweight, making it fast and responsive, and traveling, commuting, and working while on the go are all made possible by this device.
If taking notes with a stylus appeals to you, and you wish it could happen most naturally, you should try the second-generation Apple Pencil with a single flat edge. In the beginning, Apple pencils had cylindrical designs, which looked impressive, but were not very practical. Now you can even charge your pencil with iPhone as well.
Unfortunately, users often see it roll off and get lost, which is a pity since it isn't an inexpensive accessory. Besides being aesthetically pleasing, this edge is also functional: it is magnetic and can attach to the tab's side. Furthermore, when double-tapped, it appears as input control.
If you want to write, you can use a pencil or a keyboard. But that isn't the most convenient feature. The ability to multitask, split the screen in half, and have a broad working surface can sometimes be even more valuable.
Additionally, this tablet is also good for doing artistic stuff. However, you can also check out some other tablets that are good for drawing.
5. HP Pavilion x2
Several tablets are suitable for writing on the market, but the most expensive ones are also the best. HP Pavilion X2 could be a good option for you if you are looking for a more affordable one that still offers you a decent writing experience.
It is known as one of the most affordable 2-in-1 laptops that can also be used as a tablet. The Intel Atom processor makes it relatively powerful.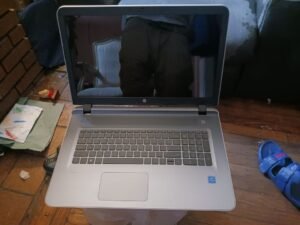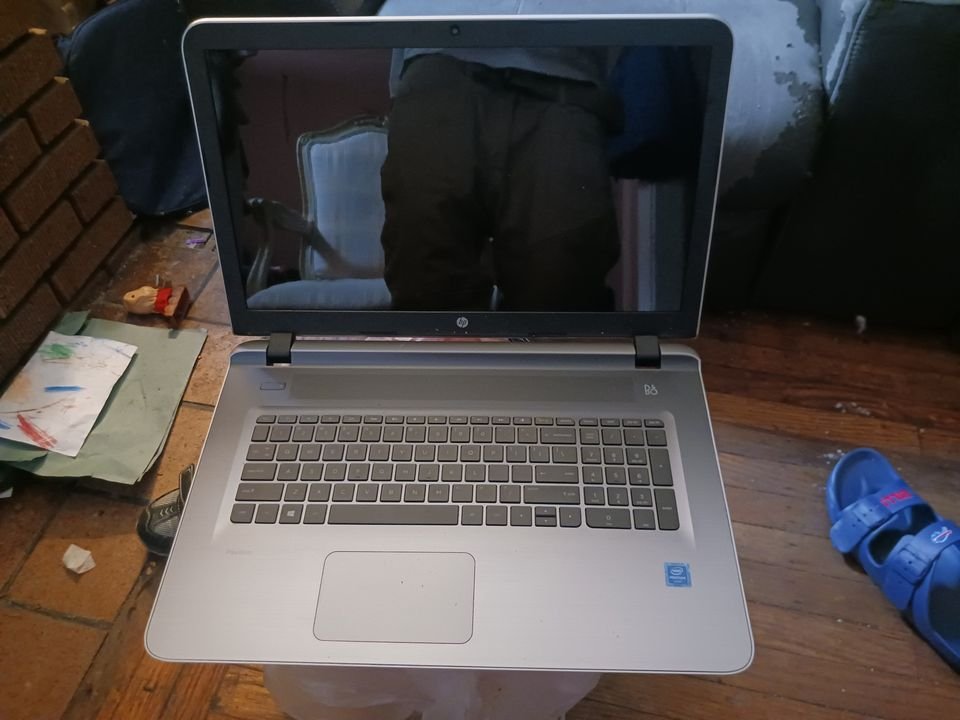 The device's external storage is relatively tiny means HP offers an extra year of Office 365 and OneDrive cloud storage for free. While the 10-inch display provides a pleasant viewing experience for writers, it would not be suitable for video game players.
You can also check some other tablets that are good for professional gamers.
While it is very stable when placed on a flat surface, it is far more durable when attached to a keyboard. This is due to the rounded bottom, which can be slippery at times. It's an intelligent design from HP.
Due to its half-cylindrical hinge, the components are evenly distributed in weight. The result was a lowering of the center of gravity. By absorbing the force of the fingers, the keyboard offers more balance while typing. The Surface Pro 4 uses the same construction.
It's a compact notebook, so its keyboard may not be as comfortable as a larger one, but it does have a decent 1.3mm of travel. Some users complain about the minor keys.
In other words, you should feel it first and then decide whether you will work with it. As a writer, you need to feel comfortable with the keyboard and the trackpad; otherwise, the whole writing process will be frustrating.
The trackpad, however, is not uncomfortable in the least. In addition to being spacious, it also supports multitouch. If you need to use them, you will be able to, but do not expect them to work as smoothly as on premium tablets.
5- Lenovo IdeaPad Miix 310
Today, writers have the great advantage of working remotely and performing their tasks even while on the road. It is essential to have a device with good performance and an excellent typing surface for this to happen comfortably and efficiently.
The Lenovo IdeaPad Miix 310 is a 2-in-1 tablet with a keyboard dock designed with comfort and functionality. It is relatively easy to attach this accessory to the tablet due to the practical port.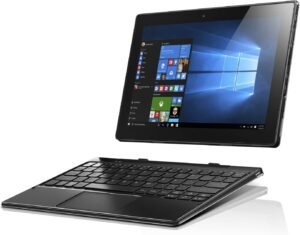 You can hardly tell it isn't an actual notebook as it is attached to the tablet. The landscape-oriented controls on the right side are the only design element that reveals their true nature.
The keyboard is a crucial feature for you, and if you're searching for a tablet with flat keys, then you'll love this one.
Despite its short travel distance, this keyboard has a flat surface and is friendly to tricky keys with excellent feedback. A surprising number of users have said that writing on the IdeaPad Miix 310 is a more pleasant experience than on the Microsoft Surface 3 Type Cover.
The keyboard feels great to write on, but it also has some downsides. There is no backlight, so writing in the dark will be uncomfortable, and it only has five rows of keys, compared to the competition, which has six rows of keys.
The battery life, sound quality, and image quality of this tablet are excellent. You can effectively write on the go with its 10.1-inch display. The levels of brightness and contrast are both satisfactory. It comes preinstalled with Windows 10, and you'll be able to access all of your regular apps.
Aside from its performance and image, its battery lasts for almost 11 hours, which is also a good thing. This is an excellent tablet for its price and can be afforded by anyone who wants to take their writing outside.
6. Best Overall: Microsoft Surface Go
As the lightest Surface device, the Surface Go comes in a smaller form factor with a 10-inch PixelSense display and weighs only 1.15 pounds. If you are writing on the move, this Surface is best suited for throwing in your suitcase.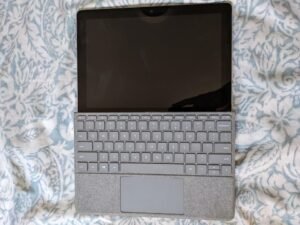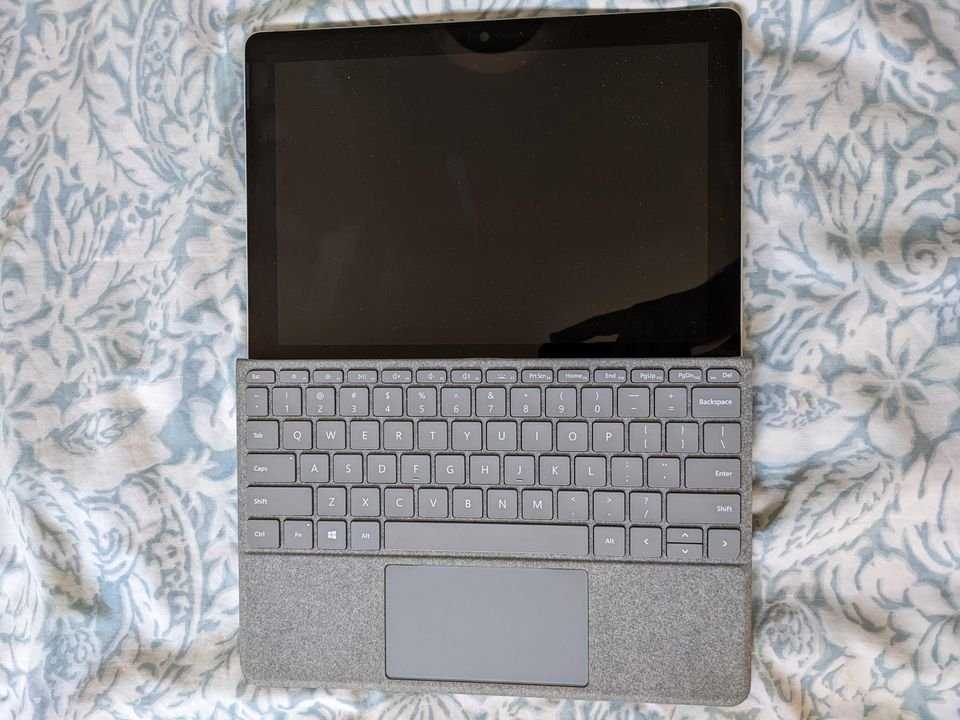 You can attach a more minor "Type Cover" with full-sized keys, making typing a pleasure.
Featuring an Intel Pentium Gold processor and 8GB of RAM, it is more than capable of handling even the most demanding writing tasks.
Operating in Windows 10 S mode, all Microsoft Office apps are preinstalled and compatible with any desktop writing software.
Microsoft Surface tablets have been a favorite among many writers for their full Windows functionality.
In addition to its quality screen and 9-hour battery life, the new Surface Go comes in a more portable and affordable package. Perfect for writers on the go or students who need a reliable writing tablet.
7. Apple iPad Pro 10.5"
We picked a tablet that sits right in the middle of the range as one of the best Apple tablets for writing. We find the 2018 entry-level iPad's screen, at just under 10 inches, just a bit small, even though it supports the Apple Pencil.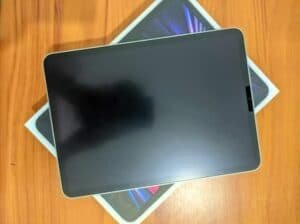 Although it's not the latest Pro, the iPad Pro 10.5-inch is more affordable at a lower price.
An ultra-high-resolution Retina display ensures that your text is always crisp, with more pixels than the human retina can even see. You will not experience any lag as you enter your written words on the additional Apple keyboard, thanks to the A10 processor.
Writers looking for an iPad that's convenient to use anywhere will love this sleek, lightweight tool.
However, if you wanted to know about this tablet, can also check its full review which is done by our experts in another article. 
8. Samsung Galaxy Tab S4 – Android Tablet For Writer
It is the closest thing an Android tablet can get to a desktop PC, thanks to the new DeX desktop overlay. In addition to its Super AMOLED display, which is 10.5 inches in size, it is also compact enough to fit in a suitcase easily.
It is possible to purchase a keyboard case for this tablet, making it the perfect writing tool. An S Pen is included in the box, which you can use to jot down notes right out of the box. DeX software lets you switch between apps and multitask with the keyboard attached, just as you would with a Windows computer.
Additionally, Far-Field array mics are included, which can control Google Assistant or dictate notes to be written down later.
Hardware Specifications of Samsung Galaxy Tab S4
Processor
Octa-Core (2.35 GHz + 1.9 GHz)
RAM
4 GB
Storage
64 GB
Display
10.5″ 2560×1600
Camera
 13 MP
Operating System
Android O
Battery Life
16 hours
Weight
1.06 lbs
For more details you canread our experts review on Samsung Galaxy Tab S4 review.
PROS
S Pen included
AMOLED screen 10.5″
835 SD Processor
USB Type-C
CONS
Face and Iris scanning
Required to buy a keyboard
Battery life
Quite Expensive
With a 2.5K HD screen, you can read or browse the web and watch multimedia when you want to relax. An affordable Android tablet, the Samsung S4 is ideal for writing or even playing games on the go.
A Writer's Checklist For Choosing A Tablet
If you are looking for the perfect tablet for writing on the go, your requirements can be quite different from those of a laptop. Tablets are probably the most popular because of their portability; however, you should still consider some other specifications.
1. Connectivity With Keyboard
Even though on-screen keyboards are pretty good nowadays, they are still no substitute for a physical keyboard. They may be fine for composing the occasional email, but they will quickly become frustrating when typing longer documents. Many 2-in-1 tablets or tablets in the Pro range are now available with a detachable keyboard or the option to buy one.
It is possible to connect just about any tablet to a Bluetooth keyboard, provided it has Bluetooth connectivity. On the other hand, official manufacturer keyboards will often be optimized for the tablet and its apps. Official keyboards are designed to connect via proprietary connectors and can even be powered by the tablet if needed.
A tablet that can't connect to a physical keyboard is probably not a good choice for writing.
2. Size Of The Screen
You will immediately realize how important the screen size is when you have ever tried reading a long article or web page on a smartphone. When using a tablet with a screen that's too small, you may have to squint to read back your words.
As a rule of thumb, tablets typically have screens between 7 inches and 12 or 13 inches. Although the larger screen may be more desirable, it can also compromise its portability.
Even though it will be easier to carry around, a 7-inch screen will likely be too small for more severe writing tasks. Generally, the best tablets for writers will have a screen size of 9 or 10 inches.
3. Screen Readability
It may be necessary to read a few competing articles or to do some quick research on the web. While most pure e-readers aren't designed with writers in mind, iOS and Android offer access to more popular ebook libraries, such as Kindle, Kobo, and Barnes & Noble.
Many tablet manufacturers boast about the Full HD, 2Kor even 4K resolution of their displays, which is fine for gaming or watching movies. Pixel density is essential when choosing a screen that is easier to read.
The higher the PPI (pixels per inch), the sharper the text appears on the screen. Apple created Retina technology, which offers more pixels per inch than the human retina can see. Yes, it is extreme, but many other manufacturers boast a similar pixel density.
4. Apps, Operating Systems, And Software
Generally, tablets come with a web browser, YouTube, and a few simple note-taking apps, but do they come with word processing software? If not, could you install your favorite app or one you need?
Microsoft Office is now available on all three major operating systems, iOS, Android, and Windows. With a free trial period, it even comes preinstalled on Microsoft tablets. Furthermore, all three app stores offer a variety of mobile-friendly apps.
5. Storage And Connectivity
Documents written in the text don't take up too much space, but the pictures and videos you add tend to take up more space. Based on how much storage you need, you may need a tablet with external storage capabilities, such as an SD card slot or USB port for external hard drives.
If you want to take advantage of cloud storage and online apps, you will need a decent Wi-Fi or cellular connection. You can use a 4G LTE SIM to make it even more versatile, allowing you to quickly upload your writing, conduct quick research, or send emails while out and about.
6. Battery Life
In addition, you should consider how long your tablet's battery will last when you are writing on the go. There's no point in having all this technology for writing if it will run out mid-article or mid-novel. Tablets typically have a longer battery life than laptops, often up to 12 hours.
On average, text-only documents use much less power than heavy-duty tasks, such as gaming or streaming HD content. You can also extend the life of your battery by turning down the brightness on the screen and turning off Wi-Fi.
Frequently Asked Questions:-
What are the top tablets for professional writers?
There are a number of tablets for professional writers available on the market, from a higher range to a lower range. The top ones are the Apple iPad Pro, Kindle Scribe, and Samsung Galaxy Tab S8.
What factors should I consider when choosing a tablet for writing?
There are some factors that you should consider while choosing the right tablet for writing they are its display, performance, input methods, portability, storage, and software compatibility, etc.
Are there any specific tablets that are known for their performance on writing tasks?
There are some well-known tablets available on the market for writing tasks from a higher to a lower range. Some of them are the Apple iPad Pro, the Microsoft Surface Pro, and the Samsung Galaxy Tab S7+.
Can you suggest some tablets that offer a comfortable typing experience for writers?
Yes, sure, I can suggest some tablets that offer a comfortable typing experience for writers they are the Microsoft Surface Pro 7, Apple iPad Pro, and Lenovo Tab P11 Plus.
Which tablets have a long battery life suitable for extended writing sessions?
There are several tablets available on the market with longer battery life for extended writing sessions, but the best ones are the Lenovo Yoga Tab series, Microsoft Surface Pro, and Apple iPad Air.
Do I need a specific operating system or platform compatibility for writing apps and software on tablets?
The need depends upon the writing apps and software you use. Apple's iOS ecosystem and Windows operating system offer a wide range of compatibility with several writing apps and software. So determine your needs and choose accordingly.
Conclusion
A tablet doesn't have to offer much for writers on the go. As long as you can connect a keyboard, the screen is easy to read, and the software is available, you can use any tablet to write.
What is the point of carrying a separate device for writing and another for web browsing or media?
A higher-performance tablet can handle your writing needs and serve as a valuable tool for research, staying in touch with your home, and satisfying your entertainment needs while on the road.
The Microsoft Surface Go is our top pick for tablets for writers. The full-sized keyboard and excellent display make it the ideal all-around tablet for writers, regardless of whether they're at home or getting inspired in a romantic destination far away.
Microsoft Office comes preinstalled with Windows 10, which is just icing on the cake.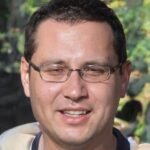 Ben Scott is a prominent technology journalist and reviewer, specializing in tablet devices. He is known for his comprehensive and unbiased reviews of tablets from various manufacturers.
With a deep understanding of tablet technology, including hardware components, operating systems, and software applications, Scott provides clear and informative reviews accessible to readers of all levels of technical expertise.
His attention to detail and in-depth analysis have earned him a loyal following of readers.