Do you prefer a tablet to the burdensome barrage of books for researching as a medical student? Alternatively, do you wish to keep a computing device handy during your final sprint to becoming a doctor so that you can refresh your knowledge of human anatomy? No matter what kind of electronic device you prefer, having a tablet during your medical studies can be essential.
You don't want to depend on the usual tablets when you need something to last you through gruelling medical coursework. Suppose you are willing to access journals online regularly. In that case, you should choose a tablet that has a light and portable design, an exceptional display, multi-mode operability, stylus support, powerful hardware, a good battery life, and fast wireless connectivity.
There are several pain points to consider when choosing a tablet for medical school, including difficulties viewing in direct sunlight, limited battery life, a low amount of RAM, an average amount of on-device storage, and restrictions on external keyboards.
To make this process more convenient, I compiled a list of the nine best tablets for medical school. It should be noted, however, that the selections are not random. These tablets have all been extensively tested for their power, performance, and budget-friendliness.
Some of the higher-end models may not adhere to this rule.
List of the Best Tablet For Medical School:-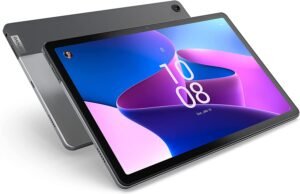 With its sleek design, HD display, and stylus support, Lenovo M10 Plus 3rd generation makes for a great Android tablet. It is a reliable gadget with a superb design and a lovely finish. The display deserves appreciation, offering clear images, great viewing angles, and vibrant colors. Aside from being budget-friendly, the tablet offers good build quality, versatility, and portability.
Lenovo M10 3rd generation has a 10.1-inch IPS display, great for Android tablets in the same price range. The sharp and clear visuals help medical students when viewing medical books, presentations, or doing research.
The tablet has dual Dolby Atmos stereo speakers that provide pretty impressive audio quality with crisp and powerful sound, beneficial when watching videos or listening to podcasts.
Lenovo M10 Plus 3rd generation runs on Android 11 OS, upgradable to Android 12. It is powered by a MediaTek Helio G80 chipset that handles multitasking and various medical apps quite efficiently. I was impressed by the app library courtesy of the OS though the tablet offers average performance at best.
I own the 4GB RAM with a 64GB storage variant of the tablet, giving ample space for downloading various medical books and research papers. The storage is expandable up to 256 GB with the microSD slot present in the tablet. Another 3GB with 32GB storage variant is present in the market.
The battery life lasts for about 6 hours on heavy usage. When used for studying and learning purposes, the battery life can last for around 7 to 8 hours, which is decent for a full day of productivity.
Lenovo M10 3rd generation has an 8MP rear camera which is quite efficient for scanning documents and capturing images from medical books. The front camera is 5MP with a fixed focus.
Hardware Specifications of Lenovo Tab M10 Plus Gen 3
Processor
MediaTek Helio G80
RAM
3 GB, 4 GB
Storage
32GB, 64 GB
Display
10.61″ 2K (2000×1200) IPS LCD
Camera
Rear – 8 MP | Front – 8 MP
OS
Android 12
Battery Life
Up to 14 hours of video playback
Weight
465g
PROS
Sharp display.
The operating system supports multiple medical apps.
WiFi and Bluetooth connectivity.
CONS
Average battery life.
Sluggish processor.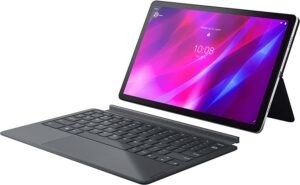 Lenovo tab P11 plus makes for a good budget tablet with impressive features. With a classy body design, a 2K display, and stylus support, the tablet is excellent for productivity. Being lightweight, it offers versatility and portability, easy to carry around for long hours. The tablet gets shipped in 2 colors, i.e., Platinum grey and Slate Grey.
The table has an 11-inch IPS display with thin bezels, large enough to view media, e-books, documents, study notes, and medical books. I was impressed by the display quality; it was comfortable enough to view the screen for long hours without any eye strain.
It is powered by MediaTek Helio G90T Octa Core processor, which is high performance and handles medical apps quite efficiently without any lag. I was able to access multiple medical resources easily and quickly. For the operating system, the tablet runs on Android 11, which is upgradable to Android 12.
Lenovo tab P11 plus comes with a 7500mAh battery, giving up to 12 hours of battery life on normal usage. The long battery life provides a full day of studying and productivity without interruptions.
There are two storage variants available for the tablet, i.e., 4GB RAM with 64GB storage and 6GB RAM with 128GB storage. I appreciated the presence of a microSD card slot allowing expandable storage of up to 1TB. This gives space to store all the study material, notes, and e-books.
Lenovo tab P11 plus has a 13MP rear camera and 8MP front camera. The camera quality is decent for scanning documents and taking medical book images.
Hardware Specifications of Lenovo Tab P11 Plus

Processor
MediaTek Helio G90T
RAM
4/6 GB LPDDR4x
Storage
64/128 GB
Display
11-Inches IPS LCD(2000 x 1200 Pixels)
Camera
Rear- 13 MP | Front- 8 MP
Operating System
Android 11
Port
USB Type-C 2.0
Battery Life
Up to 12 hours
Weight
490 g (1.08 lbs)
PROS
Lightweight device.
Excellent sound quality.
Lenovo stylus support.
CONS
Average camera quality.
No guarantee for OS upgrade.
No Headphone jack.
With five-star ratings on Amazon and excellent customer reviews, this tablet is a best-seller. This tablet is truly unique: it has an 11-inch screen with an edge-to-edge liquid retina display, which gives you a bigger screen with a super clear and vibrant quality to enjoy reading and watching movies.
The tablet comes with brilliant 12MP Wide and 10MP Ultra-Wide cameras, medical-friendly apps, and essentials like a LiDAR scanner. USB-C connectivity supports charging and accessories.
Featuring a neural engine and Apple's A12Z Bionic chip, the 2020 iPad Pro – 2nd Generation is the laptop of the future. With the iPad Pro, you can do more in less time. With the ability to run trillions of operations per second, you wouldn't need to worry about your tablet running multiple apps or browsers simultaneously.
Apple's 2020 iPad Pro includes a unique security authentication that provides face recognition to protect your essential assignments and files related to medical studies.
Are you looking to impress? This iPad Pro features a very stylish design and a gorgeous design that will have your friends in awe of your digital companion.
With four speakers and five studio-quality microphones, you'll enjoy the better audio quality and a more enjoyable video viewing experience while watching lectures.
The perfect tool for taking notes. Thanks to its support for Apple Pencil (2nd Generation), you'll be able to take as many notes as you want.
It's essential to choose a tablet that gives you the most storage space when you're a medical student, and this iPad Pro gives you 64GB of RAM and 500GB of storage at different prices.
Another feature that makes this tablet stand out is its all-day battery life of up to 10 hours. This will ensure that your tablet will enjoy extended battery life, so you will not have to worry about constantly charging it, which could be problematic during practicals or presentations.
Its lightweight design makes it appealing to students. It can therefore be used in classes for medical students to take notes.
We have also describe all other details in our expert review guide of Apple iPad Pro.
Hardware Specifications of Apple iPad Pro 11″
Processor
A12Z Bionic chip
RAM
4 GB
Storage
256 GB
Display
11-inch Retina display with 1668 x 2388 Resolution
Camera
Rear- 12+10 MP | Front- 7 MP
Operating System
iOS 12
Battery Life
10 hours
Weight
1.04 lbs
PROS
Trackpad Support.
Gorgeous Display.
Faster Chipset.
Better Cameras.
LiDAR Scanner.
CONS
Costly.
Processor Is Not A Major Upgrade.
You can't go wrong with an Apple iPad Air if you study radiology and anaesthetics in medical school. A little more powerful, a better camera, and a bigger, brighter screen make this iPad Air better than the third-generation model. However, if you do not want to spend so much, the 64GB variant is also good enough to be purchased.
For students who are finalizing a specific specialization and who prefer a tablet with class-leading hardware and stylus support to manage relevant illustrations, demanding references, and more, this iPad is a great choice.
The iPad Air 2020 is capable of storing and managing multiple files, videos, images, and other resources and running many relevant academic applications with precision. However, Apple does not include an expandable storage slot.
A top-mounted fingerprint scanner provides added security, a 12MP front camera lets you keep pictures handy, and a 7MP camera option is best for college students.
The iPad Air has a powerful processor that makes it easy for students to glide their workload and hefty files containing their assignments and research papers.
Thanks to the 81 per cent screen-to-chassis ratio, the high-resolution screen provides the student with better visuals and an unhindered viewing experience.
Hardware Specifications of iPad Air 10.9
Processor
A14 Bionic
RAM
4 GB
Storage
64/256 GB
Display
10.9″ Retina display with 2360 x 1640
Camera
Rear- 12MP | Front- 7MP
Operating System
iPad OS 14
Battery Life
9 hours
Weight
1.0 lbs
PROS
Elegant thin and light design
Bright, colorful and sharp display
Excellent webcam
Magic Keyboard
CONS
No face id.
No headphone jack.
Expensive accessories.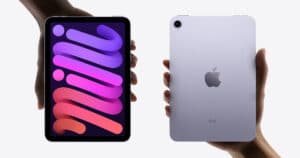 If you are a medical student looking for the best value, you should pick up the Apple iPad Mini 2019. A unique design that offers superior performance leads to greater productivity. Even though this tablet doesn't have many of the specifications of the other tabs in this list, it still has the hardware and software to compete with the best.
Among other things, its 8.3-inch Retina Display lets you watch movies or view files clearly and in the best quality.
This Apple iPad Mini is powered by an A15 Bionic chip designed to run the majority of apps without any issues.
In the Apple iPad Mini's display screen, there is a 8.3-inch Retina Display capable of displaying some of the best color images available. Additionally, the Apple Pencil is a bonus.
Using this device is convenient and allows for easy movement. Students in medicine appreciate the precise precision of charging Apple's Pencil as it allows them to write and draw more effectively.
For more details, you can read our Apple iPad Mini Review from our experts.
Hardware Specifications of iPad Mini
Processor
A15 Bionic
RAM
3 GB
Storage
64/256 GB
Display
8.3″ Retina display with 2360 x 1640
Camera
Rear- 8MP | Front- 7MP
Operating System
iPad OS 14
Battery Life
10 hours
Weight
0.66 lbs
PROS
All the same specs as the larger iPad Air.
Performance.
Headphone Jack.
CONS
Exterior design.
First-gen pencil.
Simple port instead of USB-C.
Despite being a bit pricey, this tablet provides good value for its cost. You'll have more than enough storage space for ebooks and reading materials because the device has 8GB of RAM and 512GB of internal memory.
Note-taking on the Samsung Galaxy S7+ is a pleasure with its improved 9ms pen latency and redesigned S Pen, which lets you control presentations, take notes, and mark up papers quickly and easily. You will have endless entertainment during your break moments and leisure time with Netflix compatible with Bixby's voice.
In the medical field, you're rarely allowed the luxury of keeping track of your charged devices, and this tablet makes it easy since it can run for hours on a single charge. Because this tablet is fast charging and features a long-lasting battery, it is an excellent option for someone with a busy schedule.
With Samsung Galaxy's DeX mode and an optional keyboard with an extended trackpad, you can enjoy the PC experience with your galaxy.
There's no place like college to play games on a portable console, and if there's a Wi-Fi connection, you can enjoy it anywhere. Samsung's Galaxy Tab boasts an immersive touch screen and Bluetooth-enabled controller, which keeps you entertained throughout the day.
Due to its new, improved S Pen in this tablet, which provides efficient note-taking control presentations, it offers excellent note-taking and marking features. This camera delivers stunning brightness and clarity so you can take clear pictures on the go.
It is easy to transfer data between multiple devices. It can be used as a hotspot, as a second wireless screen for your PC, and for creating share-ready content simultaneously.
Hardware Specifications of Samsung Galaxy Tab S7
Processor
Octa Core (3.09+2.4+1.8GHz)
RAM
6 GB
Storage
128 GB
Display
11″ Inch Retina display with 2560 x 1600
Camera
Rear- 13MP | Front- 8MP
Operating System
Android 10
Battery Life
12 hours
Weight
1.1 lbs
PROS
Powerful Processor.
DeX mode.
Storage space.
Updated S pen stylus.
CONS
Keyboard need to buy seperately.
Small keys.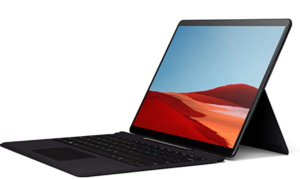 We have included the Microsoft Surface Pro X in our list, which I think deserves inclusion. It is an excellent device from the Microsoft brand. The tablet is a well-designed and sophisticated product with the right features for ease of use and compatibility.
Displays on this tablet have a 13-inch screen with plenty of pixels so that details can be captured with ease. This tablet's sleek building design makes it an excellent show-off device.
Most medical students spend time away from home and cannot charge for long periods without access to a charging station. This battery-powered Microsoft Surface Pro Xtablet can power you for long periods, thanks to its 13-hour battery life.
A Microsoft Surface Pro X can be used in three different orientations: a laptop, a tablet, and a studio computer. To use the Surface Pro X Signature Keyboard in the laptop mode, you must have the Microsoft Surface Pro X Signature Keyboard, and those who wish to use the studio mode must only flip out the kickstand.
There are both 16GB of RAM and 256GB of hard drive space on this tablet. In addition to the introduction of LTE Advanced Pro Connectivity, users can now enjoy improved network connectivity. Easy movement is made possible by the tab's slim design.
A medical student who wants to work and move without putting on excessive weight will appreciate this tab's compactness and sleek design. A slim surface pen makes writing and drawing more accessible than ever before since it makes writing an experience to want.
Hardware Specifications of Microsoft Surface Pro X
Processor
10th Gen Intel Core i7, i5 and i3
RAM
16 GB
Storage
256 GB SSD
Display
13″ Retina display with 2880 x 1920
Camera
Rear- 10MP
Operating System
Win 10
Battery Life
13 hours
Weight
1.7 lbs
PROS
Beautiful hardware design.
Lightweight and portable.
Better battery.
CONS
Costly.
Some app issue.
No 5G.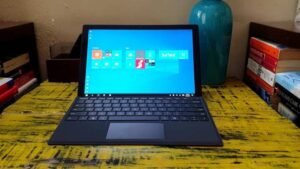 Microsoft's Surface Pro 7 doesn't disappoint: a leading name in manufacturing designer devices and cutting-edge designs, the Microsoft brand does not let us down. To help you have an excellent experience with premium products, this is designed with you in mind.
Microsoft's Surface Pro 7 is the go-to device for medical students because it offers all the features and functions required to study in medical school. The ease with which you can take notes and draw has never been so easy. With this device, users can use these features through the surface pen for an intuitive experience. You can easily take notes during lectures when you pull your tablet's pen out.
A more advanced tab than the Surface Pro 6, the Surface Pro 7 has an incredible 10th generation Intel Core processor, ensuring a seamless and fluid experience. This device allows users to multitask on this tablet with no lag or glitch.
For those who love capturing moments, the 1080p front and rear cameras are a must-have. The Microsoft Surface Pro 7 gives medical students the ability to immerse themselves in subjects and images while keeping the highest level of detail.
On the Microsoft Surface Pro 7, you can connect and charge with ease using the USB-A and USB-C ports. The device can be set and connected at lightning speeds. With a battery that can last up to 11 hours on a full charge, users do not have to worry about constantly recharging their devices if they attend classes all day.
For users to fully enjoy their devices, multitasking plays an important role. The Microsoft Surface Pro 7 comes packed with this capability enabling students to work on multiple works simultaneously.
Its combination of a powerful processor and excellent graphic card allows users to get the most out of its robust functionality while still enjoying a seamless experience.
Hardware Specifications of Microsoft Surface Pro 7
Processor
10th Gen Intel Core i3/ i5/ i7
RAM
4 GB/ 8GB/ 16GB RAM
Storage
128 GB/ 256 GB/ 512GB/ 1TB SSD
Display
12.3 Inch PixelSense Display with 2736 x 1824 Resolution
GPU
Intel UHD Graphics/ Intel IRIS Plus Graphics
Operating System
Windows 10 Home
Battery Life
Up to 11 hours
Weight
3.53 lbs
PROS
Quad-core performance.
Cool and quiet with a quick resume.
USB-C port.
CONS
Still no Thunderbolt 3.
Dated design.
Lack of built-in LTE.
Choosing the Right Tablet for Medical School:-
The use of tablets in medical school is necessary for students to feel more comfortable and efficiently study to become doctors. No matter your desires and needs, choosing a tablet that will increase your performance and function like more than a simple eBook reader and library is essential. There are so many options on the digital market these days that you must be cautious and knowledgeable before making a decision.
Choosing the right tablet for medical students can be difficult, which is why we've provided you with a few tips to help you make the right decision. We encourage you to ask yourself these questions and to conduct adequate research before choosing your tablet.
How to Choose a Tablet of the right size?
The size of the appropriate tablet to fit the needs of medical students is a concern for many. There is a common problem with tablets because, unlike PCs, they offer a limited screen size.
You should pay special attention to tablets that come with a minimum resolution of 1200 by 800 pixels and screen sizes ranging from 8 inches to 13 inches.
Which Operating System should you choose?
It is possible to choose between Apple IOS, Microsoft Windows, and Google Android for your operating system. However, IOS is indeed relatively limited as compared to Windows and Android. The platform lacks a universal file browser, and most Google applications do not work.
In contrast, Microsoft Windows is a far better and more flexible operating system available for tablets, with its well-defined features designed for business purposes. The Google Android system, just like IOS, was created for smartphones. Those who want to access the Internet and download software applications without restrictions are smart to stick with the Google Android operating system.
How much storage space do you need?
Think about the storage the tablet offers before you purchase it. At least 16GB of internal memory and 2GB of RAM are essential for a tablet to be considered reasonable. It's not a good idea to be distracted by your device during a presentation or a class.
How long does the battery last?
Although it's easy to get carried away by the brand name, design, and portability of a tablet, the battery life and capacity are essentials that shouldn't be overlooked. Medical students are typically occupied with classes and practicals most of the day, which means they do not have time to monitor their tablet's battery life; therefore, they should select a tablet with long battery life.
It is recommended that a good and efficient tablet has a battery life of at least eight hours. Now that most devices come with new, capable types like USB-C, you can be sure to have your battery fully charged in no time.
How Much Is Your Budget?
If you are shopping for a tablet, keep your budget in mind. Don't invest too much in high-tech and expensive models. Students can get an efficient, budget-friendly device that serves its intended purpose on a minimum budget.
Sticking to your budget will help you save money and provide you with more room to choose the features you desire in a device.
Frequently Asked Questions:-
Which is better for medical school: a tablet or a laptop?
It is best to know what your requirements are to be able to make the right choice. Due to the larger screen size, medical students often favor laptops; however, tablets are preferable if you want to bring your books to class. In case the student frequently researches, tablets make for a better choice.
What tablets are ideal for Medical students?
Tablets with good performance, note-taking capabilities, and compatibility with medical apps are ideal for medical students. Some frequently bought tablets by medical students are Samsung Galaxy Tab S8, Apple iPad Pro, and Lenovo M10.
Can I use a tablet to access medical information and textbooks?
A lot of medical information and textbooks are accessible on tablet-friendly digital platforms. Only several schools offer access to online libraries and services for medical students.
Is a laptop or tablet necessary for medical students?
Students who are more interested in bringing their study material to class prefer tablets over laptops due to larger screen sizes. Medical students who conduct frequent research may need tablets.
Does 64GB suffice for medical school?
Students looking to replace their books and journals with tablets will not find 64GB of storage enough. So, 128 GB of on-device storage seems like the bare minimum. Also, if you can only afford a 64GB tablet, take advantage of the expandable storage.
Conclusion
A medical student's best device will accommodate an ample amount of storage, be diverse, and guarantee high productivity levels. A tablet can serve many purposes. However, if you're a medical student, you should use it as an educational tool before treating it as a luxury.
You should select a tablet with good battery life so you can perform your academic research comfortably. The tablets on the list above are suitable for medical school students based on their targeted preferences and budget. To simplify the overall process of selecting tablets, I have enlisted a few exclusive tablets based on specific use cases.
If you're looking for a tablet that has everything covered, grab the iPad Air with 256GB of storage. Samsung Galaxy Tab S7+ is a good choice if you need a hardware setup as good as a computer.
In addition to these choices, you may choose any other tablet from the list if your needs go beyond mere reading and research. I hope this article was successful in helping you select the tablet according to your needs for your medical school/ college.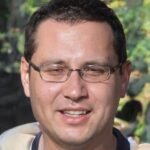 Ben Scott is a prominent technology journalist and reviewer, specializing in tablet devices. He is known for his comprehensive and unbiased reviews of tablets from various manufacturers.
With a deep understanding of tablet technology, including hardware components, operating systems, and software applications, Scott provides clear and informative reviews accessible to readers of all levels of technical expertise.
His attention to detail and in-depth analysis have earned him a loyal following of readers.