Virtual meetings have become the norm in the post-COVID era, and Zoom is the software leading this trend.
However, another trend is currently going on, which is having Zoom meetings done through tablets rather than mobiles or laptops.But why is it like that?
The tablet is the perfect blend of a mobile device and a laptop. It is handy like a mobile and has top-notch features like a laptop. The idea of the virtualization of offices or education is not a new trend. Many companies provide their employees to work remotely.
The pandemic has not only affected our nation but the entire world. It has led to the shutdown of schools, offices, colleges, and other training programs as well. The world as a whole shifted to virtual mode with the help of various online portals and apps, including Zoom, Teams, Google Meet, Hangout, and many more.
Picking the best tablet for zoom meetings is not an easy task. Whether you're looking to equip the kids with durable and affordable tablets for school or just need an elegant second screen to keep couchside. It would be best to consider getting a tablet with a fantastic front camera and wider aperture.
For the prospective employees that are incessantly appearing for online interviews, they need battery backup, a decent set of mics, powerful speakers, reliable wireless internet support, and a headphone jack are necessary.  I have covered almost every reputed brand while taking care of personal preferences and budgets. Do you know apple have headphone jack or not? lets find out.
The most desirable tablet won't be equal for everyone, so they're all worth considering.
To make things more manageable, each listing below shows you all of those things at a glimpse, along with an overview highlighting why you might or might not like each of them and thus helping you select the best according to your personal preference.
List of The Top 10 Tablets for Zoom Meetings:-
1- Microsoft Surface 8 Pro
The Microsoft Surface Pro 8 is one of the best tablets for doing meetings on Zoom, as it combines a laptop's power with a tablet's flexibility. It has a recognizable kickstand and detachable keyboard with Slim Pen storage and built-in charging, making it more handy and reliable for frequent Zoom meetings.
Display
The Surface Pro 8 includes a 13-inch PixelSense touchscreen display with a 2880 x 1920 pixel resolution and a 120 Hz refresh rate. Additionally, it features Adaptive Color and Dolby Vision technology. Because of all these features, both bright and low-light conditions produce crisp images, making its display perfect for zoom meetings.
Audio
The speakers on the Surface Pro 8 are located behind the top bezel. As a result, the audio on portable devices can sometimes sound flimsy and uninteresting. Aside from that, it has decent acoustics for a tablet in this price range. So, keeping a charger is better if you have a lengthy meeting schedule.
Performance
Due to the presence of a quad-core Intel i7-1185G7 processor and 16GB of RAM, the Surface Pro 8 never froze during my testing. Additionally, all programs operated without a hitch, whether I was browsing the web, watching YouTube videos, or listening to Spotify. Because of its better performance, I could attend Zoom meetings continuously for a long time.
Battery
Microsoft estimates the battery life of the Surface 8 Pro to be up to 16 hours under typical use conditions with adaptive color, and auto-brightness turned off. However, when I used it to browse the internet continuously, it went on for only 9 hours and 6 minutes.
Hardware Specifications of Surface Pro 8
Processor
Intel Core i5
RAM
8 GB
Storage
256 GB
Display
13-inch with 2880 x 1920 pixels
Camera
WebCam- 8 MP
Operating System
Win 11
Battery Life
9 hours
Weight
1.96 lbs
PROS
Support form Microsoft.
Better and bigger resolution.
CONS
Quiet expensive.
Weight may be an issue.
2- Samsung Galaxy Tab S8
The Samsung Galaxy Tab S8 comes with a new standard for premium Android tablets. This is the successor to 2020's Samsung Galaxy Tab S7, which we call the best iPad Pro rival and one of the best tablets in the market as it include S-Pen with it.
Hardware Specifications of Samsung Galaxy Tab S8
Processor
Qualcomm Snapdragon chipset
RAM
4 GB
Storage
128 GB
Display
11-inch with 1600 x 2560 pixels
Camera
Rear- 13+6 MP | Front- 12 MP
Operating System
Android
Battery Life
9 hours
Weight
1.10 lbs
PROS
S-Pen included.
Battery life.
4 speakers.
Camera Quality.
CONS
Resolution should be high.
Processor can be powerful.
But that was two years ago, today, Apple redefined what we expect from pro-grade tablets with the phenomenal 2021 iPad Pros. Samsung has also stepped up its tablet game, launching the Tab S8 alongside two larger, OLED-equipped models. A slightly improved Tab S8 Plus and the new Samsung Galaxy Tab S8 Ultra, a massive 14.6-inch Android tablet with a screen large enough to overshadow the iPad Pro.
It is one of my favorite tablets due to its massive battery backup, great sound quality and the bright beautiful display. When I set its display to Vivid or Natural, I found the Vivid setting to be more fun because it makes colors look brighter and more vibrant. It supports Dolby sound due to its four surprisingly loudspeakers,  though you'll need to ensure that feature is enabled in the Settings menu to enjoy the full atom boost Dolby effect.
There are specific issues that make it underwhelming. The Camera quality degrades, and at extremes, the Book Cover keyboard feels small, cramped, and the overall performance of the tab is less in comparison to iPad pro.
3- Samsung Galaxy Tab A8
If you are looking for the best tablet within the excellent price segment and features, then Samsung Galaxy Tab A series has built quite a good reputation for delivering a superb tablet at reasonable prices. This Tab comes with 3GB of RAM and 32GB of storage in the base configuration, and for the additional space, you can expand up to 1TB via a MicroSD.
Hardware Specifications of Samsung Galaxy Tab A8
Processor
Octa-core
RAM
4 GB
Storage
64 GB
Display
10.5" LCD display with 1290 x 1920 Resolution
Camera
Rear- 8 MP | Front- 5 MP
Operating System
Android 11
Battery Life
6 hours
Weight
1.12 lbs
PROS
Cheap and best.
Display is good.
CONS
Camera is just OK.
Battery can be improved.
I like the sizable 7040mAh battery, but its 15W slow wired charging is really the worst thing about this device, and the refresh rates on tablets are weak compared to Samsung's other Tabs in this price segment.
The Samsung Galaxy Tab A8 isn't an extensive upgrade over its already great predecessor, but it didn't need to be. This well-built tablet performs admirably and is just suitable for media streaming. I liked its expandable storage feature, and you should have more than space for the apps, photos, and games. It would be nice to see a longer commitment to Android version updates, but the two Android version commitments align with other affordable Android tablets, and the four years of security are beyond any competition not made by Apple.
This tablet is one of my favorite tablets, but it has a weak rear, and the front camera and limited RAM make me a tech dissatisfier, but the metal body gives a premium hold with long-time security support.
4- Lenovo Tab P12 Pro
If you are a heavy worker like me, you must buy the Lenovo Tab P12 Pro because it is an ideal choice for Zoom meetings. Not only this, but its high-performance specs make this a great tablet for gaming or streaming at full power.
Display
Its panel offers a 2K resolution of 1600 x 2560, a 120Hz refresh rate, HDR10+ and Dolby Vision compatibility, and a 1.6:1 aspect ratio. Even when compared to the Samsung tablets it is in direct competition with, the screen is imposing, having brilliant colors and excellent contrast, which is why I chose this tablet to include in this list.
Audio
Speaking of audio quality, the JBL speakers on the Lenovo Tab P12 Pro have a powerful, punchy sound. Four grilles that run the length of the tablet's sides allow for immersive Dolby Atmos audio.
Battery life
It has a 10,200 mAh battery that allows me to attend Zoom meetings, play games, view videos, or read on a single charge for a long time.
The Tab's 45W powering is significantly faster than most other slates, so it also wins when it comes to charging.
Performance
The tablet utilizes the Snapdragon 870 chipset, developed initially as a "light" version of the Snapdragon 888, the top-of-the-line CPU for 2021. Because of this, the tablet can work smoothly for a long time.
This technology works effectively in the P12 Pro, allowing optimal gaming, streaming, and navigation speed without overheating the device or resulting in sluggish performance.
Hardware Specifications of Lenovo Tab P12 Pro
Processor
QualcommSD 870
RAM
6/8 GB
Storage
128/256 GB
Display
12.6-inch with 2880 x 1920 pixels
Camera
Rear- 13+5 MP | Front- 8+8 MP
Operating System
Android 11
Battery Life
8 hours
Weight
2.6 lbs
PROS
Pencil Included.
Good fit for android lovers.
CONS
Quiet expensive.
Weight may be an issue for some users.
5- Apple iPad 10.2
Let's dive deep into the device to explore more about its performance, display, apple pencil, camera, and desktop experience.
Performance:
Performance is the priority of every user.
Apple iPad comes with 10.2 WIFI+ Cellular with dual storage options.
You can opt for 32 GB or 128 GB and download, store, and run as many educational videos as you require.
Additional power is also offered when it merges with the A10 Fusion chip.
Apple Arcade games works even without any major intrusions.
Display:
The iPad measures a 10.2″ retina display.
The reasonable and portable screen size keeps this slate portable for easy carrying.
The device lets you have double tasks on a single screen.
The device has a full star rating because of the feature-rich tablet.
The device allows you to relish captivating images on the go.
Still want to know more?? Read our expert's review on Apple iPad 10.2 2019.
Camera:
The tablet maintains built in-front and back cameras.
An 8MP rear camera lets you record HD videos as well as edit them.
Facetime video calling feature enables your close one in contact and helps in capturing the best moments of life.
Apple Pencil:
This tablet enables you to draw, paint, and write exceptionally with an Apple pencil's assistance.
An individual can take notes in a super easy manner during their lectures or online work session.
This device provides a seamless experience to the students as well as professionals.
Desktop Experience:
You are not paying for the tablet solely. Rather you can have a rich experience on a desktop and computer by attaching a full-sized keyboard.
It supports a keyboard that performs as a cover when not in use. Hence, office tasks are no more an issue.
Other Specifications:
The device weighs one pound.
The most surprising specification is the battery life. The device sustains charging for the entire workday enabling the user to take along on long journeys without worrying about its battery.
Fast LTE and Wi-Fi deliver good connectivity options.
Why should one buy an Apple iPad 10.2?
The best aspect is getting an iPad without spending much.
This is the best choice as it is excellent for value.
It suits the needs of office persons, students, and business persons.
This Tablet will never disappoint you whether you play games, draw or print, download videos or attend classes or meetings.
6- New Microsoft Surface Go 2
Microsoft has something to offer for every one of us. The second iteration Microsoft tablet PC is one of the best mid-range Windows tablets.
It acts as a bridge between your smart cellular phone and your personal computer.
Exterior:
The sleek and smart device marries function and form.
It has a slightly larger display than the first-generation surface go.
The reduced bezels make the Go 2 look more modern and sleeker than the Surface Go.
The lightweight feature, along with a decent screen size, makes it easy to carry anywhere you want.
It can be used for making notes for students for educational sessions or professional work.
By just removing its kickstand and a Type Cover you can switch it quickly into tablet mode and by lowering the kickstand we can quickly change it into a studio mode.
One can use it to fulfill first-generation tasks such as drawing, illustration, sketching, and writing with the perfect angle.
It slides with smoothness and presents you with a hassle-free experience of noting down.
Display:
The larger display is the most fascinating and visible improvement of the device.
The stately and catchy display seems glossy and grants photos and films beautiful.
The immersive and slim screen is portable.
The Hi-res splendid screen measures are 10.5-inch with a resolution of 1920 x 1280 pixels making it a great device for watching movies and editing pictures.
The multi-touch makes clicking, scrolling, and performing smoothly.
Portability features:
With everything being online one can cherish a smart, lightweight, and sleek slate with 10.5-inch screen size.
The concept of being a super-compact computing device is icing on the cake as the device weighs 1.2 pounds only.
The device is configured for everyday study, environment, and work.
The device aims to bestow your laptop's speed and performance along with its portability.
7. New Apple iPad Pro 12.9-inch
The New Apple iPad Pro 4th Generation has a cult following, and for good reason, as it is faster and smarter than ever before.
This device has the first real massive design-it's fast, boasts slick and thin.
The well-earned placement fits just right making it no wonder why every individual was so excited.
Still want to know more?? Read our expert's review on Apple iPad Pro 12.9.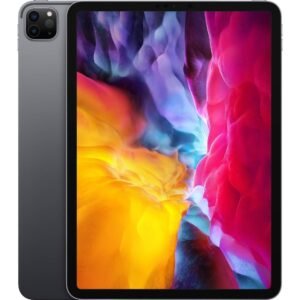 Display:
The most upgraded mobile display Apple introduced is the apple iPad pro 12.9.
It has a squared-off design, helping to streamline the design.
One of the most notable changes this generation is the immigration from Lightning to USB-C.
The screen size holds a 9-inch edge-to-edge layout.
The Liquid Retina display makes the images sumptuous and fascinating for the observer. The cinematic viewing, along with accuracy and sharpness, is its trademark.
Camera:
Apple presents classic cameras to enjoy first-rate video chats, l official meetings, live calls, and zoom classes.12MP camera lets you obtain crystal clear videos and photos and allows you 4k video at 24fps, 30fps, or 60fps.
 Performance:
The performance of this is not like a regular tablet.
It can perform multitasking, open apps, and bounds around the UI like nothing is holding it back.
Apple remits a customized storage capacity like you can opt for 128 GB, 256GB, 512GB, or 1TB according to your necessity.
It makes almost any task super expeditious.
Battery:
One of the remarkable aspects of this tablet is its outstanding battery timing.
The battery life will vary depending on how you use the tablet but the normal battery time that it gives is up to 10 hours once juiced up enough.
Larger display; long battery life, Sleeker, artistic design that comes in more color.
The faster processor, higher-resolution camera, and fresher display make it the right choice.
8. Lenovo Tab M10 Plus
Exterior:
It's a very smooth and sleek piece of kit with a full-metal premium feel featuring narrow bezels.
It arrives with a metal back cover and the FHD display maintains a TDDI advanced system with a 10.3 inches screen.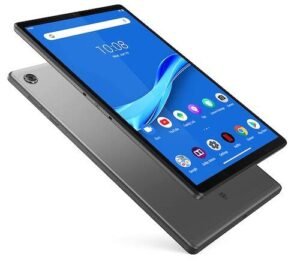 Display:
The vigorous, rich colors of the Lenovo Smart Tab M10 Plus display are what first caught my eye when I turned it on.
The display reacted to all my swipes with dexterity.
The colors emanating from the Lenovo tablet are classic.
If you want to know more?? Read our expert's review on Lenovo Tab M10 Plus.
Performance:
At first glance, you're enchanted by this tablet's slim bezels, colorful display, and appealing interface. Let's dive deep into the product and explore its specifications.
Performance is something that you can never neglect.
The quick performance is the trademark of Lenovo's Tab M10.
It has a decent diversity of connectivity options for a tablet.
Along with all this, it also has pre-installed apps that are beneficial.
The Lenovo Smart Tab M10 Plus is equipped with an octa-core processor with a capacity of up to 3 GHz leading frequency.
Camera and Audio:
Whether you're into video calling, online sessions, or conference calling this device's moderate cameras to get the tasks done passably.
The 8-megapixel camera sits pretty on the back cover of the Lenovo tablet while the 5-megapixel camera can be found on the top bezel.
Furthermore, with adequate screen size, it allows wide-angle viewing that offers picture-perfect landscapes.
You will receive twin side speakers that are tuned with Dopoundsy Atmos and dual microphones.
Other features:
It supports Google Assistant Ambient Mode, which lets you use it as a smart display.
This tablet will likely appeal to budget-friendly users.
It is best for someone seeking a colorful, appealing, Assistant-powered device with a fast and snappy processor.
Including battery life and overall performance, this device would be a perfect purchase for you.
9. Samsung Galaxy Tab S6
Display:
The display of this tablet has sizeable bezels all around which is satisfactory analyzing the size of the device.
It comes in three colors which are cloud blue, rose blush, and mountain grey.
This tablet has a 5-inch AMOLED layout with a WQXGA resolution (1600×2560 pixels).

Performance: 
You can get the best with high-level specs inside the slim body of this device.
. You can choose 6GB memory and 128GB of storage, or 8GB and 256GB according to your personal preference.
.Not only this but it also gives us 6GB + 128GB and 8GB + 256GB of RAM+ROM.
It has a powerful processor and it can do multitasking easily.
Camera:
Samsung Galaxy Tab 6 has a dual camera for the first time in a Galaxy Tab featuring rear-facing 13MP and 5MP
. You can Use its very unique Ultra Wide-angle and quick AI to shoot like a pro and optimize the tone of your pictures and videos.
The device is not so bulky makes it easier and fun for all of us to take pictures and record videos.
Battery:
Samsung galaxy tab 6 has such a powerful battery of 7,040mAh which lasts for about 15 hours of constant use letting you enjoy your favorite content.
You can Use fast USB type C charging to charge fast, and you can also choose for the POGO Charging Dock* to charge.
Still want to know more?? Read our expert's review on Samsung Galaxy Tab s6
10. Apple Ipad Pro 11

Apple iPad Pro 11 is probably going to be the most suitable for office use, with its petite size making it obvious to take around while still containing a substation of a mechanism within.
Let's take a look at this device and explore more.
Display:
This device measures 11 inches (27.94 cm) with a resolution of 2388×1668 pixels at a pixel density of 264 pixels.
It comes in two colors which are silver and space grey.
Performance:
It is powered by an octa-core Apple M1 processor.
With the ability of Apple Pencil, iPad Pro changes into an immersive drawing canvas and the world's most reliable note‑taking tool.
This tablet is designed to take your profession to the next level.
It comes with an octa-core processor of 8GB of RAM with 128GB internal storage.
Camera:
The Wide cameras of this device will help you capture flawless photos or video.
It provides us with 12 MP + 10 MP Dual Primary Cameras giving us the most high-grade pictures and also making it easily useful for recording lessons/lectures.
It is best for someone seeking an appealing, Assistant-powered device with a fast and snappy processor.
Including battery life and overall performance, this device would be an excellent purchase for you.
Frequently Asked Questions – Zoom Tablets
Which tablets have the best camera and microphone for Zoom meetings?
The 12 MP front and 12 MP+10 MP+LiDAR rear cameras on the Apple iPad Pro make it the tablet with the finest camera and microphone for Zoom meetings.
Do I need a high-end tablet for Zoom meetings, or will a budget tablet suffice?
For Zoom meetings, you do not need to purchase expensive devices. There are tablets on the market at reasonable prices that offer high-quality characteristics.
What are the best tablets for Zoom meetings with a stylus?
The best tablets for Zoom meetings are the Lenovo Tab P12 and Samsung Galaxy Tab A8, which both include styluses and offer their customers a wide range of fantastic features at an affordable price.
Are there any tablets designed explicitly for Zoom meetings?
Although no tablet is made explicitly for Zoom meetings, the industry is full of tablets that can be used for various other activities like reading, taking notes, playing games, and viewing movies and TV shows.
What are the best tablets for Zoom meetings for businesses?
The best tablets for Zoom meetings for businesses at a better price point on the market are the Samsung Galaxy S8 Tablet and Apple IPad Pro.
What are the best tablets for Zoom meetings for remote work?
The finest tablet for remote work with Zoom meetings is the Xiaomi Pad 5.
Final Words
This post reviewed the top 8  best tablets for Zoom to connect to the world more smartly and quickly than ever before. We picked the most useful options that meet the needs of current students, teachers, learners, and workers.
Moreover, they are equally great for office people with PC-like execution and versatile features. These testimonials are the consequence of tiresome research. You can choose any of these tablets and can carry on with your life goals.
These choices are excellent for home and outdoor usage with their great portability feature. These tablets are equally great for both students as well as professionals.