As a passionate digital artist, I know the importance of having the right tools to bring my imagination to life. The XP Pen Artist 12 Pro has emerged as a true game-changer in my creative journey, and I'm excited to share my experiences with you.
The Artist 12 Pro is more than just a drawing tablet; it's a versatile tool compatible with popular digital art software, ensuring a seamless transition into the digital art world. What sets it apart is its ability to work effortlessly with web conferencing, online learning, or broadcasting software, making it a valuable addition for creative professionals, educators, and content creators alike.
In this review, I'll delve into the remarkable features and capabilities of the XP-Pen Artist 12 Pro, shedding light on how it can enhance not only your artistic endeavors but also your online interactions and educational pursuits. Let's embark on a journey to discover the endless possibilities this creative companion has to offer.
Hardware Specifications of XP Pen Artist 12 Pro
Display
11.6 Inch | 1920×1080 (FHD)
Dimension 
351.52 x 225.38 x 12.9mm
Active Area
256.32mm x 144.18mm
Pen
PA2 Battery-free Stylus
Sensitivity 
8192
Pen 
5080LPI
Keys
 8 Shortcut Keys
OS Support 
Windows, macOS, Chrome OS, Linux
Weight
2.18 lbs
PROS
Adjustable stand for comfortable use
Customizable shortcut buttons
Supports multi-touch gestures
Compatible with major design software
CONS
Requires connection to a computer
No wireless connectivity
XP Pen Artist 12 Pro Review: Design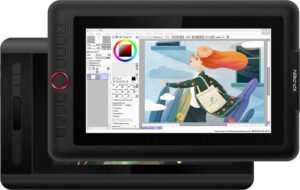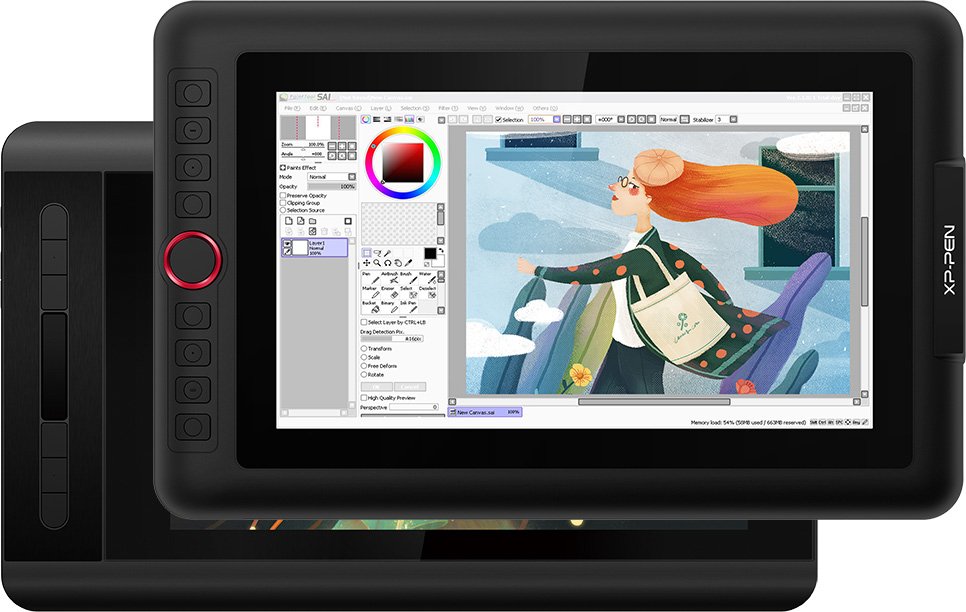 The XP-Pen Artist 12 Pro boasts sleek dimensions measuring 351.52 x 225.38 x 12.9mm. This size is great as it's big enough for drawing but doesn't take up too much space on my desk. It's also not too heavy, weighing only 2.18 lbs (0.98 kg)., so it stays put when I use it.
The tablet is black, which gives it a professional look. I like how it adds a touch of class to my workspace.
It has 8 shortcut buttons and a red dial wheel in the center. I can change what the buttons do, which is helpful. The red wheel helps me zoom in or change my brush size quickly. It's not just nice to look at, but it's also very useful.
Connecting it to my computer was easy with the USB plug. No complicated setups or extra cables are needed.
Overall, I really liked the design of the XP Pen Artist 12 Pro. It's simple, looks good, and makes drawing easier for me. Whether you're a pro or just starting out, I think this tablet is a good choice.
XP Pen Artist 12 Pro Review:

Display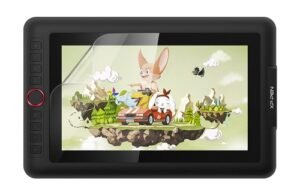 Jumping into the specifics of the XP Pen Artist 12 Pro, the display, in particular, caught my attention. It's one thing to have a device that performs well, but when the visuals are equally commendable, it's truly a game-changer. Here's my deep dive into its display features.
First and foremost, the active drawing area, which is a spacious 256.32mm x 144.18mm, provides ample room for creativity without feeling overwhelming. It's a perfect size that fits right into the sweet spot of not too large and not too small. However, If you want a bigger screen, you can check out the XP Pen 13-inch (Amazon) and the XP Pen 16-inch (Amazon) variants.
Resolution-wise, the display boasts a crisp 1920×1080 pixels. This ensures that every detail, every stroke, is rendered with clarity, making my drawing sessions more engaging.
The color representation on the XP Pen Artist 12 Pro is nothing short of impressive. With a color gamut covering 69% NTSC, 100% sRGB, and 72% Adobe RGB, the hues are vibrant and true to life. The ability to display 16.7M colors only accentuates this vibrancy. When working on projects where color accuracy is crucial, this tablet certainly delivers.
Another feature that stood out to me was the 1000:1 contrast ratio. This guarantees that the blacks are deep, and the whites are pure, offering a dynamic range that is a treat for the eyes. Coupled with a wide 178° viewing angle, I can tilt and shift without any distortion or color shifts.
The 14ms response time ensures that there's hardly any lag, making real-time drawing and editing a breeze.
Lastly, the inclusion of a replaceable anti-glare optical film is thoughtful. Not only does it protect the screen, but it also ensures that reflections don't disrupt the creative flow. The matte finish provided by this film makes drawing feel more natural, similar to paper.
Laminated screens could only be viewed on tablets that fetch a couple of thousand bucks a while before. It is great to see the technology slowly trickle down to affordable devices. One of the most important benefits of a laminated display is – it reduces Parallax.
In conclusion, the display of the XP Pen Artist 12 Pro isn't just about visuals; it's about delivering an immersive experience. From the resolution to the color accuracy, every element harmoniously combines to offer an unparalleled creative canvas. If you're someone who values quality displays, this tablet is sure to impress.
XP Pen Artist 12 Pro Review: Pen

The PA2 Battery-free Stylus is equipped with an impressive 8192 levels of pressure sensitivity. This feature allows me to create lines and strokes with varying thickness and opacity, just like I would with traditional art tools. Whether I'm sketching delicate details or adding bold strokes, the stylus responds accurately to my every move.
The stylus offers a pen resolution of 5080 LPI (Lines Per Inch). This high resolution ensures that my lines are smooth and precise, resulting in artwork that's rich in detail and clarity. It's reassuring to know that my digital strokes are faithfully translated onto the canvas with precision.
With a report rate of 200RPS (rotations per second) at its maximum, the stylus is incredibly responsive. This means that as I move the stylus across the tablet, my digital strokes appear on the screen without any noticeable lag. This responsiveness is essential for maintaining the fluidity of my creative process.
The PA2 Battery-free Stylus boasts impressive accuracy with an accuracy level of ±0.01 inch at the center point. This pinpoint accuracy allows me to place my strokes exactly where I intend them to be, eliminating any frustration that can arise from imprecise input. It's a reassuring feeling, especially when working on intricate details.
The stylus offers a reading height of 10mm. This means that I don't need to hover the stylus too close to the tablet's surface for it to register my input. It provides a comfortable and natural drawing experience, allowing me to work with ease and fluidity.
One of the standout features of the PA2 Battery-free Stylus is its tilt functionality, offering up to 60 degrees of tilt. This feature allows me to achieve a more natural and expressive drawing experience. It's particularly handy when I want to add shading or varying line thickness to my artwork.
In conclusion, the PA2 Battery-free Stylus that accompanies the XP-Pen Artist 12 Pro is a versatile and reliable tool for digital artists. Its impressive pressure sensitivity, high resolution, swift report rate, pinpoint accuracy, versatile reading height, and tilt functionality all contribute to an immersive and responsive creative experience.
XP Pen Artist 12 Pro Review: Compatibility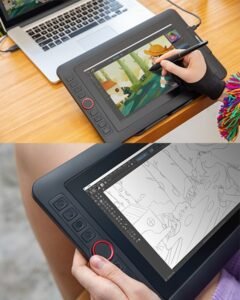 Navigating through the vast landscape of digital drawing tablets, the compatibility of a device plays a pivotal role in shaping our experiences. This is especially true for someone like me, who uses multiple platforms and software for various tasks. Let me share my thoughts on the XP Pen Artist 12 Pro's compatibility features.
To start with, the flexibility in terms of operating system support is commendable. The XP Pen Artist 12 Pro works seamlessly with Windows 7 and later versions, which suits my desktop perfectly. When it comes to MacBook, it supports Mac OS X 10.10 and the subsequent versions, ensuring a smooth connection without hitches. Additionally, it's compatible with Chrome OS 88 and later, and even detailed Linux versions. This broad compatibility spectrum means I can switch between devices without a second thought.
When it comes to software, this tablet is great. I use a lot of art programs, so I was glad to see it works well with popular ones like Photoshop, Illustrator, and SAI. It also supports other art tools like CDR, GIMP, Krita, and Medibang. Plus, it's compatible with Fire Alpaca and Blender 3D. This means I can do all my art projects without any issues.
But it doesn't stop at art. Recognizing the digital era we live in, the XP Pen Artist 12 Pro goes a step further by integrating with web conferencing and online learning platforms. Whether I'm on a Zoom call, streaming on Twitch, or joining a webinar on Udemy, this tablet has me covered. It effortlessly collaborates with software like XSplit, Microsoft Teams, and more, which makes virtual interactions smoother.
To wrap up, the XP Pen Artist 12 Pro is a versatile tool that understands and adapts to the modern user's needs. Whether you're a digital artist, a student, a teacher, or a business professional, this tablet ensures you're always in sync with your digital world. The expansive compatibility offerings make it a top choice for anyone looking to invest in a tablet that truly bridges gaps.
XP Pen Artist 12 Pro Review: Accessories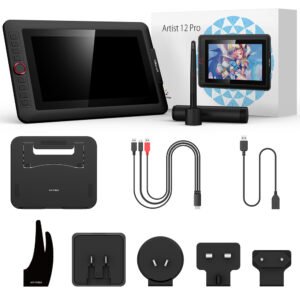 As a digital artist, the tools I use are not limited to just the tablet itself, the accompanying accessories play a crucial role in enhancing my creative experience. I'm excited to share my insights on the accessories that come with the XP-Pen Artist 12 Pro. Let's take a closer look at each of them and see how they complement the overall package.
Along with the XP Pen Artist 12 Pro 11.6 Inch Display and PA2 Battery-free Stylus, there are so many useful accessories available in the box.
AC 42 Display Stand: The display stand is a practical addition to the package. It allows me to adjust the angle of the tablet to a comfortable position, reducing strain during long drawing sessions. The stand is sturdy and reliable, ensuring that the tablet stays in place as I work.
8 Replacement Pen Nibs: Having replacement pen nibs is a thoughtful inclusion. Over time, pen nibs wear down with use, and having replacements at hand ensures that I can keep working without interruptions. It's a small detail, but it shows that XP-Pen cares about the longevity of its product.
Pen Holder: The pen holder serves as a convenient storage solution for the stylus when I'm not using it. It keeps the stylus safe and easily accessible, preventing it from getting lost or damaged.
3-in-1 USB Cable: The 3-in-1 USB cable is a versatile accessory. It not only connects the tablet to my computer but also serves as a power source. This reduces cable clutter on my desk and keeps everything tidy.
Cleaning Cloth: The included cleaning cloth is handy for keeping the display free from smudges and fingerprints. It ensures that my artwork remains clear and pristine.
USB Extension Cord: The USB extension cord provides extra flexibility in terms of cable management. It's useful when I need to extend the reach of the USB connection.
Black Drawing Glove: The black drawing glove is a thoughtful addition for artists who prefer to work with their hands resting on the display. It reduces friction and ensures smooth movements, enhancing the overall drawing experience.
Power Adapter: The power adapter is essential for keeping the tablet powered. It provides a reliable source of power, ensuring that I can work without interruptions.
Conclusion
To wrap up my thoughts on the XP Pen Artist 12 Pro, I've genuinely found it to be a standout in the realm of digital drawing tablets. Its design is not only sleek but also highly functional, ensuring a pleasant user experience. The display quality, with its vivid colors and sharp resolution, offers a true-to-life canvas for artists. Furthermore, its wide-ranging software compatibility means it's versatile for both casual doodlers and serious professionals.
Whether you're into digital art, design, or even online teaching and conferencing, this tablet has got you covered. All things considered, the XP Pen Artist 12 Pro is a worthy investment for those looking to blend creativity with top-notch tech. If you're looking for a new tablet, I'd wholeheartedly recommend giving this one a shot. It truly delivers on its promises.
Howdy Geeks, I'm Andrew, a young passionate blogger, Tech Freak & a Gadget Lover. I help people in buying them the best tablet devices