Can the Huion Kamvas Pro 16 be your ideal choice when deciding to buy a pen display? I've long been a supporter of graphics tablets and pen displays for use with computer software. Therefore, it's fantastic to see some rival products on the market, and Huion is one of those businesses that has been introducing some excellent pen displays and graphics tablets.
Since 2011, Huion, a Chinese company, has been producing pen displays, and their goods have significantly improved. The most recent 16″ pen display has a higher pixel density, better resolution, and a new design, and it is called the Huion Kamvas Pro 16 (2.5k). You can also choose Kamvas pro 13 if your budget is not that high.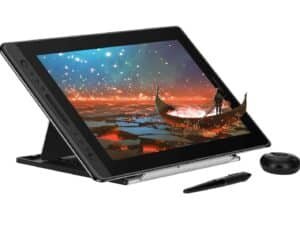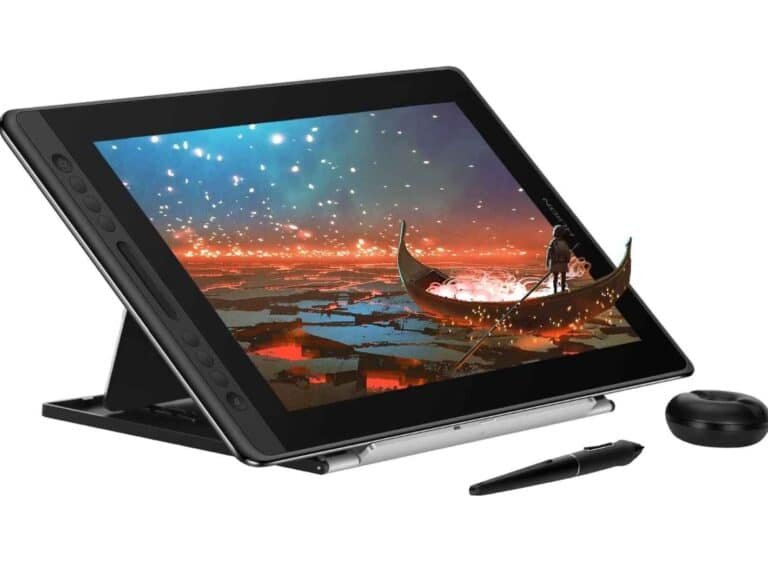 I've been using and reviewing display tablets and pen displays for a while now. With that wealth of knowledge at my disposal, I'll start this evaluation by summarising my opinions of Huion. Years ago, when I reviewed my first Huion product, it was packaged simply and had shoddy instructions, and I got the impression that the company hadn't given branding much thought. My product pleasantly surprised me and was excellent, but something about the packaging gave me the impression that it was still a low-cost model.
But fast-forward to now, and their website is current, their goods are exquisitely branded, and they have grown to comprehend the creative and sophisticated customers who purchase their goods. I don't have that lingering impression that I just got a budget anymore.
There are many reasons why it is more expensive than XP-16″ Pen's pen displays but less expensive than Wacom's entry-level Cintiq 16 pen display. Read on to know what makes the money you'll spend on the HUION Kamvas Pro 16 worth it!
What's in the box of our Huion Kamvas?
The packaging looks fantastic, with just the right amount of informational graphics and enough negative space to still look straightforward and tidy.
A piece of protective plastic has been placed over the screen of the pen display, and an important instructions sticker demonstrates how to properly plug the cables into the side.
Its box contains:
1x KAMVAS Pro 16 Graphics Drawing Monitor

1x Battery-free PW507

1x 3-in-1 Cable

1x Power Adapter

1x Plug

1x Pen Holder (10 pen nips inside)

1x Nib Clip

1x Cleaning Cloth

1x Quick Start Guide

1x Glove as a Gift accessory!
Technical Specifications of the Huion Kamvas Pro 16
It is the first step while buying a tablet to note all features you need and check if the tablet provides it or not. This is why this article is about the specifications of your Huion Kamvas Pro 16. Read on to get an idea about the look, feel, and usability of your Huion tablet. 
The Huion Kamvas Pro 16 has a display size of 15.6 inches and an active drawing area of 344.16 x 193.59mm. Thus the size of its screen or display is adequate and you also get a display resolution of 1920 x 1080 (16:9). While buying a tablet, it is important to note what pen is provided as well. In the Battery-free PW507
A pen you get a pen pressure of 8192 levels with the availability of tilt support. You also get 6 customizable shortcut keys and a touch bar. The compatible device versions are Windows 7 or later, and Mac OS 10.12 or later.
Features of the Huion Kamvas Pro 16
Fully laminated HD Screen
The KAMVAS Pro 16 drawing monitor uses anti-glare glass and the most recent complete lamination techniques. When compared to a regular screen, a fully laminated screen will enable the cursor to move parallel to the nib without any parallax, improving the accuracy and smoothness of your drawing. Additionally, it contributes to enhanced optical quality and visual impact. The anti-glare glass reduces glare to provide a reasonably clear image in bright light.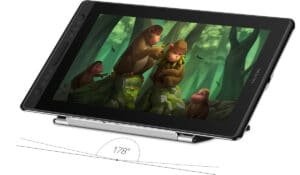 16.7 million colors are beautifully displayed on a 15.6-inch IPS screen with a 120% sRGB color gamut, which can significantly lessen color differences. The KAMVAS Pro 16 weighs 13.5 kg and has an 11.5-mm thickness, making it incredibly thin and portable so you can take it wherever you like.
Latest PW507 Battery-free Stylus pen
A battery-free pen and an innovative tilt function: PW507 battery-free pen offers 8192 levels of pen pressure for a more accurate and natural drawing experience; Additionally, with 60 degrees of natural tilt recognition, which improves pressure sensing and precise cursor positioning at various angles, you can recreate the genuine painting experience. 
PW507 processes the most recent 60° tilt function, which can guarantee precision and a smooth, natural transition between each line. With an industry-leading 266PPS report rate, you can draw quickly and smoothly.
Customizable Shortcut Keys: 
The PW517 pen has two programmable buttons for shortcuts. Kamvas Pro 16 (2.5K) has eight more press keys for customization. Huion has included several of the regular settings with both shortcut key sets; customization options are rather broad from there.
You also get access to a common option to map keystrokes, mouse clicks, and program launches. However, you may switch between screens, system programs, audio controls, and pan/scroll options. When using the precision mode, you can slow down your cursor to make more exact strokes.
The shortcut buttons were responsive, but only when the stylus was close to its screen and registered as being in use. Aside from that point, they're a highly tactile set.
The Huion ST200 adjustable stand is supplied with the Kamvas Pro 16 (2.5K). This functions differently than using a single movable element to support the complete display stand. Its metal display front can be opened in one of two ways to change between the six permitted angles.
Although there are six angles in theory, unless you need to work at a very specific height, the changes could seem insignificant. No matter where you place your  Kamvas Pro 16 (2.5K), the fold-out metal lip at the front exactly fits it, so you don't have to be concerned about the tablet shifting due to its rubber grip. You may also use the rubber feet if you want to operate on a flat surface.
Tool for storing and removing nibs
The pen stand also serves as a place to store nibs. It has a concealed storage section which is accessible by lifting the top lid. You get ten spare pen nibs in all, which are kept safely in padded compartments.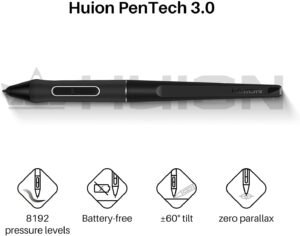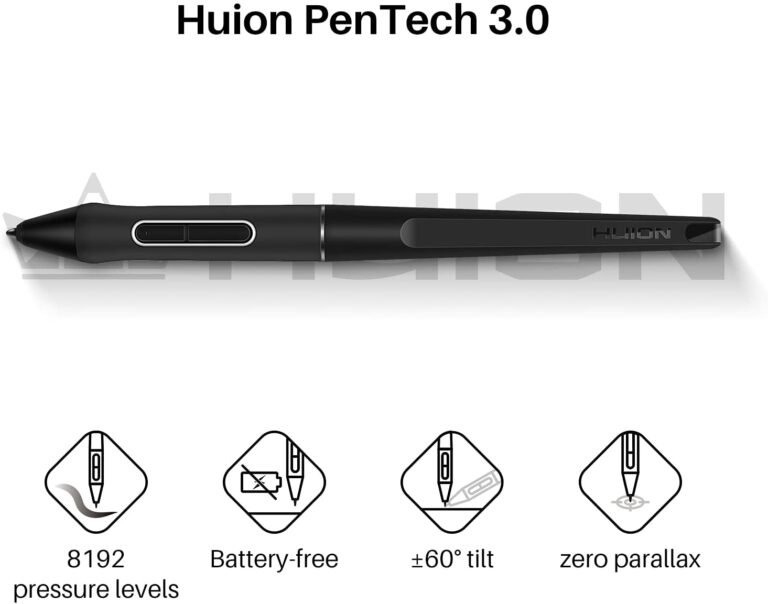 A metallic tool to remove the nib from the stylus is also included in the storage.
The most ergonomic drawing position is not flat on the tablet. For a relaxing drawing experience, you will need a sturdy tablet stand with different adjustment angles.
The less expensive Kamvas 16 has tablet support already built into the box. Huion's version of Kamvas Pro 16 which is more expensive does not include a tablet stand, though. Use of Huion's official stand is advised while using their professional tablet; you can get it on Amazon.
With a total of six adjustment angles, the stand offers a sufficient number of working positions. The stand can be carried more easily because it folds up into an extremely small profile.
Setting up and customizing your Huion Kamvas Pro 16
Huion device's first configuration is rather simple. After the driver has been installed, you may access a menu where you can change the position and orientation of the display window's effective area as well as the buttons on the tablet and pen.
The programmable buttons can be configured as shortcuts to mouse key combinations, keyboard key combinations, applications or apps, media, or navigational tools. This is a terrific approach to increase productivity when using a certain editing program without constantly switching between the tablet and the keyboard. 
In addition, the display may be turned 90, 180, or 270 degrees to suit your tastes and comfort. However, doing so will change how your cable is configured, so keep that in mind. Since the tablet is a standalone display, it may be configured to either reflect another display or function as a standalone desktop. This helps your workflow and, to some extent, enables multitasking.
Pointing the pen onto nine places across the screen is all that is necessary to calibrate the display and ensure that pen inputs are precise. It is also very simple to tune pressure sensitivity and patterns to best suit your needs.
Pros and Cons of the Huion Kamvas Pro 16 
PROS
The ST200 Adjustable Foldable Stand enables simple repositioning.

Using felt nibs and PenTech 3.0 makes drawing feel more realistic.

Unnecessary side buttons are removed from the settings screen display.

Minimal glare and parallax.

Built-in Macro buttons. 8 programmable shortcut keys for tablets.

Cables are reduced with USB-C connectivity.

Cheaper than most display tablets providing the same features.

Outstanding pen pressure sensitivity test.

Lots of useful accessories are included in the box.

A laminated screen provides better accuracy.
CONS
A short power cord makes the USB extension cord that is offered almost unnecessary.

For connectivity, some troubleshooting is necessary.

It's not a 4K display.

The power button is inconveniently placed on the tablet.
Answering the popular FAQs 
Q- What are the possible ways of connecting with your computer/laptop?
If your computer does not already have HDMI and USB ports, you will need an adapter to convert the connection.

Make sure your computer is fully connected to the USB and HDMI cables.

Be sure to fully splice the USB and HDMI cables into the KAMVAS Pro 16. Make sure there is no space between the cables when they are plugged in.

You will want a Type-c to HDMI and USB converter for the connection if your computer only has Type-c ports.

After placing all of the cables in their proper locations, give the USB Hardware driver 30 to 1 minute to successfully load.
Also please note the following as well:
Both the USB and HDMI cables must be fully plugged into the computer.

The KAMVAS Pro 16 should accept the Type-CI Cable in its entirety.
Q- What points should you keep in mind while installing the HUION driver in the Windows system?
Please verify that your machine does not have any drivers for other brands;

Before installation, shut off any drawing programs or antivirus software;

Please don't alter the installation path. Disk C contains our default path;

Please run the driver installation program as administrator.
Q- Is the Huion Kamvas pro 16 a standalone product?
This device requires a computer connection to function, and it is compatible with Windows 7 and later as well as macOS 10.12 or later. Thus, the Kamvas Pro 16 is not a standalone product.
Q- How can you contact Huion in case of any query/help?
At first, you would need to install the most recent driver on your computer by downloading it from the HUION Official Web. You'll get the latest version from there.
When using the KAMVAS Pro16, please read its Quick Guide and search HUION online to find a way to contact them for more help. Most likely you'll find their website complaints portal or mail id for the same. Moreover, you can write to them through your order details and e-commerce platform.
Conclusion
I found the Huion Kamvas Pro 16 (2.5K) to be a beautifully designed pen display with sturdy construction and excellent sketching capabilities. Working on this pen display is incredibly fun for me. Performance in the drawing is reliable and predictable. Lines always come out as I anticipate. The PW517 performs admirably. More precisely, when drawing with a light touch, the pen can sense pressure variations quite well.
Therefore the Huion Kamvas Pro 16 meets all of your basic tablet needs with little to no sacrifice. Although you'll fall short of 4K or touch-controlled tablets, you'll receive great color actualization and a specialized but adaptable drawing experience. But it's a terrific drawing tablet to use if you want a strong, straightforward one.
The resolution boost and other minor upgrades make for an alluring graphics tablet if you're looking for an economical yet powerful upgrade from the Kamvas Pro 16 of the previous generation. Huion's Kamvas Pro 16 (2.5K) offers a well-rounded graphics drawing tablet kit, despite a few small setup annoyances. If the resolution is the only deterrent, Huion's Pro series also offers a 4K model.
This tablet is excellent. If you are considering obtaining one, I would advise doing so because it won't let you down. I mentioned using comparisons at the outset. In comparison, this is a fantastic deal for a product of this caliber, and despite the price appearing low, you can be sure that you are not purchasing a subpar item. Overall, I would rate it a 4 out of 5.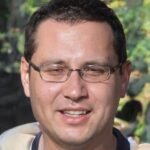 Ben Scott is a prominent technology journalist and reviewer, specializing in tablet devices. He is known for his comprehensive and unbiased reviews of tablets from various manufacturers.
With a deep understanding of tablet technology, including hardware components, operating systems, and software applications, Scott provides clear and informative reviews accessible to readers of all levels of technical expertise.
His attention to detail and in-depth analysis have earned him a loyal following of readers.