Are you glued to your screen for most of your day?
Ever since the pandemic, you, me, and everyone have been through this common struggle- work from home. Even the younger generation had to opt for digital screens instead of looking at a blackboard.
The topic and reason for my article also arise from the same. I have experienced this struggle as well. The numb and sore fingers and ache that I felt in my wrists while scrolling and using a mouse for hours and hours on end. All this struggle just to get things done on time. Pushing limits and not focussing on comfort while working.
However, it is not just you or me. Thousands of people suffer from severe pain and muscle aches in their fingers, hands, and even shoulders and neck. Bad posture, lack of effective comfortable solutions, tough hardware, and extensive working hours are the prime reason for this occurrence. The shift from manual to digital was so sudden that our bodies didn't get enough time to adapt to this new working pattern.
What makes an alternative to a generic mouse important?
It is no secret that using a computer mouse a lot can cause hands and wrists to ache. Especially now when everything is digital and high-tech.
It is a fact that a computer is a requirement for even the most basic tasks. Because of this, Repetitive Strain Injuries (RSI) are a common problem among digital users. Working long hours on computers in the office or even at home without ergonomic devices and correct posture is an open invitation to problems like Carpal tunnel, RSI (Repetitive Strain Injuries) plus general pain, and fatigue.
But, adding the pain of arthritic fingers and wrists while using a mouse can become unbearable. Clicking buttons and moving a mouse feels impossible for arthritic users.
Don't give up though – there are solutions and alternatives. In this article, I am going to help you find the best alternatives to a generic mouse for arthritic hands.
Problems with the Traditional Mouse
As known, using a mouse requires you to keep your wrist and forearm 'pronated'(palm-down). The muscles used to maintain this pronated position adds extra stress to the muscles used for the finger and hand movements one uses to control the mouse.
This twisted position of the forearm bones can irritate joint inflammation at the wrist and elbow while moving the mouse around while using.
Other joints are also irritated by these mouse movements. Gripping the mouse, and then clicking and scrolling movements will hurt the knuckles. Keeping your arm in a raised position hurts our shoulders.
A truly 'arthritis-friendly computer mouse' addresses one or more of these problems by keeping the forearm in a more neutral position, removing or reducing one's "grip" on the mouse, offering different clicking options, as well as reducing movement at the wrist and elbow.
Whose needs are we catering to with these alternatives?
Having done extensive research and understanding of the needs and issues, I am finally here with the best mouse alternatives for users experiencing Carpal Tunnel, RSI, Arthritis, and wrist pain. Wondering if your symptoms match with any of these? Let me simplify it for you:
Carpal Tunnel: The carpal tunnel is a narrow passageway surrounded by bones and ligaments on the palm area of the hand. When the median nerve is compressed due to an activity, symptoms can include numbness, tingling, and weakness in the hand and arm.
Warning Signs might include:
A feeling that your fingers are full and swollen.
Muscles at the base of the thumb feel smaller than they used to be.
Pain from your hand upwards to your arm.
Pain, tingling, and numbness that worsens at night and when the affected hand is placed in a warm environment.
Repetitive Strain Injuries: Repetitive strain injury (RSI) is a general term used to describe the pain felt in muscles, nerves, and tendons caused by repetitive movement and overuse of the same.
Symptoms of RSI might include:
Pain, aching, and tenderness.
Stiffness.
Tingling or numbness.
Weakness.
Cramp.
Throbbing.
Arthritis: Arthritis is caused by inflammation of one's joints. Osteoarthritis usually comes with age and most often, it affects the fingers, knees, and hips. Symptoms might include:
Pain.
Stiffness.
Swelling.
Redness.
Decreased range of motion.
Thus if you identify with any of the aforesaid conditions, I highly suggest consulting an expert about the same. After all, health is the very subject of this article. For the ones already aware of why they clicked on this article, keep reading folks.
List of the Best Mouse Alternative in 2022:-
After interacting with people suffering from these conditions and knowing about their needs. I researched which alternatives to a generic mouse solve the problems and make lives easier.
This article provides a quick look at some of the best mouse and mouse alternatives for mouse-related hand injuries as well as wrist and forearm pain experienced by users. Here's my list:
1- Contour Unimouse
This is hands down the master of ergonomics. Unimouse is the only fully adjustable mouse in this category designed to perfectly fit your hand. Contour Unimouse has an adjustable angle and thumb support. It also provides comfort and ergonomic benefits unparalleled by other handheld mouse options.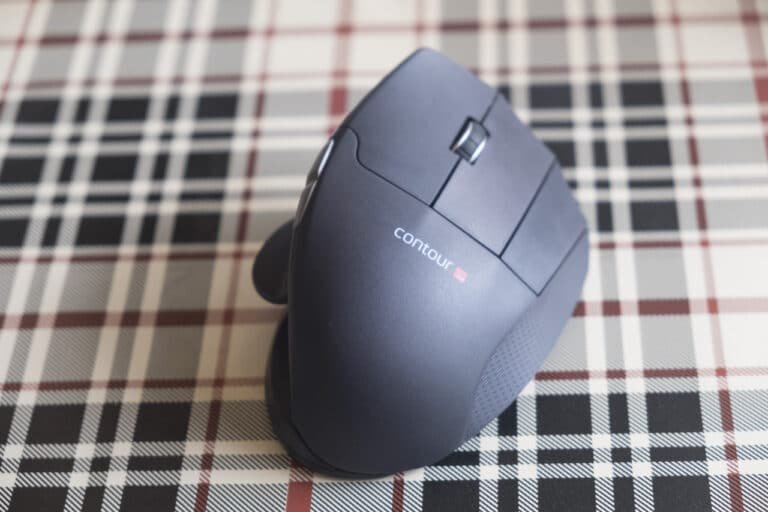 Purpose: Users experiencing troubles due to Carpel tunnel and wrist pain.
Choose your angle: Unimouse has a unique hinge mechanism that allows the user to choose the preferred body angle. Starting at 35° and ranging to 70°, the Unimouse aims to allow its users to find an angle that mimics their hand in its natural posture.
Choose your width: It has dynamic, adjustable thumb support that gives near infinite adjustability. With 3 distinct points of adjustment, the Unimouse allows users to choose the perfect place for the thumb support.
Finding one's fit: Whether you're comfortable at 35°, 70°, or anywhere in between, the adjustable hinge on the Contour Unimouse allows you to achieve maximum comfort and ergonomic benefits. Thus it helps in finding a position that allows your hand to work in its natural posture.
Natural feeling induced thumb support: I can call my natural posture when my body is at rest. The articulating thumb support encouraged users to move the length, width, and angle to find the perfect spot that lets their thumb rest and eliminates harmful gripping. This allows full control while reducing tension in your hands and forearms.
According to my research, people stated the following PROs of a Contour Unimouse:
Ergonomic design is what makes Unimouse stand out in this list of best mouse alternatives.
Unimouse offers multiple adjustments.
3 Buttons are offered – Left, right, middle click.
Being Wireless is an amazing advantage.
Good build quality.
Thumb support is good.
10 DPI levels for cursor speed.
A good review is incomplete without honest CONs. Thus I say the following:
It is only for right-handed people.
I think it missed having a wrist rest.
Needs some time to get used to.
2- Logitech Mx Vertical
MX Vertical is an advanced ergonomic mouse This device combines science-driven design with the elevated performance of Logitech's MX series.
Angle: MX Vertical's unique 57° vertical angle reduces the pressure on your wrist, as your thumb is positioned comfortably on the thumb rest making it worth featuring in this list.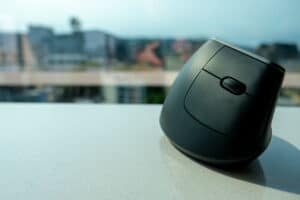 Fit: MX Vertical is great for large to medium hand sizes, specially designed and sculpted by Logitech's team of ergonomic and design experts. Unsure about your hand size? Visit their website as they offer a hand sizing guide too!
Less hand movement: Advanced optical tracking with a dedicated cursor speed switch provides 4x less hand movement as a result. This results in reducing muscle and hand fatigue. Cursor speed and accuracy can also be customized in Logitech Options as a bonus.
Form with texture: MX Vertical is shaped for the human hand and is smooth to the touch. Its unique form with textured rubber surface assures a solid and natural grip as well.
Cursor speed switch: Logitech Mx Vertical also lets you change the speed and accuracy of your cursor for optimal control with a press of a button.
It consists of a best-in-class 4000 DPI high-precision sensor, resulting in 4x less hand movement.
Fast Recharging: MXC Vertical stays powered for up to four months on a full charge. As if this wasn't enough, you also get three hours of use from a one-minute quick charge. Use the USB-C charging cable to top up the power when required.
PROs of Vertical Mouse for carpel tunnel – Logitech Mx Vertical
Its ergonomic design is a good feature.
Smooth gliding surface.
Cursor speed switch option.
Wireless via USB/Bluetooth.
Customizable buttons are available.
Non-Slip texture.
CONs
Design is only supportive of right-handed people.
Lacks a wrist rest.
Design is not suitable for small hands.
3- Rollermouse by Contour design
What makes Rollermouse more effective is that you do not have to use your pinky and thumb to grab and move the mouse. Even the index and middle fingers can be left at ease. Plus you don't have to move your hands much which is great if you have forearm pain or tennis elbow as an issue.
Plus due to its design feasibility, you can quickly switch between left and right hands without any learning curve or feeling of discomfort. The Contour design roller mouse works by using a rotating cylindrical bar placed on a horizontal rod in it. For moving the pointer up and down you simply need to roll it, that's it. For moving it left or right, you can slide the roller sideways Its other features:
Placement: RollerMouse Red, unlike a traditional mouse, sits in front of your keyboard instead of to the left or right. This placement eliminates the need for reaching for the mouse again and again. This greatly reduces unnecessary muscle activity in your arms, shoulders, and neck.
Control at your fingertips: All products of RollerMouse rely on the brand's patented Rollerbar to control the cursor on the screen. This new way of cursor control allows you to work fluidly with your fingers and thumbs and is easy to use ambidextrously. The Rollerbar doesn't require the gripping and squeezing as that of a handheld mouse, reducing hand, wrist, and forearm strain.
Easy to use: What makes the RollerMouse Red unique to the RollerMouse family is that, unlike other RollerMouse models, its Rollerbar is larger, textured, and designed to give you optimized tactile feedback, giving unrivaled precision.
Support: The RollerMouse Red comes with two options: standard and Palm Support+. The standard RollerMouse Red palm support is great for those with small to medium hands while the Palm Support+ works with larger hand sizes.
4- Apple magic trackpad
Apple's Magic Trackpad is a stylish-looking, standalone device that sits on your table, and easily connects wirelessly to your computer. It works similar to most trackpads built into most laptop computers: you run your finger over it to move the arrow on your screen. Apple's innovative design turns the entire trackpad into a single button. You can press anywhere on the trackpad area for a "click". This conveniently reduces finger movement by placing the buttons wherever your finger happens to be — one finger to click, two fingers for a right-click.
It also reduces finger stress by adding a multi-touch swiping control feature — similar to the one we find on the iPhone or iPad. Apple's innovative design turns the entire trackpad into a single button. Its large surface area should make it comfortable for all hand sizes. I found it responsive and comfortable as well.
Overall, I suggest Apple Trackpad as a great mouse alternative as it is very intuitive and easy to learn, especially if you use a laptop or a touch smartphone or tablet like an iPhone or iPad. It helps avoid the need to constantly lift and move one's arm around. This gives some ease and rest to your shoulder and elbows. However, I'd say that if you have limited mobility in your fingers, this may not be for you.
Pros:
Keeps arm and wrist in one position, rest to muscles.
Large surface area for hands of all sizes.
Convenient swipe gestures and "buttonless" design.
Cons:
Limited functionality on Windows PCs.
Requires batteries.
Not ideal for people with reduced finger control.
5- Graphics Pad as a Mouse
This is another excellent alternative or a mouse. Using a pen instead of a mouse can be a good solution since you are looking for a mouse alternative. That is exactly the job of a graphics tablet. Although they are mainly used by digital artists and photographers for their work they can also work in case you suffer from mouse-related pain and injury.
A graphics tablet is accompanied by a small pad and a digital pen which you can use as a pointing device. The pen has buttons that can be used for left and right clicks respectively. And after a short period of adjustment, using a tablet as your mouse alternative will feel as natural as writing on paper.
Some of the pads also come with extra buttons which help perform actions such as cut, copy and paste buttons. The good thing is that these buttons are programmable and are subject to change as per your need and choice.
A major advantage of using a digital pen as a mouse is that you can use them for hours without feeling discomfort as is commonly felt while using a mouse. On the other hand, a graphics tablet is also cost-effective and easy on one's pocket. There is a variety of these available in plenty of budget criteria for everyone's needs.
PROs
Keeps your wrist and hand in better posture, eventually easing out shoulders and neck as well.
Less stress on fingers is an advantage.
Cheap and affordable
Feels natural similar to writing with a pen.
Shortcuts can be customized.
Graphic tablets are my go-to. I absolutely love these as they are so versatile for the price at which they come. One should definitely try this.
CONs
The interface differs a bit from a mouse.
Someone may or may not like using it.
People can find it a bit complicated and take a while to learn.
Additional Accessory
1- Wrist Cushion
The alternatives of a generic mouse mentioned in my list may be excellent in terms of ergonomics and comfort but most of them lack in one key area. All these ergonomic mice may provide a better holding angle for hands of the users and a more professional grip. However,  they do not have wrist rest. Thus eventually, the entire weight of the entire hand gets concentrated towards the wrist area only.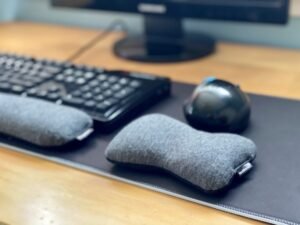 Precautions I suggest :
Don't sit for long hours at once. Take short breaks between working hours.
A proper posture is very important for avoiding pain and muscle cramps.
Keeping your back straight helps avoid creating the issues that'll lead you into buying the list I've mentioned here.
Keep switching your hands while working (Right to Left hand and vice-versa).
Use the mouse hand for performing other tasks too.
Conclusion
Arthritis and joint issues are painful. The more you use those swollen joints without taking care of posture and extensive working hours, the more they hurt. Using the right tools and learning about home remedies and precautions like these will help. Some users even report pain relief while wearing specially made gloves for arthritis and doing daily wrist exercises. Thus things like these must be opted for.
Technology has fortunately made possible alternatives for standard computer mice for those with arthritis. Hoping this information provided here will help you choose the best computer mouse for arthritic hands. If using a mouse with arthritis is just too painful and it persists, I suggest using a tablet instead.
My motive behind this article is to mention as many Mouse Alternative I could get my hands on. There are hundreds of them available, each having its own set of benefits and drawbacks. But, either of these can go a long way toward providing a more comfortable and painless computing experience.
I hope I've given you a head start and pointers on how to find the best option for you. It is very essential to manage both: health and work. The products here help you manage work without stressing and aggravating these painful conditions.
Howdy Geeks, I'm Andrew, a young passionate blogger, Tech Freak & a Gadget Lover. I help people in buying them the best tablet devices