We earn some commission from AMAZON when you buy from the below links.
Large screen tablets are fun to use, Don't you think so? Well, I love using my large screen iPad pro. I can easily watch movies and surf the web on that.
Are you someone who's looking to buy a tablet with a bigger screen? Because finding the right tablet is something very confusing.
So, I'm here to help you out with my complete buying guide on choosing the best large-screen tablets in 2022.
Tablets are real fun; I love using my iPad more than my mobile phone. There are specific reasons why I prefer tablets over mobile. Some of them are that I can also do my office work on the tablets that I can't do on my mobile. Also, big-screen tablets help me to visualize by drawing and by taking notes as well.
It fills up the bridge between laptops and mobile devices; I can easily carry my tablet anywhere I want. These days tablets also have a perfect battery backup, so I don't have to worry about charging my devices again and again.
Suppose you are someone who also works from home or has to do a lot of work online. I will suggest you get a large screen tablet that can help you in your work as well as you can also use the tablet for zoom meetings.
In this guide, I will be helping you to choose the best large screen tablet for you. The list is going to have all the best big screen tablets which are available online.
I have been playing around with these gadgets for four years now. You can say I have some good experience using these 12-inch and 24-inch large screen tablets.
So let's get started.
Top 11 Best Large Screen Tablets In 2021:-
Large screen tablets have advantages over regular 8-inch tablets and 10-inch tablets. The screen size is better; you will have a visual experience and a better grip on the device. You can use these large tablets for multiple purposes like watching movies, reading books on a tablet, doing office work, and even use these tablets for college.
Based on my experience and reviews of thousands of users online, I'll be sharing all the best large-screen tablets in the below list.
1-

Samsung Galaxy Tab S7+
Samsung's flagship products are well known for their premium build and design. This is also true of the Tab S7 series. It is immediately apparent to you when you take the tablet out of the package. Feels solid, as if it's made of metal.
You get a 12.4-inch display with a 16:10 aspect ratio and similarly sized bezels on all four sides in the front. You get a selfie camera at the top of the tab when you hold it in the landscape. You find the Type-C USB port to the tablet's right, and Samsung's keyboard connects via a magnetic connector at the bottom of the tablet.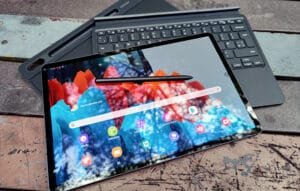 The LCD panel has a resolution of 2,560 x 1,600 and a pixel density of 276ppi, which is decent. The aspect ratio is 16:10. Tab S7 Plus features a 12.4-inch AMOLED panel running at 120Hz. 
I find the display to be quite lovely and enjoyable for the most part, and the 120Hz refresh rate ensures smooth animations and navigation across the UI. You can choose between a standard refresh rate of 60Hz and an adaptive refresh rate of 120Hz.
The tablet's performance is one of its key highlights. In the Samsung Galaxy Tab S7 Plus, Qualcomm's latest Snapdragon 865 Plus SoC based on 7nm fabrication is installed. CPU cores are clocked at 3.1GHz on this octa-core chipset. Adreno 650 controls graphic processing. In addition to this, the phone has 6GB of RAM and 128GB of internal storage. Micro SD cards are also supported, allowing you to add up to 1TB of additional memory. 
It is once again the best Android tablet on the market. The device's excellent display, beautiful design, and reliable performance justify its price. Tablets depend heavily on software, as Android isn't very capable of running on these devices.
Hardware Specifications of Samsung Galaxy Tab S7+
Processor
Octa Core (3.09+2.4+1.8GHz)
RAM
6/8 GB
Storage
128/256 GB SSD
Display
12.4″ Retina display with 2800 x 1752
Camera
Rear- 13+5MP | Front- 8MP
Operating System
Android
Battery Life
8 hours
Weight
1.28 lbs
PROS
Great Display.
Snappy Performance.
Excellent speakers.
CONS
Costly.
Aspect Ratio.
Battery backup.
2-

Microsoft Surface Pro X –

B

est Large Screen Tablet
It is a lightweight device that fits easily into most bags, even with the Type Cover attached. Furthermore, Microsoft has removed sharp edges from the Design of the Surface Pro X, giving it a much softer, more rounded appearance and feel. 
However, the tablet lacks a headphone jack despite having two USB-C ports. It is essentially a Windows tablet without 3.5mm audio support.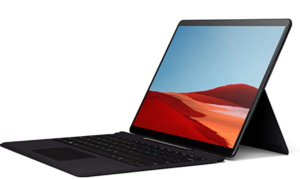 Display-wise, it has a PixelSense touchscreen with 267 pixels per inch (2.880 x 1,920) resolution in a 3:2 aspect ratio. With 450 nits of brightness, this is a genuinely stunning screen with stunning colors.
Can Qualcomm's 7nm SoC compare to Apple's A12X Bionic? Honestly, it gets trounced. Recent Geekbench 4 single and multi-core test results show the iPad Pro 12.9 to perform better than the Surface Pro X by 40% to 50%.
I tested the Surface Pro X in our video rundown battery test, and it did last longer than the Surface Pro 7 (6 hours and 2 minutes). However, the Surface Pro 6 (8 hours and 45 minutes) lasted nearly an hour longer than this version. 
Although I appreciate the Surface Pro X's sleek, refined design, thin and light design, and comfortable typing experience, I cannot recommend this device for most people. Despite the lack of a headphone jack and app support, it is perfect for a tiny group of users.
Hardware Specifications of Microsoft Surface Pro X
Processor
10th Gen Intel Core i7, i5 and i3
RAM
16 GB
Storage
256 GB SSD
Display
13″ Retina display with 2880 x 1920
Camera
Rear- 10MP
Operating System
Win 10
Battery Life
12 hours
Weight
1.7 lbs
PROS
Beautiful hardware design.
Lightweight and portable.
Better battery.
CONS
Costly.
Some app issue.
No 5G.
3-

Lenovo Tab P11 Pro
The Lenovo Tab P11 Pro has been designed with two particular use cases in mind. The first is as a replacement TV, as a companion on long winter evenings. Second, a mobile workstation. The design is dominated by straight lines and sharp angles, straight out of a design book. It will look smart in any office or boardroom, and it can also be used on the go.
With a complete aluminium unibody design, the Lenovo does not come with a plastic appearance. The desktop is overkill for the living room because it is so strong.
I experienced no problems tracking our rudimentary doodles with the Lenovo Pen since it has a pressure sensitivity of 4,096 levels. Though it may be suitable for doodling, some doubts remain about its suitability for digital artists.
Despite the large included panel, the bezels surrounding the screen are pleasingly thin. Bright, sharp, contrasty, colour-accurate, and comfortable with really high resolutions, the AMOLED is an excellent choice.
Lenovo's Tab P11 Pro doesn't challenge this stereotype in any way. With the included Snapdragon 730G, most experiences will run smoothly but can quickly work up a sweat with a few additional requests.
Based on Geekbench 5 results of 527 points and 1614 points on multi-cores, performance is very similar to the Snapdragon 845 flagship.
It has enough RAM for a few apps to run smoothly and enough storage space to last most users for a few years.
In addition to being a laptop replacement, the Lenovo Tab P11 Pro is also the best large screen tablet. It fails at some of its ambitions but succeeds where it succeeds. For its price, this is among the best media tablets you can find today.
Hardware Specifications of Lenovo Tab P11 Pro
Processor
Snapdragon 730G
RAM
6 GB
Storage
128 GB SSD
Display
11.5″ Retina display with 2880 x 1920
Camera
Rear- 13+5 MP | Front- 8+8MP
Operating System
Android 10
Battery Life
12 hours
Weight
2.1 lbs
PROS
Punchy OLED screen.
Great-sounding quad speakers.
Responsive enough performance.
CONS
Few optimized apps.
Productivity mode.
Keyboard and pen accessories.
4-

Google Pixel Slate 12.3
With the Google Pixel Slate 12.3inch's powerful Chrome OS device and optional accessories, the Pixel Slate can do work and play beautifully. Having both a tablet and laptop in one device will come at a hefty price.
The Pixel Slate's design follows the same simple approach as the rest of Google's hardware. In a stealthy midnight blue finish, the Pixel Slate's body is made of anodized aluminium.
Pixel Slate has a minimal port selection. If you hold it in portrait orientation on the top and bottom of the device, you will find two USB Type-C connectors. In addition to charging the Pixel Slate, USB Type-C ports can also transfer data and output to a 4K display.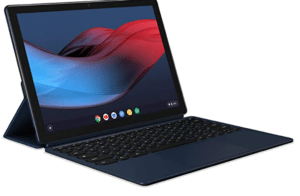 As with Google's previous tablet-laptop hybrid, the Pixelbook, the Pixelbook Slate has a 12.3″ large screen with a 3:2 aspect ratio but higher resolution. This tablet has an incredibly sharp LCD with a resolution of 3,200 x 2,200. In light of Apple's Retina screen, the screen is called a "Molecular Display," which seems like nothing more than a marketing ploy to compete with Apple.
There are five different versions of the Pixel Slate, each with varying RAM, storage, and Intel processor. In my testing, I've been using a model powered by an Intel Core i5 y-series processor, 8GB of RAM, and a 128GB SSD. The second-highest model in this line. It does not offer expandable storage regardless of configuration.
A great product from Google is no surprise with the Pixel Slate. Google Chrome OS is a very flexible operating system, and it has excellent hardware. My daily computer has been an enjoyable experience, but I have difficulty recommending it. Pixel Slate's pricing is almost confusing, and it is expensive.
Hardware Specifications of

Google Pixel Slate 12.3

Processor
8th Gen Intel Core m3 processor
RAM
8 GB
Storage
64 GB SSD
Display
12.3″ Retina display with 2880 x 1920
Camera
Rear- 8MP
Operating System
Chrome OS
Battery Life
10 hours
Weight
1.59 lbs
PROS
Elegant design.
Sharp display.
Great Audio.
CONS
Buggy BT problem.
Keyboard as a additional.
Expensive.
5- New Apple iPad Pro – Best Large Screen Tablet
Although the design of the iPad Pro 2021 hasn't changed too much from previous versions, it still looks great and feels extremely durable as well.
Aluminium is used on the rear and frame, and glass is used on the front with a scratch-resistant coating. 
It has four speakers, two on top and two at the bottom edge. It also has a Thunderbolt port located on the bottom of the device.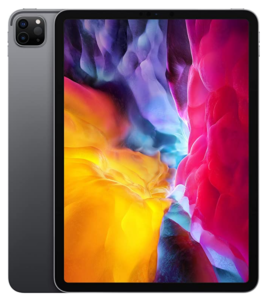 A new Mini LED display on the 12.9-inch Pro offers a crisp image as well as improved brightness. I've found that this screen provides a great viewing experience, and it's called a Liquid Retina XDR screen.
It has a resolution of 2048 x 2732, which equals 265 pixels per inch. This is comparable to what you'd expect ontop Android tablets like the Samsung Galaxy Tab S7 Plus.
This is Apple's latest M1 chipset, which will debut in the company's top-end Mac products in 2020.
Depending on the model you choose, you get either 8GB or 16GB of RAM. My review model, the 1TB and 16GB model, is far more suitable for our needs, even when performing intensive tasks. The other two highest-capacity models, with 1TB and 2TB of storage, each receive 8GB.
This is the best tablet money can buy:
High performance.

A fantastic display.

A multitude of minor upgrades.

An overall experience makes it the best tablet for Apple fans and those who want an unrivalled tablet experience.
However, it's not for everyone because of its large size and price, and an alternative more portable and affordable tablet may be a better choice. Still, this is the best of the best.
Hardware Specifications of iPad Pro 12.9 Inch
Processor
Apple A12Z Fusion Processor
Display
11-inch Retina Display with 1668 x 2338 Resolution
RAM
6 GB RAM
Storage
128GB / 256GB / 512GB / 1TB
GPU
Apple GPU (7-core graphics)
Camera
Rear- 12 MP (wide), 10MP (ultrawide) | Front- 7 MP
Operating System
iPad OS 13.4
Battery Life
10 hours
Weight
1.04 lbs
PROS
Incredibly powerful.
Beautiful, high refresh rate display.
Superb speakers.
The new Pencil.
CONS
No HDR capability in the screen.
Multi-tasking still limited.
Expensive.
Single USB-C port.
6- Microsoft Surface Book 2
Compared to the MacBook Pro, the Microsoft Surface Book 2 15-inch is a much better computer for many reasons. With an upgraded Dynamic Fulcrum Hinge and a larger display in a slimmer form factor, it takes everything we love about the original Surface Book and raises the bar a bit.
It is visually identical to the first Surface Book. Because it's always been a sizeable 13.5-inch laptop that's edging closer to a 15-inch machine, the Surface Book's larger size is strangely familiar to me. Even though it's bigger and heavier and with a larger screen, you're also getting more power under the hood.

The Surface Book 2 15-inch measures 0.9 by 13.5 by 9.87 inches (HWD) and weighs 4.2 pounds. At 0.61 x 13.75 x 9.48 inches and 4.02 pounds, the Surface Book 2 is small, light, and incredibly powerful.
Apart from the addition of USB-C, the ports are mostly the same. Although Microsoft has added USB-C to the Surface 3, Thunderbolt 3 is still missing, so you cannot connect external GPUs or other faster peripherals.
The fully loaded model is equipped with an Intel Core i7-8650U processor (the newest Kaby Lake R processor), 16GB of memory, and an NVIDIA GTX 1060 video card. Compared to last year's "basic" Surface Book (which had an NVIDIA GTX 965M and Intel Core i7 Skylake CPU), these components are more in line with last year's Surface Book 2 but still a notch above.
There turns out to be a 2-in-1 laptop that can beat any 2-in-1 to date as long as you have a large Surface Book – a computer that can handle the latest PC games and last for a very long time. The tablet is also the best one we have tested for drawing so far. However, I would have preferred Microsoft to utilize the extra space afforded by the 15-inch form factor better.
Hardware Specifications of Microsoft Surface Book 2
Processor
Intel Core i5
RAM
16 RAM
Storage
256 GB SSD
Display
13.5 Inches touchscreen
GPU
Intel HD Graphics 620 integrated GPU
Operating System
Windows 10 Pro
Battery Life
10 hours
Weight
1.2 lbs
PROS
Premium alloy construction.
Elegant convertible design.
Sharp high-resolution.
Nvidia GTX 1060 graphics.
CONS
16GB RAM maximum.
Surface Pen need to buy seperately.
7- Apple iPad
It's not the newest member of Apple's entry-level iPad family – that's the new iPad 10.2 (2020). It's the same size as the one I'm reviewing, but it comes with a few improvements in terms of specs.
Despite being the 7th-generation iPad, it feels solid and has a familiar design that, at first glance, seems as if it hasn't changed since several years ago. The body is made of aluminium, with a glass covering over the top. There are no cheaper iPads that use Apple's Smart Keyboard.

The iPad 10.2 has an extra half-inch display real estate over the classic iPad. I thought this was a modest improvement over the standard iPad size. Although it won't change how you live or watch, I appreciate the entry-level iPad's higher screen-to-body ratio.
As a result, the LCD's resolution has been increased to keep the same pixel density as its predecessors, so it still looks great when stretched to 10.2 inches. 0.2-inch screen offers modest gain over standard 9.7-inch size. It is colorful, bright, and uses the Apple Pencil, which was introduced with the iPad 6th generation. Bright and colorful, but you should choose the iPad Air for deep drawing.
A year after adding 3GB of RAM to the iPad, Apple did improve the A10 Fusion chip, which is slightly outdated, but still adequate for the iPad's basic features. The urgent need for more internal storage than 32 GB and 128 GB is more pressing and sorely lacking.
Apple's iPad 10.2 (2019) has a slightly bigger screen, Smart Keyboard Cover compatibility, and an extra GB of RAM. It remains reasonably priced. This iPad 7th-generation continues to be brilliant at the basics, despite not much different from last year's iPad 9.7, which now runs iPadOS.
Hardware Specifications of Apple iPad 2019
Processor
Apple 10 Fusion
RAM
2 GB RAM
Storage
32GB / 128GB
Display
10.2-inch Retina Display with 2160 x 1620 Resolution
Camera
Rear – 8 MP | Front – 1.2 MP
Operating System
iOS 13.1
Battery Life
10 hours
Weight
1.07 lbs
PROS
Larger display.
Smart Connector.
100% recycled aluminum enclosure.
Reasonable price.
Apple Pencil support.
CONS
Lacks FaceID.
Accessories are expensive.
Smart Connector still feels limited.
8- Microsoft Surface Pro 7
Compared to the Surface Pro 6, the Surface Pro 7 shows a slight improvement, mainly due to internal upgrades. The Surface Pro 7 does not appear to be getting any crucial enhancements or fixes, so it looks like Microsoft missed an opportunity with this release.
This configuration comes with an Intel Core i3 processor (CPU), 4GB of memory (RAM) and a 128GB solid-state drive (SSD), with the latter two points upgradeable to 16GB and 1TB capacity.

In addition to the USB-C port, Microsoft's Surface Pro 7 has no other significant design changes compared to the last model. Although the device still has 11.5 x 7.9 x 0.33 inches (292 x 201 x 8.5mm), it weighs 1.7 pounds (770g). Furthermore, the silver and matte black finishes remain the same.
Tablet's 12.3-inch touchscreen has a resolution of 2,736 x 1,824 pixels (267 pixels per inch) and a 3:2 aspect ratio. Despite the previous generation's impressive performance, this one is sharper, more vibrant, and more responsive to touch. But, as I mentioned earlier, this specification has not changed in a few years and needs to be updated with HDR and improved color gamut coverage, at the very least. In addition, the bezels are incredibly thick for a tablet at this price point.
Surface Pro 7 didn't meet my expectations in terms of advancements. Having USB-C is nice, but for a device priced at this level, it should have Thunderbolt 3. Microsoft's Surface Pro 7 doesn't make a big enough leap over the Pro 6 to make it a recommended upgrade, or even for those coming to the Surface family for the first time.
Hardware Specifications of Microsoft Surface Pro 7
Processor
10th Gen Intel Core i3/ i5/ i7
RAM
4 GB/ 8GB/ 16GB RAM
Storage
128 GB/ 256 GB/ 512GB/ 1TB SSD
Display
12.3 Inch PixelSense Display with 2736 x 1824 Resolution
GPU
Intel UHD Graphics/ Intel IRIS Plus Graphics
Operating System
Windows 10 Home
Battery Life
10.5 hours
Weight
3.53 lbs
PROS
Quad-core performance.
Cool and quiet with quick resume.
USB-C port.
CONS
Still no Thunderbolt 3.
Dated design.
Lack of built-in LTE.
9- Samsung Galaxy Tab S6
With a base storage model of 6GB RAM/128GB RAM, Samsung introduced the Galaxy Tab S6 in late August 2019. When you add LTE to that configuration or a Wi-Fi model is upgraded to 256GB, you will have 8GB of RAM and 256GB of storage.
There is a 256GB model with 8GB RAM and 4G LTE connectivity at the top of the Tab S6 line. Every single one of them comes with a similar top of the line 855 CPU. Despite the lack of originality in its design, the Samsung Galaxy Tab S6 is a handsome gadget that doesn't disappoint.

There is nothing quite as angular and muscular about it as an iPad Pro 11, but it is still all-metal. Tab S6 feels slightly smaller than Apple's iPad because it has softer edges, a thinner body, a lighter frame, and a wider aspect ratio than the iPad.
AKG-tuned speakers are installed on both narrow edges of the device, with a USB-C port and two speakers on the 'bottom' edge (judging from the orientation of the Samsung logo). There is no 3.5mm headphone jack on this tablet, which is a damn shame for a device of this calibre.
Similarly, the display of the Galaxy Tab S6 doesn't flinch when it comes to underplaying its design. A Super AMOLED display measures 10.5 inches with a 1600 x 2560 and 287 pixels per inch.
What's noteworthy here is the Super AMOLED technology. The Galaxy Tab S5e and the Galaxy Tab S4 both have it, but it still feels like a novelty in a tablet.
It is one of the best Android tablets on the market. In addition to media, it is also beneficial for productivity. Though expensive, the iPad Pro is still cheaper than this tablet. In terms of quality, it falls short of Apple's Pro range.
Hardware Specifications of Samsung Galaxy Tab S6
Processor
Qualcomm Snapdragon 855
RAM
6GB / 8GB RAM
Storage
64GB / 128GB (upgradeable up to 512GB)
Display
10.5 inch Super AMOLED with 2560 x 1600 Resolution
Camera
Rear – 13MP + 5MP | Front – 8MP
Operating System
Android 9.0 Pie
Battery Life
10 hours
Weight
0.92 lbs
Still want to know more?? Read our expert's Review on Samsung Galaxy Tab s6.
PROS
Powerful Processor.
DeX mode.
Storage space.
Updated S pen stylus.
CONS
Keyboard need to buy seperately.
Small keys.
10- Microsoft Surface Go 2
Students or those who are always on the go should find the Microsoft Surface Go 2 an outstanding laptop. If power over portability is what you require, you'll likely need to look elsewhere.
You'll recognize the Surface Go 2's design if you've seen any other Surface Pro device. It's smaller on two axes but shares the same design philosophy. If you're looking for a budget laptop, this is the best option. With just 8.3mm of a thickness (without the keyboard cover), it feels very premium. It is made of brushed aluminium on the sides and back, so it is great to hold and touch. Regarding the material choices and build, there isn't much to say.

It features a headphone jack, USB-C port and proprietary charging port on the right side of the device. Chargers easily snap into that magnetized charging port. Additionally, the Surface Go 2 can be charged via the USB-C port, so you do not need to rely on the charger that comes with the device. The feature is convenient and friendly.
There isn't much difference between the Microsoft Surface Go 2 and its predecessor regarding its footprint. With the bezels shrunk, it can work with a 10.5-inch display. Furthermore, the screen resolution has been bumped up to 1,920 x 1,280 at a 3:2 aspect ratio.
My low expectations for the processing power of the Surface Go 2 were surpassed. It takes on most tasks quite well, thanks to the 1.1GHz dual-core Intel Core M3-8100Y processor. This should be sufficient for those who may not have a lot to do simultaneously, like students or businesses.
Its performance, battery life, and app support mean that the Surface Go 2 falls short of being a top tablet thanks to Windows' incredible capabilities. I still think it's a great machine, but the iPad would be a better choice if you don't need Windows.
Hardware Specifications of Microsoft Surface Go 2
Processor
8th Gen Intel Core M3 / Intel Pentium Gold 4425Y
RAM
4 GB / 8 GB RAM
Storage
64 GB / 128 GB
Display
10.5″ PixelSense Display with 1920 x 1280 Resolution
GPU
Intel UHD Graphics 615
Operating System
Windows 10 Pro
Battery Life
10 hours
Weight
1.2 lbs
PROS
Bigger screen
Core M3 processor option
Runs any Windows app
CONS
Very low performance ceiling
Battery life
Keyboard flex
11- Lenovo Tab M10 Plus
This is a quick summary of my experience with the Tab M10 FHD Plus. Despite its low price, this 10.3-inch tablet has an impressive range of modes.
Considering the tablet's looks, it would be easy for you to understand why older family members, teens, and parents would like it. With an all-metal body and a thin, rounded bezel, this is a very smooth and sleek piece of equipment.

This product feels like (and looks like) a good value for its price, like a premium tablet. In addition to the FHD Plus display, the Lenovo Tab M10 comes with a charging dock, which you can just plugin and leave somewhere – so that everybody knows where to put it away.
A Full-HD IPS panel is available as the 10.3-inch display. There's something odd about the size of the screen, but it's not terrible. With a 1920 x 1200 resolution, the IPS panel is easy enough to handle games and video on this size screen.
The M10 Plus finds a good balance between performance and cost to replace, which ranks among the top in this category.
It comes with 4GB of RAM and either 64GB or 128GB of internal memory, which is a decent amount at this level. Streaming, browsing, gaming, and most other tasks can all be completed quickly on this device.
With the Lenovo Tab M10 FHD Plus, it's hard to be disappointed. Honestly, there isn't much here that makes a tablet the best, but there is quite a bit that it does pretty well. This is a true all-arounder that would be perfect for families.
As a whole, this offers good value for the average household. A powerful enough tool for parents, mature enough for teenagers, and safe enough for young children (as long as there's a case). If you're shopping in this price range or just looking for something to supplement what you've got, this would be a good pick.
Hardware Specifications of Lenovo Tab M10 Plus
Processor
MediaTek Helio P22T Octa-Core Processor
RAM
2GB / 4GB RAM
Storage
16GB / 32GB / 64GB (expandable up to 256 GB)
Display
10.1 inch HD IPS Display with 1280 x 800 Resolution
Camera
Rear – 8 MP | Front – 5 MP
Operating System
Android 9 Pie
Battery Life
7 hours
Weight
1 lb
PROS
High-end metal body.
Good 10.3-inch screen.
Almost pure Android 9.
Solid performance.
CONS
Bad speakers.
Updates uncertain.
Blurry cameras.
Some More Best-Seller Large Screen Tablets
Bestseller No. 1
Apple TV
Easily find your already purchased or rented titles in the Library tab. Browse by recently added, genres, and more.
Watch new exclusive Apple Originals every month on Apple TV+, like The Morning Show, See, Dickinson, For All Mankind, The Elephant Queen, Helpsters, Ghostwriter, Servant, and more.
Access channels that you've subscribed to and share them with your family. Channels play in the Apple TV app ad-free, online or off with no additional apps, accounts, or passwords needed.
Browse new release movies or explore the catalog of over 100,000 movies and shows, including the largest catalog of 4K HDR movies.
Watch Now also includes Up Next, which helps you quickly find and watch your favorites, plus resume what you're watching from the moment you left off, across all your devices.
Sale
Bestseller No. 2
Liquid I.V. Hydration Multiplier - Passion Fruit - Hydration Powder Packets | Electrolyte Drink Mix | Easy Open Single-Serving Stick | Non-GMO | 16 Sticks
Hydration Multiplier is a great-tasting, non-GMO electrolyte drink mix powered by CTT to deliver hydration to the bloodstream faster and more efficiently than water alone. Passion Fruit is equal parts invigorating and refreshing with hints of honey and berry flavors.
Cellular Transport Technology, or CTT, is the breakthrough delivery system used in all Liquid I.V. products, designed to enhance rapid absorption of water and other key ingredients into the bloodstream.
Non-GMO and made with premium ingredients, Hydration Multiplier Electrolyte Powder Drink Mix contains 5 essential vitamins including Vitamins B3, B5, B6, B12 and Vitamin C. It's also gluten-free, soy-free, and dairy-free.
CONVENIENCE Single-serving, travel-friendly packets are easy to enjoy on the go. Pour one easy-to-open packet into 16 oz of water, mix or shake, and hydrate.
LIQUID I.V. GUARANTEE Returns are not permitted on the marketplace for this product category, however if for any reason you are not satisfied, please message our store through the marketplace messaging interface and we will refund your purchase.
Bestseller No. 3
2-Pack Miady 10000mAh Dual USB Portable Charger, Fast Charging Power Bank with USB C Input, Backup Charger for iPhone X, Galaxy S9, Pixel 3 and etc …
【2-Pack 10000mAh Power Bank】Two 10000mAh battery packs not only for portable charging but also around the home. Allowing you charge mobile devices without having to be tethered to a plug socket. Each of them fully charges 2.4 times for iPhone X, 3.6 times for iPhone 8 and 2.2 times for Samsung Galaxy S9.
【Dual Output & Input】Each has 2 USB output ports that detect all the connected devices and efficiently distributes the current output up to 5V 2.4A. The USB C and Micro USB ports can fully refill the battery itself in 5 hrs at 5V 2.0A.
【Reliable Li-polymer Cell】Thanks to the Li-polymer battery pack, the charger is much safer than any Li-ion charger. Also, it's lighter and slimer that you can easily carry it around, even on airplanes.
【Small & Slim】It feels incredibly compact for a 10000mAh power bank, weighing just 218g and only 14mm thick. Grippy design is easy to hold, easy to toss into a bag and incredibly portable.
【What You Get】2 * Miady 10000mAh USB Portable Charger (White & Black); 2 * USB Cable (Lightning cable is not included)); 1 * User Manual. We provide 24*7 friendly customer support and also back our products for 18 months.
Bestseller No. 4
Logitech Wireless Combo MK270
Reliable Plug and Play: The USB receiver provides a reliable wireless connection up to 33 ft (1), so you can forget about drop-outs and delays and you can take it wherever you use your computer
Type in Comfort: The design of this keyboard creates a comfortable typing experience thanks to the low-profile, quiet keys and standard layout with full-size F-keys, number pad, and arrow keys
Durable and Resilient: This full-size wireless keyboard features a spill-resistant design (2), durable keys and sturdy tilt legs with adjustable height
Long Battery Life: MK270 combo features a 36-month keyboard and 12-month mouse battery life (3), along with on/off switches allowing you to go months without the hassle of changing batteries
Easy to Use: This wireless keyboard and mouse combo features 8 multimedia hotkeys for instant access to the Internet, email, play/pause, and volume so you can easily check out your favorite sites
Bestseller No. 5
Lysol Disinfectant Wipes, Multi-Surface Antibacterial Cleaning Wipes, For Disinfecting and Cleaning, Lemon and Lime Blossom, 80 Count (Pack of 4)​
DISINFECTING WIPES KILLS 99.9% OF VIRUSES AND BACTERIA: Lysol Disinfecting Wipes are tested and proven to clean and kill 99.9% of viruses and bacteria, including 8 cold and flu viruses* (when used as directed)​.​
KILLS COVID-19 VIRUS: Tested and proven to kill COVID-19 virus** (**Kills SARS-CoV-2 on hard, non-porous surfaces in 15 seconds), EPA Reg No.777-114​.
MULTI-PURPOSE CLEANING WIPES 3X STRONGER THAN A PAPER TOWEL: These disinfecting cleaning wipes are 3x stronger than a paper towel.
USE ON MULTIPLE SURFACES: Germs and messes occur on more than kitchen and bathroom surfaces; conveniently tackle any tough surface including remotes, tablets, and smartphones with these multi-surface cleaning wipes.​
DISINFECTING WIPES FOR CLEANING: Disinfect and deodorize with the fresh smell of Lemon and Lime Blossom Lysol Disinfecting Wipes. Safely wipe down spills and remove allergens, including pet dander, dust mites, and pollen​.​
Bestseller No. 6
Affresh Dishwasher Cleaner, Helps Remove Limescale and Odor-Causing Residue, 6 Tablets
Powers away limescale and mineral buildup
#1 Recommended by* Whirlpool, KitchenAid, Maytag and Amana brands (*affresh brand products and the recommending brands' products are all owned and distributed by Whirlpool Corporation)
Cleans what you can't see: your machine's tub, racks, pump and valve, drain and recirculation hoses
Cleans inside all dishwasher machine makes and models
Use monthly or as needed to maximize machine performance* (*heavily soiled machines may require extra cleaning cycles)
FAQ about Large Screen Tablets
In this section, I will be answering some of the most frequently asked questions about large-screen tablets. These questions are collected from the internet are answered to help you choose your big-screen tablet.
What is the best large-screen tablet in 2021?
According to me, It depends upon the needs and requirements of the user. If you ask me in general then, I would say  Surface Pro X or the Apple iPad Pro are the best tablets with a big screen.
Which is the most affordable large-screen tablet?
If you have a tight budget and you still want to get the best tablet, then I would recommend you to get the Lenovo P11 Tablet. It is the most affordable tablet with an 11-inch 2K (2000 x 1200) IPS, anti-fingerprint, touchscreen, TDDI, 400 nits.
Which one is the largest tablet under a $300 budget?
The Lenovo P11 is the best large-screen tablet which you can buy in under a budget of $300.
Can I get a large screen tablet for under $100?
No, We don't recommend going for any cheap tablet under 100$ budget as they will not be value for money.
Final Words

With my final words, I would recommend the Apple iPad Pro or the Microsoft Surface Pro 7. Depending upon your OS choices, you can choose anyone in between these two. They are great for the price being charged.
There are not a lot of large-screen tablet options available in the market like there are very few reliable 12-inch tablets and 13-inch tablets in the market. I have listed out all the best 12-inch large tablets including some of the other largest android tablets as well.
If you think I missed any of the 12-inch tablets or large screen tablets in this list, feel free to mention your favorite largest tablet in the comments section below.