Every time you carry many books on a long trip and feel the bulk in your luggage or your bag? Then the Kobo Clara is a simple solution for minimizing the problems that come with reading a "real" book and this e-reader offers a healthy amount of device storage and supports different file types, which means you won't have to choose anymore which book or books you'll take with you.
And this device doesn't serve up ads like  Amazon Kindle readers like the Kindle Paperwhite so that you can focus on just the content you want with this Kobo reader.
Specification:-
Hardware Specifications of Kobo Clara – eBook Reader
Screen Size
6″ Glare-Free
Storage
8 GB
Light
Comfort Light Built In
Connectivity
Wireless
Battery Life
More than weeks
Weight
5.86 ounces
PROS
With 3.5 million books
Interal Storage
Battery
CONS
Heavy for normal use.
Screen light
Design
The Kobo Clara is very small and resembles a small 4 x 6-inch notepad that is usually found on the desks and weighs just a little under 6 ounces, which is very light and small enough to fit in a large jacket pocket and even easy to carry in small bags without really noticing it's there.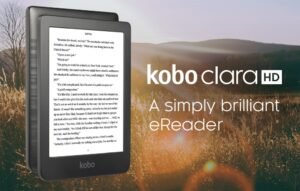 I expected the e-reader to be very easy on my hand even if I would hold it for hours but unusually, despite the featherweight design, I found this e-reader uncomfortable to hold for extended lengths of time. The black bezel is widest at the bottom at about 1 inch, which is a decent amount of room for the fingers, but holding the reader at the bottom was very unnatural for me and the sides of the bezel present only about 0.5 inches to work with, which wasn't enough room.
Unlike the other e-readers, this one doesn't come with the thick bezel space on the left and right sides of the reader. This one's bezel space felt to be restrictive and I experienced hand cramping when trying to hold the Clara with just one hand. I tried a better solution to hold the device in the palm of one hand or with both hands and completely avoid contact with the bezel. Another design miss is the material on the back of the device which is smooth plastic and offers no control grip control so you might want to purchase a protective case for it.
Setting It Up
The Kobo Clara was very easy to set up. Out of the box it was 30 per cent charged and took 2 hours to charge in full and once powered on, I had to choose the method for setup. Logging into a Kobo account is optional but you can also choose to sign in and set up your device via other platforms like Google and Facebook.
Display
The Kobo Clara has a 6-inch, high-definition touchscreen which is one of the highlights of this device and comes with a screen resolution of 1072 x 1448 pixels and 300 PPI (Pixels Per Inch). The Clara uses E-ink technology which means that the e-reader doesn't have a backlit display and everything is shown in black and white and the upsides are that it is easier on the eyes. I could easily read clearly whatever was on the screen with no distortion from every angle that I looked.
The ComfortLight Pro feature impressed me too, where the e-reader introduces blue light throughout the day when you need it and then gradually decreases the amount to help you unwind. Over the week I used it and noticed the transition, but I appreciated the lack of thought I had to put into benefiting from this feature.
There are also many options for changing the text size, font choice, line spacing and margins, and you can also decide where on the screen you want to access these settings when you read. I played with the font size for a bit, but I struggled to find the right balance of text size as the screen is very small and the text size seemed to blow everything up, straining my eyes to read what was on the screen.
Reading Experience
The Kobo Clara does support comic books and other content originally published in full colour but you will lose out on the full effect of the reading experience. When I got the e-reader, I read a couple of comic books and noticed more of a flashing pattern on the screen when turning pages and waiting for pictures to load, but this wasn't as severe when reading text only.
Turning pages is easy, and the intuitive gestures for annotating and highlighting text do mimic the experience of reading in print. Swiping gestures work best on this e-reader. I found the tapping motions to be much less responsive and would cause the screen to flash with each tap.
Store and Software
The Kobo Clara comes with 8GB of storage, which makes the device capable of storing up to 6000 e-books as stated by Kobo and supports 14 different file formats including e-books in EPUB, EPUB3, PDF, and MOBI form along with images, comic books, and documents. Although I didn't purchase any e-books from the Kobo store, the brand claims there are more than 6 million titles in the store.
The Kobo store browsing experience on the Clara is clunky and the interface is not that smooth or fast too, and I found it better in a browser. In addition to the e-books store, Clara supports e-books from other sources than those in the Kobo store that are protected by Digital Rights Management. Adobe Digital Editions (ADE) has to be installed on the device to access them on the Kob and ADE isn't necessary for borrowing books from the public library, thanks to the OverDrive integration, I was able to seamlessly borrow books, which always downloaded almost instantly.
Conclusion
In my opinion, the Kobo Clara is a basic e-ink e-reader that does the job well and offers an experience that is very close to reading a real book. If you are looking for a device that puts focus on reading the content, this e-reader should be on your list. While it's not the most ergonomically designed, it is relatively gentle on the eyes through its thoughtful light settings and reading customization options.
Howdy Geeks, I'm Andrew, a young passionate blogger, Tech Freak & a Gadget Lover. I help people in buying them the best tablet devices