Note:- TabletGeeky is a participant in the Amazon Services LLC Associates Program and we earn some commission from AMAZON when you buy from the below links.
Kindle Paperwhite E-Reader is one of our favorite devices as they're simple, reliable, and perfect at what they do. In one palm-sized device, you can bring thousands of books with you to the park or your trek. They get more than a month of battery life on one charge and you can also subscribe to get unlimited books from Amazon.
Specifications:-
Hardware Specifications of Kindle Paperwhite E-Reader
Screen Size
6″ Glare-Free, Waterproof up to 2m
Storage
8/32 GB
Resolution
300 ppi
Front Light
5 LEDs
Battery Life
About a weeks
Weight
6.6 oz
PROS
Without Ads option available.
Kindle Support.
Waterproof.
Design
The latest Kindle Paperwhite is almost identical to its previous generation and its soft-touch matte black case looks and feels just like its predecessor's though the Kindle logo is now a light grey that contrasts with the case instead of matching black.
The new Paperwhite is 0.32 inches thick and weighs 6.4 ounces, making it slimmer than the 2015 Paperwhite which was 0.36 inches thick and weighed 7.2 ounces.
Amazon's Kindle is thicker and lighter but it doesn't have a backlight, which means you cannot read at night time. The Amazon Kindle Paperwhite is closer in size to the graphite-aluminum Kindle Oasis which is 0.33 inches thick and weighs 6.7 ounces.
The Paperwhite's screen is finally flush with the bezel around it which looks a lot nicer than the previous models, where the screen was framed with a chunky, shadowbox-like bezel that stood out.
I have used the previous-gen Paperwhites and always I liked the chunky bezel because it's a good place to rest my fingers, but this model's screen puts my fingers too close to the screen. But still, accidental page turns were not an issue during my testing.
I remembered why I prefer the Oasis' design over the Paperwhite's and unlike the latter one, the Oasis is asymmetrical with one thin bezel on one side, clickable buttons, and a wider bezel on the other side and makes it easier to hold.
One positive design change is that there is no hump on the back where the power button and micro-USB port rest which was a problem that I felt in the previous models.
Both Kindles charge over micro-USB, don't offer headphone jacks. Unfortunately, Amazon doesn't include a USB power adapter.
Durability
The newest added feature of the Kindle Paperwhite is that it is waterproof and earned an IPX8 rating. You can submerge it in 2 meters of water for up to 60 minutes, thus you don't need to worry about it falling into your bath, the pool, or even the ocean when you are at the beach, though it is riskier as salt water is more corrosive.
I also dropped the device in a foot-tall bucket of tap water and removed it after 20 minutes. The device continued to work and offer responsive page-turning as if it had been dry the whole time.
Display
The Paperwhite has a 6 inch 300 PPI display which is just as sharp and easy to read as its previous generations and an example of "If it ain't broke, don't fix it." The screen's anti-glare coated display is also great for reading even when the lighting is harsh.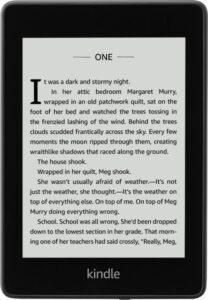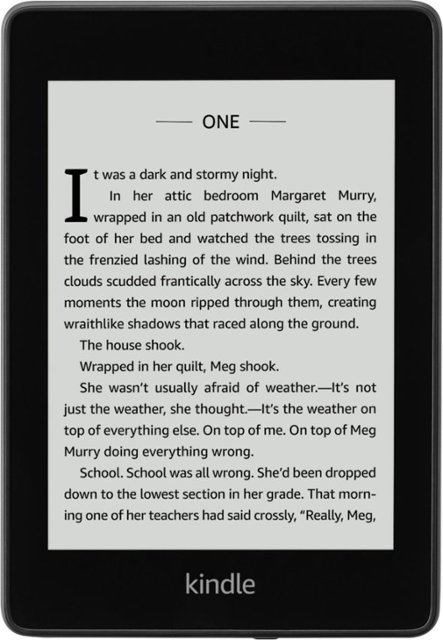 The Paperwhite has 5 LED backlights which are one more than the four LEDs in the older-gen Paperwhite but two seven less than the Oasis which has 12 LED backlights and an adaptive sensor as well.
User experience
Overall, I felt that Paperwhite is a joy to use. The refresh time taken by pages and load time for searches are only limited by the E-ink itself and that's understandable.
As I turned the lights off in my bedroom, getting ready to read, I noticed the Paperwhite's lack of automatically adjusting the backlight. It is not a huge deal or an issue and took two taps to get to the brightness menu and some fiddling to get it right, but I missed the Oasis, which adjusted its brightness automatically when I would enter a dark room and compensated without prompting.
Battery Life
Amazon states that the new Kindle Paperwhite can last up to six weeks on a charge and that's based on 30 minutes of reading per day with wireless off and the light setting at 13. But my time varied, due to the use of wireless connectivity, Bluetooth, and lighting.
Based on my experience, I believe that estimate as after few days of using the Paperwhite rigorously for a few hours every day, including multiple hours at full brightness, as well as using Bluetooth, Wi-Fi, and LTE, I knocked the on-screen battery life estimate down to 50%.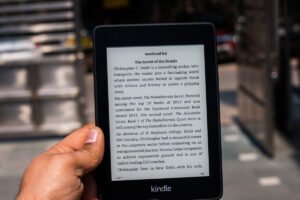 Audiobooks
Amazon has also added audiobook support to the Paperwhite and this option comes via Bluetooth headphone support. It was once restricted to the other Kindles, or customers willing to shell out an extra premium for Amazon's micro- USB-to-headphone-jack adapter.
As I listened to a novel over my AirPods, I wandered around my living room with no loss in audio quality. Only when I reached the far end of my medium-size loft, the audio started crackling with disruption.
Conclusion
I tested the Kindle Paperwhite's durability and this Amazon's mid-range e-reader showed me why it's worth every penny it costs.
With the water resistance and flush-to-screen display, Amazon has improved the Paperwhite and made it even more compelling but the only disadvantage being that it costs a bit more than the last generation.
The Kindle Oasis offers a metal build with physical buttons and automatically adjusts to the lighting conditions, but its price is mighty high.
But we're betting that at a cheaper price, the new Kindle Paperwhite is the best e-reader for most readers and as to whether or not existing Paperwhite owners need to upgrade, that depends on how much time you spend around water.
Howdy Geeks, I'm Andrew, a young passionate blogger, Tech Freak & a Gadget Lover. I help people in buying them the best tablet devices