We earn some commission from AMAZON when you buy from the below links.
In recent years, automobile manufacturers have offered entertainment options to their cars, trucks, and SUVs. Thanks to mobile devices such as smartphones, tablets, and video games, you can take your entertainment anywhere you go. You'll need an auto tablet holder, though, to enjoy the experience. 
You can choose from a multitude of accessories and positions, such as cup holder tablet holders, headrest tablet holders, and vent or window tablet holders. It's easy to set up and use, and you can watch TV shows and movies on the go, play games on the go, and even work on the go with these accessories. 
As well, your children will love listening to their favorite music while you enjoy a road trip around town. Find the right tablet holder for your car, and enjoy reading, watching, and playing on the road! Please browse our list of the best tablet holders for cars.
List of The Best Tablet Car Mounts:-
1- Cellet Cup Holder Tablet Mount
The cup holder mount has a long 13″ reach and can accommodate most iPads, Google Pixels, and Samsung tablets in the range of 7″ to 10″. In cars with tall dashboards or cup holders at the back, the extra reach enables you to position your tablet at the optimal height.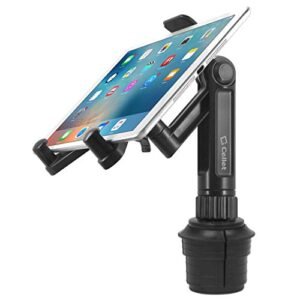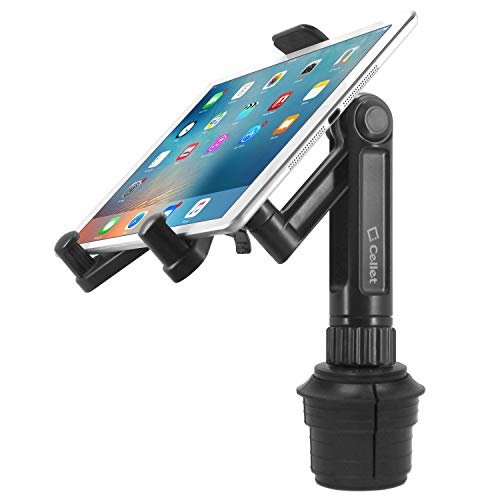 Despite its swivel ability and long reach, the universal car tablet holder is a decent performer, as its arm is a bit taller than the iKross car tablet holder, our top pick. As with the iKross, the new model is compatible with many tablets and even larger smartphones like the Galaxy S7 and iPhone X plus.
While this has some of the same limitations as most cup holder based car tablet holders, the more extended arm allows for a more comfortable viewing position even in cars with cup holders located way back in the center console or in vans and SUVs where cup holders are further down than in smaller cars.
Tablets are held securely in place by the spring clamp of the holder, even when bouncing over bumps and roundabouts. However, the holder does not have a lock or quick-release feature. To use at home, you can use tablets on floor stands.
PROS
Long, 13" reach
Best for apple devices.
CONS
No quick release features.
Not for very large tablets.
Lock mechanism.
2- APPS2Car Universal CD Slot Car Tablet Mount
Easily mount your tablets or smartphones in your car's CD slot with this flexible mount. It has an adjustable angle so that you can view your devices without being obtrusive. It works best for those with CD players in their cars and no OEM navigation; it is not suitable for vehicles with touchscreens or OEM navigation.
Both smartphones and tablets can be mounted on this CD slot car tablet mount. CD players' "mouth" is attached to the mount by secure screw clamps, and it can hold most small tablets over 11″ in diagonal size. The case is ideal for smaller, lighter tablets like the iPad Air or even iPhone Xs and Galaxy S7s.
The CD player mount has the advantage that the tablet screen can be viewed in a better position on many cars thanks to this mount. This is especially useful when you don't have an OEM navigation system in your car since you can place the tablet or smartphone in about the same position as typical navigation screens.
Our top pick, the iKross Cup Holder Tablet Mount, offers the most mounting angles, but this mount does not have as many options as a car holder mount. In addition, a CD player must be in your vehicle, which some newer cars don't even have.
PROS
No cup holder needed.
Great line of sight positioning for maps.
Fits iPads and tablets from 7-11 inches.
CONS
Requires a CD slot.
May obstruct existing radio.
3- Arkon Car Seat Rail Tablet Mount
Designed to work with tablets ranging from 7 to over 18 inches, this sturdy mount extends 22″. Due to this, it's possible to mount it either in front of the driver or the passenger. It can even be mounted on the passenger seat, unlike most other car tablet holders. It is an excellent choice for professionals looking for the most secure tablet mount for their cars and those not afraid of securing it with a bolt.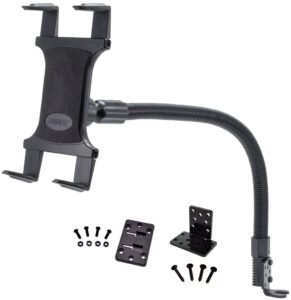 The seat rail tablet mount is designed to accommodate tablets ranging from about 7 inches diagonal to over 18 inches, making it compatible with the iPhone X plus and other devices such as the Samsung Galaxy S7 and the Google Pixel tablets.
This mount offers more stability than cup holder mounts on the downside of more complicated installation. Like the iKross car tablet mount (our top pick) that you can pop into your cup holder, this seat rail mounted version requires a wrench to loosen and retighten the bolts attached to your seat rails.
In any case, if you're somewhat handy, it shouldn't be too difficult to do, and it gives you a little bit of flexibility when it comes to where you want to place the tablet mount. With a 22″ gooseneck arm, you can choose one with lots of viewing angles, so you don't have to worry about blocking HVAC, radio, or factory navigation and backup screens.
PROS
22" flexible arm.
Secure seat rail mount.
Doesn't block HVAC controls.
CONS
Quite difficult to mount.
Little expensive.
4- Okra Vent Mount Car Tablet Holder
Designed to hold tablets ranging from 7 to 11 inches securely, the car vent mount also features a handy quick-release feature. This mount is ideal for those who drive cars without convenient cup holders for tablet mounts or who like to carry their tablet with them and use it occasionally as a navigation tool while driving.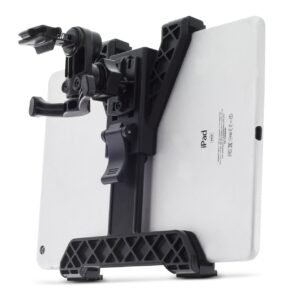 Designed to fit devices between 7 and 11 inches diagonally, this vent-mounted car tablet holder is suitable for most smaller tablets and larger smartphones. This clamp features four secure clamping arms that are swivel-capable to let you switch between portrait and landscape modes as needed. Also, it has a quick-release feature, which makes it very convenient for people who often carry their iPads or tablets around with them and wish to use them for in-car navigation.
In general, the drawbacks of this iPad holder are primarily in its vent mount design- depending on your car dashboard layout, larger tablets will block the screens for the HVAC, radio, and sometimes the backup camera. It also won't fit in cars with round air vents. The car subwoofers will still work with this, though.
PROS
Quick release feature.
360-degree swive.
Keeps tablet at eye level.
CONS
More likely to block radio and AC.
Not for round vents.
5- Link style Dash Mount Car Tablet Holder
Tablet holder that mounts via suction cup to your car dashboard for ease of installation and flexibility. The car iPad mount is ideal for those without a convenient place to mount a car tablet holder, like those with cup holders, vents, and seat rails.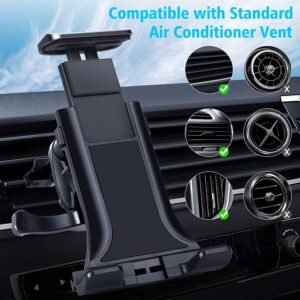 Using this suction mount car tablet holder, you can use your tablet in either long-way or upright orientation. The suction mount car tablet holder also comes with an adjustable swing arm base so you can mount it either on your dashboard facing up or on your windshield facing down. As long as the suction base can grasp onto a relatively flat surface, it works well on most car dashboards. It also includes adhesive to add another layer of security.
Linkstyle's suction cup car iPad holder is ideal for people using tablets as in-car navigation systems when the cup holders or vents don't offer convenient positioning options. This tablet's size range is somewhat limited. It works best with lighter tablets and smaller tablets such as the iPad Air. You can connect it to the satellite radio for cars.
PROS
Mounts to dash or windshield.
Adhesive plus suction for security.
360-degree rotation.
CONS
Doesn't work on curved surface.
Not for large tablet.
6- iKross 2-in-1 Tablet and Smartphone Cup Holder Mount
Due to its universal compatibility and ease of installation, this car tablet mount is an easy choice for car smartphone holders. It is suitable for all cars with round, flat bottomed cup holders; it works excellent for securely mounting tablets or iPods.
In addition to the iPad Pro, iPad mini, iPad Air, and iPhone X / iPhone 8 / iPhone 7 / 7 +, this iKross car tablet mount fits the Google Pixel tablets, Samsung Galaxy smartphones, and tablets, as well as many others.
In addition to choosing between portrait and landscape viewing orientations, its swiveling ball joint can also be adjusted to allow you to view at your ideal angle. This swing arm provides enough space for you to see your tablet screen clearly without interfering with the car's HVAC or radio controls or blocking the nav and backup camera displays.
Because it is designed as a cup holder tablet mount for your car, it does have some limitations related to where your cup holder is located in the vehicle. Some vehicles lack flat bottomed cup holders, or they're located inconveniently for tablet mounting.
PROS
Works with 7-10" tablets.
Secure, easy installation.
CONS
Cup holder area may be restrict.
Benefits of Tablet Holders for Cars
A safer driving environment:

 When your tablet is securely held in place by a holder, you can keep your eyes on the road instead of on your tablet. While driving, using the tablet should not involve taking your eyes off the road or worrying about it falling between or under the seats. 

Technology at your fingertips:

 In vehicles not equipped with the latest technology, a tablet holder makes it easy to use your tablet's Bluetooth, navigation, voice calls or texting, music streaming, and other features. 

Protection to the tablet:

 Your tablet is at a higher risk of being damaged when you carry it and use it on the go. While your vehicle is in motion, a holder can help keep it safe. For kids in the backseat using a tablet, this is especially helpful.
Why Do You Need a Tablet Holder?
It is widespread for people to talk on their cell phones while driving, which can be very dangerous because small screens can make the information difficult to read. Because tablets are more prominent and easier to use, these are a good alternative for playing music or navigating the interface. It is easier to perform those tasks with an appropriate mount for the tablet.
A tablet is more modern than any older car, which lacks the technology. You can use your existing tablet to upgrade your vehicle's audio system rather than spending a lot of money on a new one. You can use it to get directions to your next vacation spot, listen to your favorite songs, or check the weather.
In addition, if you install a tablet holder in your car, your children will be kept entertained during the whole journey. Pack your kids' favorite movies if you plan to travel for a long time so they don't distract you while driving.
If you drive around with a tablet in your hand, you may get a ticket from some cities and states. If you want to avoid a fine, use a unique mount for cars to mount your iPad or another tablet. Taking this precaution will help keep officers away from you.
In short, a tablet holder provides you with all these benefits:
Ensures you are using the latest technology.

Investing in an aftermarket head unit is not a good idea. 

Take advantage of GPS and a variety of other apps while on the move. 

Keep the kids entertained.

Traffic tickets can be avoided.
Types of Tablet Holders for Cars
A vehicle tablet holder is available in three different types. Choose whether you want the tablet to be used in the backseat or the front for planning purposes. Holding devices are either affixed to the back of a headrest or attached directly to a windshield.
Cup Holder Mount
A tablet holder of this type is intended for use inside a cup holder. Due to the expandable base is compatible with many vehicles, including trucks and RVs with standard cup holders. They can often be installed and removed without any tools.
The tablet can be swiveled in any direction for the best viewing angle on some cup holders mounted on the cupholder. This type of mount does have one limitation. However, it isn't the best option for drivers who use their left hands. In this position, using a tablet can be awkward.
Leverage-Based Mount
With a leverage-based mount, a person in the back seat can engage with a tablet utilizing an air vent slot, CD slot, or stem of a headrest in your vehicle. This device can be ideal for children and young passengers who wish to have digital entertainment during a road trip.
With these mounts, you have a lot of flexibility regarding where you want to mount your tablet. It has the disadvantage that the weight of the tablet mounted on it could be too much for a plastic air vent (and it might break). In addition, they are not exceptionally stable and can slide out of place due to road bumps or other vibrations.
Suction-Based Mount
Lastly, one can mount a tablet holder with suction cups. Despite their lack of versatility, these mounts have a fair amount of resistance to slippage. Suction cups are difficult to put on the front of your car since there are few places for them to stick.
These mounts can also be problematic because some vehicles have side windows with extremely steep slants. When the mount is placed on this surface, it restricts the tablet's ability to be angled. Nevertheless, it can be mounted on either side of the steering wheel, so motorists of either hand can use it.
So without any further delay, let's get into the reviews of the best tablet car mounts that will be helpful for you if you are planning to take a road trip with your family and friends.
Conclusion
Choosing the best and worst items is difficult, but we relied on customer feedback to determine our list. The list of best tablet car mounts is not chronological. Different people are searching for other things, such as entertaining their kids in backseats and using them to navigate the city. There are just a few products listed so that readers can pick from the best ones in the list.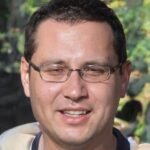 Ben Scott is a prominent technology journalist and reviewer, specializing in tablet devices. He is known for his comprehensive and unbiased reviews of tablets from various manufacturers.
With a deep understanding of tablet technology, including hardware components, operating systems, and software applications, Scott provides clear and informative reviews accessible to readers of all levels of technical expertise.
His attention to detail and in-depth analysis have earned him a loyal following of readers.