Hey there! Do you own an iPad or any other Apple Device?
Then you might have wondered if you can send text messages or SMS to an Android device (if your friends or relatives own one). On the Apple spectrum, the tech giant has made it very convenient to text each other via the Messages app, with support extended to iPads, Macs, and even the Apple Watch.
But do you know that even if you own an Apple device, you still can send a text message to an Android device? While you will not be able to utilize the Messages app, there are ways by which you can send a text to Android devices. So without any further delays, let's get right into the details, shall we?
SMS To Android Devices From iPads
Apple device owners can only use the Messages app; Windows and Android customers cannot access it. You can still text to an Android device by activating the Text Message, although, on the downside, this feature is only available on iPhones.
An SMS can also be sent via Skype or Google Voice to any number. Another option is to use an app like Free Tone to text from iPad to Android.
Is It Possible To Send Text Messages From iPad To Android Devices?
Today messaging has evolved so much, but earlier, that was not the case. The mobile carrier managed to send and receive texts/ SMSs (Short Message Service) in the earlier days. Despite today's technological advancements, you can still send important text messages between Android phones and iPhones.
The Messages app developed by Apple has far more features. Still, unfortunately, they won't work unless you own an Apple device, which is a disadvantage for non-Apple users.
One more problem is that you need to own an iPhone to send messages from an iPad using the traditional mobile network method. The iPad uses the iPhone to send text messages, and even if your iPad supports a cellular network, it is restricted from accessing cellular voice and SMS services.
You should know that since iPads only support cellular and WiFi data transmission, they can only make VoIP (Voice over Internet Protocol) calls.
You can also check out how to change the date and time on your iPad in our other article.
But don't worry. You can opt for other alternatives if you want to send messages from your iPad to an Android phone. Skype can also be used, or apps like Free Tone let you text numbers in the US and Canada.
Text forwarding
You can send and receive texts from your iPad via your iPhone using Text Forwarding, which links your iPad to your iPhone. You need to enable text forwarding on your iPhone to send SMS text messages from your iPad to Android devices. This will allow you to send iMessages to other iOS devices routed through your iCloud account.
What Is An SMS?
SMS is an abbreviation for Short Message Service. SMS was the most common way for users to communicate with each other when mobile phones became popular in the early 2000s.
The GSM (Global System for Mobile Communications) messaging format was designed for text messaging using GSM network standards and works with 5G and LTE connections today. 
Despite WhatsApp, Signal, and other apps taking over a large portion of the messaging market, it remains trendy today. It is important to note that SMS text messages and chat apps differ because SMS texts can be sent over the mobile network without connecting to the internet.
What Is An iMessage?
The iMessage service allows you to send messages between Apple devices. By taking advantage of the data connection, the Messages app ensures your messaging is feature-rich, allowing you to send photos, videos, and files. 
The Messages app allows you to send messages between Apple products such as Mac, iPad, iPhone, Apple Watch, and iPod touch. A non-Apple phone or tablet cannot read iMessages because Apple encrypts them.
If your iPhone does not have internet connectivity, it sends a standard text message over cellular data if you have mobile or WiFi data.
Texting To An Android Device From An iPad: How To Do It?
Now that I have shown you all the information about SMS and iMessages, you can figure out that Apple has made it difficult for anyone using an iPad to send a text message to a non-Apple device. So now I will show you all the walkarounds for this issue.
1. Using An Email To SMS Gateway
SMS gateways are offered by most US network carriers, which enable you to send an email, convert that into an SMS, and send that text message to a phone number. Most network carriers allow you to send MMS in this way too. The gateway handles all technical aspects of converting an email to a text message.
The format of sending the text message is typically the receiver's phone number @receipentnetwrokcarrier.com.net. Let us assume that you want to send an SMS to 920-383-4721, and assuming that person uses Verizon as their network provider; then you need to email 9203834721@verizon.com. Now this email will be then converted to SMSs of 160 characters each.
2. Linking Your iPhone And iPad
I have mentioned earlier that you can send text messages from your iPad if you activate text forwarding on your iPhone.
Now turn on text forwarding, unlock your iPhone, and go to the Settings App. From there, navigate to the Messages tab, and in there, go to Text Messaging Forwarding. A list of linked devices to your iCloud will show up here, including your iPad. Just tap on it to turn on the toggle next to your iPad.
If you don't see your iPad in the list, make sure that both your iPad and iPhone are linked to the same Apple ID or iCloud account.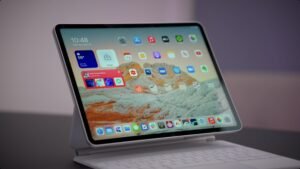 3. Using A Third-Party Messaging App
In case you don't have access to an iPhone, how will you send a text message from your iPad to an Android device? I have listed and talked about some third-party apps that will help you do just that.
1. WhatsApp
WhatsApp is one of the most famous apps worldwide and is used by millions worldwide. This App is loved very much by both Apple and Android users.
You can also check out our other article which is about "can I use WhatsApp on my iPad?".
You cannot download any WhatsApp client on your iPad, but you can surely head on to whatsapp.com and log in from WhatsApp's settings on your phone, and then you can chat using the web version of WhatsApp on your iPad. Yes, yes, I know, this is not an SMS, but by using this, you can text Android users, which fulfills the basic need.
2. Telegram
Telegram is another popular chatting app like WhatsApp, which works cross-platform, meaning you can chat with users using Telegram on other types of devices as well.
You can also check out about telegram here.
The advantage of this App over WhatsApp is that you don't have to deal with the website version of the App because the Telegram app is available on the App Store. Other apps are also available similar to Telegram, namely Signal, Viber, and Snapchat, that help you connect with Android users.
3. Google Messages
You will have to log in to Google Messages on your iPad through a browser if you own an Android phone and want to send text messages through the App. You can scan the QR code by choosing Device Pairing in your Messages settings on your Android phone. Once you have authenticated, you can send text messages to other Android devices using Messages.
4. Skype
With Skype, you can send SMS to any number you choose for a fee. You can also make international calls with Skype credit, which features different prices for different countries. The iPad allows you to send text messages to any number in the world once you load your credits.
5. Google Voice
You can make calls and send text messages from your iPad with Google Voice, just like with Skype. The service allows you to make calls, send SMS, and receive voicemails using the phone number they provide. It's also inexpensive, and you can search your voicemail transcript, protect yourself from spam and screen calls, and create personalized greetings for your voicemail.
6. Free Tone
Free Tone lets you text and calls people in the US and Canada, particularly, where you get a phone number and a voicemail verification when you sign up for the App, just like Google Voice. This App costs $1.99 on the App Store. But on the downside, you have to buy add-on packs if you want more calling minutes, but that's how apps work these days. 
FAQs
How do I send a text from my iPhone to a non-Apple phone?
If you want to send an SMS from your iPhone to a non-Apple phone, you need to use a third-party app like Google Voice or Skype, which allows you to call and text on other phone numbers.
My iPad can't send a text to my Android phone. Why?
Even though the iPad has cellular and WiFi capabilities, data transmission is only possible via your internet connection. This means that even making calls requires the use of WiFi. Direct messaging an Android phone from your iPad is impossible since it requires a cellular connection. With third-party apps like Skype, Google Messages, WhatsApp, Signal, etc., you can still communicate with Android devices.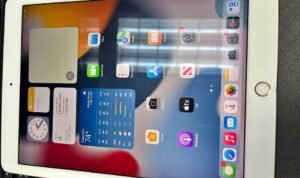 My iPad won't let me text non-iPhone users; what should I do?
As I said in the previous question, you can only send data with the iPad while connected to WiFi or a cellular network, so using your mobile carrier is impossible. If you want to send messages or make calls, you must use internet-based services (iCloud or WiFi calling). It is necessary to turn on Text Forwarding on your iPhone if you need to text non-iPhone users from your iPad. 
Conclusion
I hope that the solutions I have shown you guys on how to send a text from an iPad to an Android have been helpful to you and that any doubts you had earlier have been cleared. Although it's a bit more complicated to send a text to an Android phone than if sent to an iPhone, it is still possible. Thank you for reading till the end. Have a nice day.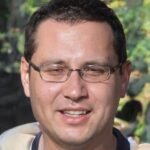 Ben Scott is a prominent technology journalist and reviewer, specializing in tablet devices. He is known for his comprehensive and unbiased reviews of tablets from various manufacturers.
With a deep understanding of tablet technology, including hardware components, operating systems, and software applications, Scott provides clear and informative reviews accessible to readers of all levels of technical expertise.
His attention to detail and in-depth analysis have earned him a loyal following of readers.