Globally, creative professionals are fascinated by digital art, which helps them improve their work through the use of ever-evolving technology. The popularity of drawing apps is testimony to this trend. In the tech market, there are many applications that let the artist in you shine with options and features at your disposal.
A good drawing app must meet the following criteria, both practically and critically:
Suitable for your profession/hobby.
Suitable for your artistic stage – beginner or professional.
Let's you sharpen your artistic skills to the max.
Compatible with your device and its operating system.
Draws with enough features to be effective and efficient.
It's economical and won't burn a hole in your pocket.
Here is a list of 10 best drawing and art apps for different OS types – Android, iOS, and Windows – to make this process easier for you. Links have been added to each app that allow you to see how they work via online courses and tutorials. In no time at all, let's take a look at the best drawing apps.
You can create anything – no matter how simple or detailed it is!
The reason it's on the list is that – if you're already an Adobe user, Photoshop Sketch gives you a fluid and seamless drawing experience by syncing the app across all your devices.  Photoshop's best features for drawing, sketching, and painting are available in this program. In order to get paper-like textures and effects, it lets you use natural tools such as pencils, pens, markers, and watercolor brushes as well as natural drawing tools.
Cost – In-app purchases are available for free.
OS Compatibility
Android 5.0 and higher; iOS 11.0 and higher
PROS
It is possible to drag and drop the colors and tools you most frequently use on the customizable toolbar.
Creative Cloud Libraries enable users to import templates, photos, and assets created on different devices.
You can sketch three-dimensional objects in your two-dimensional drawings using built-in graphs and perspective grids.

With the app, you can view and share world-wide art in real time via Behance – a social network for artists and designers.
CONS
Photo editing is not as integrated as its twin.
Adobe could be more proactive about identifying images requiring additional licensing for use when using stock images.
The Adobe store interface makes it difficult to create brushes and grab brushes.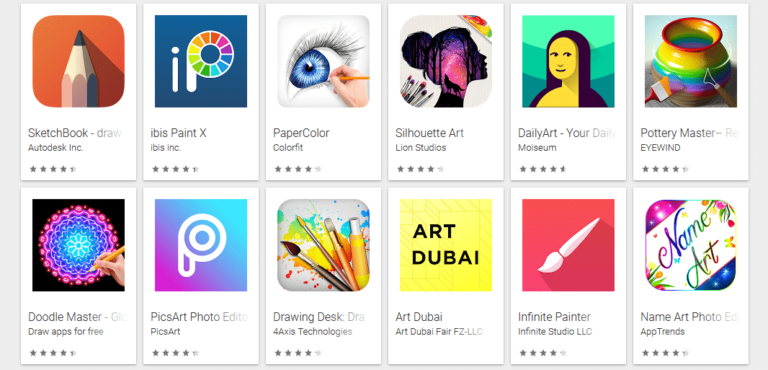 You should consider it if you like to draw vectors, design brochures, make graphics, and make logos
The reason it's on the list is that – Illustrator Draw is also free to download, and comes with full layer support, just like its desktop counterpart. You can export the artwork from the app using CreativeSync to your desktop version of Illustrator or Photoshop to make edits.
In comparison to freehand traditional drawing supported by Photoshop, it is better suited for complex vector art. Creative Cloud Libraries are included with Illustrator Draw.
Cost – Creative Cloud subscriptions start at $53.99 per month for free with in-app purchases
OS Compatibility
Android 5.0 and higher; iOS 11.0 and higher.
PROS
Allows drawing over photos.
It is possible to customize brush features such as style, opacity, size, smoothness, or pressure sensitivity.
Using the "Capture" feature, you can create customized templates, shapes, and vectors.
There are five different types of pen tips that can be customized.
CONS
Login requires either a free Creative Cloud account or a paid Creative Cloud membership.
If you are not familiar with Adobe products, there is a slight learning curve.
Compared with other apps like Procreate, this app has fewer features and brush options.
You can see finer details with sharpness when zooming up to x64.
For iPad users, it doesn't get any better than this
The reason it's on the list is that – A great on-the-go app for natural sketching and illustration, Procreate is designed for iPad users. It comes packed with a wide range of tools, and they release a new version every year with a variety of cool new features. The app has no lag, offers a smooth workflow, and is an excellent tool for bringing your digital pieces to life.
Cost – One-time fee of US $9.99 (Lifetime Subscription)
OS Compatibility
iPads running iOS 11.1 or newer.
PROS
A wide range of features designed specifically for iPad based on the specifications of the device.
With more than 130 Procreate brushes, you can easily create artistic effects. Additionally, you can create your own brushes through the brush engine or download other people's brushes (just like Photoshop).

It supports different file formats (PSD, TIFF, PNG, PDG, JPEG) that can be easily exported and printed.
CONS
Neither text tools, vectors, nor shapes are available.
Beginner artists might find the large number of tools a little overwhelming.
There are two different apps for iPhones and iPads.
The app is only available for iPad. Unfortunately, Android users cannot take advantage of this great app.
Favourite of artists, free and rich with features
The reason it's on the list is that – In the artist field, Autodesk's Sketchbook has been in the market quite a while and has established itself as a credible tool. It has a distraction-free drawing space and a simple UI, making it powerful, intuitive, and user-friendly. Including layer names, groups, and blend modes, layers can be conveniently imported and exported in layered PSDs. Designers of products, architects, and automobile/industrial designers can quickly sketch their ideas when inspiration strikes.
Cost – The service is free for individuals
OS Compatibility
Windows, iOS, Android, and macOS.
PROS
There are over 190 customizable brushes, pencils, inks, markers, and ellipse guides.
As a result of the software, you can use your device's camera as a scanner to capture ideas in real-time.
It supports a variety of formats (PSD, TIFF, PNG, PDG, JPEG).
For accurate graphical representation, precision tools such as rulers, curve guides, mirrors, and radial symmetry are used.
Layers are great because you can add unlimited layers with blending modes and layer grouping.
CONS
It is a minor inconvenience to have to sign in every time.
High-resolution images might have problems loading and zooming with a certain delay. Mobile devices may not be able to handle them well.
There may be some limitations in the program features for sophisticated and advanced users.
An ideal choice for Manga and Comic Illustrations
The reason it's on the list is that – Clip Studio Paint (CSP) is a cross between Photoshop and Sai that allows you to create decent animations. You can add professional variation to your comic stories with a variety of drawing and painting tools. Illustrators, creative studios, and artists who create manga characters and animations will find it useful with its vectors and templates.
Pro Version – Suitable for concept art, character art, and illustration
EX Version – Ideal for comics, manga, and animation
Cost – A one-time purchase of US $49.99 (Pro) and US $219 (EX) is required
OS Compatibility
MacOS and Windows.
PROS
Smooth blending and painting brushes provide excellent results practically without any lag.
Repeatable tasks are mapped and synchronized between the app and desktop version.
There are many options and color gradients available.
Free trial available for this cross-platform app.
CONS
It does not support the Android operating system.
The support site and forum for CSP are weak and dated; they are in Japanese rather than English.
The home screen is cluttered with updates, ads, and promotions.
We need to redesign the interface to make it easier to use with a finger and also less confusing for new users.
A sleek app suitable for both individual creatives and collaborative art projects; especially on smartphones
The reason it's on the list is that – MediBang Paint is a lightweight app for digital painting and comic creation that is ideal for comic book artists. It's a great way for beginners to get introduced to creatives without worrying about subscriptions. Using the app, you will also find a vibrant community of artists, resources, and tutorials that will help you get inspired and ace your artwork.
Cost – Available for free with in-app purchases
OS Compatibility
Mac, Windows, and Android.
PROS
User interface that is intuitive and clean.
There is a large collection of fonts pre-installed.
The availability of more than 100 free brushes, tones, textures, backgrounds, and color palettes makes it one of the top comic-creation tools.
It is a cross-platform application that enables artists to share progress and collaborate on a project.
Work can be backed up and shared efficiently using cloud storage.
CONS
Access to all features of MediBang requires a MediBang account.
The in-app advertising contributes to the frustrations of using this platform by slowing down the workflow.
It's an iPad app for vector design that's pocket-friendly
The reason it's on the list is that – As a consistent competitor to the long-standing Adobe Illustrator, Affinity Designer's one-time purchase is cheaper than a 3-month subscription to Adobe Creative Cloud. This makes this app affordable in comparison to its more expensive counterparts, making it stand out for its clean and easy-to-customize capabilities when it comes to vector design. Professionals who work with marketing materials, websites, icons, concept art, and UI/UX design will find this app useful.
Cost – One-time purchase for the iPad version is $19.99 and $39.99 for the Mac version
OS Compatibility
Windows, iPadOS, and MacOS.
PROS
Excellent value for money – Price Tag is a great deal.
An array of features and blazing fast performance.
D

rawing and painting tools with a professional touch.

The Apple Pencil is compatible with Illustrator and works flawlessly with it.
CONS
There is no magic wand feature in Affinity Designer like there is in Affinity Photo.
Object warping, extrusions, and mesh fill gradients are not allowed.
Plugins and scripting are not supported.
We're a bit disappointed that there are no animations.
A realistic painting program that creates amazing natural art
The reason it's on the list is that – The software is an application for painting, both for mobile and desktop devices. The platform primarily caters to the macOS and Windows markets, but it also has Android and iOS apps. The program offers features such as custom brushes, pens, pencils, oil paint brushes, etc. Layers can be created in ArtRage as many times as you like, and blending options let you stack multiple layers on top of each other.
Cost – One-time purchase of US $79
(There are also versions for beginners: ArtRage Lite for US $29; ArtRage for Android – $4.99; and ArtRage for iOS – $4.99).
OS Compatibility
Microsoft Windows Vista and later; Apple Mac OS 10.9 and later; Apple iOS 10 and later; and Android 4.0 and later.
PROS
Digital painters will find it ideal because of its realistic paint and canvas customization.
Actions can be recorded, cross-platform compatibility is available, and realistic tools are available.
There is good support on the website and web with resources, tutorials, and manuals. An online community is also available for answers to questions and tips.
With an intuitive interface and powerful digital utilities, this product can be used by everyone.
CONS
It is a bit pricey to purchase the full desktop version. The Lite version of the desktop, however, is very affordable and is half the price of the full version.
For larger canvases, it's a little slow.
An art-filled social drawing app with tons of features
The reason it's on the list is that – In the mobile version of Ibis Paint X, the app offers many of the features of traditional desktop drawing applications. There is a lot of space for manga drawings and illustrations. More than 80 million users have downloaded the app, which can compete with desktop drawing software. From the comfort of your smartphone or tablet, you can draw, doodle, and design.
Cost – The free version has ads and limited functions; the paid version has no ads is available through an in-app purchase for $8.99
OS Compatibility
iPhone and iPad compatible with iOS 11.0 or later; Android 4.1 and higher.
PROS
A community site on ibispaint.com for art lovers that connects them for inspiration and collaboration.
There are over 2500 free materials, 70 high-quality filters.
Features such as layer selection, area selection, and blend mode.
More than 1000 fonts and more than 380 brushes, including dip pens, felt tip pens, digital pens and airbrushes.
Stroke stabilization, Radial line rulers, Symmetry rulers, frame divider tool, text tool, and clipping mask tools are some of the cool features in this application.
The ability to record the screen while drawing and publish the drawing process.
CONS
PSD files can't be opened and supported by this app.
Layer folders and Layer nomenclature are not supported.
There are a few features that cause the app to slow down or crash.
It's like having a digital sketchbook in your pocket: easy for the novice, enjoyable for the professional
The reason it's on the list is that – You can paint in ArtFlow using a GPU-accelerated paint engine, allowing it to render your artwork instantly. You can create canvases with up to 16 layers. Advanced controls like smudging and brush flow are available as well. Its simple and easy-to-use interface is inspired by Holo, which has an easy and intuitive interface. There are more than 80 brushes on offer as well.
Cost – Pro licence is $4.99; Basic version is free
OS Compatibility
A version of Android 4.4 or later.
PROS
This tool supports canvas rotation and selection masks (such as lassos and magic wands).
Support for landscape and portrait orientations

A new brush engine that supports universal brushes and a focal guide

Supported Samsung's S Pen on Galaxy Note Tabs, and integrated with Samsung's PEN.UP social network SDK.
CONS
There are only two layers, no PSD support, and approximately 10 basic tools in the unlicensed version. For more features, you must purchase the licensed version.
Frequently Asked Questions:-
Which is the best free drawing app?
Among our top free drawing apps, Autodesk Sketchbook is the best. Artists have been praising Sketchbook for a long time now and it has become a favorite among them. Not only as a free drawing app, but also as a general drawing app which can compete with other paid apps. Lots of architects and product designers use it. This app is compatible with Apple, Android, Windows, and MacOS.
How do digital artists use apps?
Adobe Photoshop remains unbeatable. The song is number one for many reasons and is a favorite of many artists. Digital art tools have been dominated by it for a long time. It offers countless features and possibilities.
There are no limits to creativity. Due to the fact that it's part of Adobe's Creative Cloud suite, it's a great tool for collaboration. Your artwork can be shared with others and you can access your assets from any device.
Conclusion
We can safely say that digital art, even though it can't replace pencil on paper OR paintbrush on canvas, comes close to this realistic feeling with these awesome digital drawing apps. Regardless of the app you choose, it should please your artistic sensibility and take your creation to the next level with its advanced features.
In our list of best drawing apps, we hope our recommendations helped you sift through and shortlist the "chosen one" among the sea of options.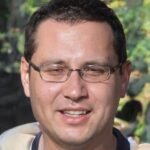 Ben Scott is a prominent technology journalist and reviewer, specializing in tablet devices. He is known for his comprehensive and unbiased reviews of tablets from various manufacturers.
With a deep understanding of tablet technology, including hardware components, operating systems, and software applications, Scott provides clear and informative reviews accessible to readers of all levels of technical expertise.
His attention to detail and in-depth analysis have earned him a loyal following of readers.