We earn some commission from AMAZON when you buy from the below links.
The major problem we face with our gadgets is water damage issues, so we have to make sure that the devices we own like smartphones and tablets are kept away from water. Then we think, why don't we get a waterproof gadget?
Umm, That's is going to be a good choice. So, If you are in search of the best waterproof tablets then you don't have to visit tens of websites. I'm here to help you with the best waterproof tablets available online.
I'm an avid gadget lover, and I kept on using the latest gadgets available and that's why I have so much knowledge and experience when it comes to Tablet devices.
I will share with you the 8 best waterproof tablets which you can consider buying today. The list will include all the latest tablet devices along with some introduction about them
Top 8 Best Waterproof Tablets in 2021
1- Dell Latitude 7212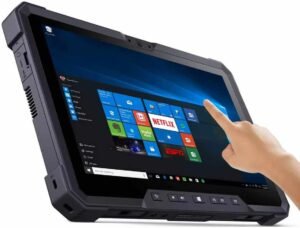 The best waterproof tablet on my list is the Dell Latitude 7212, It is built like a tank with so much security that no water droplet can go inside the tablet body i.e completely waterproof.
You can rely on this tablet if you are going to buy a waterproof tablet device, This tablet can be used roughly and it can withhold any kind of situations as it is ruggedized.
It comes with a touch pen which you can easily keep in the side section of this tablet. It also has 2 removable batteries which are enough to give you better battery life for your normal work. You can also get a keyboard cover and then you can use this waterproof tablet as a laptop computer.
It has an attachable kickstand which allows you to level it up for the best viewing angle. It also has LTE support so that you can use the Internet on the go. It also has an FHD IPS display covered along with Gorilla Glass 3.
In short, It is the best waterproof tablet which you can consider buying today.
2- Panasonic Toughpad (FZ-G1)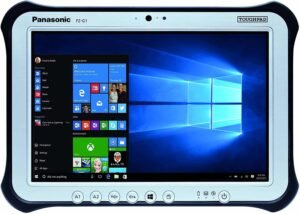 The second one on the list is a portable waterproof tablet which you can easily carry on the go, with all the standard features of the tablet, The Panasonic Toughpad G1 is also one of the very popular waterproof tablet available online.
Talking about the specifications, It has a 1.5 GHz 3rd Gen i5 processor which is powerful enough to give you a standard tablet experience. It also has bumpers around the corners so that to protect it from any kind of shocks and damages.
It comes with Windows 10 OS, You can also get the Windows 8 OS. It also has a full-size HDMI port and USB 3.0
You will get 8 to 14 hours of battery life with this tablet device. Overall, It's a good portable waterproof tablet available at a budget price.
3- MobileDemand xTablet Flex 10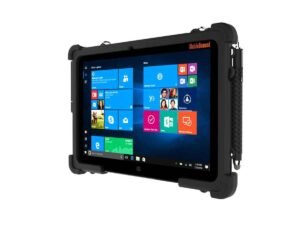 The MobileDemand xTablet Flex 10 is also one of the top waterproof tablets available online. It is also considered as an ultra-durable and ultra-lightweight rugged tablet. You can use it roughly for work and medium-level applications related to construction, logistics, and distribution.
The protective case along with this tablet is also very durable and provides an extra layer of security to the tablet. I will suggest you get a scratch-proof screen protector in case you decide to buy this tablet.
Talking about features, It comes with Windows 10 Operating System and Intel Quad-Core Processor. You can easily do all the office work with this tablet device. It also has WLAN IEEE WiFi, so you can easily use the Internet on this tablet as well. The battery will last up to 6-8 hours on continuous usage. You can easily run any business software and application on this tablet.
4- xTablet T1540
The xTablet T1540 is another great windows tablet and comes with Windows 10 OS. The build quality of this tablet is adamant and lightweight which also makes it a rugged yet portable tablet. You can carry it around easily around your work.
It can be a great choice if you are working in the field of logistics, public sectors, inspections, and documentation work. If it's raining outside, then also you can use this waterproof tablet easily with the help of a tablet stylus. You can attach an office LAN as well as USB devices to this tablet.
It also gives you good battery life, so that you don't have to worry about charging it again and again. A good and suitable option for you in the budget price range. As It also has a briefcase handle and a back strap to use it effectively. The GPS and NFC can also be an addon to this tablet which can help you in the respective work.
5- Samsung Galaxy Tab Active 2 SM-T395
I love Samsung devices when it comes to tablet, I currently own the Samsung Galaxy Tab S5 which I use for my office work. This tablet Samsung Galaxy Tab Active 2 is the best Samsung tablet if you are looking for a Samsung waterproof tablet, Samsung devices are reliable and have good customer support in case you find any problems.
It is a powerful 8-inch tablet which is not so popular in the mainstream media, but it has got some really nice features which will definitely make you buy this tablet device. It's an all-season tablet device, which you can easily use for camping, outdoors, office, and on construction sites as well. The IP68 technology makes it waterproof and that's why you don't have to worry about the water damaged thing.
It has got the face-recognition features and a fingerprint scanner which adds an extra level of security to this tablet. You can get it with or without the LTE option. It also comes with S Pen i.e It is a tablet with a pen stylus. The battery is removable and the camera works fine for taking some decent pictures.
6- Vanquisher 8-inch Industrial
You can just get an idea about how rugged this tablet is by reading out the name itself, It's the best choice if you are looking for a waterproof tablet that can help you get your job done even in rough conditions. It also drops resistant from 1-4 feet. Isn't it sounds like a nice feature?
It is designed for time-sensitive people who are working out in a field, mobile workforce, consultants, and engineers who have to do real-time reporting and data submissions. You can use this tablet for several features including data collection, navigation purposes, field maintenance, at restaurants, and many more places.
It provides you industrial-grade protection from dust and rain. You will get a decent battery life which can last up to 7 or more hours on continuous usage. It comes in 2 screen sizes if you are looking for a large screen tablet or 10-inch tablet you can choose the screen size as per your requirements.
7- WinBridge Rugged Android 5.1 Tablet S933L
The WinBridge Rugged Android 5.1 Tablets can also be considered a good option if you are looking for a reliable waterproof and rugged tablet. It has a very durable body and can withstand drops from up to 1.5 m. With the IP68 Standards, It is water and dust resistant so you don't have to worry about water damage.
It is also heavily ruggedized with rubber from all sides which gives it a rigid body. On the backside, You can see they have used metal plates and you can attach a hand strap there which is adjustable and sturdy.
The speaker can be considered a plus point as it has a very loud sound which can be good for those who use tablets for entertainment purposes. It is also one of the 7-inch display tablets which are very lightweight and portable in nature. It also has built-in 4G connectivity, Geomagnetic Sensor, Gravity Sensor, Proximity, Gyro, and light sensors. 
8- Dell Latitude 12, 7202 RUGGED Outdoor Tablet
The last one on my list is the Dell Latitude 7202 Rugged Tablet. I've almost listed only the most rugged tablet devices which can be considered a good option for use in outdoor and rough work.
It is also one of the best-rugged tablets from the Dell Latitude Series. It is built and designed keeping in mind the rigorous military-standard requirements and this defines how good this tablet is. It is made out of shock-absorbent materials which also makes it waterproof and dustproof.
It also has 2 swappable batteries so that you don't have to charge it again and again during your work. The battery life can be up to 12 hours which is really great when we are talking about tablet devices.
The screen is anti-glare, which will give you an advantage while working in the sun. You can also use this tablet with your gloves on as it is also gloves enabled. Talking about connectivity, It has built-in mobile broadband i.e 4G.
You can also connect accessories like barcode readers, magnetic stripe readers,s or a keyboard to do some manual data entry work. It is the perfect waterproof tablet available online.
Final Words
I have shared with you all the best waterproof tablets in the market. The list is based on my experience and customer reviews of each waterproof tablet listed above. I have sorted the best one from the stack of tens of tablets available. These are the best as per my knowledge, You can go and search for each one of them and you'll hear something positive.
I've done my part, It's your call now to decide which one is the best waterproof tablet for you? It will totally depend on your needs and requirements.
Do let me know in the comments section about which tablet you're going to buy?