The major problem we face with our gadgets is water damage issues, so we have to make sure that the devices we own like smartphones and tablets are kept away from water. Then we think, why don't we get a waterproof gadget?
Umm, That's is going to be a good choice. So, If you are in search of the best waterproof tablets then you don't have to visit tens of websites. I'm here to help you with the best waterproof tablets available online.
I'm an avid gadget lover, and I kept on using the latest gadgets available and that's why I have so much knowledge and experience when it comes to Tablet devices.
I will share with you the 8 best waterproof tablets which you can consider buying today. The list will include all the latest tablet devices along with some introduction about them. Also you can learn few more things about waterproof ratings as well.
List of 8 Best Waterproof Tablets selected for you:-
1- Samsung Galaxy Tab Active PRO 10.1″
Again this brand spread all their end to every lineup, yes now for the adventure enthusiasts. In the android category, these are one of the best segments, perform well in all weather conditions, and are easy to use in rough conditions. Even apple dont have  any device like this. Do you know even the apple iPad is not waterproof or not? We have a detailed answer for this question too.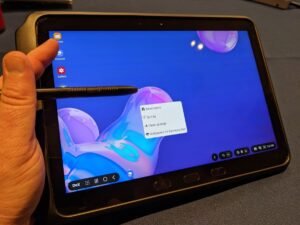 Based on Android, which most of the users and I love. Before this, I used active 2, but this overcomes all the drawbacks of that one. The plus point is now I don't have to, but it's case separately. This can also hold my S-pen; the best news is you will again get that inbox.
It is layered by MIL-STD-810G ruggedness, which means it is rough and tough, like a warrior on the battlefield. Even when not, in case its build quality is much better than any other one, I assure you, it will not damage so easily if you are not doing that unintentionally.
Instead of all that, that doesn't mean the other features are downgraded; it comes with a high resolution 10.1″screen size. Under the hood, you will find a snapdragon 670 with 4GB of RAM and 64 GB of internal storage. The battery works the whole day with total efficiency, and if you are looking for an android device, go for it.
PROS
Great Battery.
Screen quality.
IP68.
Pen and Case included.
CONS
No more software updates.
2- Dell Latitude 7220 Rugged Tablet
Although there are other versions are avail from Dell, which were still in the market and performing well. For the windows lover, this is one of the best in the market; it means you can also use this if you are going to use it as a professional or for office work.
This is the best for those who need a versatile and durable design. The best thing is you will get a military-grade case with it. Either you can use it at home or in the forest. 
A thick polycarbonate shell covers them with rubberized soft corners. Cameras are secured by the adjustable slider, with physical buttons for brightness and a few other essential shortcuts. 
The kickback stands even attache day metallic screw, and the magnetically attached keyboard is also for multipurpose use. The best you can get for outdoor use.
PROS
Bright display.
Built quality.
Accessories included.
CONS
Quite heavy.
Old Android OS.
3- Dell Latitude 7212
The best waterproof tablet on my list is the Dell Latitude 7212, It is built like a tank with so much security that no water droplet can go inside the tablet body i.e completely waterproof. It means you can use it for navigation in even a harsh condition. More over you can select any gps tablets too for normal days navigation.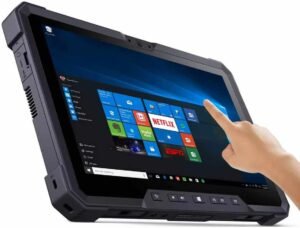 You can rely on this tablet if you are going to buy a waterproof tablet device, This tablet can be used roughly and it can withhold any kind of situations as it is ruggedized.
It comes with a touch pen which you can easily keep in the side section of this tablet. It also has 2 removable batteries which are enough to give you better battery life for your normal work. You can also get a keyboard cover and then you can use this waterproof tablet as a laptop computer.
It has an attachable kickstand which allows you to level it up for the best viewing angle. It also has LTE support so that you can use the Internet on the go. It also has an FHD IPS display covered along with Gorilla Glass 3.
In short, It is the best waterproof tablet which you can consider buying today.
PROS
FHD display.
LTE included.
4- Samsung Galaxy Tab Active 3
I love Samsung devices when it comes to tablet, few days back my friend buy Samsung Galaxy Active 3 which he use during his adventure trips. This tablet Samsung Galaxy Tab Active 3 one of the best Samsung tablet if you are looking for a Samsung waterproof tablet, Samsung devices are reliable and have good customer support in case you find any problems.
It is a powerful 8-inch tablet which is not so popular in the mainstream media, but it has got some really nice features which will definitely make you buy this tablet device. It's an all-season tablet device, which you can easily use for camping, outdoors, office, and on construction sites as well. The IP68 technology makes it waterproof and that's why you don't have to worry about the water damaged thing.
It has got the face-recognition features and a fingerprint scanner which adds an extra level of security to this tablet. You can get it with or without the LTE option (Both wifi and LTE version are available). It also comes with S Pen i.e It is a tablet with a pen stylus. The battery is removable and the camera works fine for taking some decent pictures.
PROS
IP68.
Both wifi and LTE available.
Sharp display.
S-Pen included.
CONS
Older design and look.
Performance.
5- Panasonic Toughpad (FZ-G1)
The second one on the list is a portable waterproof tablet which you can easily carry on the go, with all the standard features of the tablet, The Panasonic Toughpad G1 is also one of the very popular waterproof tablet available online.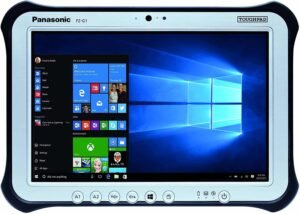 Talking about the specifications, It has a 1.5 GHz 3rd Gen i5 processor which is powerful enough to give you a standard tablet experience. It also has bumpers around the corners so that to protect it from any kind of shocks and damages.
It comes with Windows 10 OS, You can also get the Windows 8 OS. It also has a full-size HDMI port and USB 3.0
You will get 8 to 14 hours of battery life with this tablet device. Overall, It's a good portable waterproof tablet available at a budget price.
PROS
Battery life.
Windows 10.
6- MobileDemand xTablet Flex 10
The MobileDemand xTablet Flex 10 is also one of the top waterproof tablets available online. It is also considered as an ultra-durable and ultra-lightweight rugged tablet. You can use it roughly for work and medium-level applications related to construction, logistics, and distribution.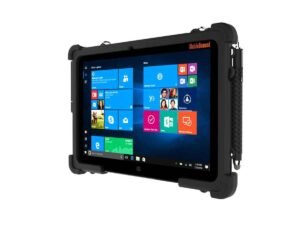 The protective case along with this tablet is also very durable and provides an extra layer of security to the tablet. I will suggest you get a scratch-proof screen protector in case you decide to buy this tablet.
Talking about features, It comes with Windows 10 Operating System and Intel Quad-Core Processor. You can easily do all the office work with this tablet device. It also has WLAN IEEE WiFi, so you can easily use the Internet on this tablet as well. The battery will last up to 6-8 hours on continuous usage. You can easily run any business software and application on this tablet.
PROS
Quad Core processor.
10.1″ screen.
Quite light than any other.
7- Dell Latitude 12, 7202 RUGGED Outdoor Tablet
The last one on my list is the Dell Latitude 7202 Rugged Tablet. I've almost listed only the most rugged tablet devices which can be considered a good option for use in outdoor and rough work.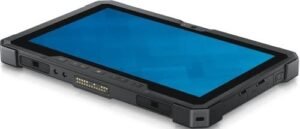 It is also one of the best-rugged tablets from the Dell Latitude Series. It is built and designed keeping in mind the rigorous military-standard requirements and this defines how good this tablet is. It is made out of shock-absorbent materials which also makes it waterproof and dustproof.
It also has 2 swappable batteries so that you don't have to charge it again and again during your work. The battery life can be up to 12 hours which is really great when we are talking about tablet devices.
The screen is anti-glare, which will give you an advantage while working in the sun. You can also use this tablet with your gloves on as it is also gloves enabled. Talking about connectivity, It has built-in mobile broadband i.e 4G.
You can also connect accessories like barcode readers, magnetic stripe readers,s or a keyboard to do some manual data entry work. It is the perfect waterproof tablet available online.
PROS
Screen size.
RAM and storage.
CONS
Not much smarter.
Basic look.
8- Vanquisher 8-inch Industrial

You can just get an idea about how rugged this tablet is by reading out the name itself, It's the best choice if you are looking for a waterproof tablet that can help you get your job done even in rough conditions. It also drops resistant from 1-4 feet. Isn't it sounds like a nice feature?

It is designed for time-sensitive people who are working out in a field, mobile workforce, consultants, and engineers who have to do real-time reporting and data submissions. You can use this tablet for several features including data collection, navigation purposes, field maintenance, at restaurants, and many more places.
It provides you industrial-grade protection from dust and rain. You will get a decent battery life which can last up to 7 or more hours on continuous usage. It comes in 2 screen sizes if you are looking for a large screen tablet or 10-inch tablet you can choose the screen size as per your requirements.
Frequently Asked Questions about Waterproof Tablets:-
1- What is the best waterproof tablet?
Tablets that can work even after getting water splashes without lagging.
2- What are rugged tablets?
These tablets are built to survive in extreme temperatures, moisture, dust, drops, and hard knocks without losing their performance.
 3- How can I waterproof my tablet?
You can use waterproof sleeves for tablets or any other electronic gadgets. 
4- Can a tablet be repaired from water damage?
It depends; some insurance covers these damages, but make sure to use it in the water if it's not necessary.
Final Words
I have shared with you all the best waterproof tablets in the market. The list is based on my experience and customer reviews of each waterproof tablet listed above. I have sorted the best one from the stack of tens of tablets available. These are the best as per my knowledge, You can go and search for each one of them and you'll hear something positive.
I've done my part, It's your call now to decide which one is the best waterproof tablet for you? It will totally depend on your needs and requirements.
Do let me know in the comments section about which tablet you're going to buy?
Howdy Geeks, I'm Andrew, a young passionate blogger, Tech Freak & a Gadget Lover. I help people in buying them the best tablet devices