We are surrounded by many electronics currently, but they do not incorporate the same components. But what if tablets with USB ports are available in the market, usually tablets only come with a charging port and no USB port. Tablets that don't have USB ports do not allow you to connect some wired usb tablet accessories.

Do not worry, because in this ultimate guide we bring you 10 amazing tablets with USB ports so that you can play games, surf online, and enjoy other applications and services.
Samsung Galaxy Tab S7-Best Tablets With USB Port
Here's the best pick for the best tablet with USB port, If you're looking for a reliable and feature-loaded tablet with at least one port then this Samsung Galaxy Tab S7 Tablet is going be the best android tablet with multiple ports.
The Samsung Galaxy Tab S7 is considered the best tablet with USB port.
Some of its key features are:
11-Inch Android Tablet
128/256/512 GB Internal Space and 6/8 GB RAM
Octa Core (3.09+2.4+1.8GHz)
Android 10 operating system
13+5 MP front and 8 MP rear-facing camera
Quad + AKG + Dolby Atmos
Battery Backup

Up to 15 hours

4.8/5 Rating

By Users
The USB port not only allows you to plug in wireless wifi but also a hard drive, pen drive, game controller, mouse, and also keyboard. Without any other wait let's start this guide. 
Some of the Best Tablets With USB ports:-
1- Samsung Galaxy Tab S7+ – Best Tablet With USB Port
Samsung's flagship products are well known for their premium build and design. This is also true of the Tab S7 series. It is immediately apparent to you when you take the tablet out of the package. Feels solid, as if it's made of metal.
You get a 12.4-inch display with a 16:10 aspect ratio and similarly sized bezels on all four sides in the front. You get a selfie camera at the top of the tab when you hold it in the landscape. You find the Type-C USB port to the tablet's right, and Samsung's keyboard connects via a magnetic connector at the bottom of the tablet.
I find the display to be quite lovely and enjoyable for the most part, and the 120Hz refresh rate ensures smooth animations and navigation across the UI. You can choose between a standard refresh rate of 60Hz and an adaptive refresh rate of 120Hz.
The tablet's performance is one of its key highlights. In the Samsung Galaxy Tab S7 Plus, Qualcomm's latest Snapdragon 865 Plus SoC based on 7nm fabrication is installed. CPU cores are clocked at 3.1GHz on this octa-core chipset. Adreno 650 controls graphic processing. In addition to this, the phone has 6GB of RAM and 128GB of internal storage. Micro SD cards are also supported, allowing you to add up to 1TB of additional memory.
It is once again the best Android tablet on the market. The device's excellent display, beautiful design, and reliable performance justify its price. Tablets depend heavily on software, as Android isn't very capable of running on these devices. For a more detailed review, you can also read our expert's opinion on Tab S7+.
Hardware Specifications of Samsung Galaxy Tab S7+
Processor
Octa-Core (3.09+2.4+1.8GHz)
RAM
6/8 GB
Storage
128/256 GB SSD
Display
12.4″ Retina display with 2800 x 1752
Camera
Rear- 13+5MP | Front- 8MP
Operating System
Android
Battery Life
8 hours
Weight
1.28 lbs
PROS
Great Display.
Snappy Performance.
Excellent speakers.
CONS
Costly.
Aspect Ratio.
Battery backup.
2- Google Pixel Slate 12.3
One of the best USB tablets on our list with Chrome OS. With the Google Pixel Slate 12.3inch's powerful Chrome OS device and optional accessories, the Pixel Slate can do work and play beautifully. Having both a tablet and laptop in one device will come at a hefty price.
The Pixel Slate's design follows the same simple approach as the rest of Google's hardware. In a stealthy midnight blue finish, the Pixel Slate's body is made of anodized aluminium.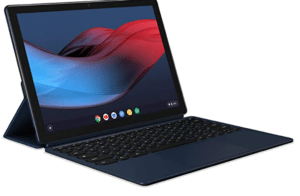 Pixel Slate has a minimal port selection. If you hold it in portrait orientation on the top and bottom of the device, you will find two USB Type-C connectors. In addition to charging the Pixel Slate, USB Type-C ports can also transfer data and output to a 4K display.
As with Google's previous tablet-laptop hybrid, the Pixelbook, the Pixelbook Slate has a 12.3″ large screen with a 3:2 aspect ratio but higher resolution. This tablet has an incredibly sharp LCD with a resolution of 3,200 x 2,200.
There are five different versions of the Pixel Slate, each with varying RAM, storage, and Intel processor. In my testing, I've been using a model powered by an Intel Core i5 y-series processor, 8GB of RAM, and a 128GB SSD. The second-highest model in this line. It does not offer expandable storage regardless of configuration.
A great product from Google is no surprise with the Pixel Slate. Google Chrome OS is a very flexible operating system, and it has excellent hardware. My daily computer has been an enjoyable experience, but I have difficulty recommending it. Pixel Slate's pricing is almost confusing, and it is expensive.
Hardware Specifications of

Google Pixel Slate 12.3

Processor
8th Gen Intel Core m3 processor
RAM
8 GB
Storage
64 GB SSD
Display
12.3″ Retina display with 2880 x 1920
Camera
Rear- 8MP
Operating System
Chrome OS
Battery Life
10 hours
Weight
1.59 lbs
This is box title
Elegant design.
Sharp display.
Great Audio.
This is box title
Buggy BT problem.
Keyboard as an additional.
Expensive.
3- Samsung Galaxy Tab A7
A powerful and affordable tablet, the Samsung Galaxy Tab A7 has excellent performance for the price. Aside from being more convenient, this device is also more potent than more straightforward fare.
As an entry-level tablet, the Galaxy Tab A7 ranks high. It is available in grey, silver, and gold colors, as well as two storage options. Price-wise, the 32GB model looks much better, although many might consider that to be a limited amount of storage.
A few of the main highlights of this attractive tablet include its 10.4-inch display, 3GB of RAM, a large battery, quad speakers, expandable storage. In terms of value for money, it is excellent.
I like the display very much. A 10.4-inch display with a resolution of 2,096 by 1,200 pixels is the best I've seen in the entry-level tablet segment.
It's a great piece of hardware from Samsung. With its metal body and features, the Galaxy Tab A7 is sturdy and comfortable to use. Along with its massive display, the tablet also boasts four speakers, USB Type-C for charging, and a slot for microSD cards up to 1TB. Samsung has a folio case that completes the experience, as well as some first-party accessories.
Qualcomm's Snapdragon 662 processor powers the tablet along with 3GB of RAM. This class of processors has above-average processing speeds. A combination like this is powerful enough to run most tasks on the tablet.
I found the Samsung Galaxy Tab A7 to be the complete entry-level Android tablet I have ever seen in my review. Overall, it provides a good experience regardless of a few complaints. The Tab A7 has it all: a durable chassis, a great display, excellent battery life, and other features.
Hardware Specifications of Samsung Galaxy Tab A7
Processor
Exynos 9611
RAM
3 GB
Storage
32/64 GB
Display
10.4″ Inch Retina display with 2000 x 1200
Camera
Rear- 8MP
Operating System
Android Q
Battery Life
15 hours
Weight
1.04 lbs
PROS
Vibrant, colorful display.
Great-sounding speakers.
Reliable battery life.
Build quality.
CONS
Limited RAM.
Camera quality.
4- Microsoft Surface Book 3
With a stunning display and one of the best keyboards I've seen, the Surface Book 3 is still a top-notch piece of gear. However, most premium portables in 2021 will outperform them in terms of specs and price.
There's no need to be surprised by how beautiful the Surface Book 3 is. The chrome Microsoft logo on the back of the device and the rigid feel of the keyboard make it look like a quality device.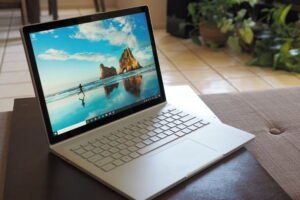 Surface Book 3's keyboard deck has two USB 3.1 Gen 2 Type-A ports, a USB 3.1 Gen 2 USB-C port, Surface Connect port that can be used to charge and connect an expensive dock. If you remove it from the keyboard dock, you will discover another Surface Connect port and a 3.5mm jack on the Surface Book 3.
However, the PixelSense display is perhaps what makes it so unique. This 15-inch model has a display resolution of 3,240 by 2,160 pixels. You'll find this aspect ratio very useful when working at a desktop computer, and it still looks good when you're watching a 16:9 video with your friends. However, black bars will be annoying while you're watching.
Unfortunately, there are no H-series processors available for the Surface Book 3. You'll typically find an Intel Core i7-1065G7 in laptops like the Dell XPS 13 since it's the standard processor.
However, the discrete GPU is directly responsible for a large portion of that price rise. Nvidia's GeForce GTX 1660 Ti is found in the model I reviewed. The GPU is capable of gaming, but I wouldn't recommend it for gaming at native resolution.
In our experience, the Surface Book 3 has the best keyboard and one of the best displays of any laptop I've used. But its price tag and poor processor restrict its true potential.
Hardware Specifications of Microsoft Surface Book 3
Processor
10th Gen Intel Core i5-1035G4 Processor
RAM
8/16/32 GB
Storage

256 GB – 1TB SSD

Display
13.5/15″ IPS display with 2736 x 1824
Camera
Rear – 8MP | Front- 5MP
Operating System
Windows 10 with Pen
Battery Life
11.5 hours
Weight
7.79 lbs
PROS
Premium alloy construction
Elegant convertible design
Well-implemented kickstand.
CONS
16GB RAM maximum
Surface Pen is an additional purchase
SSD storage is pricey
5- ASUS Chromebook Detachable CM3
In the guise of a tweed-bound journal, the Asus Chromebook Detachable CM3 hides its Android device. When you lift the cover, you find a versatile 2-in-1 laptop with a stylus.
In its tablet-only form, the Detachable CM3 measures 10.1 x 6.6 x 0.3 inches and weighs 1.1 pounds, while fully enclosed in its case and keyboard, it measures 10.3 x 7 x 0.6 inches and weighs 2 pounds. Compared to its competitors, it remains slim and lightweight and can fit conveniently into almost any bag.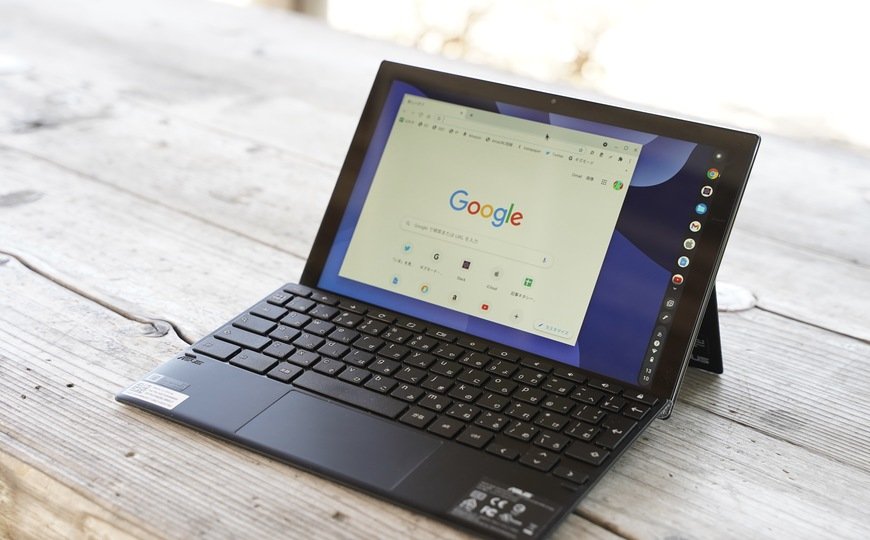 In addition to the Type-C USB port, the Chromebook Detachable CM3 has a 3.5mm jack for headphones/mic. Given that this is a tablet, this isn't at all surprising. Although, an updated USB Type-C port would have been appreciated.
MediaTek's processor prevents it from being Thunderbolt 4 compatible, so the added bandwidth won't be necessary to most users. If you decide to purchase a USB Type-C hub to expand your port options, you'll need to consider the limitations of the USB 2.0 port. Even though it's not a huge problem, a faster USB port would have been beneficial considering its slightly higher price.
It produced a much more vivid and sharper image than I had expected, considering its 10.5-inch, 1920 x 1200-pixel touchscreen display.
As compared to regular Chromebooks, the Asus Chromebook Detachable CM3 features a MediaTek MTK 8183 processor. You won't be blown away by the chip, however. With 4GB of RAM and integrated Arm Mali-G72 MP3 graphics, both Detachable CM3 is equipped with enough performance for a Chromebook.
While It's not the most potent Chromebook, you may enjoy its compact size, long battery life, 2-in-1 functionality, and stylish design.
Hardware Specifications of Asus Chromebook CM3
Processor
ARM MediaTek 8183 Processor 2.0 GHz
RAM
4 GB
Storage

64 GB SSD

Display
10.5″ IPS display with 1920 x 1200
Camera
Rear – 2MP (Webcam)
Operating System
Windows 10 with Pen
Battery Life
11.5 hours
Weight
1.12 lbs
PROS
Lightweight.
Detachable Keyboard.
Built-in stylus.
2 camera.
Long battery life.
CONS
Processor.
Cheap build.
No external storage capacity.
6- Microsoft Surface Pro 4
Microsoft has hammered home the message that Surface tablets will replace laptops so much that it has almost lost its meaning for a long time now. Surface Pro is indeed a beautiful machine, even if it is relatively expensive, but I feel like Microsoft needs to realize that we already know this.
It is a 12.3 tablet, but it is a bit thick and relatively light. Despite having a similar footprint to last year's Surface Pro 3, the screen has a larger diagonal area thanks to thinner bezels. In addition, the screen resolution on the Surface Pro 4 has been increased, going from 2,160×1,440 to 2,736×1,824.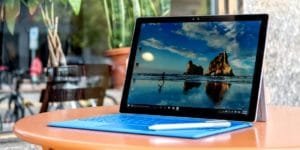 Considering its size and specifications, the Surface Pro 4 weighs 786g, which may not seem much for a tablet. I was perfectly comfortable using my tablet to take notes, doodle in meetings, and lean it on my knee while holding it.
The right edge has a full-size USB3 port and a fan, so it looks chunky, even though it's only 9mm thick. Microsoft kept the USB3 port and did not replace it with a smaller USB-C connector due to a lack of USB-C peripherals at present and the hassle of carrying an adapter around with you. When using the laptop mode, you will access the Mini DisplayPort port next to the USB 3. The left side of the device has a 3.5mm headset jack.
A AAA battery powers the Surface Pen, which Microsoft claims can last an entire year. Although you can't check your pen's battery status, you should always keep a AAA handy just in case. The pencil has 1,024 degrees of pressure sensitivity, which might make it a good choice for digital artists who may be using a dedicated pad to draw.
Did Microsoft finally design a tablet capable of replacing your laptop without too many compromises? Unless the battery needs to be reworked, this is the nearest thing we will get to a working solution. Even years after it was released, the Surface Pro 4 continues to be worthwhile.
Hardware Specifications of Microsoft surface pro 4
Processor
6th Gen Intel Core m3, i5, and i7 processors
RAM
4/8/16 GB
Storage
128/256/512/1024 GB eMMC storage
Display
12.3″ Retina display with 2736 x 1824
Camera
Rear- 8MP (Webcam)
Operating System
Windows 10 Pro
Battery Life
9 hours
Weight
1.7 lbs
For more details you can read our review on Microsoft Surface Pro 4 form our experts.
PROS
Larger, sharper screen within same dimensions
Vastly improved Type Cover
Even better Surface Pen
CONS
Type Cover still sold separately
Intel Core m3 at entry level
Battery life
7- Fusion5 Windows 10 Tablet PC
The Fusion5 FWIN232 tablet PC is highly convenient, user-friendly, and is dominating the market. Fusion5 has ruled the US market since 2010, as it is one of the leading brands. In terms of great tablets at great prices, Fusion5 has achieved its pinnacle in this regard with the 10″ Windows 10 FWIN232.
A 10inch HD Fusion5 FWIN232 Tablet PC offers incredible picture quality. The upgraded graphics deliver the best viewing experience. It receives a 10.1″ Retina display with a resolution of 2736 x 1824 pixels.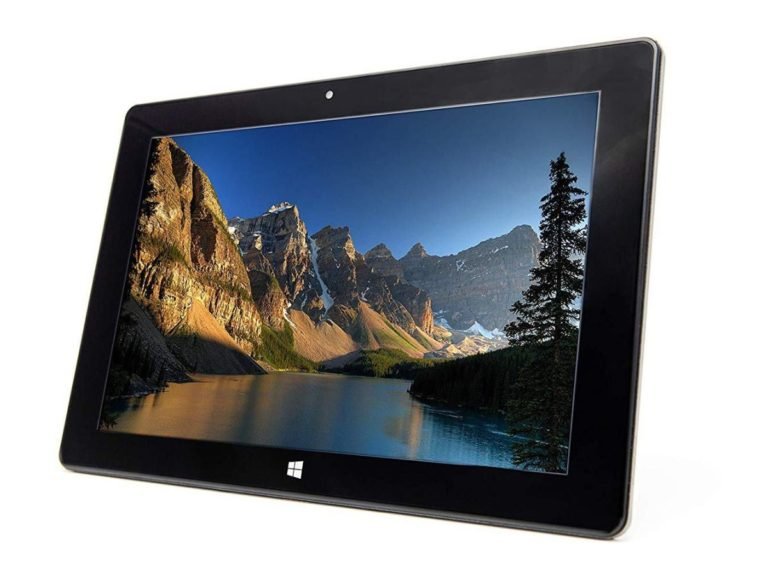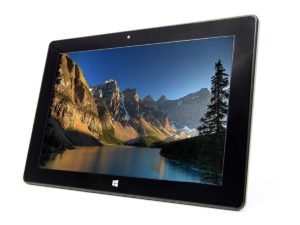 Its incredible graphics were designed for youngsters to play games, watch movies, or surf YouTube. Furthermore, the brightness rays are not even harmful to your eyes since they are not very powerful. I love how sensitive the touch is. It is rapid and responsive to my touch instructions.
Fusion5 FWIN232 Tablet Pc has quite an attractive design, in my opinion. With its thin design, black color, and aluminium accents, this tablet is gorgeous and irresistible. Despite its weight of only 1.5 pounds (680g) and its dimensions of 17.2 x 1 x 25.8 cm, it is very portable.
Streamlined performance and outstanding performance come standard with a 1.83GHz Quad-Core Intel Atom x5-Z8350 Processor.
By looking at the specifications mentioned above, I can conclude that this technological innovation can provide a great user experience. Travelling around is like having your tablet in which you can see everything you want. Fusion5 FWIN232 Window 10 Tablet PC is easily the best multitasking tablet PC that supports Windows 10 at affordable prices, making it an outstanding achievement and a true market leader.
Hardware Specifications of Fusion5 Windows Tablet
Processor
Intel Quadcore AtomTM x5-Z8350
RAM
4GB
Storage
64 GB
Display
10.1″ Retina display with 2736 x 1824
Camera
Rear- 5 MP | Front- 2 MP
Operating System
Windows 10
Battery Life
7-8 hours
Weight
1.52 lbs
PROS
Excellent Camera
Battery performance
Lightweight
CONS
Windows may be a problem
Average performance
8- Asus Transformer Mini 10.1
Likely, you will first think that the Mini is an updated Surface 3, but with an improved, sturdy keyboard, stylus, and a redesigned screen. That image, however, is only the Surface. Several mediocre components are hidden behind its thoughtfully designed exterior.
In addition to the Mini's compact form factor, the faux fabric on the keyboard is likely to make you think of the Surface Pro 4. In laptop mode, the Mini measures 10.2 inches by 6.7 inches by 0.55 inches (13.9 mm), and it weighs just 1.74 pounds with the tablet and keyboard attached. It's made of an aluminium-magnesium alloy, according to Asus. Despite its lightness, the silvery material is rigid.
A kickstand, similar to the Surface, folds out toward the bottom of the tablet. There is no detectable wobble in the Mini's hinge over its entire range of motion. Folding the kickstand further will give you about 25 degrees of incline, among the flattest I've seen. Despite the device's low cost, it offers a lot of freedom.
There is no SD card slot hidden under the hinge of the Mini, unlike the Surface tablets. The tablet's edge is:
The USB 3.0 connectors.

Mini-HDMI connectors.

Micro-USB charging connectors.

microSD card slots (up to 512GB).
Despite having 1,024 pressure levels and no virtual eraser, the two-button pen is otherwise unremarkable. The AAAA batteries inside the pen must be removed before use. Otherwise, the pen will not work.
Compared to the older Surface 3, the Asus Transformer Mini is slightly less powerful. Compared to the Surface 3, the Mini has an Atom x5-Z8350 processor, which runs at 1.44GHz.
As for all other specs, the Mini is equally barebones. Asus' 10.1-inch display features a bright 400-nit (rated) display, but the 1280×800 touchscreen barely reveals individual pixels – and is much, much lower than Surface 3's 1920×1280. The Mini can't deliver even 1080p.
Nonetheless, the Atom chip in the Mini is well suited for everyday tasks and boasts good battery life. Make sure your hinge is vital if you work on a lap; otherwise, lap work is problematic. Congratulations if all of this works for you! You just saved yourself a lot of money.
Hardware Specifications of ASUS Transformer Mini 10.1″
Processor
Intel Atom Quad-Core x5-Z8350 Processor
RAM
4 GB
Storage
128 GB eMMC storage
Display
10.1″ Inch Retina display with 3000 x 2000
Camera
Rear- 2MP (Webcam)
Operating System
Windows 10 Pro
Battery Life
11 hours
Weight
1.7 lbs
PROS
Compact and light
Keyboard cover and stylus
Fingerprint reader
Highly adjustable kickstand
CONS
No USB-C port
Quirky keyboard
Occasionally finicky touchpad
9- Microsoft Surface Go 2
The Surface Go 2 has been designed to blend into the modern landscape by shedding its bezels, allowing a larger screen to fit within the same chassis (Apple did the same with the iPad 7th Gen). Its slim design, improved specs, and impressive webcam make this Surface Go two review one of the best tablets out there today.
In addition to the reflective Microsoft logo on the back, the Surface Go 2 looks very similar to its bigger brother, the Surface Pro. Surface Type Covers come in various colors like Ice Blue, Poppy Red, Platinum, and Black. I only wish the chassis of the Surface Go could also be painted in eye-catching colors.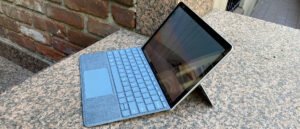 In addition to the USB-C port, headphone jack, and Surface connector, the Surface Go 2 has the power and volume buttons, as well as a MicroSD reader, on the right side. Unfortunately, the Surface Pro 7 does not have a USB-A port.
Compared to Surface Go 2's 10-inch panel with 1800 x 1200 pixels, the PixelSense display of the Surface Go two measures 1920 x 1280 pixels. Due to the additional screen space, the tablet looks a bit more modern and more like the Galaxy Tab S6.
Compared to the Pentium Gold chip, the Surface Go two is rated for 64% higher CPU performance than the Intel Core m3-8100Y, which comes with 8GB of RAM, providing okay multitasking performance.
Microsoft has finally delivered its original Surface promise with the Surface Go 2. It's an excellent laptop for heavy-duty tasks combined with its bigger screen, smaller bezels, and longer battery life, all powered by an optionally powerful Core m3 CPU. Users who compare it with the iPad Air and the Pro 7 may take a second look. Click here to read the full review on Microsoft Surface Go
.
Hardware Specifications of Microsoft Surface Go 2
Processor
8th Gen Intel Core M3 / Intel Pentium Gold 4425Y
RAM
4 GB
Storage
64 GB/128 GB
Display
10.5″ PixelSense Display with 1920 x 1280 Resolution
Camera
Rear- 8MP
Operating System
Windows 10 Pro
Battery Life
10 hours
Weight
1.2 lbs
PROS
Bigger screen.
Core M3 processor option.
Runs any Windows app.
CONS
Very low performance ceiling.
Battery Life.
Keyboard Flex.
10- Dragon Touch X10. 
You must have never heard of this brand, or some of you must have been aware. This company does not have that impressive history in products, but these particular tablets with USB ports are better and fit the role.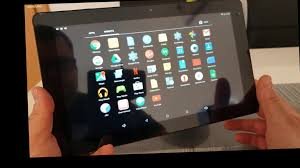 This tablet is powered by an android 5.1 lollipop and it runs on a 2.0GHz Cortex A7 Octa-core processor. The internal memory is only 16 GB with 1GB ram. The camera is 5mp on the rear view and 2mp on the front camera. The battery of this tablet lasts up to 6hours and it's a standard tablet that comes with a pen. 
Hardware Specifications of Dragon Touch X10
Processor
2 GHz Cortex A7
RAM
1 GB
Storage
16 GB
Display
10″ HD IPS display with 1280 x 800
Camera
Rear- 5MP
Operating System
Android 5.0
Battery Life
6 hours
Weight
1.3 lbs
CONS
Average performance
Old Android
Importance and Use of USB Port In Tablets
A tablet computer was designed to play videos, surf the internet, edit documents, spreadsheets, and make presentations at first. The storage capacity was similar to that of modern smartphones. Manufacturers began to take notice of the tablet experience as people grew accustomed to it.
The lack of an inbuilt keyboard caused tablet devices to do not match up to laptops. Thankfully, this is now a thing of the past, and many modern tablets include a keyboard that can be detached.
However, people often don't want to spend that much on an accessory right away, so manufacturers usually sell the keyboard as an accessory. The USB ports are beneficial because many users do not use the external keyboard very often. The USB port on the keyboard allows you to connect an external keyboard and use it as and when necessary.
The USB port is also necessary for using external storage devices. The typical user might have a laptop and a tablet, as well as a smartphone. They should be able to exchange data seamlessly.
Cloud storage is helping to solve part of the problem. However, using an external storage device has some benefits, such as accessing your files without wasting data and larger files taking longer to download over the internet. One other situation where a USB port might be needed is when you take a pen drive with large videos and files and share them with your friends even when you are not carrying the device with you.
It's common to find printers and scanners connected to tablets in an office environment. It could be argued that most scanners and printers today support wireless communication standards, which makes USB ports not that important anymore. However, many government agencies are more aware of the need for data security today. In that case, a wired connection is both faster and more secure.
A tablet PC may be loaded by the activities of designers, coders, and gamers. Therefore, device coolers are connected through USB ports to avoid overheating the device and causing it to fail early. Consoles and other peripherals may also be connected to the PC via USB ports.
Some More Popular Tablets With USB Ports
SaleBestseller No. 1
Xbox Core Wireless Controller – Robot White
Experience the modernized design of the Xbox Wireless Controller in Robot White, featuring sculpted surfaces and refined geometry for enhanced comfort and effortless control during gameplay with battery usage up to 40 hours.
Stay on target with the hybrid D-pad, textured grip on the triggers, bumpers, and back-case. Plug in any compatible headset with the 3.5mm audio headset jack.
Connect using the USB-C port for direct plug and play to console or PC. Support for AA batteries is included on the rear.
Seamlessly capture and share content with the Share button.
Use Xbox Wireless or Bluetooth to play across Xbox Series X|S, Xbox One, and Windows 10/11 devices.
SaleBestseller No. 2
Seagate Storage Expansion Card for Xbox Series X|S 2TB Solid State Drive - NVMe Expansion SSD for Xbox Series X|S (STJR2000400)
SEAMLESS GAMEPLAY Designed in partnership with Xbox to seamlessly play Xbox Series X|S games from the internal SSD or the expansion card without sacrificing graphics, latency, load times, or framerates
HIGH CAPACITY 2TB of storage increases the overall capacity of the Xbox Series X—collect thousands of games across four generations of Xbox without sacrificing performance
EXCLUSIVE TO XBOX The only available expansion card that replicates the Xbox Velocity Architecture —providing faster load times, richer environments, and more immersive gameplay
QUICK RESUME Switch between multiple titles in seconds—directly from the internal SSD or the expansion card
WARRANTY Enjoy long-term peace of mind with the included 3-year limited warranty
SaleBestseller No. 3
Razer Barracuda X Wireless Multi-Platform Gaming and Mobile Headset (2021 Model): 250g Ergonomic Design - Detachable HyperClear Mic - 20 Hr Battery - Compatible w/PC, PS5, Switch, & Android - Black
Frequency Response 20 Hz – 20 kHz.Headphones fit type:Over-Ear
Wireless USB-C Multi-Platform Connectivity: With a high-speed 2.4GHz connection, enjoy seamless audio whether you're gaming at home or out with your phone, easily jumping between devices thanks to a versatile USB-C dongle with USB-A extender
250g Ergonomic Design: Built for gaming marathons yet portable enough for daily commutes, its lightweight build is complemented by breathable memory foam ear cushions and swiveling earcups for a snug, comfortable fit
Razer TriForce 40mm Drivers: Our patented 3-part driver design pushes out exceptional highs, mids and lows that doesn't muddy, providing deeper gaming immersion and a more dynamic listening experience for music and videos
Detachable Razer HyperClear Cardioid Mic: While the mic is tuned to suppress background noise for enhanced voice capture during gaming, it can also be easily removed to make the headset more travel-friendly for mobile use
SaleBestseller No. 4
Bestseller No. 5
Charger for Nintendo Switch,AC Adapter for Nintendo Switch - Fast Travel Wall Charger with 5FT USB Type C Cable 15V/2.6A Power Supply for Nintendo Switch Supports TV Mode and Dock Station
Support TV Mode - This nintendo switch charger supports handheld mode, also works for switch docking and playing on a TV. if you don't like to unplug it every time you want to charge the Switch away from your dock, this ac adapter is a great additional charger for your Switch.
Fast Charging - The premium attached extra long 5 Feet USB-C Integrated cable fit all type-C device. Input: 100-240V~50/60Hz 1A; Output: 5V 3A/15V 2.6A.High speed charger for 3 hours in the case of running out of battery, the switch power adapter allows you to charge the switch quickly and keeps it adequately powered while playing in docked mode and in handheld mode.
Wide Use - The switch charger is designed for Nintendo Switch/Switch Lite and Switch OLED, and compatible with chargering in both dock station and pro controller.Small and portable,easy to use at home,lightweight fit into your handbag or backpack,convenient to carry for traveling or out.
Safe Enough and Multi-protection- Approved for CE-FCC-RoHS certification. The built-in "smart PD(Power Delivery) IC" & the thermal material design protect your devices against overcurrent, overvoltage and overcharge.
Reliable Quality - Buy with Confidence. Please just freely contact us for any quality problems, we would be much glad to help you out.
SaleBestseller No. 6
Xbox Wireless Headset – Xbox Series X|S, Xbox One, and Windows 10 Devices
Pair directly to your console with Xbox Wireless radio without the need for dongles, cables, or a base station.
Surround yourself with spatial sound technologies including Windows Sonic, Dolby Atmos, and DTS Headphone:X.
Use auto-mute and voice isolation to reduce noise interruption for crystal-clear chat. Adjust your volume and game/chat levels with the rotating earcup dials.
Flexible, lightweight design with an adjustable headband. Enjoy up to 15 hours of battery life with the internal, rechargeable battery.
Use Xbox Wireless, Bluetooth, or the included USB C cable to play across Xbox Series X|S, Xbox One, and Windows 10/11 devices.
FAQ About Best Tablets With USB Ports
Which is the best tablet With USB Port?
I consider the Microsoft Surface Pro 4 as the best tablet with a USB port.
Which is the best cheap tablet With USB Port?
Asus Transformer Mini is a popular and best cheap tablet with a USB port.
Can we get good tablets With USB Ports under a 100$ budget?
Yes, Why not. You can get a lot of options for tablets with USB ports.
Conclusion
At last, I just want to say that all these tablets with USB port are one of a kind they all have camera features and good storage so that you can take pictures, watch movies and work efficiently. Some of them are under budget too but don't worry the other tablets can be bought on online deals like Amazon.
In tablets with USB ports, you can plug in wireless wifi and other ports and enjoy the experience of high wifi services or stream movies all day.