What makes us the experts in this field? The fact that we cannot sleep without tablets ourselves. There's nothing easier than falling asleep before watching the latest episode of your favorite TV show or watching a YouTube video. But holding your tablet while you're just trying to relax can be a hassle, and your second pillow doesn't always fit the bill.
As we know, there are many holders out there, for entertainment, meaning, for lazy people just like us, as well as for people that want to get a few things done in bed.
So let's cut to the chase and see what we have to offer.
1. MoKo Tablet Pillow Stand
Of course, you can use your second pillow, but this tablet pillow brings an entirely new level of relaxation to your "chill game."
A foldable soft body pillow made of premium materials such as linen and cotton ensures long-term comfortable use of your tablet, mobile device, and eBook reader. Durable yet lightweight so that you can position your device comfortably.
It offers excellent compatibility for your devices: the stand's dimensions are 12.6, 9.4, and 6.7 inches, compatible with most tablets from 8 to 11 inches. You can use iPad, new  iPad Air 3, iPad mini, iPad Pro, iPad Air 2, Mini 1 2 3 4, Galaxy Tab Note 10.1, or Microsoft Surface Pro. It is perfect for your iPad, eBook reader, tablet, books, and magazines.
Design considerations: two small pockets on each side for storing headphones, charging cables, power banks, or other accessories, and it comes in 11 different colors.
2. Tablift Tablet Stand for The Bed
The product looks futuristic and fancy. It is the most versatile tablet holder that I've seen. This is a universal design that would fit any brand or model of tablet. Applicable to iPads, Samsung Galaxy (all models and sizes), Asus Google Nexus 7, Microsoft Surface Pro 3,4 Plus, etc.
With a case, you must keep the device's thickness below 10 mm. The 10mm wide slots can accommodate any tablet.
You can view it from three different angles. It has three modes: one for standing, one for sitting, and one for lying flat before going to bed—specifically designed padding. It keeps your tablet in the best viewing angle and level position with four adjustable legs on uneven surfaces.
The device is quite convenient, but I like to fall asleep while watching something, and this device would not fit my needs, and I would have to remove it from my bed to be truly comfortable, so if that's not an issue for you, then it's a good choice.
3. iProp, Bean Bag Universal Tablet Holder
It's compact and convenient—the perfect stand for lounging around on the bed, sofa, chair, car, or airplane. It easily conforms to any flat surface. You can use your tool both in portrait and landscape mode.
Almost any tablet will fit on the non-slip silicone shelf, even tablets with covers – as long as it is under 18 mm, including all iPad versions.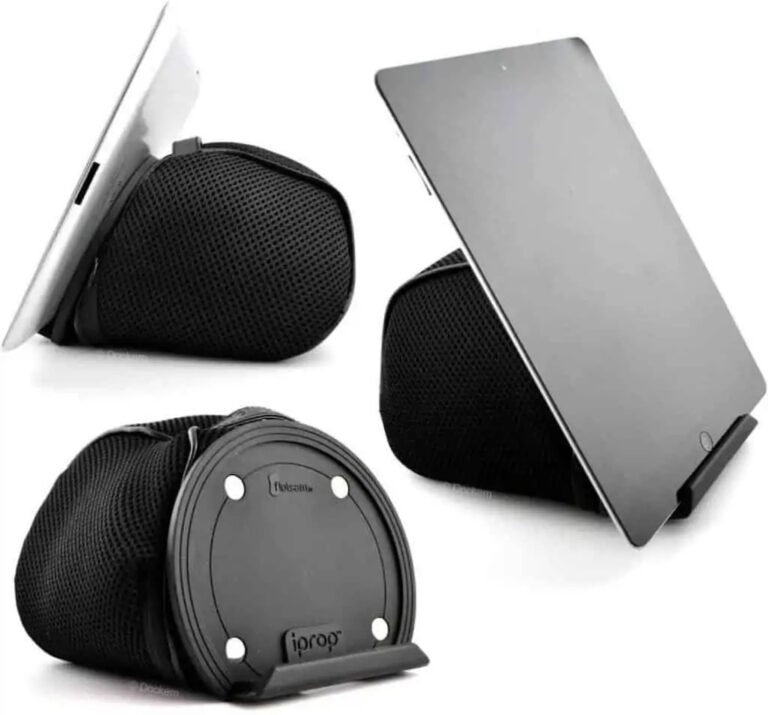 It has a mesh, breathable base that is machine washable and detachable in addition to the detachable shelf and micro-beaded floor. The bag can be unzipped to serve as a handy compartment for charging cords, earbuds, and other small items.
The viewing angle can easily be adjusted to anything less than 90 degrees, making it a good choice for watching videos, movies, or TV shows before falling asleep.
4. LEVO Deluxe Tablet Floor Stand
The advantage of this device is that if you fall asleep while watching something on your tablet, you won't have to get up at some point to get up. Quite convenient.
When you select this product, you will be able to position your e-Reader, computer, and tablet at just the right viewing angle and height while standing, sitting, reclining, or lying on your bed.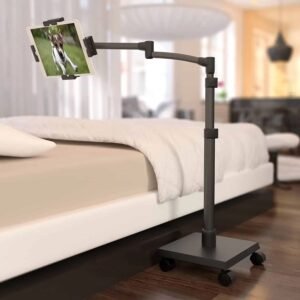 As a result, this product became popular due to its versatility, which allows you to use it upside-down, horizontally, or in any other position that suits you. The tablet stand also comes with a 5-axis articulating swing arm and flip-up lever height locks by which you can place it at the perfect viewing angle.
An added benefit of this tablet holder is its broad wheeled base that provides superior stability. These tablet holders are popular because they are portable and can be rolled from one room to another. As it is made of durable materials, it reduces the amount of movement when in use.
A stylish addition to your office or home, this product is anodized aluminum.
It is nice. Yes, it is. It is pretty fancy, but it is pretty expensive compared to other bed holders.
5. Prop 'n Go Slim – Adjustable Bed Holder & Lap Stand
With this holder, you can easily adjust the angle between 9° and 75° with 14 options. The positions are secure and won't change by themselves. The tablet stands pretty steadily when you roll over in your bed.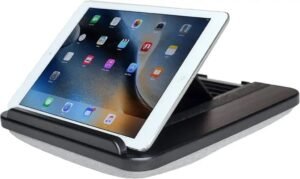 This design fits every iPad, iPad Air, iPad mini, Surface, Nexus 7, e-reader, MacBook, and all kinds of mobile phones, tablets, and electronic devices.
This holder is made from memory foam and contours to fit your lap, chest, pillow, and almost any surface you place it on. Cotton and polyester cover the whole tablet holder for the bed. The tablet holder is very cozy and comfortable.
6. 360 Degree Rotating Bed Tablet Mount
Holding over your head at night is quite the gadget, but boy… it's like having a portable television. Although it can be inconvenient when you want to roll to the other side, you have to adjust the device. Otherwise, there are no more issues.
A sturdy mechanical aluminum arm stands with a super-sturdy spring to support even more weight. A tablet or phone can be watched in bed without using your arms. The system is capable of supporting up to 1500 grams of weight.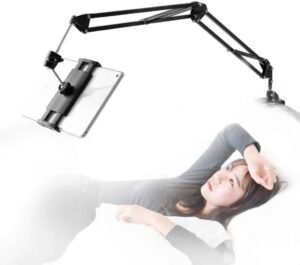 A broad range of accessories can be used with this device, including gadgets between 4.7 inches to 11 inches. As well as iPad Air, iPad Mini, iPad Pro, and all iPhone models, Amazon Kindle Fire devices, and Nintendo Switch, this stand can mount most tablets.
The first tablet arm has four completely adjustable joints and can be rotated 360 degrees. The product can be used on the vertical surface, such as a headboard, or it can be used on the horizontal surface, such as a desk. With the arm easily bendable and flippable, this holder can be used for viewing from any position–whether standing up, sitting in a chair, or lying down in bed.
Installation is easy. There is no need for tools; you can settle this anywhere up to 52mm thick, such as the edge of a bed, a table, a bookcase, etc.
7. ieGeek Tablet Phone Stand for Bed Sofa Desk
For an extended period, holding a tablet in the same position can be painful, and you can catch an inflammation as well. You need to be aware of this.
Multiple scenarios are possible – adjustable mount for many ideal and comfortable viewing angles, rotating perfect viewing angles for watching movies in bed, typing and reading an eBook on the table, playing games on the floor, or doing anything else you could imagine using a mobile device for.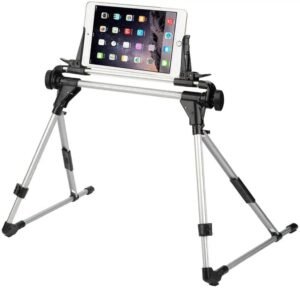 This display holder clamp is compatible with tablets and phones with an outline dimension of fewer than 10.2 inches. This includes the user's device in its entirety, not the screen.
The triangle bracket-style mount provides stability when in use. It is unnecessary to take off the device case since the patient will not be covered or blocked. The port for the headphones and the charging ports can be easily accessed.
Flexibility is important. With 380 grams (0.84 lbs), it is easily portable. It can be adjusted between 0 and 240 degrees. A mobile folding design makes it lightweight and portable. In addition, the packable stand can be carried around in the backpack.
It's not our top pick, but we understand why many people find this device appealing and convenient. People have different needs. Some people want to watch videos on their tablets while lazy.
8. Gooseneck Tablet Mount Holder for Bed
It's not intended for your bed, it's intended for your desk, but if you can hook it up to your bed, it might work. The device is a 2-in-1. The gooseneck can be attached to a nightstand next to your bed or a nightstand beside your bed if you have one, but it just needs to be a solid surface.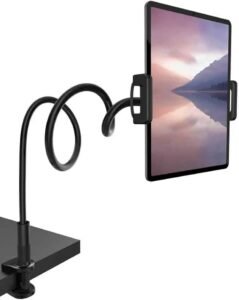 It allows for the use of tablets and smartphones ranging in size from 4.7′′ – 7.9′′. The gooseneck design makes it possible to view anything from various angles. This product's base clamp is unparalleled in its ability to maintain your tablet in a steady position and prevent it from falling.
Which is the best iPad holder for a bed?
The answer is simple if you're anything like us who like to grab their tablet right before going to bed and watch something while drifting off to sleep, the MoKo tablet pillow stand is the answer.
If you like browsing the web, chatting with friends and family, or maybe doing some work, then it's not the best choice for you. Of course, this is purely subjective. The Tablift Tablet Stand for The Bed is an excellent option if you need a tablet holder for those particular purposes.
Conclusion
If you are looking for the best tablet holder for a bed that can hold your smart device while lying down, you can choose one from the above choices. The tablets are all great, yet we all have different needs, so to be honest, all of these products are self-explanatory, so we wrote this article to show you what's available on the market. As we mentioned earlier, you can't be objective about this, even though we are tablet experts and sleep experts.
We hope you enjoyed our article and our diversified products. We cover all the possible uses for our products – chill mode, relaxation, work, etc.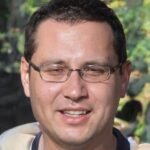 Ben Scott is a prominent technology journalist and reviewer, specializing in tablet devices. He is known for his comprehensive and unbiased reviews of tablets from various manufacturers.
With a deep understanding of tablet technology, including hardware components, operating systems, and software applications, Scott provides clear and informative reviews accessible to readers of all levels of technical expertise.
His attention to detail and in-depth analysis have earned him a loyal following of readers.