"Don't be an Artist, Art doesn't earn you bread". Who said that? Well, whoever did, clearly should see that this has been proved as a notion of the past. Art has seen a completely revolutionary approach and demand. With the expansion and better understanding of the field of Art, Artists finally receive their recognition and fair pay. Whether you pursue Art as a hobby or professionally, there are opportunities for all.
I believe, money follows knowledge. And knowledge itself doesn't do wonders, it's the exact useful application of knowledge that does! So how do we do that? That's what I'm here for. Below I've listed the pre-requisites or warm-up before entering the race of working and earning. The points below should be followed because if these roots are weak, one can feel lost and demotivated amidst the rush of the digital world.
Deciding your Style
Imagine if everyone worked in the same way. Would preference or decision or hiring who exist? No. Each individual not only has their unique thumbprints, but also a very unique aesthetic and design sense. And authenticity is what sells one's design and the designer. Thus knowing what style you want to work in or you want to be better at is the first step. Filter out your options and choose what you will be motivated to pursue further, even under the pressure of deadlines. Realizing your forte is very essential.
1- Choosing a learning platform
With digitalization, one has access to knowledge from various people, initiatives, companies, and institutions. Not only YouTube, Coursera, Skillshare, Udemy, and many others offer free or nominal charges courses on Digital Art and graphic design. One can research and find a course that satiates their requirements for becoming better at the beginning or excelling in Digital Art.
2- Practice what's learned
Having found one's style and learning the basics then comes the part of practicing! You want to show the best of your best work in order to get hired. This practice and better your art.
3- Develop a portfolio
Having practiced and bettered your art, start taking inspiration and studying good portfolio ideas. Then create your works putting in the best efforts and voila! You have a collection of your works. Now arrange them in a physical or digital portfolio, and know the inspirations and the mood boards where required. Also, have a Behance profile ready. Keep adding all of your work there. Show your progress. Keep an active account and provide if your portfolio is asked and you don't have it ready.
Now that I've made you knowledgeable, well-practiced and resume/portfolio ready, you're ready to be hired at a deserving pay. Getting the first job might feel overwhelming, but I assure you that once that happens, your confidence will only increase and your portfolio will only become stronger. 
And better and better opportunities are bound to come!
Money/income can come in two ways or sources. They are:
Active sources of income

Passive sources 
Active can be understood as trading your time and skill for money. In simple words, you invest efforts and work for a certain amount of time and receive money for it. The money stops coming when you stop giving your efforts and time or stop working.
I'll discuss some examples of active income sources:-
1- Working as an employee at a firm
One of the most opted for methods for earning through art. A job provides a variety of profiles and works like art director, commercial artists(advertisement), and art gallery dealer/managers. There are opportunities in multiple industries as well – Craft and fine arts, fashion designers, graphic designers, industrial designers, Multimedia artists, animators, etc.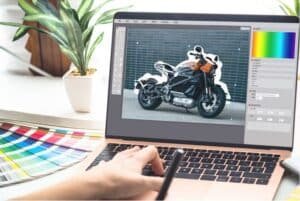 Motion pictures, architecture, and engineering-related services along with software publishers offer some of the highest-paying jobs in the same.
An art degree might be required as a selection criterion at some firms. However, more and more industries such as motion pictures are open to hiring non-degree holders and self-taught artists. Jobs like these can add to a lot of learning because you get to work with like-minded people and are exposed to teamwork and its strategies. Moreover, just like any other job, you get additional perks like incentives, travel allowances, and health insurance.
2- Teaching your forte (online/physical institutions)
Imparting skills and knowledge will always stay in demand. Teaching people the nitty-gritty of digital art as a teacher or faculty with an institution is one secure job option. It guarantees you fixed working hours and a lot of creative freedom and flexibility.
 Another road is teaching online. This can be done by making an account or channel on platforms like youtube. Start by making learning videos and posting them online. You can start a series of such videos, topic-wise. Your content will fetch you an audience and that in turn generates your revenue. Creating an online course is also a very promising method. 
3- Commissioned Artworks
Commissioning art is a process that requires hiring an artist to create an artwork, based on the request of the client. People commission artworks for various reasons. The client might like a piece but the size or price quoted might not be according to their preference. Thus, clients place orders for commissioned artworks. Two fundamental units of commissioned artworks include Time and Materials.
Through these, the artist estimates the number of hours the piece will take for completion. Further, the cost of the materials to complete it is noted and then the Artist prices the commission against an hourly rate. It is very popular amongst independent artists and hobbyists. It involves displaying your work on your portfolio website and social media or sites such as Artstation, and Deviant art with your contact information and pricing options that allow clients to contact you.
4- Freelancing
Freelance allows a person to perform various pieces of work for different organizations, rather than working all the time for a single organization.
In order to make sure that you get paid for your work and also have the freedom to work from anywhere, freelance is a good alternative. You also get the freedom to choose the kind of work that you enjoy doing.
Freelance Websites are one of the best ways to connect with clients and collaborators. These websites provide ample exposure not only for the artist but for the buyers as well. By gradually expanding the network, one can land good job deals and earning possibilities through such websites. A lot of people are taking this route as it is a straightforward way of making money as an artist, digitally. There are multiple freelancing platforms such as Fiverr, and Freelancer.in, Upwork to choose from when starting. These platforms provide access to a wide variety of work such as – storyboard artist, comic book creators, book cover artists, and many more. 
The advantage that one gets here is the fact that social media platforms could be put to use in landing some great deals which in turn will make the artist eventually form a brand of their own. The question of how to make money as an artist can now be put to rest through freelance websites. You can easily make a profile here, mark your interests, add a resume matching the requirements of the work you're looking for and then start sending in your applications!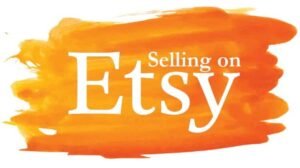 Etsy is an online marketplace that means you have to register yourself as a seller and set up your online store in order to start selling. The process is a pretty simple one. Once your store is set up, you can start listing your digital products for sale in your online shop. However, it's important to keep a track of the most popular selling products on Etsy. This will further help you in curating products that will be in demand and help your business bloom.
Etsy has helped many artists and creatives go full-time with their art business by setting up online stores.
6- Sell fonts and designs on Creative Market.
Creative Market is one of my favorites if you are a Graphic designer. On Creative Market, you can open a shop and sell your designs, vector patterns, fonts, icons, and more there. You can even sell animations, patterns, textures, templates, mockups, and more. It is more like a small business owner's dream.
Here are some ideas for things that can be sold on the marketplace:
 You can use a tool like PaintFont.com to create different fonts and sell them on Creative Market.

Creating designs in photoshop and selling them in series packs can be done.

Or create social media templates in Canva and sell them on the platform.
Patreon and Subscribestar are the two major examples of membership platforms. If you have a good following or your content is helping others in learning new things and improving their skills, you can ask them to support you on these platforms through donations.
You can also set up exclusive content and perks for your supporters in order to encourage them to donate and get access to your content.
Patreon has successfully created all kinds of opportunities for digital artists, and some are earning vast amounts of money there. Along with Patreon, YOUTUBE presents an amazing opportunity for digital artists, if willing to put themselves or their work on camera is something that they would want.
However, membership is a little bit different from direct donations. In membership people just pledge to support you and your work on a monthly basis. Donations, on the other hand, aren't stable and may vary.
For example – if you are teaching digital art on youtube, you can allow only your supporters to have exclusive access to the final image along with all the layers and brushes used in making that artwork.
You can stream your art creation process on Twitch. 
If you already have an active Youtube channel or you stream on Twitch and create a lot of useful content, you can ask for donations from your audience. If the audience feels like the content you provide is valuable for them or serves their needs, and is helping them to get better, they will happily donate. You can stream your practice sessions too. It wouldn't require an extra amount of your time and also help you in being consistent on twitch.
It is an online marketplace for independent artists to sell their original art—be it painting, photography, sculpture, illustrations, and more! Artfinder is a platform marketed toward high-end art collectors. On the plus side, buyers are more often willing to pay a premium price for quality work.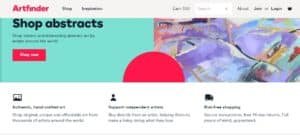 However, it also leads to the qualifications for becoming Artfinder's seller, a little more exclusive. You must apply to be a seller on Artfinder, and your application will be reviewed for quality and originality only then shall you get the opportunity.
10- Selling Prints
In this world of digitalization, selling prints on the online platform could have never been easier. Earlier the scenario has been that an artist wants to sell their artwork but the dilemma and burden of shipping and delivery make them opt out of the very possibility. But the worry is no more. Some websites dedicate themselves to every post-sale responsibility so that the artist just concentrates on delivering the best of their talent without worrying about subsidiary involvements.
You can print your art on merchandise to sell using sites such as Printful and Printify.
You can sell these designs that you make online on shirts, shorts, hoodies, mugs, blankets, and more on the above-mentioned sites.
These are print on demand 3rd party vendors and you can add the account to your Etsy or Shopify store. When a customer places an order and purchases your listing, the item is already being printed and shipped by the 3rd party company. You get your pay easily as well.
This option is not only cheap on the pocket, but it is also completely hassle-free. Websites like DeviantArt, Zazzle, Etsy, inPrnt, and redbubble are some of the most well-known ones in this category of selling prints on items.
11- Sell on Instagram
Since Instagram is one of the social media platforms that are a part of everyone's routine, benefitting from such a huge user base is both smart and profitable. In order to successfully sell art on Instagram, I suggest you follow the following steps: 
Make the best art you can and be consistent.

This should be understood but this is your reminder. You need to make art with skill and the art should express something. In order to gather an audience and win over Instagram's algorithm, consistency in posting is the key indeed.

Set up an attractive profile.

Learn the basics of photography and the correct use of editing tools. These are essential because an aesthetically appealing profile is what catches your followers. Far too many artists have Instagram profiles with no pictures, no information in their bio, and poorly composed, poorly lit pictures of their art. You can take worthy photos with even cheap smartphones, and old iPhone models are better than most point-and-shoot cameras.

Embrace the Instagram hashtag culture and build your following.

One of the very first things you should familiarize yourself with is hashtags. You'll often see people add words like #artistsofinstagram or #foryou in the description of the images that they upload. These hashtags become clickable links, and you can also search them using the IG search tool. 
Posts that have the same hashtag are put together in this collection under the name of the hashtag itself. When one clicks on it, it redirects to this collection where one gets access to a variety of related works. This is how new artists are discovered. 
The ideal number of hashtags is flexible and depends, but it's probably somewhere between 3-8 per post. Hashtags can be put on nearly anything, but I would suggest putting Hashtags related to your artwork.
A point that I have noticed is that the most popular and common hashtags like #foryou get thousands of posts every second. In such a crowd, your artwork won't appear as people wouldn't scroll down as much. Thus try adding valuable hashtags that are related but not the most crowded ones.
Identify the influencers.

Take out a list of the most followed celebrities on Instagram or influencers related to your field of art. Try tagging them in your posts. This way, your post appears on their tagged section whereas you get a chance of being noticed by them. They could also be art dealers or curators with big followings. They might be celebrities who are really into the kind of art you make and you get noticed. Whoever they are, be sure to follow them and interact with them consistently. Comment on their work and share it with your friends by tagging them in the comments as well.

Try some follower interactions.

Instagram is the place for plenty of contests, giveaways, and fan-generated fun. Examples include asking fans to post pictures recreating your art and tag you or using a particular hashtag to challenge you to draw what they tried and posted.
You can also ask your fans to title your work or for inspiration as to what you should draw.
Try a Giveaway or host competitions.

You must've seen or even been a part of such Giveaways where the host asks you to share or comment on their posts. Likewise, you can ask your followers to perform certain tasks and give the winner a prize and in return, you get a higher reach for your page. 
You can also host competitions and provide people with digital certificates! This will make people share your account and you get more eyes and reach.
Stories, Live videos, Reels, IGTV, and more.

Instagram consistently puts out new features and changes in its algorithm. If you notice enough, you'll see that according to Insta algorithms whenever Instagram introduces new features, it gives heavy favor to showing content that uses those new features in the search feed.
Convert Digital art into NFT and sell it
Art is the most common use case for NFTS, and it is not a matter of surprise that crypto art in NFT form has recently exploded in popularity. Sensational high-profile auctions of NFTs linked to digital art have received considerable public attention and fetched millions. The process of making it happen includes:
Minting is an automated process provided on most NFT marketplaces. To start it, you'll need to take a few easy steps mentioned below:
Steps to minting an NFT:-
Register on the NFT platform you prefer: Usually, it is available via a crypto wallet.

Upload art to the chosen platform with a title and a short description.

Make a final check and click on the "Create" button.

The minting process begins when you

have signed your NFT and paid the transaction fee.

You will see the newly minted NFT in your profile after the transaction has been validated on the blockchain.
The next step would be, Choosing the NFT marketplace to make and sell your NFTs.
An essential part of the process of minting NFTs is choosing for yourself a proper NFT platform. The right choice depends on various factors like supported file format, crypto wallet matching, accessibility to the platform for users, and the price to mint an NFT, or a transaction fee, which is a payment made by you to compensate for the computing energy required to process and validate transactions.
There are a bunch of various online NFT marketplaces in the crypto space and each of them operates in a slightly different way. The crucial thing for artists is to know whether the platform is curated or if it is self-service based. It's up to them to choose the one which is the most suitable, visited and user-friendly.
Self-service-based or non-curated NFT platforms provide access free to all artists. In order to upload NFTs onto them, you only need to register via crypto wallet and pay the transaction fee to mint your NFT. The most popular mass self-service NFT marketplaces are OpenSea and Rarible.
Curated NFT platforms are more selective about the artists. To register and start minting your art on these platforms, it is needed to submit an application with all the details about the NFT collection and your previous artistic experience.
Setting up a cryptocurrency wallet-
A cryptocurrency wallet is a tool that you will need to access NFT platforms, sign transactions and manage your account balances.
How to sell digital art as NFTs-
Fixed price sale and auction are currently the two main ways for selling NFTs. A fixed-price sale is considered to be the easiest way as well as a pretty transparent and direct method.
Another way to sell your NFT is through an auction that enables buyers to browse and bid on your digital art. Some auctions may only be online while others may end in a full-fledged live auction.
The Future of Digital art
Bearing in mind that digital art is still very young compared to traditional art. The very first pieces of early digital art were made in the 1950s, whereas the first pieces of early traditional art were made not just tens, but hundreds of thousands of years ago.
Still, Digital art will only continue to grow as a medium and in popularity – looking at how the iPad has completely transformed the digital art market from how it was since its first launch, making digital painting much more accessible to everyone. Ever since, there have been various advancements and a variety of digital tablets, stylus, and pieces of equipment available in markets worldwide.
With innovations such as the iPad, awareness of digital art grows every year.
However, this doesn't mean that traditional art will die out – in fact, its value might increase if more and more artists switch to digital and traditional art gets rarer in times to come.  It's practically impossible to say what the future holds, but I can that say it looks bright for all artists, everywhere, digital artists included.
Conclusion
The deeper I've gotten into digital art, the more I've realized that not only does digital art sell, but it also sells pretty well. It's now that I realize how large its market really is, how well it sells, and how its market is expanding daily. 
The struggling years of artists aren't the same now. They have many solutions to reach out to that will produce substantial income and exposure as digital artists. As digitalization expands more and more, the platform of creative independence becomes more accessible for digital artists.
How digital artists make money is no longer a matter of assumption since there are thousands of ways to put a justifiable worth on a piece of art. These opportunities are available in bulk and waiting for artists to grab them to the fullest. So just go out into the parallel world of freelancing and explore the opportunities like never before, earn and have fun!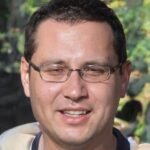 Ben Scott is a prominent technology journalist and reviewer, specializing in tablet devices. He is known for his comprehensive and unbiased reviews of tablets from various manufacturers.
With a deep understanding of tablet technology, including hardware components, operating systems, and software applications, Scott provides clear and informative reviews accessible to readers of all levels of technical expertise.
His attention to detail and in-depth analysis have earned him a loyal following of readers.