Is investing in the XP Pen Deco 03 an intelligent choice? Should it be your top pick when making a pen display purchase?
I've advocated for graphics tablets and pen displays for use with software for a very long time. It's always been wonderful for me to see some competing products on the market, and always a pleasure when new brands come up and release some top-notch pen displays and graphics tablets.
With the addition of a multi-functional Red Dial, Deco 03 further enhances an already highly inventive design. We have sort out few of the best portable drawing tablet as well.
If you're looking for a unique characteristic that makes you and I buy the Deco 03, then I shall tell you that there are plenty! To grab your attention I'll name a few like this Red Dial mentioned, which is made of anodically oxidized aluminum for a satin-like appearance, and it is made to defy conventional graphics tablet design while fitting comfortably in your palm.
I could rotate the multi-function dial's front and side to use it without friction and it was easy to handle. So having used the aforesaid tablet for a while now, here I shall take you through an unbiased perspective of the same from a professional digital artist. So read on!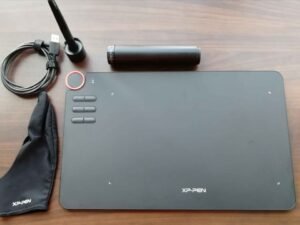 My Experience With The XP Deco 03 
I debated whether to purchase an Artist 12 Pro, a 13.3 Pro, or a Deco 03, but ultimately decided on this tablet due to the price difference, and I don't regret it at all.
It took me some time to choose XP-PEN, but I did so because: 
It is reasonably priced

Listed among the top 3 graphic tablet manufacturers.

Lots of user reviews that you read or watch.
The Deco Pro mini is now lightweight, pretty light, perhaps. Actually, it is even lighter than my keyboard. It fits in the same bag as my 15.6-inch laptop and doesn't put any additional strain on my back.
It's simple to use; I installed the drivers as instructed by the handbook, but at first, it was plug-and-play for me.
Not just that, it is easy to sketch and understand what each Express key does. It can be challenging to modify their features.
Very excellent packing was used. It arrives in a big red box with the brand name printed on the top. Moreover what impressed me more was that the pad, one glove, pen holder, digital pen, set of 8 nibs, and USB cord are all included in the box.
I used it for two to three hours initially, and it worked flawlessly and was smooth on the pad. A list of drivers that must be downloaded for your PC has been supplied. Additionally, if you register the product on the internet, you will receive an extra month of warranty as I did.
The Deco 03 is a professional tablet in every sense of the word; nevertheless, it does not have a screen, which is actually advantageous from a postural standpoint as you are constantly sitting comfortably and looking at the monitor.
I was concerned about the coordination needed to move the pen without actually being able to see the surface it is moving across, but, in my experience, it was much easier than I had anticipated. It's similar to moving a computer mouse, so it doesn't take long to get the hang of it. 
I was concerned about the coordination needed to move the pen without being able to see the surface over which it travels, but, in my experience at least, it was much easier than I had anticipated. It's similar to moving the computer mouse, so it doesn't take long to get used to.
I've had no issues utilizing it with Photoshop and other drawing apps on a Mac thus far. Installation was a pretty easy process. The price-to-quality ratio is often 100%.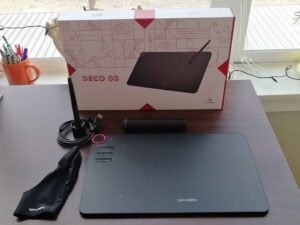 What Is Inside The Box Of Deco 03?
1 x Pen Tablet 

1 x P05 Passive Pen

1 USB-C cable

1 Quick Guide

8 x Replacement Nibs

1 New Pen Holder

1 Anti-fouling drawing glove

1 x Manual
Specifications Of the XP Pen Deco 03
The XP Pen Deco 03 has an active area of 10 x 5.62 inches. Its stylus provides a good pen pressure of 8192 levels. Moreover, the stylus is passive so there is no requirement for it to be charged. I would also mention that there were two buttons on the pen. However, the tablet has six + Dial buttons. 
Connectivity is versatile, you get the options for both, Wired + Wireless.
The resolution of the tablet is 5080 LPI with a Report Rate of 266 RPS. The Deco 03 supports Windows, Mac, and Linux.
Features Of The XP Pen Deco 03
1. Battery-Free Stylus
XP Pen Deco 03 includes a battery-free stylus that resembles a pen in design and doesn't need to be charged. It's considerably simpler and more pleasant to carry this stylus in your hand. I could generate desired variations in line width and opacity thanks to the 8192 levels of pen pressure sensitivity, which gives you a genuine pen-on-paper experience.
It is a perfectly weighted pen that is well-balanced and neither feels too light nor too heavy. It's comfortable to hold because of its ergonomic form.
2. Excellent Design
With a working area of 10′′ X 5.62′′, the well-liked Deco 03 gives you more room to freely express yourself and create. It contains a multipurpose pen holder that you may use to protect your pen, pen nibs, and USB receiver.
Moreover, its sleek design makes it highly portable as well. I could sketch and edit pictures wherever and whenever with this lightweight, mobile device because it is only 635g in weight and 8mm thick.
3. Highly Compatible
For improved connectivity, it is compatible with Mac OS 10.8.x or later and Windows 10/8/7. I could work on almost all editing programs, including Adobe Photoshop, Manga Studio, Corel Painter, and others, are supported. Also compatible with all online teaching software lie Zoom, Microsoft Teams, WebEx, and Google Classroom. 
4. Wireless and Wired
XP Pen Deco offers wired and wireless USB connectivity options. I could achieve this by simply connecting the tablet to my computer using the Type-C USB connector for conventional wired operation, or by using the included USB receiver to draw wirelessly.
5. Pen Holder
The majority of drawing tablets in this price range do not include pen holders. The greatest pen holder is included with Deco 03 in this set.
It has a padded compartment inside and an exterior made of soft-touch plastic. The pen holder's back lid contains a little compartment for storing the wireless receiver and all the additional pen nibs.
The pen is neatly concealed in a hollow cylinder and is accessible when the front lid of the pen holder is opened. I used the lid to function as a pen stand, keeping the pen upright.
The most recent multi-purpose pen holder is portable and can protect your pen, pen nibs, and USB receiver. You can also use it as a pen stand and pen holder.
6. Shortcut Buttons 
Six fully customizable express keys create a highly ergonomic and practical work platform.
The device's top left corner houses the rotating dial. It sticks out from the corner, making it easy to hold onto. The Red dial has a distinctive appearance because of the red accent hue. It has shortcuts for zooming, rotating, and changing the size of the brush. I could easily press all the buttons and dials without having to move my hand up or down because they are all near to one another.
The buttons have a good, clicky sensation to them and are organized into three groups of two. Having the option to alter the brush or eraser size speeds up your productivity.
7. Screen Texture 
Deco 03's texture is essentially flawless. The sketching surface is just right—neither it's very rough nor too smooth. Surface texture is intended to closely resemble paper. The biggest benefit of texture is that it increases your pen's level of control.
Nowadays, practically all tablets, regardless of price point, have some sort of textured surface, albeit not all textures are created equal. Even so, you won't notice the change unless you compare it to what we find on Wacom Intuos side by side.
The top surface has been effectively made scratch-resistant using XP Pen. The tablet maintained its good condition for me even after months of use and shows no indications of damage.
You can check another XP Pen Deco tablet, and that is  XP Pen Deco Pro Graphic Tablet.
Setting Up Express Keys In Deco 03 On Windows
I'll summarise and simplify the setup process so that you get an idea about what's in store for you if you buy the XP Pen Deco 03. We start with:
Opening up your Pen Tablet Settings from the System Tray is the first step: After connecting your tablet, if you don't see the icon in the system tray, try double-clicking the Pen Tablet icon on your desktop before checking the system tray once more. Any time the Pen Tablet settings are opened from the desktop, they are always minimized to the system tray. To change the keys on your tablet, select "Express Keys Settings" from this page. There are three options available once you choose the drop-down list for the key you wish to set.
Open tablet settings: When you wish to program a key to always access the PenTablet Settings, use the "Open Tablet Settings" command.
Run The Program: This instructs a key to launch a particular program of your choice whenever it is pressed.
Function Key: This is where you can program any unique keystroke or keystroke combination, such as Ctrl + Z (Undo), for instance.
Mouse function: Here, you can program your keyboard's shortcuts to perform mouse actions like Left and Right Clicks, as well as Up and Down Scrolling. Selecting No Action will disable the express key.
Shortcuts: You can set up your keys to executing various key commands for Windows in this location. You must first click the modifier you want to use (Ctrl, Alt, Shift, or Win), then press the other key on your keyboard to perform the action.
Other: Under the other option you can configure certain keys to do particular special commands. 
Benefits And Disadvantages Of XP Pen Deco 03
Pros
There are many keys for shortcuts. I liked this feature a lot because it very much reduced the time I spent working.

The wheel is excellent.

Despite being a size Small, it had a sizable drawing surface and didn't feel at all small. I'm now using it with a 15-inch laptop.

Connecting it to the computer only requires one wire.

Extremely slim and fantastic design.

It is also very portable.
Cons
The stylus is somewhat brittle. Don't keep the stylus stand cap in the cap since it keeps falling out. Your desk could roll down if it drops.

Due to the high-pressure sensitivity, it takes a lot of pressure to reach 8000 or so, which could harm the tablet or the nib. It works perfectly after tweaking the pressure sensitivity a little.

The stylus' buttons are not very functional. I found that they occasionally quit working.
Conclusion
I've tried it in affinity photo, affinity design, Adobe Photoshop, Adobe Illustrator, and other programs like Krita, and in none of them have I had a problem; the programs recognize it immediately, only in each program. It has a good drawing area, and as for the buttons and dials, they are ideal to forget about using the keyboard when you work and not be jumping from one to the other.
The deal is the best feature for me because it's easy to rotate from the canvas, move closer to it, or move away from it, as well as change the size of your brushes. The wireless mode is also excellent; I've tested it at distances of up to 2.5 meters without experiencing any responsiveness loss.
Additionally, battery life is improved because turning it off when it's not in use extends its lifespan (in my case, to 5 days) depending on the amount of use it receives; however if you forget to. The low pressure of the pen disappointed me after I had been so enthused about this tablet.
If you wanted to know about other drawing tablets you can check out our other article which is primarily based on it. 
At this price point, the overall feel and space are wonderful, but when drawing or sculpting in 3D, you want the pressure sensitivity to be as precise and simple as possible. The drawback of this tablet is that light touches do not register. It's unfortunate since it would succeed otherwise. Overall, buying it is worthwhile.
If I had to choose between this and Wacom. I would choose the former. But in all honesty, Wacom's tablets are quite subpar for this price. Additionally, this tablet outperforms those.