The convenience and flexibility that comes with employing a tablet is generally something that draws people to shop for it. Tablets provide you with the experience of easy browsing, great reading on the go, gaming, or simply watching a movie but on a bigger screen than your phone, who wouldn't want that.
The compactness of the device makes it easy to use, for younger ones and elders alike which isn't always there in the case of a laptop. Lightweight, slick design, convenient to travel around with and get work done on the go. What's to not like, right?
Like any other gadget, with a rise with in the price range, you get more advance and improved features to work around with. It all depends on the intent of the purchase.
If you're searching for a tablet to run some high-performance apps and artistic work, iPad pro is your go-to device. While the prices do get you to hesitate, the performance makes up for it.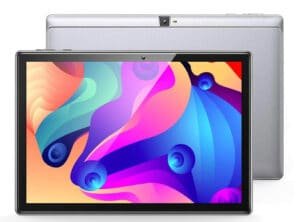 While searching for budget tablets in the market, the Vankyo MatrixPad S30 comes up as quite a catch to snatch.
This android tablet has earned itself a good amount of recognition within the market.
Vankyo MatrixPad S30 10-inch octa-core tablet comes with all the features an average tablet consumer comes searching for.
Specifications:-
Hardware Specifications of Vankyo Matrix Pad S30
Processor
1.6 GHz Octa-Core Processor
RAM
4 GB
Storage
16 GB
Display
10.1 Inch Android 9.0 Tablet
Camera
Rear- 13MP | Front- 8MP
Operating System
Windows 10 Pro
Battery Life
8+ hours
Weight
1.2 lbs
PROS
Bigger screen.
Core M3 processor option.
Runs any Windows app.
CONS
Very low performance ceiling.
Battery Life.
Keyboard Flex.
Features To Look Out For
When viewing the processor to octa-core processor here with 3 GB RAM gives you higher efficiency than the quad processor all the while consuming less power.
Vankyo MatrixPad S30 runs on Android 9.0 Pie, it gives a reasonably smooth multitasking experience with snappy navigation between applications and tasks.
There's also full access to Google play store, so you can go on downloading all the apps you want from Netflix, zoom, kids' applications, e-books and more.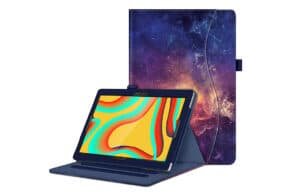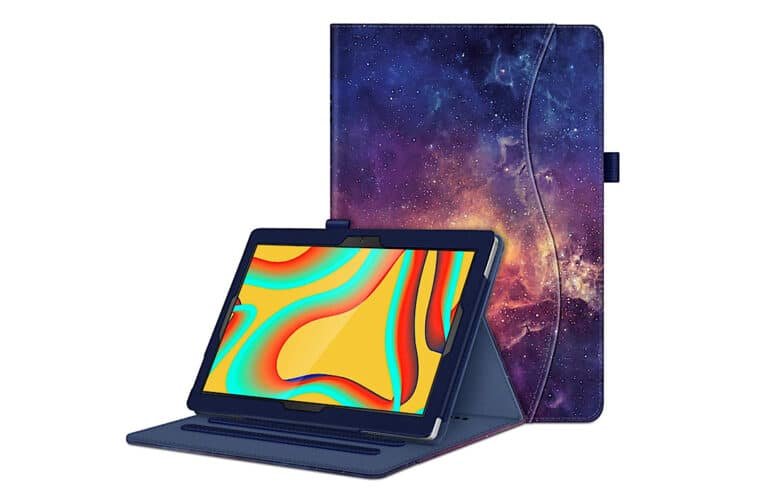 On The Outside
Vankyo MartrixPad S30 comes with a slim metallic built. Though weighing twice as much as its predecessor, it has a larger display screen at 10.1 inches with thinner bezels.
The tablet comes with a front and a rear camera, a micro SD card slot, Type-C charging port, dual speakers and a 3.5mm headphone jack.
Display Features
The MatrixPad S30 offers you a full HD 1920×1200 resolution IPS display, which is an upgrade from MatrixPad S20.
The 1080p screen here is a major improvement from the 720p screen of MatrixPad S20, you sure get an improved movie and video surfing experience here.
The high-resolution display delivers sharp clear details and bright colors. With the features of reading mode, getting you the monochromatic display and the eye comfort mode, the reading experience is less tiring and more durable.
How Connected Are We?
The 5G Wi-Fi and Bluetooth 5.0 technology offer you a more mobile range of connectivity. It's easier to get other blue tooth devices connected for more comfort working.
With the presence of integrated GPS, offline navigations is always an option and the inbuilt FM is good to have some relaxed time, listening to your favourite stations.
Battery Life…
The 6000mAh battery takes around 4 hours to get completely juiced up, lasting for around 15 hours depending upon the usage. There is a Type-C port present for charging.
While the battery is same as the previous MatrixPad S20 battery, it's more robust therefore lasting longer hours giving us more activity time.
Storage Limits…
Vankyo MatrixPad 30 comes with 32 GB onboard memory and a micro SD card slot for an additional 128GB of expandable memory. So you do get plenty of storage for your movies, drama series and games. Store your e-books, pictures, song and videos with no worries.
Camera and Sounds
Vankyo MatrixPad S30 is equipped with a 13MP rearview camera and an 8MP front camera. This gives you a decent enough video and picture quality. The front camera with the microphone gets you through a video call with friends and family.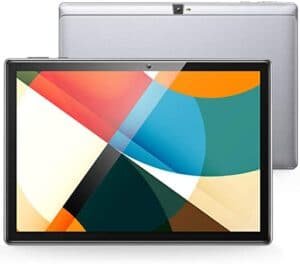 The dual speakers provide an ample amount of external volume and with the presence of a 3.5mm headphone jack, you can always go for a more clear audio option.
Functioning
Vankyo MatrixPad S30 works fine with our browsing applications and runs smoothly through the everyday tasks
Though when it comes to playback, it lags in the case of large app installations
For gaming purposes, it's a good gadget to go to, with little bits of hardware lack.
Dwarbacks
The processor while working effectively along with your everyday basic apps, you encounter a few hiccups when it comes to running high performance or creative apps. Though, seeing it from a price point isn't much of a drawback
The screen lacks brightness, which then limits, your viewing angles.
The device slows down when creative apps are used. The battery seems underpowered when using high-performance applications
Do We Get It?
If you are searching for a device to get your creative tasks done and running high-performance apps it's not the device for you
Not for people who need powerhouse apps.
Whereas, if you are searching for a gadget to own around the house to just chill around with Vankyo MatrixPad S30 can be a honest choice with its price point
It also is a good choice for a budgeted family device that can be used worry-free by kids also.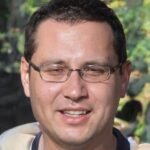 Ben Scott is a prominent technology journalist and reviewer, specializing in tablet devices. He is known for his comprehensive and unbiased reviews of tablets from various manufacturers.
With a deep understanding of tablet technology, including hardware components, operating systems, and software applications, Scott provides clear and informative reviews accessible to readers of all levels of technical expertise.
His attention to detail and in-depth analysis have earned him a loyal following of readers.