If you are looking for a good-looking and cheap tablet, this is the choice for you and provides a good value giving the high-pressure sensitivity, a good number of customizable buttons, and the great working area all sum up to give you a good experience on a tight budget.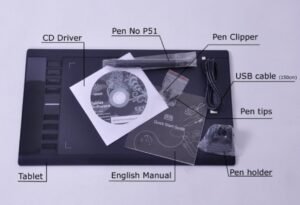 The UGEE M708 Graphic Tablet is from Ugee, an Asian manufacturer which took me by surprise by how much it provides for its price, offers an 8192 level of pressure sensitivity, makes it on-par with the competitors from Wacom at its price point. It has a medium-sized working area and 8 customizable buttons, all for the price of a small tablet. One would be skeptical of the quality that could be provided at such a price, but it is surprisingly a very good value for money.
Specifications:-
Hardware Specifications of UGEE M708 V3
Pen sensitivity

8192+ Levels

Active Area
10 x 6 inches
Resolution
5080 LPI (Lines Per Inch)
Express Keys
8
OS Support
Windows 10 / 8 / 7, Mac OS 10.10, Linux
Battery Life
DC 5V
Weight
2.20 lbs
PROS
Effective price.
Lightweight.
Highy Cutomizable.
CONS
Without screen.
Not for beginners.
Setup and Installation
The tablet comes with a CD to install Ugee M708 driver but I would recommend you to do it directly from Ugee's website as you would get the latest updated drivers. Then, I connected the USB cable to the tablet with my PC. On a side note, you can take any compatible USB cable for this purpose and not only branded ones. I wasn't surprised to see that this model has no wireless connection which is expected at this price point.
Features
The Ugee M708 has a high resolution of 5080 LPI (lines per inch) to create natural-looking images. The tablet's texture working surface is one of the key benefits for beginners since it prevents the pen from sliding and from getting any wrong movements. Its smooth sensitivity allowed me to make a colorful sketch in less than 30 minutes. By the way, I need to remind you that there is no display on the tablet and it works with the computer screen only.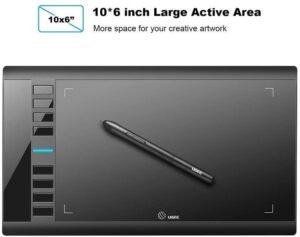 I fully configured the tablet with the downloaded drivers and it is possible to change the working area orientation for left-handed users. The good thing about the tablet I felt that all the hotkeys are also customizable via on-screen settings once I had installed the software.
The software allowed me to change the pressure sensitivity from light to heavy and the higher the pressure is on a tablet with the pen, the darker lines appear. In this case, I suggest you consider acquiring a protective cover since the screen is prone to scratches. After extensive use, I felt that the tablet has a quick response time and a hugely active area that's why it felt more comfortable for making larger and precise strokes, especially on high-resolution computer monitors.
This unit is compatible with Photoshop, Fireworks, Comic Studio, CorelDraw, 3D Max, Illustrator, and many other popular drawings, photo editing, and animation applications.
Design Overview
The Ugee M708 graphics tablet comes in either a black or white design and has an active area of 10 inches x 6 inches. It has 8 shortcuts of which the first 4 buttons on the top are aimed to control zoom in and out, as well as the brush's size while the other 4 buttons are designed for swapping between a pen, eraser, and hand mode. The last key is a shortcut for 'undo'. Keep in mind that all the express buttons are a bit loud and might irritate you if you use them constantly.
There is a blue LED light near the buttons that flashes every time the pen touches the active surface and four rubber pads on the back to stop the tablet from slipping. The pen's surface is also rubberized and I felt it was very comfortable to hold it in my hand.
The package also includes a penholder with 8 spare pen nibs and a nib mover but there is no need to replace a battery since a pen should be recharged via a USB cable. The light indicator on the pen also displays the battery status.
The Stylus
The pen that comes with this tablet is very slick, and it looks very similar to the one that comes with the Wacom tablet. In addition to the 8 customizable buttons that I mentioned above, the pen itself has two customizable buttons, which I could customize to do things like Undo & Redo or to switch to eraser mode, The tablet comes with a stylus holder, which is a nice way to place the stylus on the office, the pen holder comes with 8 replacement tips insides of it which saves you the trouble from buying tips along with the tablet itself.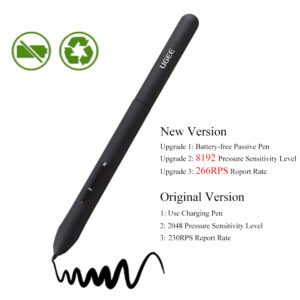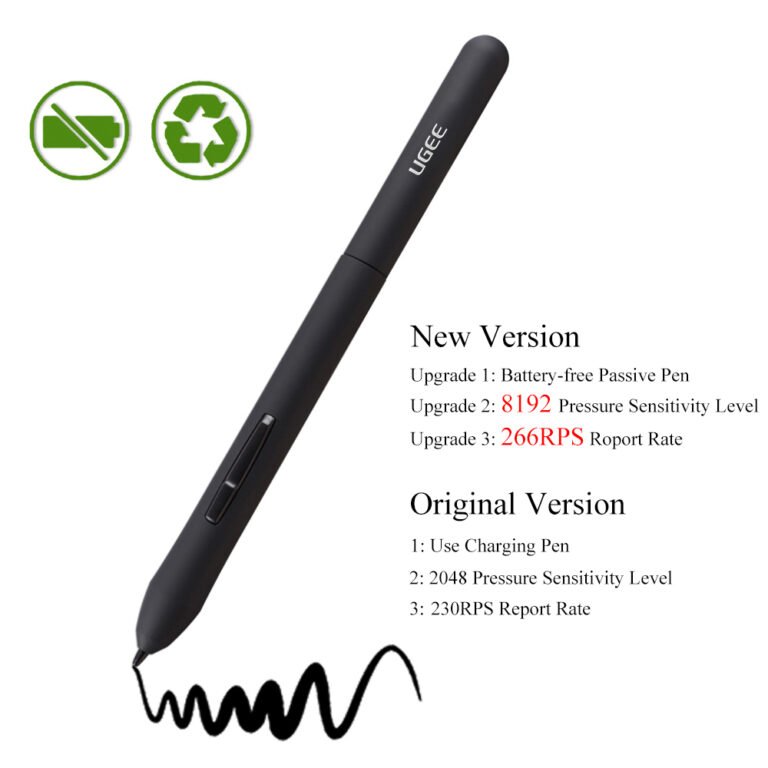 Since the tablet is an electromagnetic one, the Pen requires an AAA battery to work while I used it and found that the battery works for a good amount of time without the need to be replaced, but it is still considered better if it wasn't needed.
While the 2048 level of pressure sensitivity is surely impressive, the pen has no tilt sensitivity at all, while many artists don't use features like that, this can be a deal-breaker for many people who are used to this feature.
Conclusion
The Ugee M708 tablet is cheap but provides very good quality and feel and is a great alternative for pricier entry-level tablets. The tablet is a simple and intuitive device featuring great compatibility with tons of features and a good number of customizable buttons that are easy to set but at the same time have enough options to leave the room for more creativity.
I would recommend you this tablet if you are looking for something on a budget and if not concerned with any brand.
Howdy Geeks, I'm Andrew, a young passionate blogger, Tech Freak & a Gadget Lover. I help people in buying them the best tablet devices