TOP 3 BEST CHROME OS TABLETS 2019
March 3, 2020
Those days are gone when we had to glue down to the chair and work on computers for tiring long time durations. Now when we have Chrome OS tablets and light laptops we can work anytime and anywhere since they're easy for traveling. Laptops and tablets can be stored with computer software and also android functions which makes them sustainable and effective. In this guide, we are going to review the top 3 best chrome os tablets of this year and see if it's worth the hype and good for daily use and storage life. Without further ado, lets jump right in. 
What're a Chrome OS tablets? 
People often get confused by this term 'Chromebook'. Chrome book is a laptop or tablet that runs with the Linux based chrome os as its operating system. Its used because it's efficient since most of the applications and data are stored in the cloud rather than on the tablet's storage. 
1-Google pixel slate 
I have placed this first on the top chrome books list because it's the best Chromebook by Google. This tablet has amazing features that will surely startle you. First of all, the outlook, this tablet looks stunning and it has a standard sleek design which is well, very attractive. It has a personality of its own.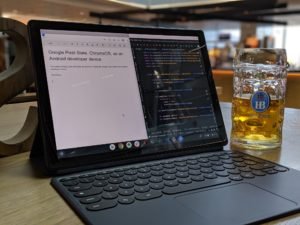 The screen of the tablet is very impressive it's embedded with molecular display for sharp quality that enables you to experience the best picture quality. If you're a multi Tasker then this tablet is your equal friend! You can work on multiple tasks at the same time with the split-screen feature on this Chromebook. To edit a picture and write an article on the same display, isn't it time-saving? Since its a Google product it comes with all the Google services and applications like slides, Google docs, etc so that you can make a slide, your office or school projects and write articles or reports.
After completing all your tasks you'll see the battery life is still stable since this tablet works for 12 hours straight which sounds better than other pricey laptops. In order to save your content and other data files, you do have password options but apart from that, you get a fingerprint to unlock system for better security. This tab comes with a pen for precise work functions. 
Price – $515.
Some highlighted features:- 
Fast charging
Better processing
10-hour battery
Fingerprint unlock system
Molecular display
Google apps
Pixel slate pen
Hardware Specifications of Google Pixel Slate (Chrome OS tablets)
Processor
8th Gen Intel Core m3 processor
RAM
8 GB
Storage
64 GB
Display
12.3-inch Retina display with 3000 x 2000
Camera
Rear- 8MP | Front- 8MP
Operating System
Google Chrome OS
Battery Life
10 hours
Weight
1.6 lbs
2-Acer Chromebook R11
Acer and Samsung were the first brands that bought out Chrome OS tablets. This tab has a stunning body with a gorgeous display. Let's start with the display, the display is 1366 x 768 QXGA resolution that offers the best display quality. The body is very stunning it has volume buttons on the side and the texture of the body is smooth. The battery life is very amazing, it has up to 9hours of long battery life which doesn't sound that impressive but for a Chromebook tab at this price it's okay.
For the storage purpose, this tab has 32gb of internal memory where you can store your data files and pictures, etc. The ram is 4GB that is very impressive for a tablet since most of the tablets have only 2GB. The tab has an ARM dual-core OPI RK3399 processor with ARM Mali-T864 graphics. For precise details functions, this Chromebook comes with a Wacom technology pen that will help you get a natural frail for writing and working. It's good for daily work patterns. 
price- $216.25
Some highlighted features:- 
Stunning display
Wacom technology pen
9hour battery life
4gb ram with 32gb internal memory
OS chrome
ARM mail-T864
Hardware Specifications of Acer Chromebook R11
Processor
2.48 GHz Celeron N3060
RAM
4 GB
Storage
32 GB eMMC storage
Display
11.6-inch Retina display with 3000 x 2000
Camera
720p webcam
Operating System
Google Chrome OS
Battery Life
9 hours
Weight
2.8 lbs
3-HP Chromebook X2 12- F014D
HP is another effective and stunning company brand for tablets, mobiles and chrome books. The display is 12.3inch screen 2400X1600 it's a full touch screen that is stunning and very sleek for amazing picture quality. The body of the tab is aluminum which gives it a standard look. The tab has all the applications like Gmail, youtube, files, etc.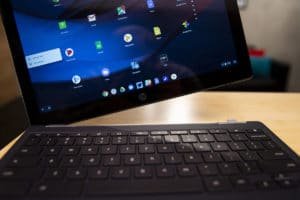 You can work and listen to music, you get pre-installed Google Play, Google Music, and play store so that you can download new applications and games, etc. The tablet has a detachable keyboard that you can detach. You can work and play games and watch movies with this impressive battery life, you can go on and on without tensing over the charging life. 
Price- $458.88
Some highlighted features:- 
12.3-inch display
12hour battery life
2400×1600 pixel resolution
impressive storage
 stunning display
Hardware Specifications of Acer Chromebook X2 12-F104D
Processor

2.6GHz intel core m3-7Y30

RAM
4 GB
Storage
32 GB eMMC storage
Display
12.3-inch
Camera
Rear- 13MP | Front- 5MP
Operating System
Google Chrome OS
Battery Life
10.5 hours
Weight
1.62 lbs
CONCLUSION
These are the best top 3 chrome books which are very effective and amazing for their performance. They have brilliant storage and brilliant display look that will surely help you work swiftly. Tablet with a pen, you can work in a jiffy and precisely, making it ideal for art lovers. All these chrome os tablets are user-friendly and easily adaptable. They are lightweight and easy for traveling. You can get them on great deals on platforms like Amazon and Flipkart. We hope this guide helped you and fed your curiosity about chrome books. 
Howdy Geeks, I'm Aditya, a young passionate blogger & digital marketer from India. Living a Digital Life since 2011, I'm also a travel enthusiast.
You May Also Like
March 10, 2020
March 4, 2020
February 9, 2020