The internet allows us to connect with the outside world through our smart devices, which is why it is no surprise if the internet fails to entertain us through our smart devices. It is even more frustrating and becomes such a drag if it slows down our smart devices.
Especially when you need to perform simple tasks such as loading a website, experiencing lag, and applications taking a long time to send an email. Even when you upgrade the operating system or add a lot of apps, the internet on your tablet seems to be working slower. This guide will tell some of the steps that are effective in increasing internet speeds on your tablet.
Is it your internet?
Before we delve into steps on how you can manage the features of your tablet for making the internet work faster, you need to make sure it's not an error from that end.
Even though performing simple tasks might not require using a lot of bandwidth, your tablet still has a multitude of applications and software that rely on an internet connection to simultaneously work smoothly. Online games on the tablet do need a good internet speed for a lag-free user gaming experience. Sometime just a game specific tablets help you to boost your performance. And you also want your videoconferences to go as smoothly as possible.
If you look through Xfinity internet plans (i.e. our recommendation), there are several for you to choose from ranging from the lowest speeds to a higher one with faster response times. Make sure to go for internet speed that is designed to meet the requirement of all your online activities on the tablet.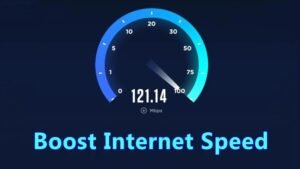 On a side note, Xfinity is one of the fastest and most widely available internet service providers in the US and offers services ranging from phone, TV, internet, and home security, which can also be availed in a bundle from Xfinity packages, along with other benefits. You can enjoy all these services along with navigating through your tablet at faster internet speeds.
But, what if it's not the internet?
However, if you still find that it is not the internet that is the reason behind the slow performance of online activities on your tablet, there are some things you can try to speed up the internet on your tablet.
Clear Cache. Whenever you use a browser on your tablet, it saves information from the websites you visit in its caches and cookies. Removing them is one of the easiest and quickest ways to clear up space in your phone for faster usage and navigation. Clearing these temporary files can help solve certain problems like loading a website or app, navigating through them, etc. Constantly go through the browser or app's settings to clear up caches and cookies on your tablet device to get faster internet speed.
Extra Apps on your Tablet. Your Android tablet would run as smoothly as possible if there wasn't too much taxing on its memory. It can take a toll on your processor, which can also lead to reduced internet speeds. You will need to look over all the apps on your tablet and remove the ones that are no longer needed or being used. It will free up space in your tablet devices.
Close Unnecessary Apps. You might be running a number of applications on your tablet. That tends to happen when you are navigating through so many apps. You might be scrolling through Twitter, and then move on to go through the newsfeed on Instagram, but before you do that, you must close the Twitter app.

Closing unnecessary apps will loosen the burden on your tablet's memory, and hence, it will be able to focus its processing power and internet speeds on apps that you are currently using. You can even disable apps that come on your mobile device but do not use.

Enable Reader Mode. You can enable this feature from the settings of your tablet's browser. It will get rid of the irrelevant images and animation on any website you visit and present it to you in text-only format. Not needing images and animation, the device will focus solely on texts and doesn't pull off any extra data. This feature also helps in loading web pages faster, hence, providing enhanced user experiences.
Ad-block. When you are navigating through your tablet, you will often come across ads on web browsers or apps. These ads can slow down the internet speed on your tablet. They can even use more data than the websites or apps that you are browsing through. There are many ad-blocking mobile browsers that can provide you with a smoother and faster ad-free browsing experience. You can even go for the premium versions of your favorite apps to avoid having to go through their ads.
Download Apps for Boosting Performance. Some apps are designed to remove hurdles in your tablet device so that you can have a smooth experience with your currently opened app. For instance, if you go with Greenify, it can prevent background apps from draining the battery of your tablet. Clean Master, as the name suggests, will perform cleaning of junk files, optimization of the device memory, secure against viruses, and even manage all apps that you have installed.
Maximum Loading Data. Your tablet is equipped with settings that enable speeding up your internet connection in your device. If you look through the Wireless and Network settings in your device, select the GPRS to Data Prefer as a way to increase internet speed. It is also known as the Maximum Loading Data option. It allows your tablet to download as much data from each site as it needs.
Restart the Tablet. This might seem too simple or unnecessary, but it is bound to be the most effective method of getting your tablet to work smoothly again. You must restart your tablet every once in a while so that the processor is refreshed. This restart can clear caches and restart the device for a faster and smoother start.
Wi-Fi over Mobile Data. 3G or 4G connections tend to be slower than a broadband internet connection, which is why you should connect to the nearest Wi-Fi hotspot in your vicinity. A broadband internet connection gives you a much faster internet speed than a cellular internet connection. Even if there is no Wi-Fi connection available, always opt for the latest generation of cellular technology, like go for 4G instead of 3G, since the former is much faster than the latter. You can also use 5G tablets for faster connectivity.
Conclusion
So there you have it. Some of the ways on how you can optimize the memory performance of your tablet and gain faster internet speeds on your online activities. By managing your tablet's settings, you can easily and significantly improve the internet speeds of online activities on your device.
Extra speeds will even allow boosting the installation of apps. The last option that you should go for is the factory reset. All your apps and data will be removed from the tablet and the device will return to its original factory condition. You will need to download all the apps on your tablet again, but on the bright side, your tablet will be running smoothly again with faster internet speed.