Are you confused about buying a large tablet or a laptop? I'm here to help you.
Tablets are a great innovation that fills up the gap between laptops and mobile devices. They are somewhat a combination of both and helps users in multiple ways. Many times, People get confused in between both. They need a device that is portable and can do everything a laptop can do.
So, What I recommend them is to buy a large tablet Like you can buy any 12-inch tablet which can be used both as a tablet and a laptop.
In this guide, I will be helping you to choose the best large tablet for you. The list is going to have all the best 12-inch tablets available online.
I have been playing around with these gadgets for 4 years now. You can say I have some good experience in finding the best large tablets. I'll be sharing all my experience in this buyer's guide.
So let's get started.
Best Large Tablets In 2020
Large tablets have advantages over the normal 8 inches and 10-inch tablets. The screen size is better, you will have a visual experience along with a better grip on the device. You can use these large tablets for multiple purposes like watching movies, reading, for office work, and even for colleges.
Based on my experience and reviews of thousands of users online, I'll be sharing all the best large-screen tablets in the below list.
1-New Apple iPad Pro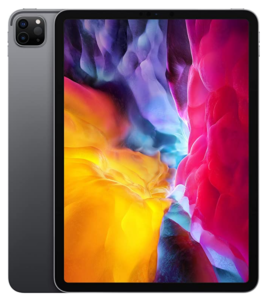 I'm a big fan of Apple devices and that's why I'm keeping Apple iPad Pro at the top place in the list of best large tablets. There are many great improvements in the latest iPad pro when compared to the ones which were launched in the previous years.
The Apple iPad Pro 2020 has dual lenses that have ultrawide and 4k recording features. Also, It is more than just a tablet as it has a trackpad on the keyboard. It is more like a laptop now. You will feel you're using a Mac Air while using the latest version of Apple iPad pro.
The design is amazing and you will be loving it's sleekness and compactness when compared to the older versions. It is loaded with an A12Z fusion chip and 6 GB of RAM which is more than enough for a great fluid performance.
If you have a budget, then you should definitely for this tablet. I recommend it to everyone who asks me for suggestions related to the best 12-inch large tablets.
Hardware Specifications of iPad Pro 11 Inch
Processor
Apple A12Z Fusion Processor
Display
11-inch Retina Display with 1668 x 2338 Resolution
RAM
6 GB RAM
Storage
128GB / 256GB / 512GB / 1TB
GPU
Apple GPU (7-core graphics)
Camera
Rear- 12 MP (wide), 10MP (ultrawide) | Front- 7 MP
Operating System
iPad OS 13.4
Battery Life
10 hours
Weight
1.04 lbs
---
Incredibly powerful
Beautiful, high refresh rate display
Superb speakers
The new Pencil
No HDR capability in the screen
Multi-tasking still limited
Expensive
Single USB-C port
2-Microsoft Surface Book 2
The second in the list is a large windows tablet, i.e the Microsoft Surface Book 2. It is also a very popular device among Windows OS lovers. I have also included it in my list of best windows tablet, and when it comes to large-screen tablets then this surely deserves a place in the list.
Talking about the specifications, It is a 13.5 inches Windows tablet with a 10-point multi-touch display and a resolution of 3000 x 2000 pixels. It also supports a stylus which is called the Surface Pen.
You will get 256 GB of SSD storage with 16 GB of Ram and i5 or i7 processor in this large-screen tablet. The performance is going to be great with such hardware specifications. It is also a 2-in-1 tablet device that can be used as a laptop by connecting the keyboard.
Hardware Specifications of Microsoft Surface Book 2
Processor
Intel Core i5
RAM
16 RAM
Storage
256 GB SSD
Display
13.5 Inches touchscreen
GPU
Intel HD Graphics 620 integrated GPU
Operating System
Windows 10 Pro
Battery Life
10 hours
Weight
1.2 lbs
---
Premium alloy construction
Elegant convertible design
Sharp high-resolution
Nvidia GTX 1060 graphics
16GB RAM maximum
Surface Pen need to buy seperately
3-Apple iPad
Again listing my other favorite iPad device, It is the Apple iPad. It is going to be similar to the above one. Both versions of iPad pro support Stylus but you have to buy it separately.
With an 11-inch retina display of resolution 2732 x 2048, you are going to have a great visual experience. Everything is going to be sharp and crisp. The newer generation iPad pro is far better than the older versions in every aspect including hardware and software upgrades.
The A10 processor is 2 times that of the older iPad Air processors. You can also record a 4k video without any lagging issues. I love Apple for its display, crystal clear retina display, and amazing visual experiences. I just love it.
Apple also promises to make the iPad Pro even better with the upcoming OS updates. They'll be coming up with so many great features.
Hardware Specifications of Apple iPad 2019
Processor
Apple 10 Fusion
RAM
2 GB RAM
Storage
32GB / 128GB
Display
10.2-inch Retina Display with 2160 x 1620 Resolution
Camera
Rear – 8 MP | Front – 1.2 MP
Operating System
iOS 13.1
Battery Life
10 hours
Weight
1.07 lbs
---
Larger display
Smart Connector
100% recycled aluminum enclosure
Reasonable price
Apple Pencil support
Lacks FaceID
Accessories are expensive
Smart Connector still feels limited
4-Microsoft Surface Pro 7
The best option for you if you are looking for a next-generation tablet device. The Microsoft Surface Pro 7 has got everything that a modern tablet cum laptop device requires. You can do all sorts of work on this device.
The great and powerful performance of this device will amaze you. It has 128 GB SSD storage along with a sleek and classy design. These are the reasons It is considered as the game-changer in the category of best large tablets.
It is powered by an Intel Core i3 processor, 4 GB RAM, and a 12.3 inches Pixelsense display. You will find these kinds of specs on a PC or a laptop device.
Decent battery life makes it the perfect choice for college students. I even listed it in my list of best tablets for college students.
The pricing may be a problem because this device will cost you somewhere around 600$. If you have a budget, you should definitely go for this one.
Hardware Specifications of Microsoft Surface Pro 7
Processor
10th Gen Intel Core i3/ i5/ i7
RAM
4 GB/ 8GB/ 16GB RAM
Storage
128 GB/ 256 GB/ 512GB/ 1TB SSD
Display
12.3 Inch PixelSense Display with 2736 x 1824 Resolution
GPU
Intel UHD Graphics/ Intel IRIS Plus Graphics
Operating System
Windows 10 Home
Battery Life
10.5 hours
Weight
3.53 lbs
---
Quad-core performance
Cool and quiet with quick resume
USB-C port
Still no Thunderbolt 3
Dated design
Lack of built-in LTE
5-Samsung Galaxy Tab S6
The best large screen android tablet is the Samsung Galaxy Tab S6, It has some amazing features and specifications which is the reason behind its powerful and smooth performance.
It is also considered as the "best HDR tablet in the present time", If you are a Samsung user then you already know how reliable Samsung is, I have used a few of their tablets including Samsung Galaxy Tab S6 and Samsung Galaxy Tab A.
Samsung Galaxy Tab S6 has a Snapdragon  855 chipset and Adreno 640, with an internal storage of 128 GB and a crystal clear and razor-sharp display. These all features are mostly found in gaming tablets.
It also has a great battery life of 10-12 hours, which is quite great for a large-screen tablet. You can also click great pictures with the 8 MP front camera.
In the price range of 600-700$, I would say It is the best large-screen android tablet. If you have to do some heavy work then this beast is definitely for you.
Hardware Specifications of Samsung Galaxy Tab S6
Processor
Qualcomm Snapdragon 855
RAM
6GB / 8GB RAM
Storage
64GB / 128GB (upgradeable up to 512GB)
Display
10.5 inch Super AMOLED with 2560 x 1600 Resolution
Camera
Rear – 13MP + 5MP | Front – 8MP
Operating System
Android 9.0 Pie
Battery Life
10 hours
Weight
0.92 lbs
---
Powerful Processor
DeX mode
Storage space
Updated S pen stylus.
Keyboard need to buy seperately
Small keys
6-Microsoft Surface Go 2
Another Surface series tablet in the list of best large tablets, It is also a very popular large screen tablet in the mid-range price budget.
It is a successor to the previously launched Microsoft Surface Go. The newer versions have a lot of upgrades and a better battery life which makes it worth the money.
It has a 10.5 inches screen size with a 1920 x 1280 Full HD resolution. You will be having a great visual experience using this tablet device.
With 4 GB RAM and 128 GB of internal storage, you can store a lot of your data. This tablet can be used for multiple purposes like for watching movies, for office work as well as for college studies.
In the price range of $399, You can definitely go for this large screen windows tablet. It is worth the money.
Hardware Specifications of Microsoft Surface Go 2
Processor
8th Gen Intel Core M3 / Intel Pentium Gold 4425Y
RAM
4 GB / 8 GB RAM
Storage
64 GB / 128 GB
Display
10.5″ PixelSense Display with 1920 x 1280 Resolution
GPU
Intel UHD Graphics 615
Operating System
Windows 10 Pro
Battery Life
10 hours
Weight
1.2 lbs
---
Bigger screen
Core M3 processor option
Runs any Windows app
Very low performance ceiling
Battery life
Keyboard flex
7-Lenovo Tab M10 Plus
Last in the list of best large tablets, Lenovo Tab M10 Plus is also a very popular large screen android tablet. I've got the Lenovo Tab M10 Plus recently for my grandmother and it's great. I have also played some mid-level graphics games and they ran smoothly on the device.
It is an Android 9 Pie powered large screen android tablet that is perfect for normal use and office use as well. I can also recommend it for college students.
The processor is MediaTek Helio P22T Octa-Core and RAM of 4 GB. Better than the predecessor version of this tablet. The 5 MP front and 8 MP rear camera can be used for clicking decent images. The screen resolution is 1920 x 1200 with a Dolby Atmos stereos on the bottom side. Decent battery life of 10-11 hours will make sure you don't miss the charger.
At just $149, I should say it is the most affordable and all-rounder large screen android tablet. You should definitely go for this if you are tight on budget.
Hardware Specifications of Lenovo Tab M10 Plus
Processor
MediaTek Helio P22T Octa-Core Processor
RAM
2GB / 4GB RAM
Storage
16GB / 32GB / 64GB (expandable up to 256 GB)
Display
10.1 inch HD IPS Display with 1280 x 800 Resolution
Camera
Rear – 8 MP | Front – 5 MP
Operating System
Android 9 Pie
Battery Life
7 hours
Weight
1 lb
---
High-end metal body
Good 10.3-inch screen
Almost pure Android 9
Solid performance
Bad speakers
Updates uncertain
Blurry cameras
Conclusion On Best Large Tablet
For the best large tablet, I would recommend the Apple iPad Pro or the Microsoft Surface Pro 7. Depending upon your OS choices, you can choose anyone in between these two. They are great for the price being charged.
There are not a lot of large-screen tablet options available in the market like there are very few reliable 12-inch tablet and 13-inch tablet in the market. I have listed out all the best 12-inch tablets including some of the larger tablets as well.
If you think I missed any of the 12-inch tablet or large tablet in this list, feel free to mention your favorite large screen tablets in the comment section.